Network diagrams are a visual presentation of the physical components and logical connections between them that form the network connection. This type of diagram shows the devices involved in a network (routers, hubs, firewalls, etc.). One of the most common uses of network diagrams is for tracking down network issues by studying how the computers and devices are connected and inter-related.
What do you need to create a network diagram?
A general idea of the network topology you have to build- for personal use(home) or office network.
Gather details on the components to visually layout the network architecture and set up the connection between the devices in the network.
Structure and layout of the cabling.
Type, number, and location of all the devices on the network.
IP address structure, network security architecture, and process.
Choose the specific network diagram symbols and labels for the elements in the diagram.
Creating a Network diagram step by step
List all of the equipment for your diagram, such as workstations, mainframes, hubs, servers, routers, firewalls, etc.
Layout the components in your diagram- place the physical and logical shapes on the drawing document.
Connect the shapes- use lines and connectors tools to illustrate how the devices in the network connect.
Add labels- labeling the components will help the readers/viewers understand the meaning of the symbol used in the diagram.
Format and align text and shapes in the diagram- these final touches will make the network diagram more professional and easy to flow through.
Tip and Best Practices for Network diagrams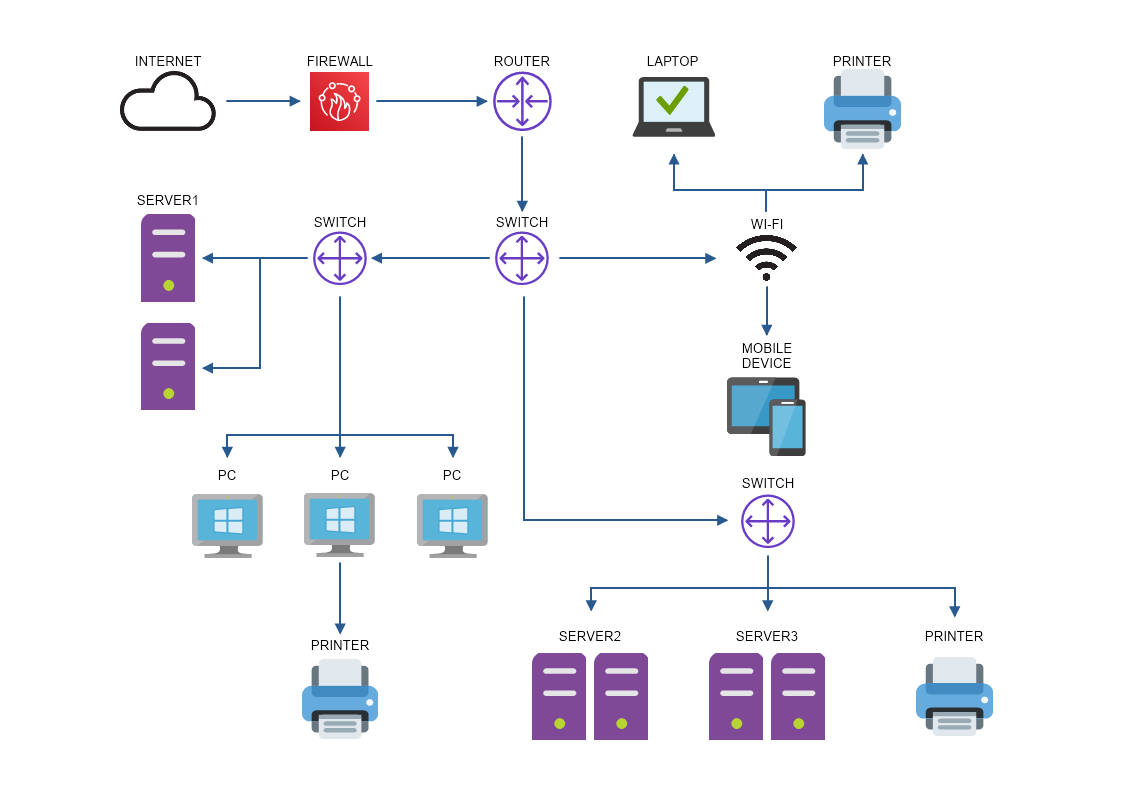 If the network diagram is for professional purposes, then it will best to use standard network symbols.
Use straight arrows that point left to right.
Use color coding for connecting lines(wiring).
Make sure the different LANs and departments are separated clearly.
If you need a more detailed view of the symbols, enlarge the shapes to specify the ports and connections.