This is a Head Campus LAN Network digram template that shows the computer network communication scheme of LAN, and the networks arrangement in a campus, office or buildings. The template is 100% customizable and you can edit every aspect of it with a few simple clicks in MyDraw.
| | | |
| --- | --- | --- |
| Download Template: | | |

| | |
| --- | --- |
| Download Template: | |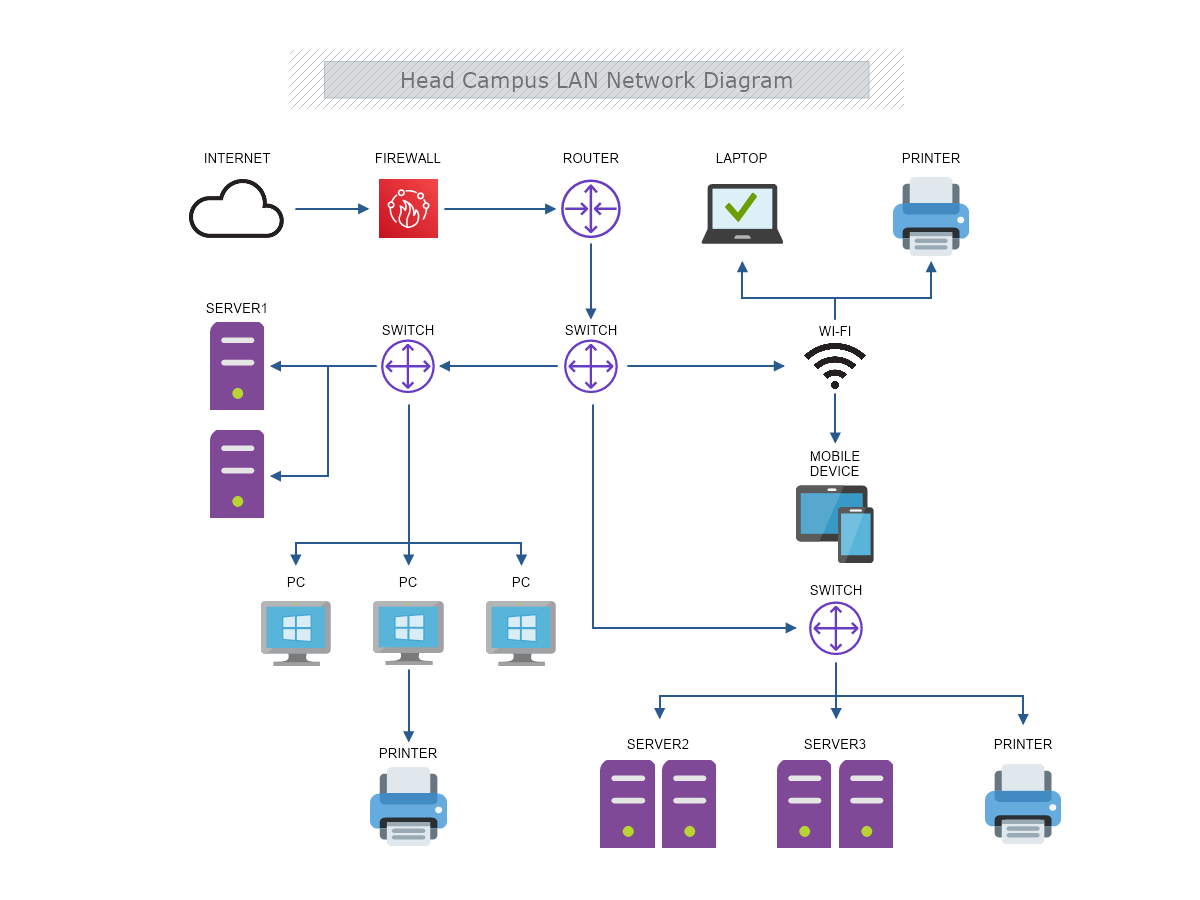 The campus network can be a local area network (LAN) or a set of interconnected LANs serving a corporation, government agency, university, or similar organization. In this case, the area includes a set of buildings in close presence.
College and university campus networks interconnect administrative buildings, residence halls, academic halls, libraries, student centers, athletic facilities, and other buildings associated with the institution in a specific town or neighborhood. Corporate campus networks interconnect buildings that house key departments and staff members. The corporate campus network forms the user-facing aspect of the larger corporate network within a limited geographic area.
By taking advantage of gigabit Ethernet or 10-Gigabit Ethernet technology, for this case, all of the nodes in a campus network are interconnected by optical fiber media. To improve the speed and connection university student centers or libraries, have also Wi-Fi hot spots. This is needed to cover places where numerous people simultaneously use portable and mobile devices such as notebook and tablet computers to conduct research and carry on communications.
How to create a Head Campus LAN Network diagram in MyDraw?
Edit the ready-made template or Open a "Blank Drawing" file to create your own.
From Library Gallery> Networking select the respective folder.
From Library Gallery use the search library to find more networking shapes, suitable for your template.
Once you have checked and marked the shapes they will be loaded on the left side of your drawing panel.
Drag and drop the shapes you would like to use into the drawing. Name the items in your network diagram.
Use the connector tools to arrange your diagram. Draw connections between components.
To add fill you can edit the Geometry Fill and Stroke from the Ribbon.
In the Ribbon, you can select the Design tab to choose from a variety of shape styles and theme colors.
Add a title and share your network diagram.
Save the document in one of MyDraw's native formats or export it in a preferred file format( PDF, SVG, EMF, VSDX, etc.).
You can also export the document as a raster image.