MyDraw
provides you with an incredibly easy to use environment, which allows you to design your restaurant or bar menu even if you have no prior experience in design. All you need is an attention to detail, a good sense of structure, and
MyDraw
for Windows or Mac.
Typical size of a restaurant, bar, or coffee shop menu
Although there is no absolute must-follow standard when it comes to menu dimensions, there are some typical sizes that can spare you time and help you get started quickly with your menu design. Here they are:
| | | | |
| --- | --- | --- | --- |
| Format | Size in inches | Size in cm | Size in pixels |
| Letter | 8.5" x 11" | 21.6cm x 28cm | 816 x 1058 |
| Legal | 8.5" x 14" | 21.6cm x 35.5cm | 816 x 1342 |
| Tabloid | 11" x 17" | 28cm x 43.2cm | 1058 x 1633 |
| Half Page | 4.25" x 11" | 10.80cm x 28cm | 408 x 1058 |
| Takeout Letter Bifod | 8.5" x 11" | 21.6cm x 28cm | 816 x 1058 |
| Takerout Trifold | 8.5" x 11" | 21.6cm x 28cm | 816 x 1058 |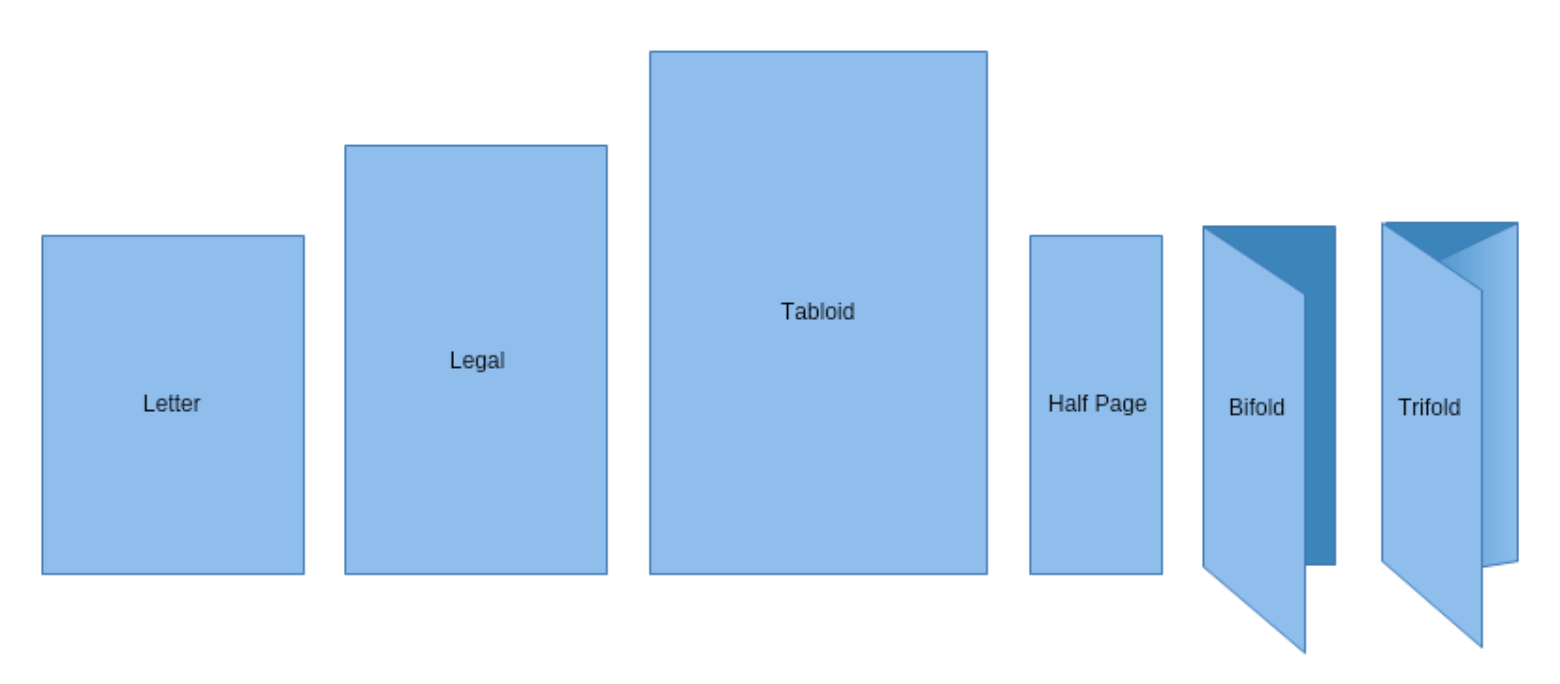 The background of the menu
It's always a good idea to have a concept of what you want your menu to look like. If you do, you can select a background image before starting your design. There are plenty of images available online, but make sure you're not violating anyone's copyright. One of the websites you can use for downloading images is
Pixabay
. They offer a large selection of fantastic photos available absolutely for free.
Creative Market
also offers a variety of images at very good prices without forcing you to purchase images in bulk or waste time with a complicated registration process.
Once you have selected the background image, you can easily set it as the background of your page in
MyDraw
so you don't risk moving it around while rearranging the various components of your menu. Right click anywhere on the page and select
Page Properties
from the context menu. Under the
Appearance
tab select Background, then Image. The
Texture Mapping
options will allow you to position the image as you see fit.
Adding the content of your menu
MyDraw offers a great variety of shapes, which will allow you to create perfectly structured menus. You can apply an image background to any shape, following the same steps as you would for adding an image as the background of the page.
In the preview here, we've used circles with an image background and added extra "donut" shapes with a transparency level to enhance the visual presentation. You can combine shapes with simple text boxes and take advantage of MyDraw's rich text boxes to format your text as needed.
According to some researches, a winning strategy is to highlight specific items from your menu. This is best done through pictures (as shown below). Your best bet will be to select one item from each category and add its image as a descriptive one for the category. Specialists claim that this helps users navigate easier through the menu and increases the sales of the specific item.
In case you're not satisfied with the overall look of your menu, you can change your background or remove it completely. For this particular menu template, our design team changed several backgrounds until the overall look matched the initial concept.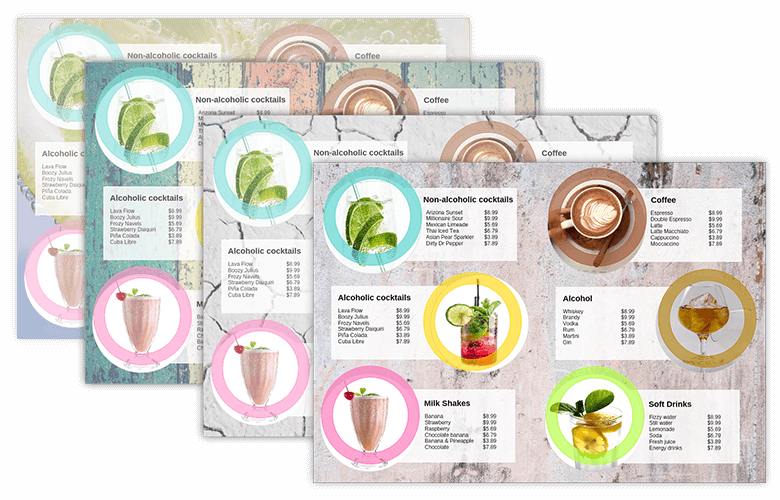 We tested one more look at the same menu to demonstrate the capabilities of MyDraw. The only difference here is that there's a large white background rectangle behind the content of the menu. Additionally, the white text background is now just a frame.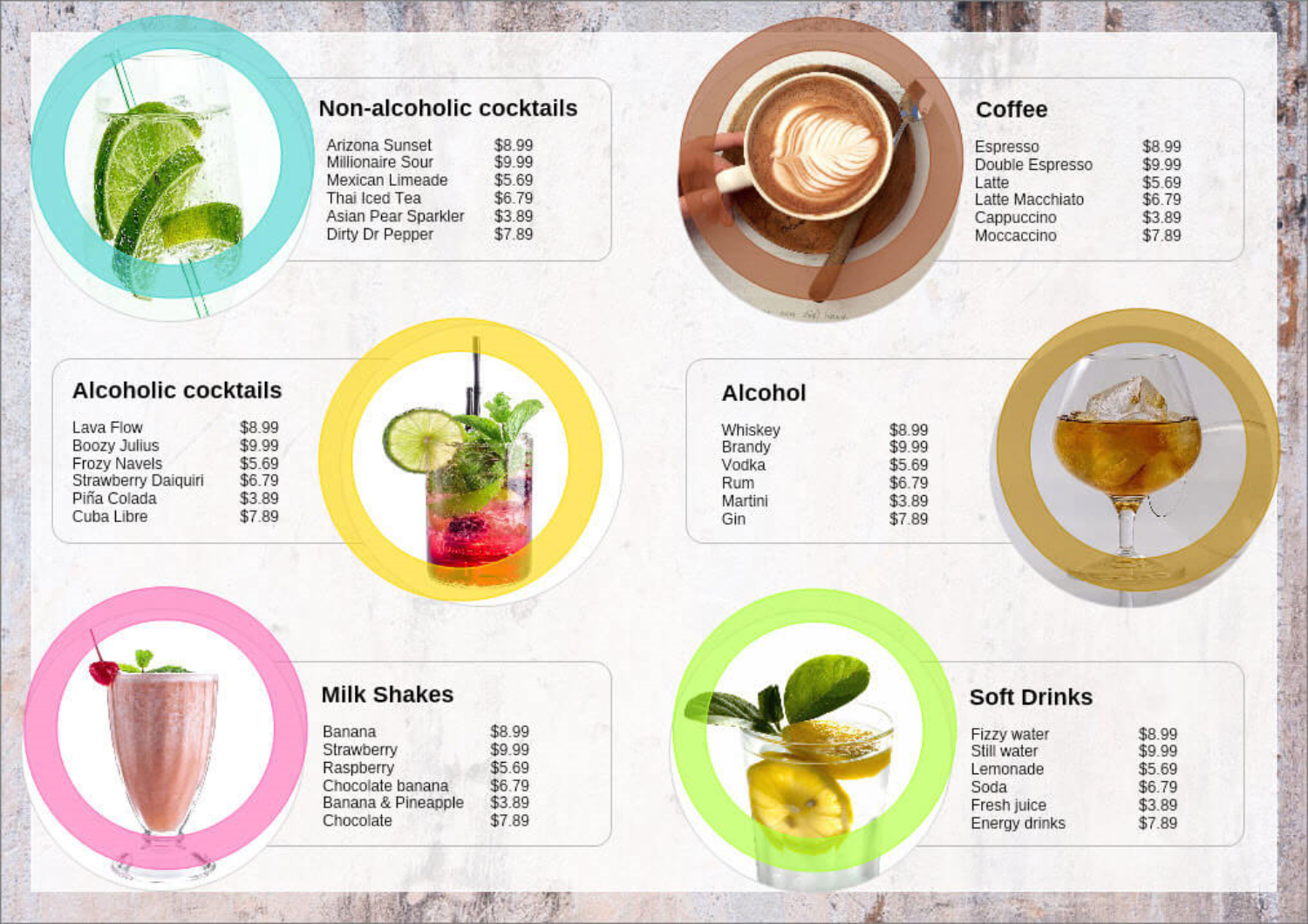 Save as PDF or print
When the design of the menu is complete you can either save it or print it. Suitable saving formats are PDF or image with 300dpi resolution.
Looking for inspiration?
If you're feeling stuck, head off to our
Templates
: you will find lots of fresh and modern designs that you can edit freely to match your demands.