This is a Road Accident Parking Reconstruction template that can be used for driving course examples, to test the skills of drivers, or as a practice model. The template is 100% customizable and you can edit every aspect of it with a few simple clicks in MyDraw.
| | | |
| --- | --- | --- |
| Download Template: | | |

| | |
| --- | --- |
| Download Template: | |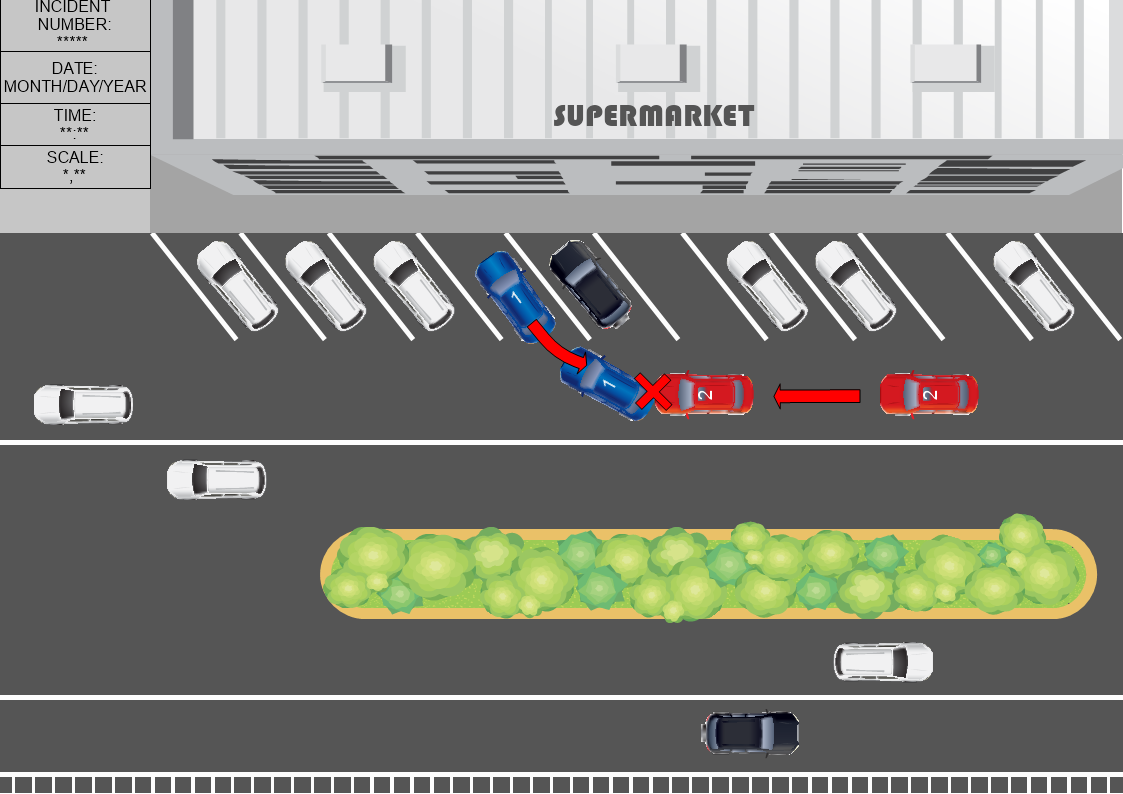 Car Accident at a Parking lot
Steps to take at the scene
Call the police.
Document the accident.
Notify your insurer.
Hit and Run accident
A hit and run accident is considered if the driver who hit your parked car is not at the scene and did not leave any contact information. In this type of road accident, the insurance company may consider the fleeing driver as uninsured.
Injury claim
Complete investigation- get contact information from witnesses and if the police are involved make sure to get a police report.
Take photos of the accident scene, as well as the damage and your injuries.
Do not release your medical records to the other party's insurance company.
Set up a high reserve account from the insurance company.
Keep the adjuster informed about the seriousness of your injuries. This will determine the reserve account.
Don't let the insurance adjuster pressure you into settling your case. It may be tempting, but don't give in. Hold out for as long as possible.
Make a record of your injuries( a day-to-day report) to notify the judge.
Keep all bills and receipts related to your accident to prove your damages.
Seek medical treatment right away, if your injuries get worse.
Be aware of your sources for insurance coverage.
Stay under medical care, as long as the doctor instructs you. Otherwise, this can negatively impact your case.
File the lawsuit right away.
Ask a qualified trial lawyer to evaluate your case and choose a trial attorney who isn't afraid to go to court.
Tips to identify a car accident
The damage location of the car can determine if it is a:
Head-on collision- damages the front bumper of the car and the front bumper of the vehicle that was collided with.
Rear-end collision- the damage is at the back bumper and the car that hit you should have damage on the front bumper.
T-bone collision- damages one of the sides of the car( right to left). The vehicle that hit you should have damage on its front bumper.
Side-swipe- both cars have damage on the sides where the cars scraped together.
Rollover- the damages are based on the circumstances and this occasion they might be multiple places on the vehicles.