This is a House Fire Scene template used as an example of how to evacuate a house during a fire emergency. The template shows a schema of the household so that its residents can find the nearest exits. The template is 100% customizable and you can edit every aspect of it with a few simple clicks in MyDraw.
| | | |
| --- | --- | --- |
| Download Template: | | |

| | |
| --- | --- |
| Download Template: | |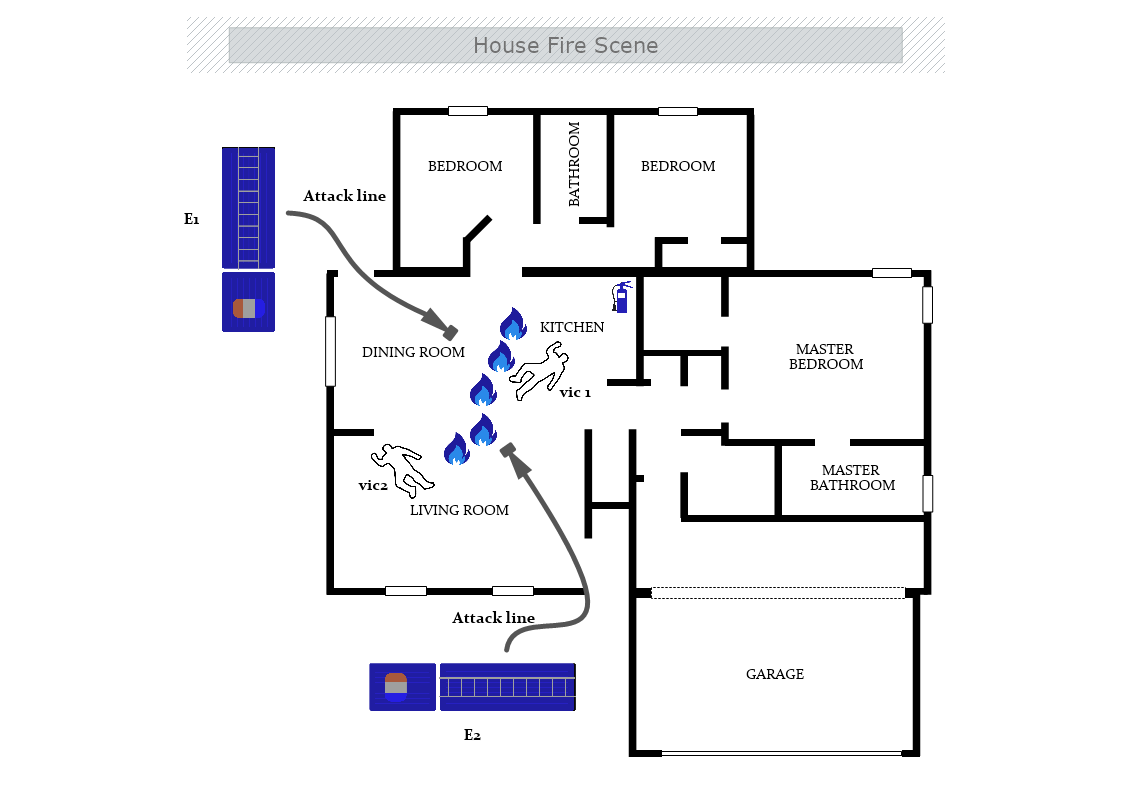 Types of fire and flammable materials
The classification of fires can be organized as follows Class A, Class B, Class C, Class D, and Class K. Depending on the class of fire, there are also different flammable materials involved and each requires a special approach. The most common are
Cooking equipment- pots and pans can overheat and due to a distraction can cause an unattended fire.
Heating.
Smoking in bedrooms.
Electrical equipment.
Candles.
Curious children.
Faulty wiring.
Barbeques.
Checklist after a fire
Contact your local disaster relief service to help you find food, clothing, medicine, and a place to stay.
If you have insurance, contact your insurance company. If not contact community groups for aid insurance.
Ask what you should do to keep your home safe until it is repaired.
Ask for trusted cleaning companies for your home.
Check with the fire department when it is safe to re-enter your home. Be very careful when you go inside.
Contact your landlord or mortgage company to report the fire.
Find all valuable documents and records that can be recovered.
If you leave your home, call the local police department to let them know the site will be vacant.
Try to save all of the receipts for any spendings during the fire loss. The insurance company may need the receipts as proof for any losses claimed on your income tax.
Get information if you are entitled to special benefits for people recovering from fire loss.