This is a Household Fire Scene template that can be used as an escape plan in the event of a fire emergency. The habitats need to be prepared for fire scenarios and to know how to quickly exit the household. The template is 100% customizable and you can edit every aspect of it with a few simple clicks in MyDraw.
| | | |
| --- | --- | --- |
| Download Template: | | |

| | |
| --- | --- |
| Download Template: | |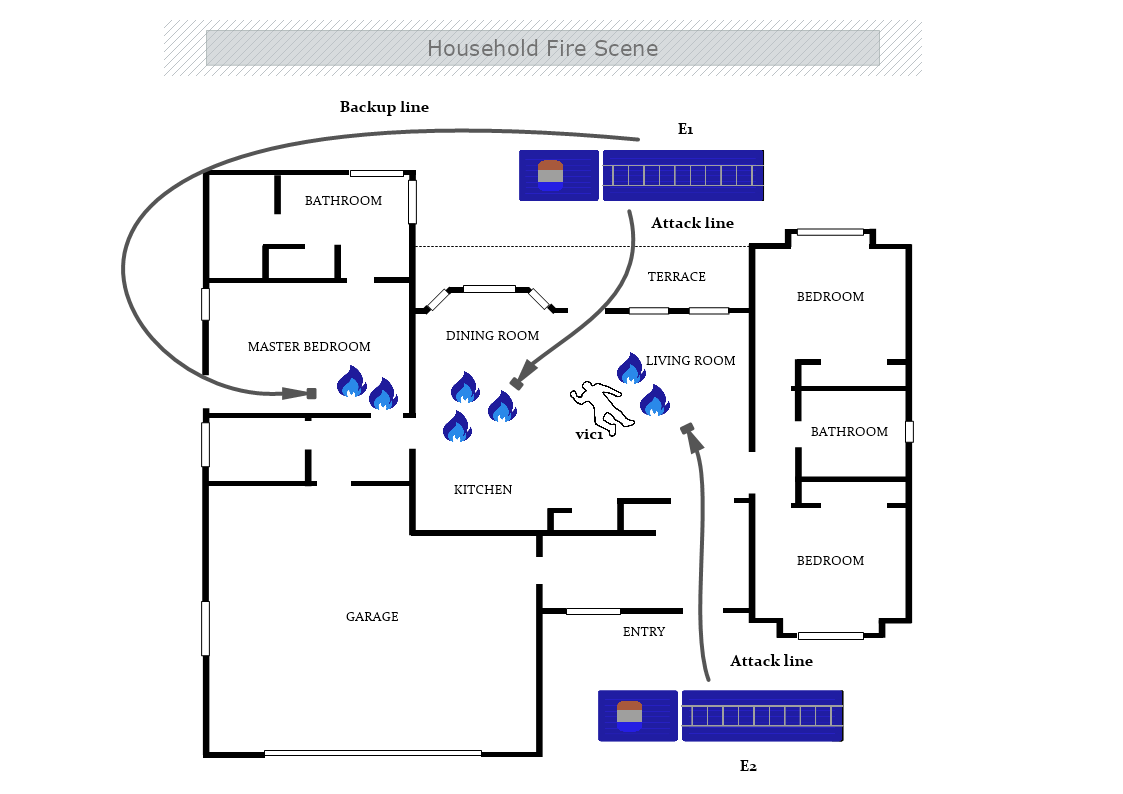 What do to after a fire?
Immediate actions
First, call 911 and provide first aid. To reduce the chance of injury or infections cover the burns on the skin and apply ice on the body.
Inform your family and friends that you are safe.
If possible assure injured/ burned people and pets are given professional medical/ veterinary help.
Make sure to keep away from fire-damaged households, until fire authorities let you know it is safe.
Household damages- What to expect?
New fire sprinkler system( if you had installed, if not think about it).
Damaged items by flames, heat, smoke, and water. The soot and dirty water left behind may contain things that could make you sick. Be very careful if you go into your home and if you touch any fire-damaged items.
Home repairs( roof, windows, walls).
Contact the insurance company and ask your agent what are the first steps to take. Get information about the payment( normally insurance companies cover the cleaning service and ask for trusted organizations/ companies).
If you do not have an insurance company you can turn to your community and family/friends for financial support.
Safety and Health measurements
Contact the responsible authorities in your government for food and water supplies, as well as a place to stay.
Reach out to the local disasters relief service and ask for help. Get rest and do not try to manage the situation on your own.
Take care of your pets, as they might be affected by the emergency( bitting, scratching). Contact a family member, friend, or veterinarian to leave them until the cleaning is complete and safe to enter.
Unless the fire department says it is safe, do not enter the damaged home.
Financial recovery
If you are living under rent or have mortgages, contact your landlord or agent.
Contact the bank or credit card company, if a card is lost or damaged to report it.
Save the receipts for any spendings during the recovery period.
Replace all valuable documents and records.
Save the slightly damaged money and go to the nearest Federal Reserve Bank to get it replaced.