This is a free Ionizing vs Non-Radiation template to show you the most common source of background radiation and how to avoid it. The template is a 100% customizable and you can edit every aspect of it with a few simple clicks in MyDraw.
| | | |
| --- | --- | --- |
| Download Template: | | |

| | |
| --- | --- |
| Download Template: | |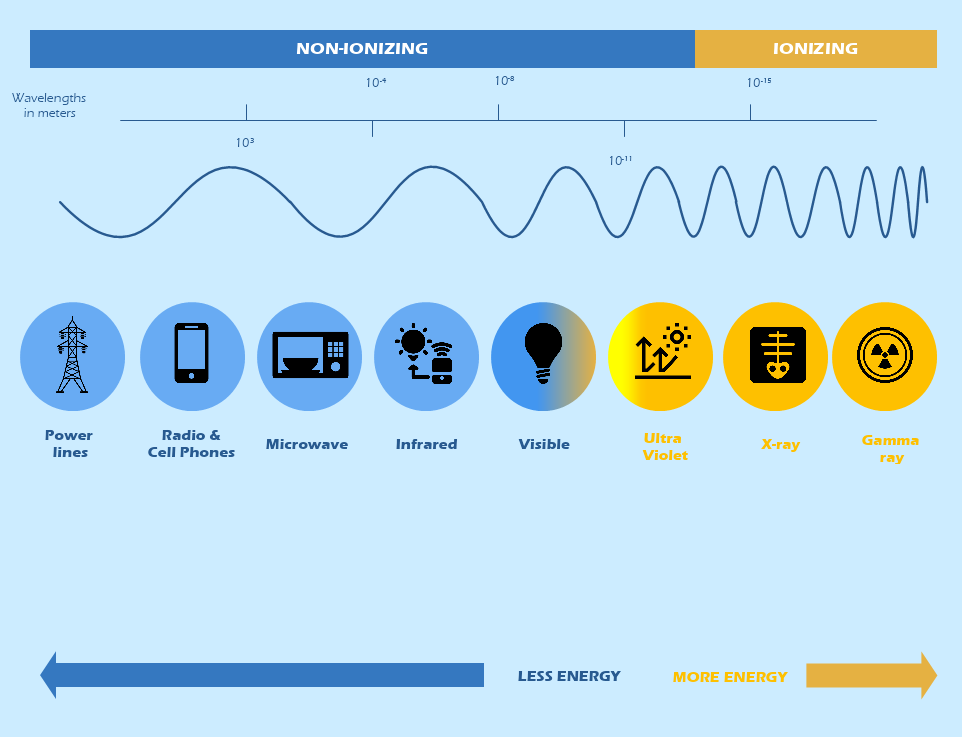 Definition
Radiation is classified as being either non-ionizing or ionizing. Non-ionizing radiation is longer wavelength/lower frequency lower energy. While ionizing radiation is short wavelength/high frequency higher energy.
Ionizing Radiation has sufficient energy to produce ions in matter at the molecular level. If that matter is a human significant damage can result including damage to DNA and denaturation of proteins. This is not to say that non-ionizing radiation can't cause injury to humans but the injury is generally limited to thermal damage i.e. burns.
Types of Non-Ionizing Radiation and their Clinical Effects
Referring to the chart above we can see that Non-Ionizing radiation comes in the forms of:
ELF (extremely low frequency)
Radio Frequencies
Microwave Frequencies
Lasers
Infrared
Visible Spectrum
Ultraviolet
Types of Ionizing Radiation and their Clinical Effects
Ionizing radiation is emitted from radioactive atomic structures as high energy electromagnetic waves (gamma and x-rays) or as actual particles (alpha, beta, neutrons)
Gamma Rays
X-Rays
Alpha Particles
Beta Particles
Neutrons