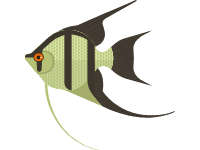 Pterophyllum is a small genus of freshwater fish from the family Cichlidae known to most aquarists as angelfish. All Pterophyllum species originate from the Amazon Basin, Orinoco Basin and various rivers in the Guiana Shield in tropical South America. The three species of Pterophyllum are unusually shaped for cichlids being greatly laterally compressed, with round bodies and elongated triangular dorsal and anal fins. This body shape allows them to hide among roots and plants, often on a vertical surface. Naturally occurring angelfish are frequently striped transversely, colouration which provides additional camouflage. Angelfish are ambush predators and prey on small fish and macroinvertebrates. All Pterophyllum species form monogamous pairs. Eggs are generally laid on a submerged log or a flattened leaf. As is the case for other cichlids, brood care is highly developed. Pterophyllum should not be confused with marine angelfish, perciform fish found on shallow ocean reefs. Angelfish are kept in a warm aquarium, ideally around 80 °F (27 °C). Though angelfish are members of the cichlid family, they are generally peaceful when not mating; however, the general rule 'big fish eat little fish' applies.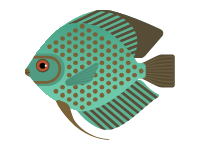 Symphysodon, colloquially known as discus, is a genus of cichlids native to the Amazon river basin in South America. Due to their distinctive shape, behavior, and bright colors and patterns, discus are popular as freshwater aquarium fish, and their aquaculture in several countries in Asia is a major industry.They are sometimes referred to as pompadour fish.Like cichlids from the genus Pterophyllum (angelfish), all Symphysodon species have a laterally compressed body shape. In contrast to Pterophyllum, however, extended finnage is absent giving Symphysodon a more rounded shape. It is this body shape from which their common name, 'discus', is derived. The sides of the fish are frequently patterned in shades of green, red, brown, and blue. Some of the more brightly marked variants are the result of selective breeding by aquarists and do not exist in the wild. Discus typically reach up to 12.3–15.2 cm (4.8–6.0 in) in length,[but captives have been claimed to reach 23 cm (9 in).Adults generally weigh 150–250 g (5.3–8.8 oz).There is no clear sexual dimorphism for this fish, but males may reach a larger size than females.In breeding form varieties, solid red discus (red melon, red cover) females are generally redder than males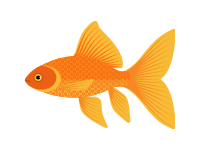 The goldfish (Carassius auratus) is a freshwater fish in the family Cyprinidae of order Cypriniformes. It is one of the most commonly kept aquarium fish. A relatively small member of the carp family (which also includes the Prussian carp and the crucian carp), the goldfish is native to East Asia. It was first selectively bred in ancient China more than 1,000 years ago, and several distinct breeds have since been developed. Goldfish breeds vary greatly in size, body shape, fin configuration, and coloration (various combinations of white, yellow, orange, red, brown, and black are known). As of April 2008, the largest goldfish in the world was believed by the BBC to measure 19 inches (48 cm), and to be living in the Netherlands. At the time, a goldfish named 'Goldie', kept as a pet in a tank in Folkestone, England, was measured as 15 inches (38 cm) and over 2 pounds (0.91 kg), and named as the second largest in the world behind the Netherlands fish. The secretary of the Federation of British Aquatic Societies (FBAS) stated of Goldie's size, 'I would think there are probably a few bigger goldfish that people don't think of as record holders, perhaps in ornamental lakes'.In July 2010, a goldfish measuring 16 inches (41 cm) and 5 pounds (2.3 kg) was caught in a pond in Poole, England, thought to have been abandoned there after outgrowing a tank. Goldfish have one of the most studied senses of vision in fishes. Goldfish have four kinds of cone cells, which are respectively sensitive to different colors: red, green, blue and ultraviolet. The ability to distinguish between four different primary colors classifies them as tetrachromats.Goldfish have one of the most studied senses of hearing in fish.They have two otoliths, permitting the detection of sound particle motion, and Weberian ossicles connecting the swimbladder to the otoliths, facilitating the detection of sound pressure.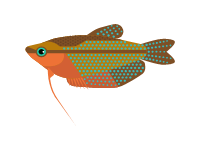 Gouramis, or gouramies, are a group of freshwater anabantiform fishes that comprise the family Osphronemidae. The fish are native to Asia—from Pakistan and India to the Southeast Asia and northeasterly towards Korea. The name 'gourami', of Indonesian origin, is also used for fish of the families Helostomatidae and Anabantidae. Many gouramis have an elongated, feeler-like ray at the front of each of their pelvic fins. All living species show parental care: some are mouthbrooders, and others, like the Siamese fighting fish (Betta splendens), build bubble nests. Currently, about 133 species are recognised, placed in four subfamilies and about 15 genera. The name Polyacanthidae has also been used for this family. Some fish now classified as gouramis were previously placed in family Anabantidae. The subfamily Belontiinae was recently demoted from the family Belontiidae. As labyrinth fishes, gouramis have a lung-like labyrinth organ that allows them to gulp air and use atmospheric oxygen. This organ is a vital innovation for fish that often inhabit warm, shallow, oxygen-poor water. Numerous gourami species are popular aquarium fish widely kept throughout the world. As labyrinth fish, they will often swim near the top of the tank. As with other tropical freshwater fish, an aquarium heater is often used. Gouramis will eat either prepared or live foods. Some species can grow quite large, and are unsuitable for the general hobbyist. Big Gouramis may become territorial with fish that are colourful and a considerable size to them. If you are trying to create a community tank be sure to talk to someone that is employed by a pet store. Gouramis may nip at other fish. If you have fry in your tank, for instance bristlenose catfish fry, the Gourami will definitely eat them. In this scenario it is best to put the fry in a breeding tank, or find another place for the Gourami, separating them.

The guppy (Poecilia reticulata), also known as millionfish and rainbow fish, is one of the world's most widely distributed tropical fish and one of the most popular freshwater aquarium fish species. It is a member of the family Poeciliidae and, like almost all American members of the family, is live-bearing.Guppies originate from northeast South America, but have been introduced to many environments and are now found all over the world. They are highly adaptable and thrive in many different environmental and ecological conditions. Male guppies, which are smaller than females, have ornamental caudal and dorsal fins. Wild guppies generally feed on a variety of food sources, including benthic algae and aquatic insect larvae. Guppies are used as a model organism in the fields of ecology, evolution, and behavioural studies. Guppies exhibit sexual dimorphism. While wild-type females are grey in body color, males have splashes, spots, or stripes that can be any of a wide variety of colors. The size of guppies vary, but males are typically 1.5–3.5 cm (0.6–1.4 in) long, while females are 3–6 cm (1.2–2.4 in) long. A variety of guppy strains are produced by breeders through selective breeding, characterized by different colours, patterns, shapes, and sizes of fins, such as snakeskin and grass varieties. Many domestic strains have morphological traits that are very distinct from the wild-type antecedents. Males and females of many domestic strains usually have larger body size and are much more lavishly ornamented than their wild-type antecedents. Guppies have 23 pairs of chromosomes, including one pair of sex chromosomes, the same number as humans. The genes responsible for male guppies' ornamentations are Y-chromosome linked and are heritable

Koi is a colored varieties of the Amur carp (Cyprinus rubrofuscus) that are kept for decorative purposes in outdoor koi ponds, water gardens or aquariums. The word of koi comes from the Japanese pronunciation of the common character between Japan and China 鯉 meaning carp. Koi, also called Nishikigoi, is the Japanese pronunciation of the common word between Japan and China 錦鯉 meaning brocade carp. Koi is an informal group name of the colored variants of C. rubrofuscus. There is a description of koi with color variation in ancient Chinese literature, but many varieties of koi for ornamental purpose, which are now known around the world, originated from the breeding that began in Niigata, Japan in the early 19th century during the Edo period.Several varieties are recognized by the Japanese. Koi varieties are distinguished by coloration, patterning, and scalation. Some of the major colors are white, black, red, orange, yellow, blue, and cream. The most popular category of koi is the Gosanke, which is made up of the Kohaku, Taisho Sanshoku, and Showa Sanshoku varieties. The length of a koi can average up to about 3.28 feet. On average they also grow about 2 centimeters per month. On the other hand, goldfish may only grow to be around a foot. In general, goldfish tend to be smaller than koi, and have a greater variety of body shapes and fin and tail configurations. Koi varieties tend to have a common body shape, but have a greater variety of coloration and color patterns. They also have prominent barbels on the lip. Some goldfish varieties, such as the common goldfish, comet goldfish, and shubunkin, have body shapes and coloration that are similar to koi, and can be difficult to tell apart from koi when immature. Goldfish and koi can interbreed; however, as they were developed from different species of carp, their offspring are sterile

Labidochromis caeruleus is a species of cichlid endemic to the central western coastal region of Lake Malawi in East Africa. It is also known as lemon yellow lab, the blue streak hap, the electric yellow or yellow prince, depending on the colour morph. A naturally occurring yellow-coloured variant from Lion's Cove is one of the most popular cichlids amongst aquarium hobbyists. Electric yellows inhabit water with a pH between 7.8 and 8.9 and an ideal temperature range of 23–26 °C (73.4–78.8 °F). Large males may reach 15 centimetres (5.9 in) in length. Electric yellows are peaceful compared to most other African cichlids. Despite this, like all cichlids from Lake Malawi, they are best kept in specialist cichlid aquariums with other Mbuna. As with most cichlids, electric yellows should not be kept with freshwater community aquarium species such as Zebra Danios or Neon Tetras, they may nip the finnage of other peaceful species, and are not recommended for freshwater community aquariums because of the differences in the natural habitats between African Lake cichlids and other fish species. This fish is more suited to an African lake cichlid community consisting of other Malawi species. In an aquarium setting, their natural habitat of rocks and caves should be emulated with a sandy substrate. Their diet should consist mostly of prepared cichlid pellets or flakes, supplemented with foods like krill, bloodworms, brineshrimp, and Spirulina flakes. Refrain from feeding these cichlids feeder goldfish, as they are likely carrying diseases that will cause harm to your cichlids.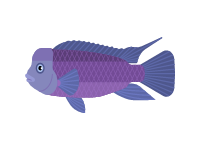 The Lionhead Cichlid Steatocranus casuarius is definitely a unique addition to the tank. This is a fairly small cichlid, generally reaching only about 4 1/2 inches in length. One of its most definitive features is the large fatty lump on the forehead of the adult male. Though it's not too colorful, its body shape and behaviors make it a very fun and interesting fish to watch. Simply looking at them gives some quick clues as to the special characteristics of this fish. They seem to perch on the bottom and their movements are similar to gobies where they tend to 'hop' or 'jerk' from place to place rather than swim. This is because they have adapted to the fast moving streams of their natural habitat. Their lower fins act as struts for support and their swim bladder has been greatly reduced, which keeps them from readily floating and then having to swim against the current. All the common names of this fish are descriptive of this prominent nuchal hump. It will be found as the African Blockhead, Lumphead, African Hump Head Cichlid, African Buffalo Head Cichlid, African Lion Head Cichlid, African Block Head Cichlid, and African Bump Head Cichlid.This cichlid is moderately easy to care for. A great choice for the enthusiast who has limited space and cannot provide a large aquarium. The fish is not demanding about the pH and hardness of the water, but it does need very clean, oxygen rich water. Doing large water changes every week is necessary maintenance to keep it healthy and happy. They need a lot of caves near the bottom of the tank for retreating. Offering several hiding places at varying intervals, created with rocks and driftwood works well. They love to dig in a sandy substrate, often creating a series of caves and tunnels under the decor. So make sure that everything in the tank is secure. They do not bother plants, which is great for those who like their aquascaping, but plants may be uprooted by the burrowing of this fish. It works best to use plants that are hardy and individually potted, or those that can be rooted to the decor such as Anubias or Java Fern. The Lionhead Cichlids are peaceful little guys. They are considered to be a community cichlid if kept with the right tank mates. Generally they will get along with small peaceful fish that are not bottom dwellers. They do best in a species specific tank and should be kept as a pair, but will not get along with other conspecifics. They will often pair for life and remain solitary if their mate should die. Like other cichlids they become territorial, especially toward conspecifics, during spawning.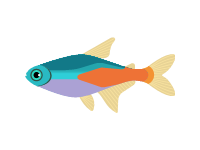 The neon tetra (Paracheirodon innesi) is a freshwater fish of the characin family (family Characidae) of order Characiformes. The type species of its genus, it is native to blackwater and clearwater streams in the Amazon basin of South America.Its bright colouring makes the fish visible to conspecifics in the dark blackwater streams, and is also the main reason for its popularity among freshwater fish hobbyists. The neon tetra is found in the western and northern Amazon basin in southeastern Colombia, eastern Peru, and western Brazil. It lives in waters with a temperature between 20 and 28 °C (68–82 °F) and pH 4–7.5. It has a preference for acidic blackwater streams, but also occurs in transparent clearwater streams.It is not found in the whitewater rivers. The neon tetra has a light-blue back over a silver-white abdomen. The fish is characterized by an iridescent blue horizontal stripe along each side of the fish from its nose to the base of the adipose fin, and an iridescent red stripe that begins at the middle of the body and extends posteriorly to the base of the caudal fin. The fish is partially transparent (including fins) except for these markings. Sexual dimorphism is slight, with the female having a slightly larger belly, and a bent iridescent stripe rather than the male's straight stripe. During the night, the blue and red become gray or black as the fish rests. It reactivates once it becomes active in the morning.It grows to approximately 4 cm (1.5 in) in overall length.They have recently become available in a long-fin variety. In the wild they inhabit very soft, acidic waters (pH 4.0 to 4.8) Ideal pH for aquarium is 7.0, but a range of 6.0 to 8.0 is tolerable. They can have a lifespan of as long as ten years, or normally two to three years in aquarium. Neon tetras are considered easy to keep in an aquarium of at least 10 gallons. Their ideal parameters are the following Temperature: 72°-76°F (22°-24°C) Nitrate: "20 ppm pH: 6.0 to 7.0 GH: "10 dGH KH: 1-2 dKH They are shoaling fish and must be kept in groups of at least 6 but will be more active in groups of 8-12 or more. Neon tetras are best kept in a densely planted tank to resemble their native Amazon environments.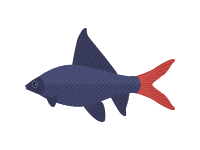 The red-tailed black shark, also known as the redtail shark and redtail shark minnow, is a freshwater fish species in Cyprinidae's carp family. The species is endemic to Thailand. Typically they are aggressive chasers but will rarely bite or harm other fish. Individual personalities vary greatly—some are calm, while others are aggressive toward tank mates. They are bottom dwellers and like lots of dark hiding places. They get along with gourami, barbs, danio, smaller catfish, various loaches, and female bettas. Additionally, they do well with other sharks when they're young. Red-tailed black sharks can reach a length of 16 cm.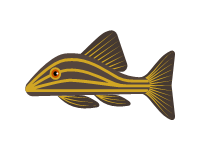 The Royal Plecostomus 'Royal Pleco' is a very popular large species of Pleco.The Royal Pleco also exhibits an interesting body type that features a bulky top heavy appearance. While they appear stubby due to their large bulky looks, they actually attain sizes upwards of 16 inches in length within the aquarium environment. Their body shape and color pattern is a direct result of the environment in which they live in the wild. The fast flowing streams and rivers of their South American origins have dictated that they have a body shape that allows the quickly flowing river waters to pass over them while they feed on submerged drift wood and plant matter. The royal panaque is valuable as an aquarium fish. It is a very attractive aquarium fish which grows to a large size, with a maximum length of 43.0 centimeters in standard length.Maintenance is as for other Panaque, with the fish needing plenty of space, well oxygenated water, and a regular supply of vegetables and wood on which to feed. Young are often imported in an undernourished state and require dedicated attention to recover. Primarily nocturnal, this fish is generally shy under the light and will keep in hiding during the day. This fish is territorial, so a suitable resting area for this fish is necessary.This species has not yet been bred in captivity.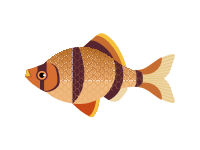 The tiger barb or Sumatra barb (Puntigrus tetrazona), is a species of tropical cyprinid fish. The natural geographic range reportedly extends throughout the Malay Peninsula, Sumatra and Borneo in Indonesia, with unsubstantiated sightings reported in Cambodia. Tiger barbs are also found in many other parts of Asia, and with little reliable collection data over long periods of time, definite conclusions about their natural geographic range versus established introductions are difficult. Tiger barbs may sometimes be confused with Puntigrus anchisporus, which are similar in appearance. The tiger barb can grow to about 7–10 centimeters (2.8–3.9 inches) long and 3–4 centimeters (1.2–1.6 inches) wide, although they are often smaller when kept in captivity. Some can grow to around 13 centimeters as well. Native fish are silver to brownish yellow with four vertical black stripes and red fins and snout. The green tiger barb is the same size and has the same nature as the normal barb, but has a green body. The green tiger barb, often called the moss green tiger barb, can vary considerably in how green it looks; to some people it looks nearly black. Albino barbs are a light yellow with four barely visible stripes. Tiger barbs have been reported to be found in clear or turbid shallow waters of moderately flowing streams. They live in Indonesia, Borneo, tropical climates and prefer water with a 6.0–8.0 pH, a water hardness of 5–19 dGH, and a temperature range of 77 - 82 °F or 25 - 27.8 °C. Their discovery in swamp lakes subject to great changes in water level suggests a wide tolerance to water quality fluctuations. Their average lifespan is seven years.
---