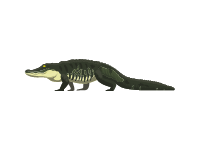 Domestic American alligators range from long and slender to short and robust, possibly in response to variations in factors such as growth rate, diet, and climate. American alligators do not normally reach such extreme sizes. In mature males, most specimens grow up to about 3.4 m (11 ft 2 in) in length, and weigh up to 360 kg (790 lb),while in females, the mature size is normally around 2.6 m (8 ft 6 in), with a body weight up to 91 kg (201 lb). In Newnans Lake, Florida, adult males averaged 73.2 kg (161 lb) in weight and 2.47 m (8 ft 1 in) in length, while adult females averaged 55.1 kg (121 lb) and measured 2.22 m (7 ft 3 in). In Lake Griffin State Park, Florida, adults weighed on average 57.9 kg (128 lb). Weight at sexual maturity per one study was stated as averaging 30 kg (66 lb) while adult weight was claimed as 160 kg (350 lb). Dorsally, adult American alligators may be olive, brown, gray, or black. However, they are on average one of the most darkly colored modern crocodilians (although other alligatorid family members are also fairly dark), and can be reliably be distinguished by color via their more blackish dorsal scales against crocodiles. Meanwhile, their undersides are cream-colored. Some American alligators are missing or have an inhibited gene for melanin, which makes them albino. These American alligators are extremely rare and almost impossible to find in the wild. They could only survive in captivity, as they are very vulnerable to the sun and predators. Adult American alligators held the record as having the strongest laboratory-measured bite of any living animal, measured at up to 13,172 N.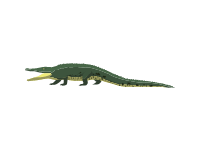 The American crocodile (Crocodylus acutus) is a species of crocodilian found in the Neotropics. It is the most widespread of the four extant species of crocodiles from the Americas, with populations present from South Florida and the coasts of Mexico to as far south as Peru and Venezuela. The habitat of the American crocodile consists largely of coastal areas. American crocodile is a highly fecund species (38 clutch of eggs; fecundity over 20 after 15 years old) with a high adult survival rate and long life span. Like all true crocodilians, the American crocodile is a quadruped, with four short, stocky legs; a long, powerful tail; and a scaly hide with rows of ossified scutes running down its back and tail. Its snout is elongated and includes a strong pair of jaws. Its eyes have nictitating membranes for protection, along with lacrimal glands, which produce tears. The nostrils, eyes, and ears are situated on the top of its head, so the rest of the body can be concealed underwater for surprise attacks. Camouflage also helps it prey on food. The snout is longer and narrower than that of the American alligator, but broader on average than that of the Orinoco crocodile. American crocodiles are also paler and more grayish than the relatively dark-hued American alligator. This crocodile species normally crawls on its belly, but it can also 'high walk'. Larger specimens can charge up to nearly 16 km/h (10 mph). They can swim at as much as 32 km/h (20 mph) by moving their bodies and tails in a sinuous fashion, but they cannot sustain this speed. Adults have a uniform grayish-green coloration with white or yellow undersides, while juveniles have dark cross-banding on the tail and back. The American crocodile is sometimes confused with the Morelet's crocodile, a smaller species that is native to Mexico.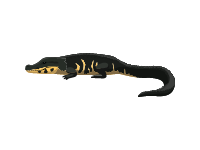 The black caiman (Melanosuchus niger) is a species of large crocodilian and, along with the American alligator, is one of the biggest extant members of the family Alligatoridae and order Crocodilia. It is a carnivorous reptile that lives along slow-moving rivers, lakes, seasonally flooded savannas of the Amazon basin, and in other freshwater habitats of South America. It is a large species, growing to at least 5 m (16 ft) and possibly up to 6 m (20 ft) in length, which makes it the fourth-largest reptile in the Neotropical realm, behind the American alligator, American crocodile, and the critically endangered Orinoco crocodile. The black caiman is one of the largest extant reptiles. It is the largest predator in the Amazon basin and possibly the largest member of the family Alligatoridae. It is also significantly larger than other caiman species. Most adult black caimans are 2.2 to 4.3 m (7 ft 3 in to 14 ft 1 in) in length, with a few old males growing larger than 5 m (16 ft 5 in). Sub-adult male specimens of around 2.5–3.4 m (8 ft 2 in–11 ft 2 in) will weigh roughly 95–100 kg (209–220 lb), around the same size as a mature female, but will quickly increase in bulk and weight. The average size of adult females at their nests was found to be 2.8 m (9 ft 2 in). Mid-sized mature males of 3.5–4 m (11 ft 6 in–13 ft 1 in) weigh approximately 300 kg (660 lb), while larger specimens exceed 400 to 500 kg (880 to 1,100 lb), being relatively bulky crocodilians.A relatively small adult male of a total length of 3.4 m (11 ft 2 in) weighed 98 kg (216 lb) while an adult male considered fairly large at a length of 4.2 m (13 ft 9 in) weighed approximately 350 kg (770 lb). Another sampling of subadult males found them to range in length from 2.1 to 2.8 m (6 ft 11 in to 9 ft 2 in), averaging 2.45 m (8 ft 0 in), and that they weighed from 26 to 86 kg (57 to 190 lb), averaging 48 kg (106 lb). The black caiman broadly overlaps in size with the American alligator (Alligator mississippiensis), although it is on average larger at maturity. In some areas (such as the Araguaia River) this species is consistently reported at 4 to 5 m (13 ft 1 in–16 ft 5 in) in length, much larger than the alligator (which rarely even reaches 4 meters), although specimens this size are uncommon. Several widely reported but unconfirmed (and probably largely anecdotal) sources report that the black caiman can grow to over 6.1 m (20 ft 0 in) in length and weigh up to 1,100 kg (2,400 lb). While it is unclear what the source for this maximum size, many scientific papers accept that this species can attain extreme sizes as such.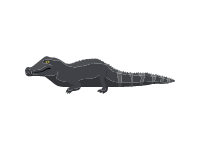 Cuvier's dwarf caiman is the smallest living New World crocodilian. Males grow to a maximum length around 1.6 m (5.2 ft) while females do not usually exceed 1.2 m (3 ft 11 in).The largest specimen on record measured 1.72 m (5.6 ft) in length.This may be an underestimate of the animal's maximum size, as nearly all large adults have lost the tips of their tails and the largest specimen measured in the Pantanal region had a snout–vent length of 1.125 m (4 ft) (equivalent to a total length of 2.1 m (6.9 ft) with an intact tail). An adult typically weighs around 6 to 7 kg (13 to 15 lb), around the same weight as a 6- to 12-month-old specimen of several larger species of crocodilians.Cuvier's dwarf caiman has strong body armor on both its dorsal (upper) and ventral (lower) sides, which may compensate for its small body size in reducing predation. The dermal scales providing this protection have a bony base and are known as osteoderms. The head has an unusual shape for a crocodilian, with a dome-shaped skull and a short, smooth, concave snout with an upturned tip, the shape rather resembling the head of a dog. The upper jaw extends markedly further forward than the lower jaw. Four premaxillary and 14 to 15 maxillary teeth are on either side of the upper jaw and 21 or 22 teeth on each side of the lower jaw, giving a total of about 80 teeth. The neck is relatively slender and the dorsal scutes are less prominent than in the smooth-fronted caiman. The double rows of scutes on the tail are small and project vertically. Adults are dark brownish-black with a dark brown head, while juveniles are brown with black bands. The irises of the eyes are chestnut brown at all ages and the pupils are vertical slits.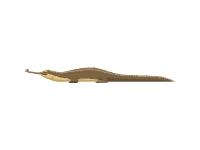 The gharial is olive-coloured, with adults being darker than young, which have dark brown cross bands and speckles. Its back turns almost black at 20 years of age, but its belly is yellowish-white. It has four transverse rows of two scales on the neck, which continue along the back. Scutes on the head, neck and back form a single continuous plate composed of 21 to 22 transverse series, and four longitudinal series. Scutes on the back are bony, but softer and feebly keeled on the sides. The outer edges of the forearms, legs, and feet have crests jutting out; fingers and toes are partly webbed. ts snout is very long and narrow, widened at the end, and with 27 to 29 upper teeth and 25 or 26 lower teeth on each side. The front teeth are the largest. The first, second, and third lower jaw teeth fit into spaces in the upper jaw. The extremely long mandibular symphysis extends to the 23rd or 24th tooth. The snout of adult gharials is 3.5 times longer than the width of the skull's base.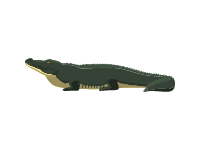 The Nile crocodile (Crocodylus niloticus) is a large crocodilian native to freshwater habitats in Africa, where it is present in 26 countries. Due to its widespread occurrence and stable population trend, it has been listed as Least Concern on the IUCN Red List since 1996.It is widely distributed throughout sub-Saharan Africa, occurring mostly in the central, eastern, and southern regions of the continent, and lives in different types of aquatic environments such as lakes, rivers, swamps, and marshlands.Although capable of living in saline environments, this species is rarely found in saltwater, but occasionally inhabits deltas and brackish lakes. The range of this species once stretched northward throughout the Nile, as far north as the Nile delta. On average, the adult male Nile crocodile is between 3.5 and 5 m (11.5 and 16.4 ft) in length and weighs 225 to 750 kg (500 to 1,650 lb). However, specimens exceeding 6.1 m (20 ft) in length and weighing up to 1,089 kg (2,400 lb) have been recorded. It is the largest freshwater predator in Africa, and may be considered the second-largest extant reptile in the world, after the saltwater crocodile (Crocodylus porosus). Sexual dimorphism is prevalent, and females are usually about 30% smaller than males. They have thick, scaly, heavily armoured skin.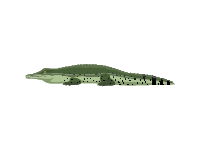 The saltwater crocodile has a wide snout compared to most crocodiles. However, it has a longer snout than the mugger crocodile.Its length is twice its width at the base. A pair of ridges runs from the eyes along the centre of the snout. The scales are oval in shape and the scutes are either small compared to other species or commonly are entirely absent. In addition, an obvious gap is also present between the cervical and dorsal shields, and small, triangular scutes are present between the posterior edges of the large, transversely arranged scutes in the dorsal shield. The relative lack of scutes is considered an asset useful to distinguish saltwater crocodiles in captivity or in illicit leather trading, as well as in the few areas in the field where sub-adult or younger saltwater crocodiles may need to be distinguished from other crocodiles. It has fewer armour plates on its neck than other crocodilians. The adult saltwater crocodile's broad body contrasts with that of most other lean crocodiles, leading to early unverified assumptions the reptile was an alligator. The adult saltwater crocodile's broad body contrasts with that of most other lean crocodiles, leading to early unverified assumptions the reptile was an alligator.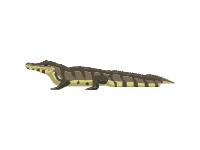 The spectacled caiman (Caiman crocodilus), also known as the white caiman, common caiman, and speckled caiman, is a crocodilian in the family Alligatoridae. It is brownish-, greenish-, or yellowish-gray colored and has a spectacle-like ridge between its eyes, which is where its common name come from. It grows to a length of 1.4–2.5 metres (4.6–8.2 ft) and a weight of 7–40 kilograms (15–88 lb), with males being both longer and heavier than females. Its diet varies seasonally, commonly consisting of crabs, fish, mammals, and snails. Breeding occurs from May to August and 14–40 eggs are laid in July and August. This crocodilian has a large range and population, native to much of Latin American and introduced to the United States.
---