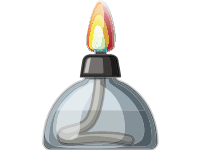 An alcohol burner or spirit lamp is a piece of laboratory equipment used to produce an open flame. It can be made from brass, glass, stainless steel or aluminium. Alcohol burners are preferred for some uses over Bunsen burners for safety purposes, and in laboratories where natural gas is not available. Their flame is limited to approximately 5 centimeters (two inches) in height, with a comparatively lower temperature than the gas flame of the Bunsen burner. While they do not produce flames as hot as other types of burners, they are sufficiently hot for performing some chemistries, standard microbiology laboratory procedures, and can be used for flame sterilization of other laboratory equipment.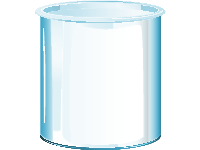 In laboratory equipment, a beaker is generally a cylindrical container with a flat bottom. Most also have a small spout (or 'beak') to aid pouring, as shown in the picture. Beakers are available in a wide range of sizes, from one milliliter up to several liters. A beaker is distinguished from a flask by having straight rather than sloping sides. The exception to this definition is a slightly conical-sided beaker called a Philips beaker. The beaker shape in general drinkware is similar.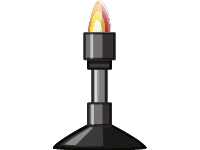 A Bunsen burner, named after Robert Bunsen, is a kind of gas burner used as laboratory equipment; it produces a single open gas flame, and is used for heating, sterilization, and combustion. The gas can be natural gas (which is mainly methane) or a liquefied petroleum gas, such as propane, butane, or a mixture.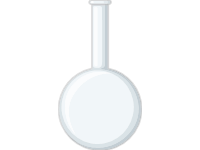 A Florence Flask/Boiling Flask is a type of flask used as an item of laboratory glassware. It is used as a container to hold liquids. A Florence flask has a round body, a long neck, and often a flat bottom. It is designed for uniform heating, boiling, distillation and ease of swirling; it is produced in a number of different glass thicknesses to stand different types of use. They are often made of borosilicate glass for heat and chemical resistance. Traditional Florence flasks typically do not have a ground glass joint on their rather longer necks, but typically have a slight lip or flange around the tip of the neck. The common volume for a Florence flask is 1 litre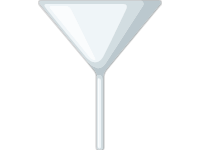 A funnel is a tube or pipe that is wide at the top and narrow at the bottom, used for guiding liquid or powder into a small opening. There are many different kinds of funnels that have been adapted for specialised applications in the laboratory. Filter funnels, thistle funnels (shaped like thistle flowers), and dropping funnels have stopcocks which allow the fluids to be added to a flask slowly. For solids, a powder funnel with a wide and short stem is more appropriate as it does not clog easily. When used with filter paper, filter funnels, Büchner and Hirsch funnels can be used to remove fine particles from a liquid in a process called filtration. For more demanding applications, the filter paper in the latter two may be replaced with a sintered glass frit. Separatory funnels are used in liquid-liquid extractions. The Tullgren funnel is used to collect arthropods from plant litter or similar material.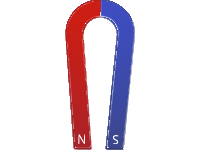 A magnet is a material or object that produces a magnetic field. This magnetic field is invisible but is responsible for the most notable property of a magnet: a force that pulls on other ferromagnetic materials, such as iron, steel, nickel, cobalt, etc. and attracts or repels other magnets. A permanent magnet is an object made from a material that is magnetized and creates its own persistent magnetic field. An everyday example is a refrigerator magnet used to hold notes on a refrigerator door. Materials that can be magnetized, which are also the ones that are strongly attracted to a magnet, are called ferromagnetic (or ferrimagnetic). These include the elements iron, nickel and cobalt and their alloys, some alloys of rare-earth metals, and some naturally occurring minerals such as lodestone. Although ferromagnetic (and ferrimagnetic) materials are the only ones attracted to a magnet strongly enough to be commonly considered magnetic, all other substances respond weakly to a magnetic field, by one of several other types of magnetism.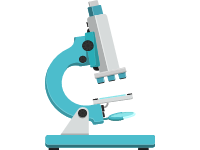 A microscope (from the Ancient Greek: μικρός, mikrós, 'small' and σκοπεῖν, skopeîn, 'to look' or 'see') is an instrument used to see objects that are too small to be seen by the naked eye. Microscopy is the science of investigating small objects and structures using such an instrument. Microscopic means invisible to the eye unless aided by a microscope. There are many types of microscopes, and they may be grouped in different ways. One way is to describe the way the instruments interact with a sample to create images, either by sending a beam of light or electrons to a sample in its optical path, or by scanning across, and a short distance from the surface of a sample using a probe. The most common microscope (and the first to be invented) is the optical microscope, which uses light to pass through a sample to produce an image. Other major types of microscopes are the fluorescence microscope, the electron microscope (both the transmission electron microscope and the scanning electron microscope) and the various types of scanning probe microscopes.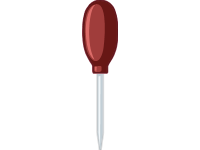 A pipette (sometimes spelled pipet) is a laboratory tool commonly used in chemistry, biology and medicine to transport a measured volume of liquid, often as a media dispenser. Pipettes come in several designs for various purposes with differing levels of accuracy and precision, from single piece glass pipettes to more complex adjustable or electronic pipettes. Many pipette types work by creating a partial vacuum above the liquid-holding chamber and selectively releasing this vacuum to draw up and dispense liquid. Measurement accuracy varies greatly depending on the instrument.

In chemistry, a retort stand, also called a clamp stand, a ring stand, or a support stand, is a piece of scientific equipment intended to support other pieces of equipment and glassware — for instance, burettes, test tubes and flasks. The typical retort stand consists of a heavy base and a vertical rod, both usually made of metal. A number of accessories, such as clamps of various types and iron rings, can be attached to the rod by thumbscrews, at whatever heights and orientations are necessary to support the target equipment.
---