This is an Incident Management template to present the responsibilities and team structure that are assigned to handle effectively and efficiently an incident. The template is a 100% customizable and you can edit every aspect of it with a few simple clicks in MyDraw.
| | | |
| --- | --- | --- |
| Download Template: | | |

| | |
| --- | --- |
| Download Template: | |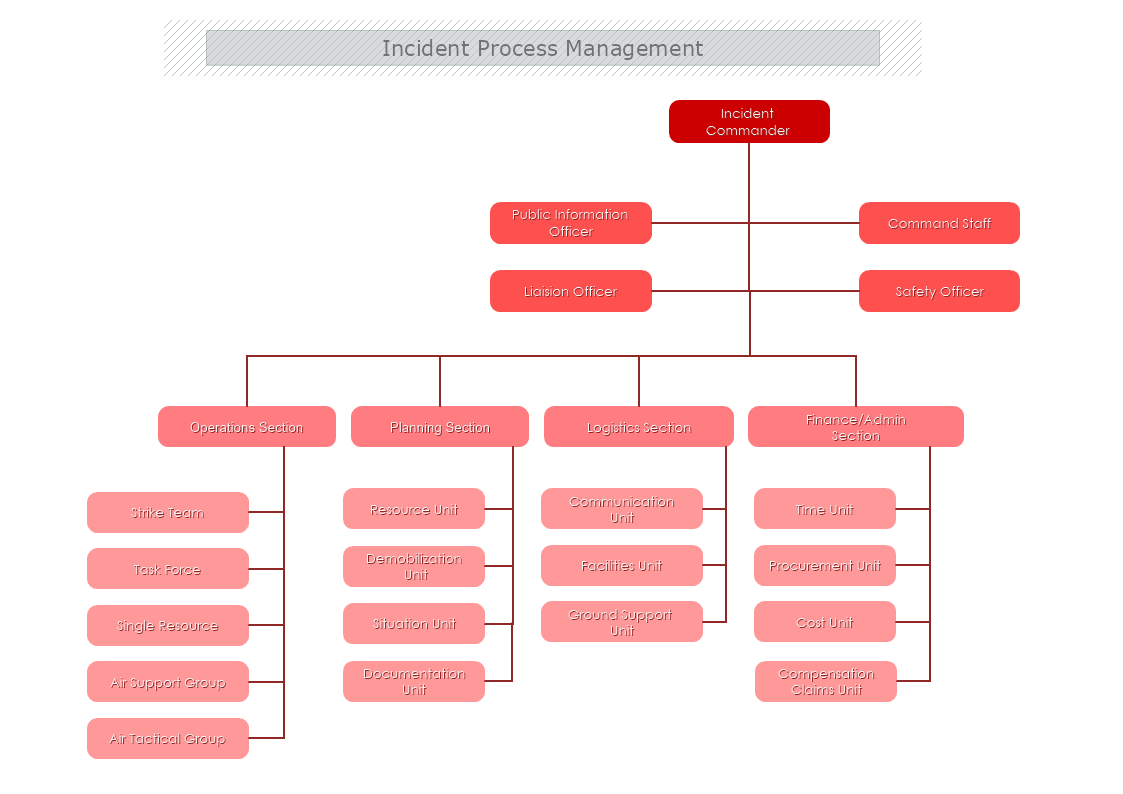 During emergencies, the Incident Command System(ICS) is used by businesses to coordinate together with public agencies an incident. The private sector should be aware of the overall concept of ICS and plan with local public emergencies services. The responsibilities are handled based on the size of the business structure.
Until the emergencies services arrive on the scene, the command of the incident is handled by the senior on-scene officer.
A summary of the roles and responsibilities of each ICS position are presented below:
Incident Commander
Liason Officer
Public Information Officer
Command Staff
Safety Officer
Operations Section- handles the tactical operations during the incident and develops the operations part in the action plan. Makes sure the safety of all responders in the tactical operations and can request resources for the specified operations. Also is in charge of the communication with the Incident Commander.
Planning Section- main priority is the supervision of the Incident Action Plan. Establishes the need for technical experts inside or outside the company to manage the incident. Coordinates the communication between different units. Provides backup strategies and plans. Evaluate and prepare for potential impacts on people, property, environment. Reports and displays incident status information.
Logistics Section- supports personnel, systems, and equipment: workspace or facilities for incident management staff, media briefing center, transportation, supplies, shelter, and medical care. Manages the communication needs and facilitates between teams/personnel/agencies. Attends planning meetings. Reports updates on resources (availability, response time, deployment).
Finance/ Admin Section- in charge of all financial aspects of the incident. Reports financial and cost analysis information and coordinates with Logistics. Tracks worker time and costs for materials and supplies. Documents claims for damage, liability, and injuries. Provides a forecasted cost at planning meetings.