This is a Hurricane Emergency Response Plan template that can be used for emergency procedures guide on how to prepare, evacuate safely, and help surroundings in an unforeseen event. The template is a 100% customizable and you can edit every aspect of it with a few simple clicks in MyDraw.
| | | |
| --- | --- | --- |
| Download Template: | | |

| | |
| --- | --- |
| Download Template: | |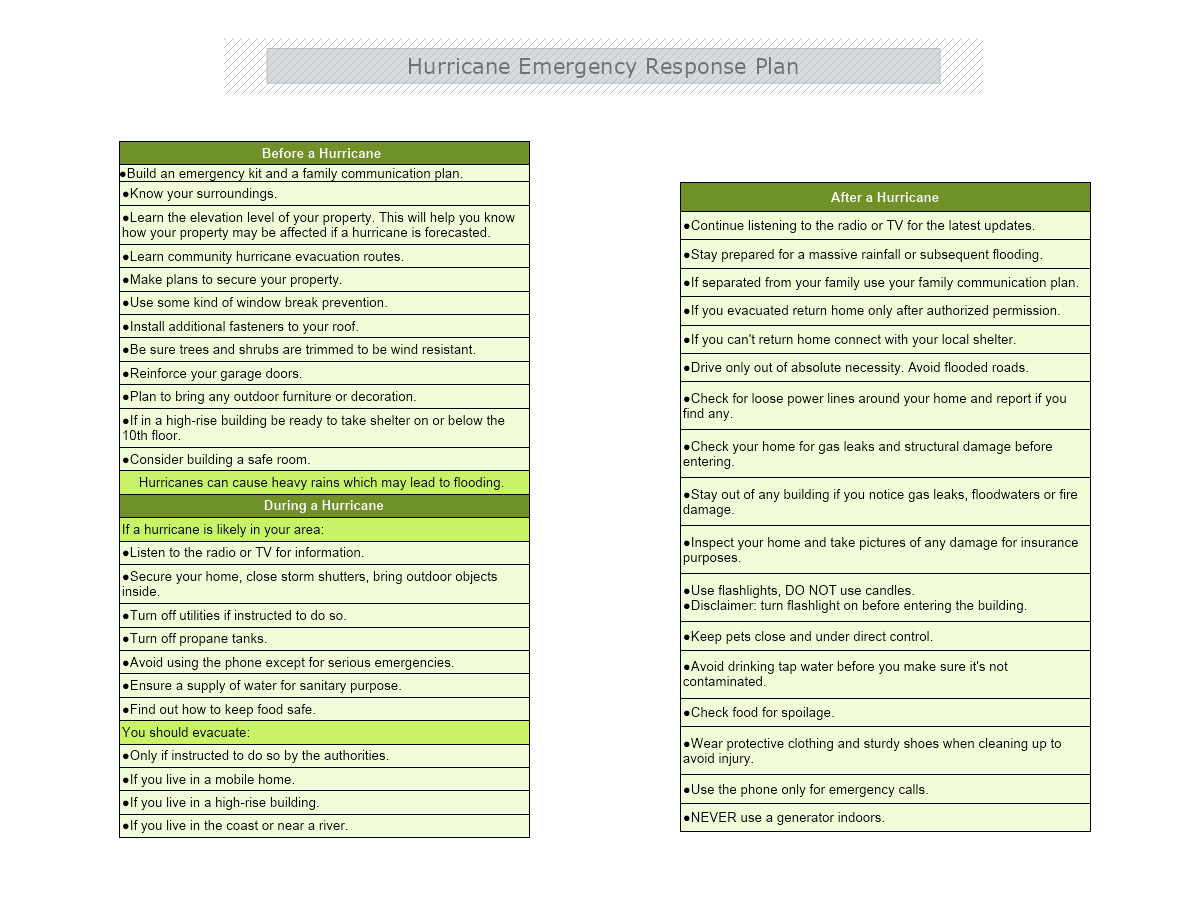 Hurricanes are mostly unpredictable as all-natural disasters. They can be very dangerous and cause major damage because of storm surge, wind damage, rip currents, and flooding.
Before a hurricane
If a major storm is coming, stay informed by listening to the weather report on the radio or your local news channels for updates. If evacuation is needed, follow the instructions of the authorities.
Make a family evacuation plan. Select a common meeting place or single point-of-contact for all family members. If you have pets, have a plan for their evacuation as well.
Before evacuating your household, turn off all utilities and follow community disaster preparedness plans.
Secure the exterior and interior of your home.
Cars should be moved to higher ground or parked in a garage. Do not leave them under trees, near power lines, or in low-lying areas.
Make sure your phone's battery is charged and the gas tank of your car is fueled.
Install storm shutters- use impact-resistant glass.
Unplug appliances and store them in cabinets or interior closets.
Place documents, such as legal papers, birth certificates, marriage licenses, financial papers, and insurance policy information, as well as valuables such as jewelry, in a safety deposit box.
Emergency kit- flashlights, a portable radio, extra batteries, non-perishable food, bottled water, cash, blankets, clothing, and toiletries.
Have a shelter room.
After a hurricane
Listen to the latest updates over the radio or the local news.
Return home only when officials say it is safe.
Avoid flooded roads and washed-out bridges. Watch out for fallen objects on the road, downed electrical wires, and weakened walls, bridges, roads, and sidewalks that might collapse.
Check for loose power lines, gas leaks, and structural damage.
Avoid driving.
Stay away from buildings, if you smell gas.
Carbon monoxide poisoning is one of the leading causes of death after storms in areas dealing with power outages.
Do not use a portable generator inside your home or garage.
Use battery-powered flashlights.
Do not light candles and turn on your flashlight before entering a vacated building.
Safety Tips
Avoid all unprotected windows and doors until the storm passes.
Go to a shelter.
If local authorities order evacuation, do it immediately.
Stay indoors until the hurricane passes, strong winds blow things around.
Avoid low-lying and flood-prone areas.