This is an Earthquake Emergency Response Plan Template used for guidance on how to prepare and respond during and after an earthquake. The emergency response plan contains earthquake drills, an emergency kit, a checklist, indoor and outdoor actions for safe evacuation. The template is a 100% customizable and you can edit every aspect of it with a few simple clicks in MyDraw.
| | | |
| --- | --- | --- |
| Download Template: | | |

| | |
| --- | --- |
| Download Template: | |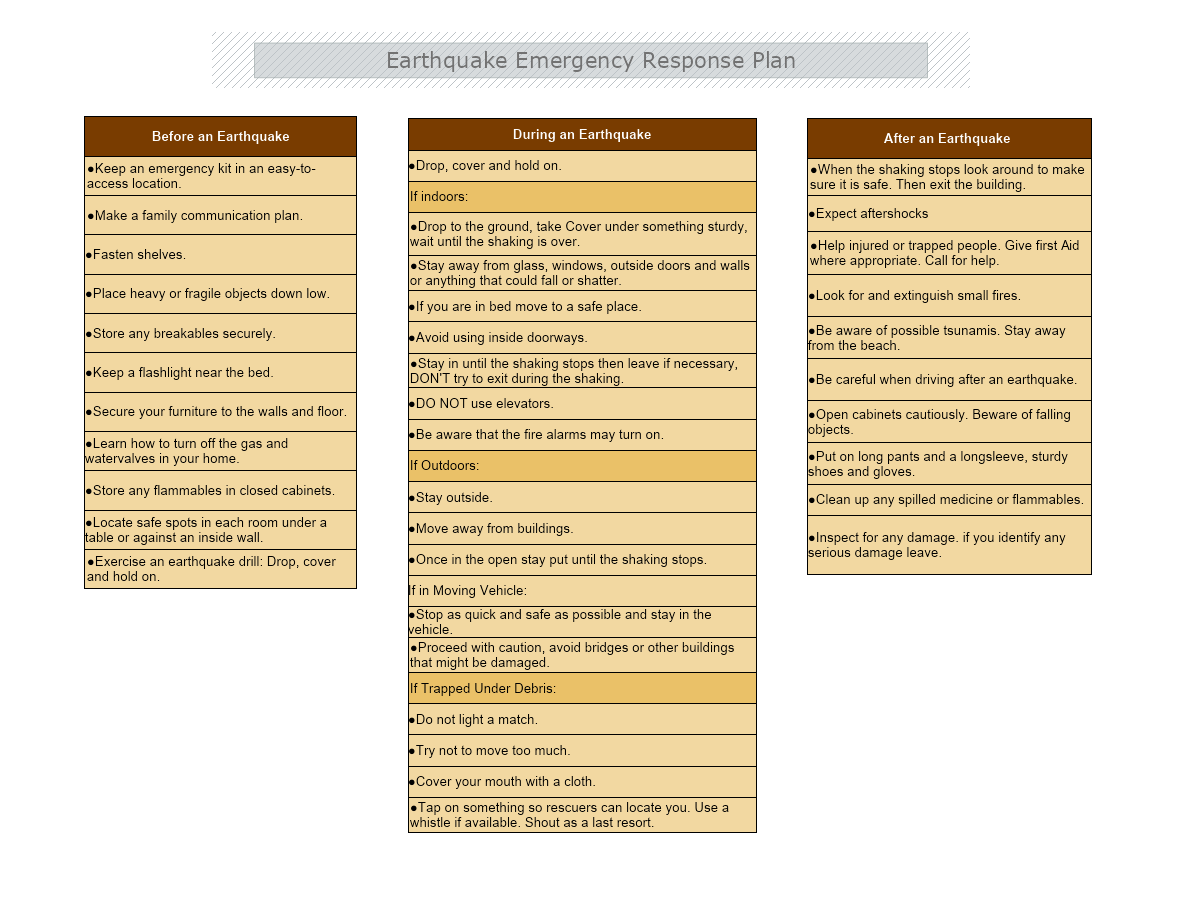 Earthquakes can cause other natural disasters, such as tsunamis, fires, landslides, and avalanches. An earthquake is provoked by the shifting of rocks deep underneath the earth's surface and begins quickly. This natural disaster can appear anywhere, but there are areas with higher risk.
How to Prepare for an Earthquake
To be prepared for any disaster you have to plan before it strikes.
Before
Practice makes it perfect- schedule a routine with your family and coworkers to practice drop, cover, and hold on every few months.
Create an emergency response plan, communication plan, and meeting point in case you get separated.
Include an emergency supply kit( food, water, flashlight, whistle, and fire extinguisher).
Being prepared allows you to avoid unnecessary damages and to address minor medical issues.
Protect your home by securing heavy objects.
During
The most important thing to do when an earthquake starts is to take cover immediately.
Stay inside until the shaking stops.
Drop under a table or heavy furniture, cover your torso, so you do not get hit by falling objects, and hold on to stay covered.
Make sure to stay away from windows and shelves with heavy objects.
In outdoor space, stay away from buildings.
If you are in a vehicle pull over by not blocking the road. The roads have to be clear for rescue and emergency vehicles.
Avoid windows, elevators, doorways, bookshelves, etc.
After
Before you go to your normal life, have in mind a few after-effects to watch out for.
Aftershocks.
Authorities may provide information over the radio or on the television. Listen to their instructions. Make phone calls, only if you are injured or in need of emergency service.
Put on shoes and clothes that can protect you from broken glass and remaining from damaged objects.
Do not return to your home, if you fear it is unsafe. Before you go back check your household for hazards.
Take your emergency kit with you.
In case you are not sure there are no gas leaks or spilled flammable liquids, do not light matches or turn on light switches.
Use help signs, if you need assistance.
After taking care of your family members, check if your neighbors need help.
Be aware of secondary effects.
Prepare your Organization for an Earthquake
Appointed Emergency area- the best place would be in an open area away from power lines and buildings, where you can evacuate after the earthquake. Employees must be informed of the emergency area.
Assign a role to an employee to check on coworkers after evacuation.
Duties to employees- delegate different teams to handle first aid, search and rescue, basic evacuation procedure, fire response, and security.
Include a disaster supply kit- water, first aid kit, battery-powered radio, extra batteries, flashlight, local area map with nearest hospital and police station, cell phone with charger or backup battery.
Conduct earthquake drills- alarm, response, evacuation, assembly, roll call, evacuation.
How to reduce the hazards in the workplace?
Place all heavy objects and shelves near the ground.
Any breakable items( glass, art) must be positioned on the ground floor.
Equipment such as computers, laptops, printers, and workstations must be secured on their stands or the ground.
Check the building for any defect related to electricity, gas, or structure.
Bond securely the overhead light fixtures and air conditioning units.
Safety Checklist
Step 1 – Educate yourself and family members on the signs of an earthquake.
Step 2 – Identify the safe spots of your home.
Step 3 – Create an emergency evacuation plan and schedule practice drills, at least 2 times of the year.
Step 4 – Drop, cover, and hold on during the drills.
Step 5 – Make an emergency supplies kit.
Step 6 – Identify the potential weak spots of your home and secure hazards in your household. Inspect, secure and shut off utilities.
Step 7 – After the earthquake check for damages and injuries that need first aid.