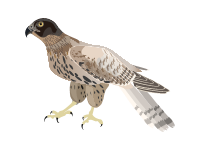 The common buzzard (Buteo buteo) is a medium-to-large bird of prey which has a large range. A member of the genus Buteo, it is a member of the family Accipitridae. The species lives in most of Europe and extends its breeding range across the Palearctic as far as the Russian Far East , northwestern China (Tien Shan) and northwestern Mongolia. Over much of its range, it is a year-round resident. However, buzzards from the colder parts of the Northern Hemisphere as well as those that breed in the eastern part of their range typically migrate south for the northern winter, many culminating their journey as far as South Africa. The common buzzard is an opportunistic predator that can take a wide variety of prey, but it feeds mostly on small mammals, especially rodents such as voles. It typically hunts from a perch. Like most accipitrid birds of prey, it builds a nest, typically in trees in this species, and is a devoted parent to a relatively small brood of young. The common buzzard appears to be the most common diurnal raptor in Europe, as estimates of its total global population run well into the millions. The common buzzard is a medium-sized raptor that is highly variable in plumage. Most buzzards are distinctly round headed with a somewhat slender bill, relatively long wings that either reach or fall slightly short of the tail tip when perched, a fairly short tail, and somewhat short and mainly bare tarsi. They can appear fairly compact in overall appearance but may also appear large relative to other commoner raptorial birds such as kestrels and sparrowhawks. The common buzzard measures between 40 and 58 cm (16 and 23 in) in length with a 109–140 cm (43–55 in) wingspan.Females average about 2–7% larger than males linearly and weigh about 15% more. Body mass can show considerable variation. Buzzards from Great Britain alone can vary from 427 to 1,183 g (0.941 to 2.608 lb) in males, while females there can range from 486 to 1,370 g (1.071 to 3.020 lb).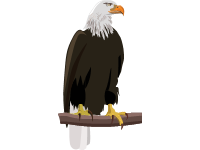 Eagles are large, powerfully built birds of prey, with heavy heads and beaks.Even the smallest eagles, such as the booted eagle (Aquila pennata), which is comparable in size to a common buzzard (Buteo buteo) or red-tailed hawk (B. jamaicensis), have relatively longer and more evenly broad wings, and more direct, faster flight – despite the reduced size of aerodynamic feathers. Most eagles are larger than any other raptors apart from some vultures. The smallest species of eagle is the South Nicobar serpent eagle (Spilornis klossi), at 450 g (1 lb) and 40 cm (16 in). The largest species are discussed below. Like all birds of prey, eagles have very large, hooked beaks for ripping flesh from their prey, strong, muscular legs, and powerful talons. The beak is typically heavier than that of most other birds of prey. Eagles' eyes are extremely powerful. It is estimated that the martial eagle, whose eye is more than twice as long as a human eye, has a visual acuity 3.0 to 3.6 times that of humans. This acuity enables eagles to spot potential prey from a very long distance. This keen eyesight is primarily attributed to their extremely large pupils which ensure minimal diffraction (scattering) of the incoming light. The female of all known species of eagles is larger than the male. Eagles normally build their nests, called eyries, in tall trees or on high cliffs. Many species lay two eggs, but the older, larger chick frequently kills its younger sibling once it has hatched. The dominant chick tends to be a female, as they are bigger than the male. The parents take no action to stop the killing. Due to the size and power of many eagle species, they are ranked at the top of the food chain as apex predators in the avian world. The type of prey varies by genus. The Haliaeetus and Ichthyophaga eagles prefer to capture fish, though the species in the former often capture various animals, especially other water birds, and are powerful kleptoparasites of other birds. The snake and serpent eagles of the genera Circaetus, Terathopius, and Spilornis predominantly prey on the great diversity of snakes found in the tropics of Africa and Asia. The eagles of the genus Aquila are often the top birds of prey in open habitats, taking almost any medium-sized vertebrate they can catch. Where Aquila eagles are absent, other eagles, such as the buteonine black-chested buzzard-eagle of South America, may assume the position of top raptorial predator in open areas. Many other eagles, including the species-rich genus Spizaetus, live predominantly in woodlands and forest. These eagles often target various arboreal or ground-dwelling mammals and birds, which are often unsuspectingly ambushed in such dense, knotty environments. Hunting techniques differ among the species and genera, with some individual eagles having engaged in quite varied techniques based their environment and prey at any given time. Most eagles grab prey without landing and take flight with it, so the prey can be carried to a perch and torn apart.

Falcons are birds of prey in the genus Falco, which includes about 40 species. Falcons are widely distributed on all continents of the world except Antarctica, though closely related raptors did occur there in the Eocene.dult falcons have thin, tapered wings, which enable them to fly at high speed and change direction rapidly. Fledgling falcons, in their first year of flying, have longer flight feathers, which make their configuration more like that of a general-purpose bird such as a broad-wing. This makes flying easier while learning the exceptional skills required to be effective hunters as adults. The falcons are the largest genus in the Falconinae subfamily of Falconidae, which itself also includes another subfamily comprising caracaras and a few other species. All these birds kill with their beaks, using a 'tooth' on the side of their beaks—unlike the hawks, eagles, and other birds of prey in the Accipitridae, which use their feet. The falcons are the largest genus in the Falconinae subfamily of Falconidae, which itself also includes another subfamily comprising caracaras and a few other species. All these birds kill with their beaks, using a 'tooth' on the side of their beaks—unlike the hawks, eagles, and other birds of prey in the Accipitridae, which use their feet. Some small falcons with long, narrow wings are called 'hobbies'and some which hover while hunting are called 'kestrels'. As is the case with many birds of prey, falcons have exceptional powers of vision; the visual acuity of one species has been measured at 2.6 times that of a normal human. Peregrine falcons have been recorded diving at speeds of 200 miles per hour (320 km/h), making them the fastest-moving creatures on Earth. The fastest recorded dive for one is 390 kilometers per hour (240 mph).

Hawks are a group of medium-sized diurnal birds of prey of the family Accipitridae. Hawks are widely distributed and vary greatly in size.The subfamily Accipitrinae includes goshawks, sparrowhawks, sharp-shinned hawks and others. This subfamily are mainly woodland birds with long tails and high visual acuity. They hunt by dashing suddenly from a concealed perch.In America, members of the Buteo group are also called hawks; this group is called buzzards in other parts of the world. Generally, buteos have broad wings and sturdy builds. They are relatively larger-winged, shorter-tailed and fly further distances in open areas than accipiters. Buteos descend or pounce on their prey rather than hunting in a fast horizontal pursuit.The terms accipitrine hawk and buteonine hawk are used to distinguish between the types in regions where hawk applies to both. The term 'true hawk' is sometimes used for the accipitrine hawks in regions where buzzard is preferred for the buteonine hawks. All these groups are members of the family Accipitridae, which includes the hawks and buzzards as well as kites, harriers and eagles. To confuse things further, some authors use 'hawk' generally for any small to medium Accipitrid that is not an eagle.The common names of some birds include the term 'hawk', reflecting traditional usage rather than taxonomy. For example, some people may call an osprey a 'fish hawk' or a peregrine falcon a 'duck hawk'.

Owls are birds from the order Strigiformes, which includes over 200 species of mostly solitary and nocturnal birds of prey typified by an upright stance, a large, broad head, binocular vision, binaural hearing, sharp talons, and feathers adapted for silent flight. Exceptions include the diurnal northern hawk-owl and the gregarious burrowing owl. Owls hunt mostly small mammals, insects, and other birds, although a few species specialize in hunting fish. They are found in all regions of the Earth except polar ice caps and some remote islands. Owls are divided into two families: the true (or typical) owl family, Strigidae, and the barn-owl family, Tytonidae. A group of owls is called a 'parliament.'Owls possess large, forward-facing eyes and ear-holes, a hawk-like beak, a flat face, and usually a conspicuous circle of feathers, a facial disc, around each eye. The feathers making up this disc can be adjusted to sharply focus sounds from varying distances onto the owls' asymmetrically placed ear cavities. Most birds of prey have eyes on the sides of their heads, but the stereoscopic nature of the owl's forward-facing eyes permits the greater sense of depth perception necessary for low-light hunting. Although owls have binocular vision, their large eyes are fixed in their sockets—as are those of most other birds—so they must turn their entire heads to change views. As owls are farsighted, they are unable to clearly see anything within a few centimeters of their eyes. Caught prey can be felt by owls with the use of filoplumes—hairlike feathers on the beak and feet that act as 'feelers'. Their far vision, particularly in low light, is exceptionally good. Owls can rotate their heads and necks as much as 270°. Owls have 14 neck vertebrae compared to seven in humans, which makes their necks more flexible. They also have adaptations to their circulatory systems, permitting rotation without cutting off blood to the brain: the foramina in their vertebrae through which the vertebral arteries pass are about 10 times the diameter of the artery, instead of about the same size as the artery as in humans; the vertebral arteries enter the cervical vertebrae higher than in other birds, giving the vessels some slack, and the carotid arteries unite in a very large anastomosis or junction, the largest of any bird's, preventing blood supply from being cut off while they rotate their necks. Other anastomoses between the carotid and vertebral arteries support this effect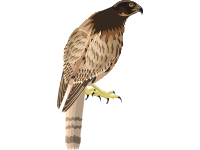 The Eurasian sparrowhawk (Accipiter nisus), also known as the northern sparrowhawk or simply the sparrowhawk, is a small bird of prey in the family Accipitridae. Adult male Eurasian sparrowhawks have bluish grey upperparts and orange-barred underparts; females and juveniles are brown above with brown barring below. The female is up to 25% larger than the male – one of the greatest size differences between the sexes in any bird species. Though it is a predator which specialises in catching woodland birds, the Eurasian sparrowhawk can be found in any habitat and often hunts garden birds in towns and cities. Males tend to take smaller birds, including tits, finches, and sparrows; females catch primarily thrushes and starlings, but are capable of killing birds weighing 500 g (18 oz) or more.The Eurasian sparrowhawk is found throughout the temperate and subtropical parts of the Old World; while birds from the northern parts of the range migrate south for winter, their southern counterparts remain resident or make dispersive movements. Eurasian sparrowhawks breed in suitable woodland of any type, with the nest, measuring up to 60 cm (2.0 ft) across, built using twigs in a tree. Four or five pale blue, brown-spotted eggs are laid; the success of the breeding attempt is dependent on the female maintaining a high weight while the male brings her food. The chicks hatch after 33 days and fledge after 24 to 28 days. The Eurasian sparrowhawk is a small bird of prey with short, broad wings and a long tail, both adaptations to manoeuvring through trees. Females can be up to 25% larger than males and weigh up to twice as much. Marked size difference in this direction is unusual in higher vertebrates but typical in birds of prey, and most marked in birds of prey which hunt birds. The adult male is 29–34 cm (11–13 in) long, with a wingspan of 59–64 cm (23–25 in) and a mass of 110–196 g (3.9–6.9 oz). He has slate-grey upperparts (sometimes tending to bluish), with finely red-barred underparts, which can look plain orange from a distance; his irides are orange-yellow or orange-red. The female is much larger at 35–41 cm (14–16 in) long, with a wingspan of 67–80 cm (26–31 in), and a mass of 185–342 g (6.5–12.1 oz). She has dark brown or greyish-brown upperparts, and brown-barred underparts, and bright yellow to orange irides. The juvenile is warm brown above, with rusty fringes to the upperparts; and coarsely barred or spotted brown below, with pale yellow eyes; its throat has dark streaks and lacks a mesial (midline) stripe. The Eurasian sparrowhawk's pale underparts and darker upperparts are an example of countershading, which helps to break up the bird's outline. Countershading is exhibited by birds of prey which hunt birds and other fast-moving animals. The horizontal barring seen on adult Eurasian sparrowhawks is typical of woodland-dwelling predatory birds, while the adult male's bluish colour is also seen in other bird-eating raptors, including the peregrine falcon, the merlin and other Accipiters.
---