The quintessential early bird, American Robins, are common sights on lawns across North America, where you often see them tugging earthworms out of the ground. Robins are popular birds for their warm orange breast, cheery song, and early appearance at the end of winter. Though they're familiar town and city birds, American Robins are also home in wilder areas, including mountain forests and Alaskan wilderness. The eastern subspecies of the American robin is 23 to 28 cm long with a wingspan ranging from 31 to 41 cm, with similar size ranges across all subspecies. The species averages about 77 g in weight, with males ranging from 72 to 94 g and females ranging from 59 to 91 g. The American robin's diet generally consists of around 40 percent small invertebrates (mainly insects), such as earthworms, beetle grubs, caterpillars, and grasshoppers, and 60 percent wild and cultivated fruits and berries.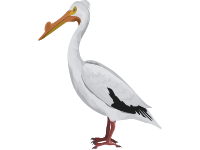 The American white pelican (Pelecanus erythrorhynchos) is a large aquatic soaring bird from the order Pelecaniformes. It breeds in interior North America, moving south and to the coasts, as far as Central America and South America, in winter. The American white pelican rivals the trumpeter swan, with a similar overall length, as the longest bird native to North America. Both very large and plump, it has an overall length of about 50–70 in (130–180 cm), courtesy of the huge beak which measures 11.3–15.2 in (290–390 mm) in males and 10.3–14.2 in (260–360 mm) in females. It has a wingspan of about 95–120 in (240–300 cm).The species also has the second largest average wingspan of any North American bird, after the California condor. This large wingspan allows the bird to easily use soaring flight for migration. Body weight can range between 7.7 and 30 lb (3.5 and 13.6 kg), although typically these birds average between 11 and 20 lb (5.0 and 9.1 kg). One mean body mass of 15.4 lb (7.0 kg) was reported.Another study found mean weights to be somewhat lower than expected, with eleven males averaging 13.97 lb (6.34 kg) and six females averaging 10.95 lb (4.97 kg). Among standard measurements, the wing chord measures 20–26.7 in (51–68 cm) and the tarsus measures 3.9–5.4 in (9.9–13.7 cm) long.The plumage is almost entirely bright white, except the black primary and secondary remiges, which are hardly visible except in flight. From early spring until after breeding has finished in mid-late summer, the breast feathers have a yellowish hue. After moulting into the eclipse plumage, the upper head often has a grey hue, as blackish feathers grow between the small wispy white crest. The bill is huge and flat on the top, with a large throat sac below, and, in the breeding season, is vivid orange in color as are the iris, the bare skin around the eye, and the feet. In the breeding season, there is a laterally flattened 'horn' on the upper bill, located about one-third the bill's length behind the tip. This is the only one of the eight species of pelican to have a bill 'horn'. The horn is shed after the birds have mated and laid their eggs. Outside the breeding season the bare parts become duller in color, with the naked facial skin yellow and the bill, pouch, and feet an orangy-flesh color. Apart from the difference in size, males and females look exactly alike. Immature birds have light grey plumage with darker brownish nape and remiges. Their bare parts are dull grey. Chicks are naked at first, then grow white down feathers all over, before moulting to the immature plumage.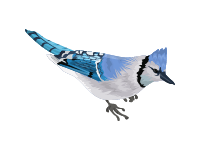 The blue jay (Cyanocitta cristata) is a passerine bird in the family Corvidae, native to eastern North America. It lives in most of the eastern and central United States; eastern populations may be migratory. Resident populations are also found in Newfoundland, Canada; breeding populations are found across southern Canada. It breeds in both deciduous and coniferous forests, and is common in residential areas. It is predominantly blue, with a white chest and underparts and a blue crest; it has a black, U-shaped collar around its neck and a black border behind the crest. Males and females are similar in size and plumage, and plumage does not vary throughout the year. Four subspecies have been recognized. The blue jay measures 22–30 cm (9–12 in) from bill to tail and weighs 70–100 g (2.5–3.5 oz), with a wingspan of 34–43 cm (13–17 in). Consistent with Bergmann's rule, jays from Connecticut averaged 92.4 g (3.26 oz) in mass, while jays from warmer southern Florida averaged 73.7 g (2.60 oz). There is a pronounced crest on the head, a crown of feathers, which may be raised or lowered according to the bird's mood. When excited or aggressive, the crest will be fully raised. When frightened, the crest bristles outwards, brushlike. When the bird is feeding among other jays or resting, the crest is flattened on the head. Its plumage is lavender-blue to mid-blue in the crest, back, wings, and tail, and its face is white. The underside is off-white and the neck is collared with black which extends to the sides of the head. The wing primaries and tail are strongly barred with black, sky-blue and white. The bill, legs, and eyes are all black. Males and females are almost identical, but the male is slightly larger. As with most other blue-hued birds, the blue jay's coloration is not derived from pigments but is the result of light interference due to the internal structure of the feathers; if a blue feather is crushed, the blue disappears because the structure is destroyed. This is referred to as structural coloration.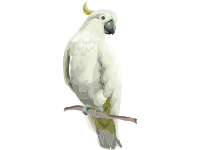 Cockatoo is any of the 21 parrot species belonging to the family Cacatuidae, the only family in the superfamily Cacatuoidea. Along with the Psittacoidea (true parrots) and the Strigopoidea (large New Zealand parrots), they make up the order Psittaciformes. The family has a mainly Australasian distribution, ranging from the Philippines and the eastern Indonesian islands of Wallacea to New Guinea, the Solomon Islands and Australia. Cockatoos are recognisable by the prominent crests and curved bills. Their plumage is generally less colourful than that of other parrots, being mainly white, grey or black and often with coloured features in the crest, cheeks or tail. On average they are larger than other parrots; however, the cockatiel, the smallest cockatoo species, is a small bird. The phylogenetic position of the cockatiel remains unresolved, other than that it is one of the earliest offshoots of the cockatoo lineage. The remaining species are in two main clades. The five large black coloured cockatoos of the genus Calyptorhynchus form one branch. The second and larger branch is formed by the genus Cacatua, comprising 11 species of white-plumaged cockatoos and four monotypic genera that branched off earlier; namely the pink and white Major Mitchell's cockatoo, the pink and grey galah, the mainly grey gang-gang cockatoo and the large black-plumaged palm cockatoo. Cockatoos prefer to eat seeds, tubers, corms, fruit, flowers and insects. They often feed in large flocks, particularly when ground-feeding. Cockatoos are monogamous and nest in tree hollows. Some cockatoo species have been adversely affected by habitat loss, particularly from a shortage of suitable nesting hollows after large mature trees are cleared; conversely, some species have adapted well to human changes and are considered agricultural pests. Cockatoos are popular birds in aviculture, but their needs are difficult to meet. The cockatiel is the easiest cockatoo species to maintain and is by far the most frequently kept in captivity. White cockatoos are more commonly found in captivity than black cockatoos. Illegal trade in wild-caught birds contributes to the decline of some cockatoo species in the wild.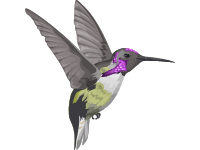 This species is very small, a mature adult growing to only 3–3.5 in (7.6–8.9 cm) in length, a wingspan of 11 cm, and an average weight of 3.05 g for males and 3.22 g for females.The male Costa's has a mainly green back and flanks, a small black tail and wings, and patches of white below their gorgeted throat and tail. Its most distinguishing feature is its vibrant purple cap and throat with the throat feathers flaring out and back behind its head. The female Costa's hummingbird is not as distinct as the male, having grayish-green above with a white underbelly.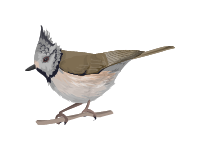 The European crested tit, or simply crested tit (Lophophanes cristatus) (formerly Parus cristatus), is a passerine bird in the tit family Paridae. It is a widespread and common resident breeder in coniferous forests throughout central and northern Europe and in deciduous woodland in France and the Iberian peninsula. In Great Britain, it is chiefly restricted to the ancient pinewoods of Inverness and Strathspey in Scotland, and seldom strays far from its haunts. A few vagrant crested tits have been seen in England. It is resident, and most individuals do not migrate.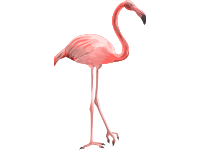 Flamingos or flamingoes are a type of wading bird in the family Phoenicopteridae, the only bird family in the order Phoenicopteriformes. Four flamingo species are distributed throughout the Americas, including the Caribbean, and two species are native to Africa, Asia, and Europe. Flamingos usually stand on one leg, with the other being tucked beneath the body. The reason for this behaviour is not fully understood. One theory is that standing on one leg allows the birds to conserve more body heat, given that they spend a significant amount of time wading in cold water.However, the behaviour also takes place in warm water and is also observed in birds that do not typically stand in water. An alternative theory is that standing on one leg reduces the energy expenditure for producing muscular effort to stand and balance on one leg. A study on cadavers showed that the one-legged pose could be held without any muscle activity, while living flamingos demonstrate substantially less body sway in a one-legged posture. As well as standing in the water, flamingos may stamp their webbed feet in the mud to stir up food from the bottom. Flamingos are capable flyers, and flamingos in captivity often require wing clipping to prevent escape. A pair of African flamingos which had not yet had their wings clipped escaped from the Wichita, Kansas zoo in 2005. One was spotted in Texas 14 years later. It had been seen previously by birders in Texas, Wisconsin and Louisiana. Flamingos in flight at Rio Lagartos, Yucatán, Mexico Young flamingos hatch with grayish-red plumage, but adults range from light pink to bright red due to aqueous bacteria and beta-carotene obtained from their food supply. A well-fed, healthy flamingo is more vibrantly colored, thus a more desirable mate; a white or pale flamingo, however, is usually unhealthy or malnourished. Captive flamingos are a notable exception; they may turn a pale pink if they are not fed carotene at levels comparable to the wild. The greater flamingo is the tallest of the six different species of flamingos, standing at 3.9 to 4.7 feet (1.2 to 1.4 m) with a weight up to 7.7 pounds (3.5 kg), and the shortest flamingo species (the lesser) has a height of 2.6 feet (0.8 m) and weighs 5.5 pounds (2.5 kg). Flamingos can have a wingspan as small as 37 inches (94 cm) to as big as 59 inches (150 cm). Flamingoes can open their bills by raising the upper jaw as well as by dropping the lower.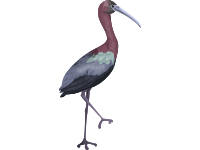 The glossy ibis (Plegadis falcinellus) is a wading bird in the ibis family Threskiornithidae. The scientific name derives from Ancient Greek plegados and Latin, falcis, both meaning 'sickle' and referring to the distinctive shape of the bill. This species is a mid-sized ibis. It is 48–66 cm (19–26 in) long, averaging around 59.4 cm (23.4 in) with an 80–105 cm (31–41 in) wingspan. The culmen measures 9.7 to 14.4 cm (3.8 to 5.7 in) in length, each wing measures 24.8–30.6 cm (9.8–12.0 in), the tail is 9–11.2 cm (3.5–4.4 in) and the tarsus measures 6.8–11.3 cm (2.7–4.4 in).The body mass of this ibis can range from 485 to 970 g (1.069 to 2.138 lb). Breeding adults have reddish-brown bodies and shiny bottle-green wings. Non-breeders and juveniles have duller bodies. This species has a brownish bill, dark facial skin bordered above and below in blue-gray (non-breeding) to cobalt blue (breeding), and red-brown legs. Unlike herons, ibises fly with necks outstretched, their flight being graceful and often in V formation. It also has shiny feathers. Sounds made by this rather quiet ibis include a variety of croaks and grunts, including a hoarse grrrr made when breeding.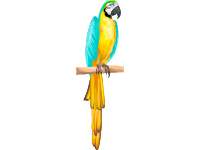 The blue-and-yellow macaw (Ara ararauna), also known as the blue-and-gold macaw, is a large South American parrot with mostly blue top parts and light orange underparts, with gradient hues of green on top of its head. It is a member of the large group of neotropical parrots known as macaws. It inhabits forest (especially varzea, but also in open sections of terra firme or unflooded forest), woodland and savannah of tropical South America. They are popular in aviculture because of their striking color, ability to talk, ready availability in the marketplace, and close bonding to humans. hese birds can reach a length of 76–86 cm (30–34 in) and weigh 0.900–1.5 kg (2–3 lb), making them some of the larger members of their family. They are vivid in appearance with bright aqua blue feathers on the top of their body except for the head, which is lime colored. The bottom, however, is a rich deep yellow/light orange. Their beak is black, as well as the feathers under their chin. Its feet are of a gray color, save for black talons. The bird has white skin, with its face having nearly no feathers beside a few black ones spaced apart from each other forming a striped pattern around the eyes. The irises are pale light yellow. Blue-and-yellow macaws can live from 30 to 35 years in the wild, and reach sexual maturity between the ages of 3 and 6 years. Little variation in plumage is seen across the range. Some birds have a more orange or 'butterscotch' underside color, particularly on the breast. This was often seen in Trinidad birds and others of the Caribbean area. The blue-and-yellow macaw uses its powerful beak for breaking nutshells, and for climbing up and hanging from trees. This species occurs in Venezuela, Peru, Brazil, Bolivia, Ecuador, and Paraguay. The range extends slightly into Central America, where it is restricted to Panama. Although they were nearly wiped out in Trinidad due to human activity during the 1970s, a recent programme of reintroduction has proved successful. Between 1999 and 2003, wild-caught blue-and-yellow macaws were translocated from Guyana to Trinidad, in an attempt to re-establish the species in a protected area around Nariva swamp. A small breeding population descended from introduced birds is found in Puerto Rico,and another has inhabited Miami-Dade County, Florida, since the mid-1980s.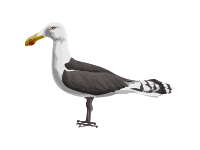 The great black-backed gull is the largest member of the gull family. It is a very aggressive hunter, pirate, and scavenger. It breeds on the European and North American coasts and islands of the North Atlantic and is fairly sedentary, though some move farther south or inland to large lakes or reservoirs. The adult great black-backed gull has a white head, neck, underparts, dark grey wings and back, pink legs, and yellow bill. Great black-backed gulls are opportunistic feeders and apex predators and are very curious. They will investigate any small organism they encounter and readily eat almost anything they can swallow. They get much of their dietary energy from scavenging, with refuse, most provided directly by humans, locally constituting more than half of their diet. The proliferation of garbage or refuse dumps had become a significant attractant to this and all other non-specialized gull species in its range.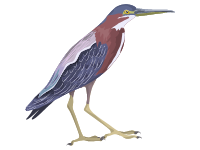 The green heron (Butorides virescens) is a small heron of North and Central America. Butorides is from Middle English butor 'bittern' and Ancient Greek -oides, 'resembling', and virescens is Latin for 'greenish'. It was long considered conspecific with its sister species the striated heron (Butorides striata), and together they were called 'green-backed heron'. Birds of the nominate subspecies (no matter which taxonomic arrangement is preferred) are extremely rare vagrants to western Europe—for example, a sighting in Pembrokeshire in 2018 was only the second recorded sighting in Wales;individuals from the Pacific coast of North America may similarly stray as far as Hawaii.The green heron is relatively small; adult body length is about 44 cm (17 in). The neck is often pulled in tight against the body. Adults have a glossy, greenish-black cap, a greenish back and wings that are grey-black grading into green or blue, a chestnut neck with a white line down the front, grey underparts and short yellow legs. The bill is dark with a long, sharp point. Female adults tend to be smaller than males, and have duller and lighter plumage, particularly in the breeding season. Juveniles are duller, with the head sides, neck and underparts streaked brown and white, tan-splotched back and wing coverts, and greenish-yellow legs and bill. Hatchlings are covered in down feathers, light grey above, and white on the belly. The green heron's call is a loud and sudden kyow; it also makes a series of more subdued kuk calls. During courtship, the male gives a raah-rahh call with wide-open bill, makes noisy wingbeats and whoom-whoom-whoom calls in flight, and sometimes calls roo-roo to the female before landing again. While sitting, an aaroo-aaroo courtship call is also given. Measurements: Length: 16.1-18.1 in (41-46 cm) Weight: 8.5 oz (240 g) Wingspan: 25.2-26.8 in (64-68 cm)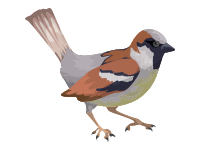 The house sparrow (Passer domesticus) is a bird of the sparrow family Passeridae, found in most parts of the world. It is a small bird that has a typical length of 16 cm (6.3 in) and a mass of 24–39.5 g (0.85–1.39 oz). Females and young birds are coloured pale brown and grey, and males have brighter black, white, and brown markings. One of about 25 species in the genus Passer, the house sparrow is native to most of Europe, the Mediterranean Basin, and a large part of Asia. Its intentional or accidental introductions to many regions, including parts of Australasia, Africa, and the Americas, make it the most widely distributed wild bird. The house sparrow is strongly associated with human habitation, and can live in urban or rural settings. Though found in widely varied habitats and climates, it typically avoids extensive woodlands, grasslands, and deserts away from human development. It feeds mostly on the seeds of grains and weeds, but it is an opportunistic eater and commonly eats insects and many other foods. Its predators include domestic cats, hawks, and many other predatory birds and mammals. Because of its numbers, ubiquity, and association with human settlements, the house sparrow is culturally prominent. It is extensively, and usually unsuccessfully, persecuted as an agricultural pest. It has also often been kept as a pet, as well as being a food item and a symbol of lust, sexual potency, commonness, and vulgarity. Though it is widespread and abundant, its numbers have declined in some areas. The animal's conservation status is listed as least concern on the IUCN Red List.

The mute swan (Cygnus olor) is a species of swan and a member of the waterfowl family Anatidae. It is native to much of Eurosiberia, and (as a rare winter visitor) the far north of Africa. It is an introduced species in North America – home to the largest populations outside of its native range – with additional smaller introductions in Australasia and southern Africa. The name 'mute' derives from it being less vocal than other swan species. Measuring 125 to 170 cm (49 to 67 in) in length, this large swan is wholly white in plumage with an orange beak bordered with black. It is recognisable by its pronounced knob atop the beak, which is larger in males. Adults of this large swan typically range from 140 to 160 cm (55 to 63 in) long, although can range in extreme cases from 125 to 170 cm (49 to 67 in), with a 200 to 240 cm (79 to 94 in) wingspan. Males are larger than females and have a larger knob on their bill. On average, this is the second largest waterfowl species after the trumpeter swan, although male mute swans can easily match or even exceed a male trumpeter in mass.Among standard measurements of the mute swan, the wing chord measures 53–62.3 cm (20.9–24.5 in), the tarsus is 10–11.8 cm (3.9–4.6 in) and the bill is 6.9–9 cm (2.7–3.5 in). The mute swan is one of the heaviest flying birds. In several studies from Great Britain, males (known as cobs) were found to average from about 10.6 to 11.87 kg (23.4 to 26.2 lb), with a weight range of 9.2–14.3 kg (20–32 lb) while the slightly smaller females (known as pens) averaged about 8.5 to 9.67 kg (18.7 to 21.3 lb), with a weight range of 7.6–10.6 kg (17–23 lb).While the top normal weight for a big cob is roughly 15 kg (33 lb), one unusually big Polish cob weighed almost 23 kg (51 lb) and this counts as the largest weight ever verified for a flying bird, although it has been questioned whether this heavyweight could still take flight. oung birds, called cygnets, are not the bright white of mature adults, and their bill is dull greyish-black, not orange, for the first year. The down may range from pure white to grey to buff, with grey/buff the most common. The white cygnets have a leucistic gene. Cygnets grow quickly, reaching a size close to their adult size in approximately three months after hatching. Cygnets typically retain their grey feathers until they are at least one year old, with the down on their wings having been replaced by flight feathers earlier that year. All mute swans are white at maturity, though the feathers (particularly on the head and neck) are often stained orange-brown by iron and tannins in the water.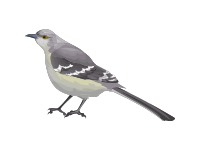 The northern mockingbird (Mimus polyglottos) is the only mockingbird commonly found in North America. This bird is mainly a permanent resident, but northern birds may move south during harsh weather. This species has rarely been observed in Europe. This species was first described by Carl Linnaeus in his 1758 10th edition of Systema Naturae as Turdus polyglottos. The northern mockingbird is known for its mimicking ability, as reflected by the meaning of its scientific name, 'many-tongued thrush'. The northern mockingbird has gray to brown upper feathers and a paler belly. Its tail and wings have white patches which are visible in flight. The northern mockingbird is an omnivore, eating both insects and fruits. It is often found in open areas and forest edges but forages in grassy land. The northern mockingbird breeds in southeastern Canada, the United States, northern Mexico, the Bahamas, the Cayman Islands and the Greater Antilles. It is replaced further south by its closest living relative, the tropical mockingbird. The Socorro mockingbird, an endangered species, is also closely related, contrary to previous opinion. The northern mockingbird is listed as of least concern according to the International Union for Conservation of Nature (IUCN). The northern mockingbird is known for its intelligence. A 2009 study showed that the bird was able to recognize individual humans, particularly noting those who had previously been intruders or threats. Also birds recognize their breeding spots and return to areas in which they had greatest success in previous years. Urban birds are more likely to demonstrate this behavior. The mockingbird is influential in United States culture, being the state bird of five states, appearing in book titles, songs and lullabies, and making other appearances in popular culture. The northern mockingbird is a medium-sized mimid that has long legs and tail. Males and females look alike. Its upper parts are colored gray, while its underparts have a white or whitish-gray color. It has parallel wing bars on the half of the wings connected near the white patch giving it a distinctive appearance in flight. The black central rectrices and typical white lateral rectrices are also noticeable in flight.The iris is usually a light green-yellow or a yellow, but there have been instances of an orange color. The bill is black with a brownish black appearance at the base.The juvenile appearance is marked by its streaks on its back, distinguished spots and streaks on its chest, and a gray or grayish-green iris. Northern mockingbirds measure from 20.5 to 28 cm (8.1 to 11.0 in) including a tail almost as long as its body. The wingspan can range from 31–38 cm (12–15 in) and body mass is from 40–58 g (1.4–2.0 oz). Males tend to be slightly larger than females. Among standard measurements, the wing chord is 10 to 12 cm (3.9 to 4.7 in), the tail is 10 to 13.4 cm (3.9 to 5.3 in), the culmen is 1.6 to 1.9 cm (0.63 to 0.75 in) and the tarsus is 2.9 to 3.4 cm (1.1 to 1.3 in).[9] The northern mockingbird's lifespan is observed to be up to 8 years, but captive birds can live up to 20 years.

The northern cardinal (Cardinalis cardinalis) is a bird in the genus Cardinalis; it is also known colloquially as the redbird, common cardinal, red cardinal, or just cardinal (which was its name prior to 1985). It can be found in southeastern Canada, through the eastern United States from Maine to Minnesota to Texas, and south through Mexico, Belize, and Guatemala. It is also an introduced species in a few locations such as Bermuda and Hawaii. Its habitat includes woodlands, gardens, shrublands, and wetlands. The northern cardinal is a mid-sized songbird with a body length of 21–23 cm (8.3–9.1 in). It has a distinctive crest on the head and a mask on the face which is black in the male and gray in the female. The male is a vibrant red, while the female is a reddish olive color. The northern cardinal is mainly granivorous, but also feeds on insects and fruit. The male behaves territorially, marking out his territory with song. During courtship, the male feeds seed to the female beak-to-beak. A clutch of three to four eggs is laid, and two to four clutches are produced each year. It was once prized as a pet, but its sale as a cage bird was banned in the United States by the Migratory Bird Treaty Act of 1918. Male northern cardinal in Manhasset, New York The northern cardinal is a mid-sized songbird with a body length of 21–23.5 cm (8.3–9.3 in) and a wingspan of 25–31 cm (9.8–12.2 in). The adult weighs from 33.6–65 g (1.19–2.29 oz), with an average 44.8 g (1.58 oz). The male averages slightly larger than the female.The adult male is a brilliant crimson red color with a black face mask over the eyes, extending to the upper chest. The color becomes duller and darker on the back and wings. The female is fawn, with mostly grayish-brown tones and a slight reddish tint on the wings, the crest, and the tail feathers. The face mask of the female is gray to black and is less defined than that of the male. Both sexes possess prominent raised crests and bright coral-colored beaks. The beak is cone-shaped and strong. Young birds, both male and female, show coloring similar to the adult female until the fall, when they molt and grow adult feathers. They are brown above and red-brown below, with brick-colored crest, forehead, wings, and tail. The legs and feet are a dark pink-brown. The iris of the eye is brown. The plumage color of the males is produced from carotenoid pigments in the diet. Coloration is produced from both red pigments and yellow carotenoid pigments. Northern cardinal males normally metabolize carotenoid pigments to create plumage pigmentation of a color different from the ingested pigment. When fed only yellow pigments, males become a pale red color. A few 'yellow morph' cardinals lack the enzyme to do this conversion. Their beak and feathers (except for black face mask) are yellow. Sightings are rare. During winter, both male and female will fluff up their down feathers in order to trap warm air next to their body and keeping cold air from reaching their body. The down feathers are small and hairlike at the base of each flight feather. The legs and feet of almost all birds are thin and lack feathers, and so are vulnerable to rapid heat loss. Therefore, many take turns tucking one leg at a time into their body to keep them warm while still using the other to stand.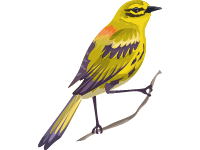 The palm warbler (Setophaga palmarum) is a small songbird of the New World warbler family. Palm warblers breed in open coniferous bogs and edge east of the Continental Divide, across Canada and the northeastern United States. These birds migrate to the southeastern United States, the Yucatán Peninsula, islands of the Caribbean, and eastern Nicaragua south to Panama to winter.[3] They are one of the earlier migrants to return to their breeding grounds in the spring, often completing their migration almost two months before most other warblers. Unlike most Setophaga species, the Palm warbler's winter range includes much of the Atlantic coast of North America, extending as far north as southern Nova Scotia. Every year since 1900 the Palm warbler has been observed during Christmas Bird Count activities in Massachusetts, and consistently since 1958 in Nova Scotia. For the interval 1966-2015 the Palm warbler population increased throughout much of its northernmost breeding range. Palm warbler has been recorded as a vagrant to Iceland.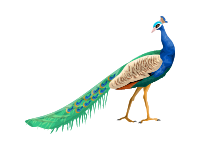 The term 'peacock' is commonly used to refer to birds of both sexes. Technically, only males are peacocks. Females are peahens, and together, they are called peafowl. Suitable males may gather harems of several females, each of which will lay three to five eggs. In fact, wild peafowl often roost in forest trees and gather in groups called parties. Peacocks are ground-feeders that eat insects, plants, and small creatures. There are two familiar peacock species. The blue peacock lives in India and Sri Lanka, while the green peacock is found in Java and Myanmar (Burma). A more distinct and little-known species, the Congo peacock, inhabits African rain forests. Peafowl such as the blue peacock have been admired by humans and kept as pets for thousands of years. Selective breeding has created some unusual color combinations, but wild birds are themselves bursting with vibrant hues. They can be testy and do not mix well with other domestic birds.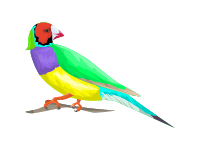 The rainbow lorikeet (Trichoglossus moluccanus) is a species of parrot found in Australia. It is common along the eastern seaboard, from northern Queensland to South Australia. Its habitat is rainforest, coastal bush and woodland areas. Several taxa traditionally listed as subspecies of the rainbow lorikeet are now treated as separate species, 6 species have now been identified (see Taxonomy). Rainbow lorikeets have been introduced to Perth, Western Australia; Tasmania; Auckland, New Zealand;and Hong Kong. The rainbow lorikeet is a medium-sized parrot, with the length ranging from 25 to 30 cm (10 to 12 in), including the tail. The weight varies from 75 to 157 g (2.6–5.5 oz). The plumage of the nominate race, as with all subspecies, is very bright. The head is deep blue with a greenish-yellow nuchal collar, and the rest of the upper parts (wings, back and tail) are green. The chest is orange/yellow. The belly is deep blue, and the thighs and rump are green. In flight a yellow wing-bar contrasts clearly with the red underwing coverts. There is little to visually distinguish between the sexes. Juveniles have a black beak, which gradually brightens to orange in the adults. The markings of Trichoglossus moluccanus resemble those of the Coconut Lorikeet (Trichoglossus haematodus), but with a blue belly and a more orange breast with little or no blue-black barring.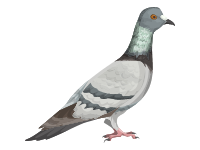 The rock dove, rock pigeon, or common pigeon is a member of the bird family Columbidae (doves and pigeons). Wild rock doves are pale grey with two black bars on each wing, whereas domestic and feral pigeons vary in color and pattern. Few differences are seen between males and females. The species is generally monogamous, with two squabs (young) per brood. Both parents care for the young for a time. Habitats include various open and semi-open environments. Cliffs and rock ledges are used for roosting and breeding in the wild. Originally found wild in Europe, North Africa, and western Asia, pigeons have become established in cities worldwide. The species is abundant, with an estimated population of 17 to 28 million feral and wild birds in Europe alone and up to 120 million worldwide.

The ruby-crowned kinglet (Regulus calendula) is a very small passerine bird found throughout North America. It is a member of the kinglet family. The bird has olive-green plumage with two white wing bars and a white eye-ring. Males have a red crown patch, which is usually concealed. The sexes are identical (apart from the crown), and juveniles are similar in plumage to adults. It is one of the smallest songbirds in North America. The ruby-crowned kinglet is not closely related to other kinglets, and is put in its own subgenus, Corthylio. Three subspecies are currently recognized. The kinglet is migratory, and its range extends from northwest Canada and Alaska south to Mexico. Its breeding habitat is spruce-fir forests in the northern and mountainous regions of the United States and Canada. The ruby-crowned kinglet builds a cup-shaped nest, which may be pensile or placed on a tree branch and is often hidden. It lays up to 12 eggs, and has the largest clutch of any North American passerine for its size. It is mainly insectivorous, but also eats fruits and seeds. The ruby-crowned kinglet is a very small bird, being 9 to 11 cm (3.5 to 4.3 in) long, having a wingspan of 16 to 18 cm (6.3 to 7.1 in), and weighing 5 to 10 g (0.2 to 0.4 oz). It has gray-green upperparts and olive-buff underparts.[3] It has two white wingbars and a broken white eye ring. The wingbar on the greater secondary coverts (closer to the wing-tip) is wider, and is next to a dark band. The kinglet has a relatively plain face and head, although the male has a scarlet-red crown patch, which is usually concealed by the surrounding feathers. The crown patch is rarely orange, yellow, or not present.Females are identical to males (except for the crown). Immature birds are similar to adult females, since young males lack a crown patch.The kinglet usually moves along branches or through foliage with short hops, and flies with bursts of rapid wing beats. It is constantly active, and is easily recognized by its characteristic wing-flicking. Its flight has been described as 'swift, jerky, and erratic'. Compared to the related golden-crowned kinglet, the ruby-crowned kinglet is slightly larger, more elongated, and has greener plumage. The bird can be mistaken for the Hutton's vireo, which also displays wing-flicking, though less frequently than the kinglet. It can also be mistaken for the dwarf vireo in Mexico. However, both of the vireos are larger, have stouter bills and legs, and lack the kinglet's black bar on the wings.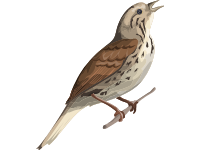 The song sparrow (Melospiza melodia) is a medium-sized New World sparrow. Among the native sparrows in North America, it is easily one of the most abundant, variable and adaptable species. dult song sparrows have brown upperparts with dark streaks on the back and are white underneath with dark streaking and a dark brown spot in the middle of the breast. They have a brown cap and a long brown rounded tail. Their face is gray with a brown streak through each eye. They are highly variable in size across numerous subspecies (for subspecies details, see below). The body length ranges from 11 to 18 cm (4.3 to 7.1 in) and wingspan can range from 18 to 25.4 cm (7.1 to 10.0 in). Body mass ranges from 11.9 to 53 g (0.42 to 1.87 oz). The average of all races is 32 g (1.1 oz) but the widespread nominate subspecies (M. m. melodia) weighs only about 22 g (0.78 oz) on average. The maximum lifespan in the wild is 11.3 years. The eggs of the song sparrow are brown with greenish-white spots. Females lay three to five eggs per clutch, with an average incubation time of 13–15 days before hatching. In the field, they are most easily confused with the Lincoln's sparrow and the Savannah sparrow. The former can be recognized by its shorter, grayer tail and the differently-patterned head, the brown cheeks forming a clear-cut angular patch. The Savannah sparrow has a forked tail and yellowish flecks on the face when seen up close. Though a habitat generalist, the song sparrow favors brushland and marshes, including salt marshes across most of Canada and the United States. They also thrive in human dominated areas such as in suburbs, agricultural fields, and along roadsides. Permanent residents of the southern half of their range, northern populations of the song sparrow migrate to the southern United States or Mexico during winter and intermingle with the native, non-migratory population. The song sparrow is a very rare vagrant to western Europe, with a few recorded in Great Britain and Norway. These birds forage on the ground, in shrubs or in very shallow water. They mainly eat insects and seeds. Birds in salt marshes may also eat small crustaceans. They nest either in a sheltered location on the ground or in trees or shrubs. Song sparrows with areas of shrub cover in their territory, away from the intertidal coastline, have greater over-winter survival, as well higher reproductive success.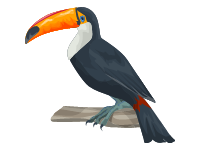 Toucans are members of the Neotropical near passerine bird family Ramphastidae. The Ramphastidae are most closely related to the American barbets. They are brightly marked and have large, often-colorful bills. The family includes five genera and over forty different species. Toucans are arboreal and typically lay 2–21 white eggs in their nests. They make their nests in tree hollows and holes excavated by other animals such as woodpeckers—the toucan bill has very limited use as an excavation tool. When the eggs hatch, the young emerge completely naked, without any down. Toucans are resident breeders and do not migrate. Toucans are usually found in pairs or small flocks. They sometimes fence with their bills and wrestle, which scientists hypothesize they do to establish dominance hierarchies. In Africa and Asia, hornbills occupy the toucans' ecological niche, an example of convergent evolution. Toucans range in size from the lettered aracari (Pteroglossus inscriptus), at 130 g (4.6 oz) and 29 cm (11 in), to the toco toucan (Ramphastos toco), at 680 g (1.50 lb) and 63 cm (25 in). Their bodies are short (of comparable size to a crow's) and compact. The tail is rounded and varies in length, from half the length to the whole length of the body. The neck is short and thick. The wings are small, as they are forest-dwelling birds who only need to travel short distances, and are often of about the same span as the bill-tip-to-tail-tip measurements of the bird. The toco toucan is the largest species of toucan. The legs of the toucan are strong and rather short. Their toes are arranged in pairs with the first and fourth toes turned backward. The majority of toucans do not show any sexual dimorphism in their coloration, the genus Selenidera being the most notable exception to this rule (hence their common name, 'dichromatic toucanets'). However, the bills of female toucans are usually shorter, deeper and sometimes straighter, giving more of a 'blocky' impression compared to male bills. The feathers in the genus containing the largest toucans are generally purple, with touches of white, yellow, and scarlet, and black. The underparts of the araçaris (smaller toucans) are yellow, crossed by one or more black or red bands. The toucanets have mostly green plumage with blue markings. Spot-billed toucanets have smaller bills than Ramphastos toucans. The colorful and large bill, which in some large species measures more than half the length of the body, is the hallmark of toucans. Despite its size, the toucan's bill is very light, being composed of bone struts filled with spongy tissue of keratin between them. The bill has forward-facing serrations resembling teeth, which historically led naturalists to believe that toucans captured fish and were primarily carnivorous; today it is known that they eat mostly fruit. Researchers have discovered that the large bill of the toucan is a highly efficient thermoregulation system, though its size may still be advantageous in other ways. It does aid in their feeding behavior (as they sit in one spot and reach for all fruit in range, thereby reducing energy expenditure), and it has also been theorized that the bill may intimidate smaller birds, so that the toucan may plunder nests undisturbed (see Diet below). The beak allows the bird to reach deep into tree-holes to access food unavailable to other birds, and also to ransack suspended nests built by smaller birds. A toucan's tongue is long (up to 15 cm (5.9 in)), narrow, grey, and singularly frayed on each side, adding to its sensitivity as a tasting organ. A structural complex probably unique to toucans involves the modification of several tail vertebrae. The rear three vertebrae are fused and attached to the spine by a ball and socket joint. Because of this, toucans may snap their tail forward until it touches the head. This is the posture in which they sleep, often appearing simply as a ball of feathers, with the tip of the tail sticking out over the head.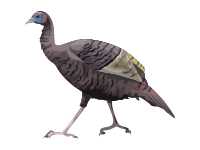 The wild turkey is an upland ground bird native to North America, one of two extant species of turkey, and the heaviest member of the order Galliformes. It is the ancestor of the domestic turkey, originally derived from a southern Mexican subspecies of wild turkey. Adult wild turkeys have long reddish-yellow to grayish-green legs. The body feathers are generally blackish and dark, sometimes grey brown overall, with a coppery sheen that becomes more complex in adult males. Adult males, called toms or gobblers, have a large, featherless, reddish head, red throat, and red wattles on the throat and neck. The head has fleshy growths called caruncles. Juvenile males are called jakes; the difference between an adult male and a juvenile is that the jake has a very short beard, and his tail fan has longer feathers in the middle. The adult male's tail fan feathers will be all the same length. When males are excited, a fleshy flap on the bill (called a snood) expands, and this, the wattles and the bare skin of the head and neck all become engorged with blood. Each foot has three toes in front, with a shorter, rear-facing toe in the back; males have a spur behind each of their lower legs.

The wood duck or Carolina duck (Aix sponsa) is a species of perching duck found in North America. It is one of the most colorful North American waterfowl. The wood duck is a medium-sized perching duck. A typical adult is from 47 to 54 cm (19 to 21 in) in length with a wingspan of between 66 to 73 cm (26 to 29 in). The wood duck's weight ranges from 454-862 g (16.0-30.4 oz)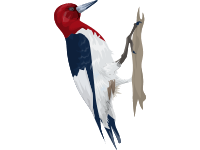 Woodpeckers are part of the family Picidae, which also includes the piculets, wrynecks, and sapsuckers. Members of this family are found worldwide, except for Australia, New Guinea, New Zealand, Madagascar, and the extreme polar regions. Most species live in forests or woodland habitats. However, a few species are known that live in treeless areas, such as rocky hillsides and deserts, and the Gila woodpecker specializes in exploiting cacti. Most woodpecker species feed on insects and other invertebrates living under bark and in wood. Still, the family is characterized by its dietary flexibility, with many species being both highly omnivorous and opportunistic. The diet includes ants, termites, beetles, their larvae, caterpillars, spiders, other arthropods, bird eggs, nestlings, small rodents, lizards, fruit, nuts, and sap. Excavation takes many insects and their grubs from living and dead trees. The bird may hear sounds inside the timber, indicating where creating a hole would be productive.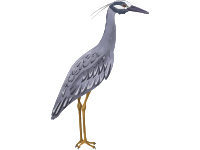 The yellow-crowned night heron (Nyctanassa violacea), is one of two species of night herons found in the Americas, the other one being the black-crowned night heron. It is known as the 'bihoreau violacé' in French and the 'pedrete corona clara' in Spanish. The yellow-crowned night heron is a rather stocky wading bird, ranging from 55 to 70 cm (1 ft 10 in–2 ft 4 in) and from 650 to 850 g (1.43–1.87 lb), the females being a little smaller than the males. The yellow-crowned night heron has a wingspan ranging from 101-112 cm.The neck, slim when extended, gives the bird a comically large head compared to its body, with a large and heavy bill. The body and back are a smooth grey-blue, with a black scaled pattern on the wings. The long legs are yellow and turn coral, pink or red during courtship. The most characteristic part of the yellow-crowned night heron is the head: black and glossy, with white cheeks and a pale yellow crown going from the bill, between the eyes and to the back of the head, giving the bird its common name. Such colours make the face appear striped in a horizontal black-white-black-white pattern. Long, thin, white feathers grow to the back of the crown during mating season. The bill, also black, is thick and deeply set under the eyes which are dark orange or red.
---