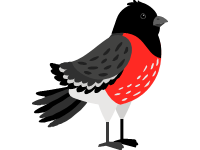 Bullfinch is a name given to two groups of passerine birds. With more than 140 families and some 6,500 identified species, Passeriformes is the largest order of birds and among the most diverse orders of terrestrial vertebrates. Passerines are divided into three suborders: Acanthisitti (New Zealand wrens), Tyranni (suboscines) and Passeri (oscines).The passerines contain several groups of brood parasites such as the viduas, cuckoo-finches, and the cowbirds. Most passerines are omnivorous, while the shrikes are carnivorous. The terms 'passerine' and 'Passeriformes' are derived from the scientific name of the house sparrow, Passer domesticus, and ultimately from the Latin term passer, which refers to sparrows and similar small birds. The foot of a passerine has three toes directed forward and one toe directed backward, called anisodactyl arrangement, and the hind toe (hallux) joins the leg at approximately the same level as the front toes. This arrangement enables passerine birds to easily perch upright on branches. The toes have no webbing or joining, but in some cotingas, the second and third toes are united at their basal third. The leg of passerine birds contains an additional special adaptation for perching. A tendon in the rear of the leg running from the underside of the toes to the muscle behind the tibiotarsus will automatically be pulled and tighten when the leg bends, causing the foot to curl and become stiff when the bird lands on a branch. This enables passerines to sleep while perching without falling off. Most passerine birds have 12 tail feathers but the superb lyrebird has 16, and several spinetails in the family Furnariidae have 10, 8, or even 6, as is the case of Des Murs's wiretail. Species adapted to tree trunk climbing such as woodcreeper and treecreepers have stiff tail feathers that are used as props during climbing. Extremely long tails used as sexual ornaments are shown by species in different families. A well-known example is the long-tailed widowbird.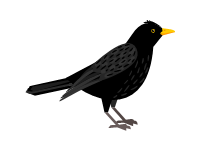 Several unrelated groups of songbirds are called catbirds because of their wailing calls, which resemble a cat's meowing. The genus name Ailuroedus likewise is from the Greek for 'cat-singer' or 'cat-voiced'.he group contains 5000 or so species found all over the world, in which the vocal organ typically is developed in such a way as to produce a diverse and elaborate bird song. Songbirds form one of the two major lineages of extant perching birds, the other being the Tyranni, which are most diverse in the Neotropics and absent from many parts of the world. The Tyranni have a simpler syrinx musculature, and while their vocalizations are often just as complex and striking as those of songbirds, they are altogether more mechanical sounding. There is a third perching bird lineage, the Acanthisitti from New Zealand, of which only two species remain alive today. Some evidence suggests that songbirds evolved 50 million years ago in the part of Gondwana that later became India, Sri Lanka, Australia, New Zealand, New Guinea and Antarctica, before spreading around the world. The song in this clade is essentially territorial, because it communicates the identity and whereabouts of an individual to other birds, and also signals sexual intentions. Sexual selection among songbirds is highly based on mimetic vocalization. Female preference has shown in some populations to be based on the extent of a male's song repertoire. The larger a male's repertoire, the more females a male individual attracts.[6] It is not to be confused with bird calls that are used for alarms and contact and are especially important in birds that feed or migrate in flocks. While almost all living birds give calls of some sort, well-developed songs are only given by a few lineages outside the songbirds.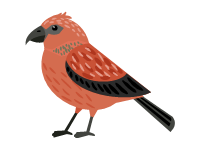 The crossbill is a genus, Loxia, of birds in the finch family (Fringillidae), with six species. These birds are characterised by the mandibles with crossed tips, which gives the group its English name. Adult males tend to be red or orange in colour, and females green or yellow, but there is much variation. Crossbills are specialist feeders on conifer cones, and the unusual bill shape is an adaptation which enables them to extract seeds from cones. These birds are typically found in higher northern hemisphere latitudes, where their food sources grow. They erupt out of the breeding range when the cone crop fails. Crossbills breed very early in the year, often in winter months, to take advantage of maximum cone supplies.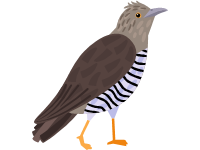 The cuckoos are a family of birds, Cuculidae, the sole taxon in the order Cuculiformes.The cuckoo family includes the common or European cuckoo, roadrunners, koels, malkohas, couas, coucals and anis. The coucals and anis are sometimes separated as distinct families, the Centropodidae and Crotophagidae respectively. The cuckoo order Cuculiformes is one of three that make up the Otidimorphae, the other two being the turacos and the bustards. The cuckoos are generally medium-sized slender birds. Most species live in trees, though a sizeable minority are ground-dwelling. The family has a cosmopolitan distribution, with the majority of species being tropical. Some species are migratory. The cuckoos feed on insects, insect larvae and a variety of other animals, as well as fruit. Some species are brood parasites, laying their eggs in the nests of other species, but the majority of species raise their own young. Cuckoos have played a role in human culture for thousands of years, appearing in Greek mythology as sacred to the goddess Hera. In Europe, the cuckoo is associated with spring, and with cuckoldry, for example in Shakespeare's Love's Labour's Lost. In India, cuckoos are sacred to Kamadeva, the god of desire and longing, whereas in Japan, the cuckoo symbolises unrequited love. Cuckoos are medium-sized birds that range in size from the little bronze cuckoo, at 17 g and 15 cm (6 inches), to the channel-billed cuckoo, at 630 g (1.4 lbs) and 63 cm (25 inches).There is generally little sexual dimorphism in size, but where it exists, it can be either the male or the female that is larger. One of the most important distinguishing features of the family are the feet, which are zygodactyl, meaning that the two inner toes point forward and the two outer backward. There are two basic body forms, arboreal species (like the common cuckoo) which are slender and have short tarsi, and terrestrial species (like the roadrunners) which are more heavy set and have long tarsi. Almost all species have long tails which are used for steering in terrestrial species and as a rudder during flight in the arboreal species. The wing shape also varies with lifestyle, with the more migratory species like the black-billed cuckoo possessing long narrow wings capable of strong direct flight, and the more terrestrial and sedentary cuckoos like the coucals and malkohas having shorter rounded wings and a more laboured gliding flight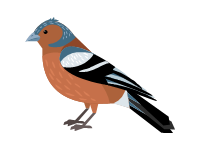 The true finches are small to medium-sized passerine birds in the family Fringillidae. Finches have stout conical bills adapted for eating seeds and nuts and often have colourful plumage. They occupy a great range of habitats where they are usually resident and do not migrate. They have a worldwide distribution except for Australia and the polar regions. The family Fringillidae contains more than two hundred species divided into fifty genera. It includes species known as siskins, canaries, redpolls, serins, grosbeaks and euphonias. Many birds in other families are also commonly called 'finches'. These groups include: the estrildid finches (Estrildidae) of the Old World tropics and Australia; some members of the Old World bunting family (Emberizidae) and the New World sparrow family (Passerellidae); and the Darwin's finches of the Galapagos islands, now considered members of the tanager family (Thraupidae). Finches and canaries were used in the UK, US and Canada in the coal mining industry to detect carbon monoxide from the eighteenth to twentieth century. This practice ceased in the UK in 1986. The smallest 'classical' true finches are the Andean siskin (Spinus spinescens) at as little as 9.5 cm (3.8 in) and the lesser goldfinch (Spinus psaltria) at as little as 8 g (0.28 oz). The largest species is probably the collared grosbeak (Mycerobas affinis) at up to 24 cm (9.4 in) and 83 g (2.9 oz), although larger lengths, to 25.5 cm (10.0 in) in the pine grosbeak (Pinicola enucleator), and weights, to 86.1 g (3.04 oz) in the evening grosbeak (Hesperiphona vespertinus), have been recorded in species which are slightly smaller on average.They typically have strong, stubby beaks, which in some species can be quite large; however, Hawaiian honeycreepers are famous for the wide range of bill shapes and sizes brought about by adaptive radiation. All true finches have 9 primary remiges and 12 rectrices. The basic plumage colour is brownish, sometimes greenish; many have considerable amounts of black, while white plumage is generally absent except as wing-bars or other signalling marks. Bright yellow and red carotenoid pigments are commonplace in this family, and thus blue structural colours are rather rare, as the yellow pigments turn the blue color into green. Many, but by no means all true finches have strong sexual dichromatism, the females typically lacking the bright carotenoid markings of males.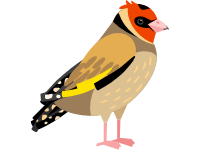 Goldfinch, any of several species of the genus Carduelis (some formerly in Spinus) of the songbird family Fringillidae; they have short, notched tails and much yellow in the plumage. All have rather delicate sharp-pointed bills for finches. Flocks of goldfinches feed on weeds in fields and gardens. They have high lisping calls, often given in flight.The 14-cm (5.5-inch) European goldfinch (C. carduelis) of western Eurasia has been introduced into Australia, New Zealand, Bermuda, and the United States (where it has not become established). It is brownish and black, with a red–white–black head pattern and gold in the wings (sexes alike). The 13-cm (5-inch) American goldfinch (C. tristis), also called wild canary, is found across North America; the male is bright yellow, with black cap, wings, and tail. The 10-cm (4-inch) dark-backed goldfinch ranges from the western U.S. (where it is called lesser goldfinch) to Peru.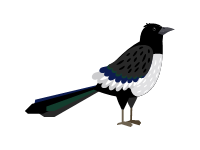 Magpies are birds of the Corvidae family. The black and white Eurasian magpie is widely considered one of the most intelligent animals in the world and one of only a few non-mammal species able to recognize itself in a mirror test.In addition to other members of the genus Pica, corvids considered as magpies are in the genera Cissa, Urocissa, and Cyanopica. Magpies of the genus Pica are generally found in temperate regions of Europe, Asia, and western North America, with populations also present in Tibet and high-elevation areas of India, i.e. Ladakh (Kargil and Leh) and Pakistan. Magpies of the genus Cyanopica are found in East Asia and the Iberian Peninsula. The birds called magpies in Australia are, however, not related to the magpies in the rest of the world (see Australian magpie). According to some studies, magpies do not form the monophyletic group they are traditionally believed to be; tails have elongated (or shortened) independently in multiple lineages of corvid birds. Among the traditional magpies, there appear to be two distinct lineages. One consists of Holarctic species with black and white colouration and is probably closely related to crows and Eurasian jays. The other contains several species from South to East Asia with vivid colouration, which is predominantly green or blue. The azure-winged magpie and the Iberian magpie, formerly thought to constitute a single species with a most peculiar distribution, have been shown to be two distinct species and classified as the genus Cyanopica. Other research has cast doubt on the taxonomy of the Pica magpies, since it appears that P. hudsonia and P. nuttalli may not be different species, whereas the Korean race of P. pica is genetically very distinct from the other Eurasian (as well as the North American) forms. Either the North American, Korean, and remaining Eurasian forms are accepted as three or four separate species, or there exists only a single species, Pica pica.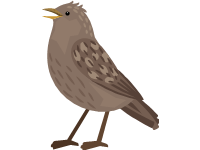 The common nightingale, rufous nightingale or simply nightingale (Luscinia megarhynchos), is a small passerine bird best known for its powerful and beautiful song. It was formerly classed as a member of the thrush family Turdidae, but is now more generally considered to be an Old World flycatcher, Muscicapidae It belongs to a group of more terrestrial species, often called chats.The common nightingale is slightly larger than the European robin, at 15–16.5 cm (5.9–6.5 in) length. It is plain brown above except for the reddish tail. It is buff to white below. The sexes are similar. The eastern subspecie and the Caucasian subspecies have paler upperparts and a stronger face-pattern, including a pale supercilium. The song of the nightingale has been described as one of the most beautiful sounds in nature, inspiring songs, fairy tales, opera, books, and a great deal of poetry.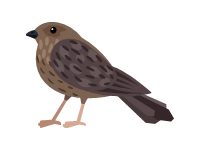 Nightjars are medium-sized nocturnal or crepuscular birds in the subfamily Caprimulginae and in the family Caprimulgidae, characterised by long wings, short legs and very short bills. Some New World species are called nighthawks. The English word 'nightjar' originally referred to the European nightjar. Nightjars are found around the world except in New Zealand and some islands of Oceania. They usually nest on the ground, with a habit of resting and roosting on roads. The subfamilies of nightjars have similar characteristics, including small feet, of little use for walking, and long pointed wings. However, typical nightjars have rictal bristles, longer bills, and softer plumage. The colour of their plumage and their unusual perching habits help conceal them during the day. Nightjars inhabit all continents other than Antarctica, as well as some island groups such as Madagascar, the Seychelles, New Caledonia and the islands of Caribbean. They are not known to live in extremely arid desert regions. Nightjars can occupy all elevations from sea level to 4,200 m (13,800 ft), and a number of species are montane specialists. Nightjars occupy a wide range of habitats, from deserts to rainforests but are most common in open country with some vegetation. The nighthawks are confined to the New World, and the eared nightjars to Asia and Australia. A number of species undertake migrations, although the secretive nature of the family may account for the incomplete understanding of their migratory habits. Species that live in the far north, such as the European nightjar or the common nighthawk, migrate southward with the onset of winter. Geolocators placed on European nightjars in southern England found they wintered in the south of the Democratic Republic of the Congo. Other species make shorter migrations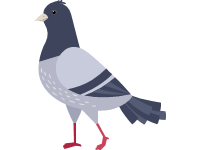 The domestic pigeon (Columba livia domestica) is a pigeon subspecies that was derived from the rock dove (also called the rock pigeon). The rock pigeon is the world's oldest domesticated bird. Mesopotamian cuneiform tablets mention the domestication of pigeons more than 5,000 years ago, as do Egyptian hieroglyphics. Research suggests that domestication of pigeons occurred as early as 10,000 years ago.Pigeons have made contributions of considerable importance to humanity, especially in times of war. In war the homing ability of pigeons has been put to use by making them messengers. So-called war pigeons have carried many vital messages and some have been decorated for their services. Medals such as the Croix de guerre, awarded to Cher Ami, and the Dickin Medal awarded to the pigeons G.I. Joe and Paddy, amongst 32 others, have been awarded to pigeons for their services in saving human lives. Trained domestic pigeons are able to return to the home loft if released at a location that they have never visited before and that may be up to 1000 km away. This ability a pigeon has to return home from a strange location necessitates two sorts of information. The first, called 'map sense' is their geographic location. The second, 'compass sense' is the bearing they need to fly from their new location in order to reach their home. Both of these senses, however, respond to a number of different cues in different situations. The most popular conception of how pigeons are able to do this is that they are able to sense the Earth's magnetic field with tiny magnetic tissues in their head (magnetoception)[citation needed]. Another theory is that pigeons have compass sense, which uses the position of the sun, along with an internal clock, to work out direction. However, studies have shown that if magnetic disruption or clock changes disrupt these senses, the pigeon can still manage to get home. The variability in the effects of manipulations to these sense of the pigeons indicates that there is more than one cue on which navigation is based and that map sense appears to rely on a comparison of available cues. A special breed, called homing pigeons, has been developed through selective breeding to carry messages, and members of this variety of pigeon are still being used in the sport of pigeon racing and the white release dove ceremony at weddings and funerals.

A raven is one of several larger-bodied species of the genus Corvus. These species do not form a single taxonomic group within the genus. There is no consistent distinction between 'crows' and 'ravens', and these appellations have been assigned to different species chiefly on the basis of their size, crows generally being smaller than ravens. The largest raven species are the common raven and the thick-billed raven.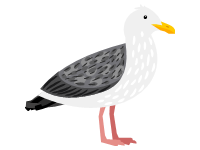 Gulls, or colloquially seagulls, are seabirds of the family Laridae in the suborder Lari. They are most closely related to the terns (family Sternidae) and only distantly related to auks, skimmers and even more distantly to waders. Until the 21st century, most gulls were placed in the genus Larus, but that arrangement is now considered polyphyletic, leading to the resurrection of several genera. An older name for gulls is mews, which is cognate with German Möwe, Danish måge, Swedish mås, Dutch meeuw, and French mouette, and can still be found in certain regional dialects. Gulls are typically medium to large birds, usually grey or white, often with black markings on the head or wings. They typically have harsh wailing or squawking calls; stout, longish bills; and webbed feet. Most gulls are ground-nesting carnivores which take live food or scavenge opportunistically, particularly the Larus species. Live food often includes crustaceans, molluscs, fish and small birds. Gulls have unhinging jaws which allow them to consume large prey. Gulls are typically coastal or inland species, rarely venturing far out to sea, except for the kittiwakes. The large species take up to four years to attain full adult plumage, but two years is typical for small gulls. Large white-headed gulls are typically long-lived birds, with a maximum age of 49 years recorded for the herring gull.Gulls nest in large, densely packed, noisy colonies. They lay two or three speckled eggs in nests composed of vegetation. The young are precocial, born with dark mottled down and mobile upon hatching. Gulls are resourceful, inquisitive, and intelligent, the larger species in particular,demonstrating complex methods of communication and a highly developed social structure. For example, many gull colonies display mobbing behavior, attacking and harassing predators and other intruders. Certain species have exhibited tool-use behavior, such as the herring gull, using pieces of bread as bait with which to catch goldfish, for example. Many species of gulls have learned to coexist successfully with humans and have thrived in human habitats. Others rely on kleptoparasitism to get their food. Gulls have been observed preying on live whales, landing on the whale as it surfaces to peck out pieces of flesh.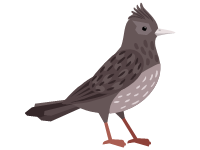 The Eurasian skylark (Alauda arvensis) is a passerine bird in the lark family, Alaudidae. It is a widespread species found across Europe and the Palearctic with introduced populations in New Zealand, Australia and on the Hawaiian Islands. It is a bird of open farmland and heath, known for the song of the male, which is delivered in hovering flight from heights of 50 to 100 metres (160 to 330 ft). The sexes are alike. It is streaked greyish-brown above and on the breast and has a buff-white belly. The female Eurasian skylark builds an open nest in a shallow depression on open ground well away from trees, bushes and hedges. She lays three to five eggs which she incubates for around 11 days. The chicks are fed by both parents but leave the nest after eight to ten days, well before they can fly. They scatter and hide in the vegetation but continue to be fed by the parents until they can fly at 18 to 20 days of age. Nests are subject to high predation rates by larger birds and small mammals. The parents can have several broods in a single season. he Eurasian skylark is 18–19 cm (7.1–7.5 in) in length.Like most other larks, the Eurasian skylark is a rather dull-looking species, being mainly brown above and paler below. It has a short blunt crest on the head, which can be raised and lowered. In flight it shows a short tail and short broad wings. The tail and the rear edge of the wings are edged with white, which are visible when the bird is flying away, but not if it is heading towards the observer. The male has broader wings than the female. This adaptation for more efficient hovering flight may have evolved because of female Eurasian skylarks' preference for males that sing and hover for longer periods and so demonstrate that they are likely to have good overall fitness. is known for the song of the male, which is delivered in hovering flight from heights of 50 to 100 m, when the singing bird may appear as just a dot in the sky from the ground. The long, unbroken song is a clear, bubbling warble delivered high in the air while the bird is rising, circling or hovering.The song generally lasts two to three minutes, but it tends to last longer later in the mating season, when songs can last for 20 minutes or more. At wind farm sites, male skylarks have been found to sing at higher frequencies as a result of wind turbine noise.

The house sparrow (Passer domesticus) is a bird of the sparrow family Passeridae, found in most parts of the world. It is a small bird that has a typical length of 16 cm (6.3 in) and a mass of 24–39.5 g (0.85–1.39 oz). Females and young birds are coloured pale brown and grey, and males have brighter black, white, and brown markings. One of about 25 species in the genus Passer, the house sparrow is native to most of Europe, the Mediterranean Basin, and a large part of Asia. Its intentional or accidental introductions to many regions, including parts of Australasia, Africa, and the Americas, make it the most widely distributed wild bird. The house sparrow is strongly associated with human habitation, and can live in urban or rural settings. Though found in widely varied habitats and climates, it typically avoids extensive woodlands, grasslands, and deserts away from human development. It feeds mostly on the seeds of grains and weeds, but it is an opportunistic eater and commonly eats insects and many other foods. Its predators include domestic cats, hawks, and many other predatory birds and mammals. Because of its numbers, ubiquity, and association with human settlements, the house sparrow is culturally prominent. It is extensively, and usually unsuccessfully, persecuted as an agricultural pest. It has also often been kept as a pet, as well as being a food item and a symbol of lust, sexual potency, commonness, and vulgarity. Though it is widespread and abundant, its numbers have declined in some areas. The animal's conservation status is listed as least concern on the IUCN Red List.

Starlings are small to medium-sized passerine birds in the family Sturnidae. The name 'Sturnidae' comes from the Latin word for starling, sturnus. Many Asian species, particularly the larger ones, are called mynas, and many African species are known as glossy starlings because of their iridescent plumage. Starlings are native to Europe, Asia and Africa, as well as northern Australia and the islands of the tropical Pacific. Several European and Asian species have been introduced to these areas as well as North America, Hawaii and New Zealand, where they generally compete for habitats with native birds and are considered to be invasive species. The starling species familiar to most people in Europe and North America is the common starling, and throughout much of Asia and the Pacific, the common myna is indeed common. Starlings have strong feet, their flight is strong and direct, and they are very gregarious. Their preferred habitat is fairly open country, and they eat insects and fruit. Several species live around human habitation and are effectively omnivores. Many species search for prey such as grubs by 'open-bill probing', that is, forcefully opening the bill after inserting it into a crevice, thus expanding the hole and exposing the prey. Starlings are medium-sized passerines. The shortest-bodied species is Kenrick's starling (Poeoptera kenricki), at 15 cm (5.9 in), but the lightest-weight species is Abbott's starling (Poeoptera femoralis), which is 34 g (1.2 oz). The largest starling, going on standard measurements and perhaps weight, is the Nias hill myna (Gracula robusta). This species can measure up to 36 cm (14 in) and, in domestication they can weigh up to 400 g (14 oz). Rivaling the prior species in bulk if not dimensions, the mynas of the genus Mino are also large, especially the yellow-faced (M. dumontii) and long-tailed mynas (M. kreffti). The longest species in the family is the white-necked myna (Streptocitta albicollis), which can measure up to 50 cm (20 in), although around 60% in this magpie-like species is comprised by its very long tail. There is less sexual dimorphism in plumage, however, with only 25 species showing such differences between the two sexes. The plumage of the starling is often brightly coloured due to iridescence; this colour is derived from the structure of the feathers, not from any pigment. Some species of Asian starling have crests or erectile feathers on the crest. Other ornamentation includes elongated tail feathers and brightly coloured bare areas on the face. These colours can be derived from pigments, or, as in the Bali starling, structural colour, caused by light scattering off parallel collagen fibres. The irises of many species are red and yellow, although those of younger birds are much darker

The swallows, martins, and saw-wings, or Hirundinidae, are a family of passerine birds found around the world on all continents, including occasionally in Antarctica. Highly adapted to aerial feeding, they have a distinctive appearance. The term 'swallow' is used colloquially in Europe as a synonym for the barn swallow. Around 90 species of Hirundinidae are known, divided into 19 genera, with the greatest diversity found in Africa, which is also thought to be where they evolved as hole-nesters.They also occur on a number of oceanic islands. A number of European and North American species are long-distance migrants; by contrast, the West and South African swallows are nonmigratory. This family comprises two subfamilies: Pseudochelidoninae (the river martins of the genus Pseudochelidon) and Hirundininae (all other swallows, martins, and saw-wings). In the Old World, the name 'martin'' tends to be used for the squarer-tailed species, and the name 'swallow' for the more fork-tailed species; however, no scientific distinction between these two groups is made. In the New World, 'martin' is reserved for members of the genus Progne. (These two systems are responsible for the same species being called sand martin in the Old World and bank swallow in the New World.) The Hirundinidae have an evolutionarily conservative body shape, which is similar across the clade, but is unlike that of other passerines. Swallows have adapted to hunting insects on the wing by developing a slender, streamlined body and long, pointed wings, which allow great maneuverability and endurance, as well as frequent periods of gliding. Their body shapes allow for very efficient flight; the metabolic rate of swallows in flight is 49–72% lower than equivalent passerines of the same size.Swallows have two foveae in each eye, giving them sharp lateral and frontal vision to help track prey. They also have relatively long eyes, with their length almost equaling their width. The long eyes allow for an increase in visual acuity without competing with the brain for space inside of the head. The morphology of the eye in swallows is similar to that of a raptor. Like the unrelated swifts and nightjars, which hunt in a similar way, they have short bills, but strong jaws and a wide gape. Their body lengths range from about 10–24 cm (3.9–9.4 in) and their weight from about 10–60 g (0.35–2.12 oz). The wings are long, pointed, and have nine primary feathers. The tail has 12 feathers and may be deeply forked, somewhat indented, or square-ended. A long tail increases maneuverability, and may also function as a sexual adornment, since the tail is frequently longer in males. In barn swallows, the tail of the male is 18% longer than those of the female, and females select mates on the basis of tail length.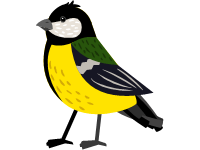 The tits, chickadees, and titmice constitute the Paridae, a large family of small passerine birds which occur mainly in the Northern Hemisphere and Africa. Most were formerly classified in the genus Parus. Members of this family are commonly referred to as 'tits' throughout much of the world, but North American species are called either 'chickadees' (onomatopoeic, derived from their distinctive 'chick-a dee dee dee' alarm call) or 'titmice'. The name titmouse is recorded from the 14th century, composed of the Old English name for the bird, mase (Proto-Germanic *maison, Dutch mezen, German Meise), and tit, denoting something small. The former spelling, 'titmose', was influenced by mouse in the 16th century.Emigrants to New Zealand presumably identified some of the superficially similar birds of the genus Petroica of the family Petroicidae, the Australian robins, as members of the tit family, giving them the title tomtit, although, in fact, they are not related. These birds are mainly small, stocky, woodland species with short, stout bills. Some have crests. They range in length from 10 to 22 cm (3.9 to 8.7 in). They are adaptable birds, with a mixed diet including seeds and insects. Many species live around human habitation and come readily to bird feeders for nuts or seed, and learn to take other foods.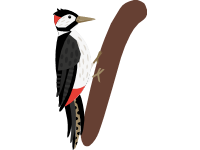 Woodpeckers are part of the family Picidae, that also includes the piculets, wrynecks, and sapsuckers. Members of this family are found worldwide, except for Australia, New Guinea, New Zealand, Madagascar, and the extreme polar regions. Most species live in forests or woodland habitats, although a few species are known that live in treeless areas, such as rocky hillsides and deserts, and the Gila woodpecker specialises in exploiting cacti. Members of this family are chiefly known for their characteristic behaviour. They mostly forage for insect prey on the trunks and branches of trees, and often communicate by drumming with their beak, producing a reverberatory sound that can be heard at some distance. Some species vary their diet with fruits, birds' eggs, small animals, and tree sap, human scraps, and carrion. They mostly nest and roost in holes that they excavate in tree trunks, and their abandoned holes are of importance to other cavity-nesting birds. They sometimes come into conflict with humans when they make holes in buildings or feed on fruit crops, but perform a useful service by their removal of insect pests on trees. Woodpeckers range from tiny piculets measuring no more than 7 cm (2.8 in) in length and weighing 7 g (0.25 oz) to large woodpeckers which can be more than 50 cm (20 in) in length. The largest surviving species is the great slaty woodpecker, which weighs 360–563 g (12.7–19.9 oz), but probably the extinct imperial woodpecker and ivory-billed woodpecker were both larger. The plumage of woodpeckers varies from drab to conspicuous. The colours of many species are based on olive and brown and some are pied, suggesting a need for camouflage; others are boldly patterned in black, white and red, and many have a crest or tufted feathers on the crown. Woodpeckers tend to be sexually dimorphic, but differences between the sexes are generally small; exceptions to this are Williamson's sapsucker and the orange-backed woodpecker, which differ markedly. The plumage is moulted fully once a year apart from the wrynecks, which have an additional partial moult before breeding.
---