Albatrosses are very large seabirds in the family Diomedeidae. They range widely in the Southern Ocean and the North Pacific. They are absent from the North Atlantic, although fossil remains show they once occurred there and occasional vagrants are found. Albatrosses are among the largest of flying birds, and species of the genus Diomedea (great albatrosses) have the longest wingspans of any extant birds, reaching up to 3.7 m (12 ft). Albatrosses are usually regarded as falling into four genera, but disagreement exists over the number of species. Albatrosses are the most efficient travelers of all vertebrates on the planet. They expend zero energy soaring hundreds of miles over the ocean each day using dynamic soaring and slope soaring. They have a tendon in each shoulder locking their wings fully-extended, so once aloft and soaring across a fair breeze they never need to flap their wings. Like some vultures they hunt by smell, sensitive to the odor of carrion and other biological processes. They feed on squid, fish, and krill by either scavenging, surface seizing, or diving. Albatrosses are colonial, nesting for the most part on remote oceanic islands, often with several species nesting together. Pair bonds between males and females form over several years, with the use of 'ritualised dances', and last for the life of the pair. A breeding season can take over a year from laying to fledging, with a single egg laid in each breeding attempt. A Laysan albatross, named Wisdom, on Midway Island is recognised as the oldest wild bird in the world; she was first banded in 1956 by Chandler Robbins. Of the 22 species of albatrosses recognised by the IUCN, all are listed as at some level of concern; three species are critically endangered, five species are endangered, seven species are near threatened, and seven species are vulnerable. Numbers of albatrosses have declined in the past due to harvesting for feathers. Albatrosses are threatened by introduced species, such as rats and feral cats that attack eggs, chicks, and nesting adults; by pollution; by a serious decline in fish stocks in many regions largely due to overfishing; and by longline fishing. Longline fisheries pose the greatest threat, as feeding birds are attracted to the bait, become hooked on the lines, and drown. Identified stakeholders such as governments, conservation organisations, and people in the fishing industry are all working toward reducing this bycatch.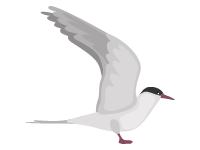 The Arctic tern (Sterna paradisaea) is a tern in the family Laridae. This bird has a circumpolar breeding distribution covering the Arctic and sub-Arctic regions of Europe, Asia, and North America (as far south as Brittany and Massachusetts). The species is strongly migratory, seeing two summers each year as it migrates along a convoluted route from its northern breeding grounds to the Antarctic coast for the southern summer and back again about six months later. Recent studies have shown average annual roundtrip lengths of about 70,900 km (44,100 mi) for birds nesting in Iceland and Greenland and about 90,000 km (56,000 mi) for birds nesting in the Netherlands. These are by far the longest migrations known in the animal kingdom. The Arctic tern flies as well as glides through the air. It nests once every one to three years (depending on its mating cycle); once it has finished nesting it takes to the sky for another long southern migration. Arctic terns are medium-sized birds. They have a length of 28–39 cm (11–15 in) and a wingspan of 65–75 cm (26–30 in). They are mainly grey and white plumaged, with a red/orangish beak and feet, white forehead, a black nape and crown (streaked white), and white cheeks. The grey mantle is 305 mm, and the scapulae are fringed brown, some tipped white. The upper wing is grey with a white leading edge, and the collar is completely white, as is the rump. The deeply forked tail is whitish, with grey outer webs. Arctic terns are long-lived birds, with many reaching fifteen to thirty years of age. They eat mainly fish and small marine invertebrates. The species is abundant, with an estimated one million individuals. While the trend in the number of individuals in the species as a whole is not known, exploitation in the past has reduced this bird's numbers in the southern reaches of its range.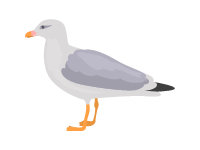 The European herring gull (Larus argentatus) is a large gull, up to 66 cm (26 in) long. One of the best-known of all gulls along the shores of Western Europe, it was once abundant. It breeds across Northern Europe, Western Europe, Central Europe, Eastern Europe, Scandinavia, and the Baltic states. Some European herring gulls, especially those resident in colder areas, migrate further south in winter, but many are permanent residents, e.g. in Ireland, Britain, Iceland, or on the North Sea shores. They have a varied diet, including fish, crustaceans, and dead animals, as well as some plants. The male European herring gull is 60–67 cm (24–26 in) long and weighs 1,050–1,525 g (2.315–3.362 lb), while the female is 55–62 cm (22–24 in) and weighs 710–1,100 g (1.57–2.43 lb). The wingspan can range from 125 to 155 cm (49 to 61 in). Among standard measurements, the wing chord is 38 to 48 cm (15 to 19 in), the bill is 4.4 to 6.5 cm (1.7 to 2.6 in) and the tarsus is 5.3 to 7.5 cm (2.1 to 3.0 in). Adults in breeding plumage have a grey back and upper wings and white head and underparts. The wingtips are black with white spots known as 'mirrors'. The bill is yellow with a red spot and a ring of bare yellow skin is seen around the pale eye. The legs are normally pink at all ages, but can be yellowish, particularly in the Baltic population, which was formerly regarded as a separate subspecies 'L. a. omissus'. Non-breeding adults have brown streaks on their heads and necks. Male and female plumage are identical at all stages of development, but adult males are often larger. Juvenile and first-winter birds are mainly brown with darker streaks and have a dark bill and eyes. Second-winter birds have a whiter head and underparts with less streaking and the back is grey. Third-winter individuals are similar to adults, but retain some of the features of immature birds such as brown feathers in the wings and dark markings on the bill. The European herring gull attains adult plumage and reaches sexual maturity at an average age of four years While herring gull numbers appear to have been harmed in recent years, possibly by fish population declines and competition, they have proved able to survive in human-adapted areas and can often be seen in towns acting as scavengers.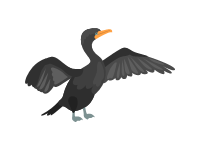 Phalacrocoracidae is a family of approximately 40 species of aquatic birds commonly known as cormorants and shags. Several different classifications of the family have been proposed recently and the number of genera is disputed. The great cormorant (P. carbo) and the common shag (P. aristotelis) are the only two species of the family commonly encountered on the British Isles and 'cormorant' and 'shag' appellations have been later assigned to different species in the family somewhat haphazardly. Cormorants and shags are medium-to-large birds, with body weight in the range of 0.35–5 kilograms (0.77–11.02 lb) and wing span of 45–100 centimetres (18–39 in). The majority of species have dark feathers. The bill is long, thin and hooked. Their feet have webbing between all four toes. All species are fish-eaters, catching the prey by diving from the surface. They are excellent divers, and under water they propel themselves with their feet with help from their wings; some cormorant species have been found to dive as deep as 45 metres (150 ft). They have relatively short wings due to their need for economical movement underwater, and consequently have the highest flight costs of any flying bird. Cormorants and shags are medium-to-large seabirds. They range in size from the pygmy cormorant (Phalacrocorax pygmaeus), at as little as 45 cm (18 in) and 340 g (12 oz), to the flightless cormorant (Phalacrocorax harrisi), at a maximum size 100 cm (39 in) and 5 kg (11 lb). The recently extinct spectacled cormorant (Phalacrocorax perspicillatus) was rather larger, at an average size of 6.3 kg (14 lb). The majority, including nearly all Northern Hemisphere species, have mainly dark plumage, but some Southern Hemisphere species are black and white, and a few (e.g. the spotted shag of New Zealand) are quite colourful. Many species have areas of coloured skin on the face (the lores and the gular skin) which can be bright blue, orange, red or yellow, typically becoming more brightly coloured in the breeding season. The bill is long, thin, and sharply hooked. Their feet have webbing between all four toes, as in their relatives.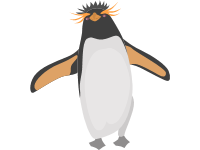 The term crested penguin is the common name given collectively to species of penguins of the genus Eudyptes. The exact number of species in the genus varies between four and seven depending on the authority, and a Chatham Islands species became extinct in recent centuries. All are black and white penguins with yellow crests, red bills and eyes, and are found on Subantarctic islands in the world's southern oceans. All lay two eggs, but raise only one young per breeding season; the first egg laid is substantially smaller than the second.

The Atlantic puffin (Fratercula arctica), also known as the common puffin and deadlock, is a seabird species in the auk family. It is the only puffin native to the Atlantic Ocean; two related species, the tufted puffin and the horned puffin are found in the northeastern Pacific. This puffin has a black crown and back, pale grey cheek patches, and a white body and underparts. Its broad, boldly marked red-and-black beak and orange legs contrast with its plumage. It molts at sea in the winter, and some brightly colored facial characteristics are lost, with color returning in spring. The external appearances of the adult male and female are identical, though the male is usually slightly larger. The juvenile has similar plumage, but its cheek patches are dark grey. The youth does not have brightly colored head ornamentation, its bill is narrower and is dark grey with a yellowish-brown tip, and its legs and feet are also dark. Puffins from northern populations are typically larger than in the south, and these populations are generally considered different subspecies.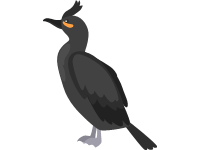 The double-crested cormorant is a member of the cormorant family of water birds. It is found near rivers and lakes and in coastal areas and is widely distributed across North America, from the Aleutian Islands in Alaska down to Florida and Mexico. Measuring 70–90 cm in length, it is black except for a bare patch of orange-yellow facial skin and some extra plumage that it exhibits in the breeding season when it grows a double crest in which black feathers are mingled with white. Five subspecies are recognized. It mainly eats fish and hunts by swimming and diving. Its feathers, like those of all cormorants, are not waterproof, and it must spend time drying them out after spending time in the water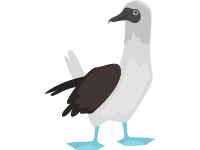 Gannets are seabirds comprising the genus Morus, in the family Sulidae, closely related to boobies. 'Gannet' is derived from Old English ganot, ultimately from the same Old Germanic root as 'gander'. Morus is derived from Ancient Greek moros, 'foolish', due to the lack of fear shown by breeding gannets and boobies, allowing them to be easily killed. Gannets are large white birds with yellowish heads; black-tipped wings; and long bills. Northern gannets are the largest seabirds in the North Atlantic, having a wingspan of up to 2 m (6.6 ft). The other two species occur in the temperate seas around southern Africa, southern Australia, and New Zealand. Gannets hunt fish by diving into the sea from a height and pursuing their prey underwater, and have a number of adaptations: They have no external nostrils; they are located inside the mouth, instead. They have air sacs in the face and chest under the skin, which act like bubble wrap, cushioning the impact with the water. The position of their eyes is far enough forward on the face for binocular vision, allowing them to judge distances accurately. Gannets can dive from a height of 30 m (100 ft), achieving speeds of 100 km/h (60 mph) as they strike the water, enabling them to catch fish at a much greater depth than most airborne birds.Gannets are colonial breeders on islands and coasts, normally laying one chalky-blue egg. They lack brood patches and use their webbed feet to warm the eggs. They reach maturity around 5 years of age. First-year birds are completely black, and subsequent subadult plumages show increasing amounts of white.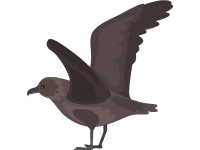 The great skua (Stercorarius skua) is a large seabird in the skua family Stercorariidae. It is roughly the size of a herring gull. It mainly eats fish which is taken from the surface of the sea or from other birds. Great skuas measure 50–58 cm (20–23 in) long and have a 125–140 cm (49–55 in) wingspan. One study found that 112 males weighed an average of 1.27 kg (2.8 lb) and that 125 females weighed an average of 1.41 kg (3.1 lb). Adults are a streaked greyish brown, with a black cap, while juveniles are a warmer brown and unstreaked below. They have a short, blunt tail, and a powerful flight. The great skua's call is a harsh hah-hah-hah-hah; quacking and croaking noises have also been heard. Distinguishing this skua from the other North Atlantic skuas (parasitic jaeger, pomarine jaeger and long-tailed jaeger) is relatively straightforward. The herring gull size, massive barrel chest and white wing flashes of this bird are distinctive even at a distance. It is sometimes said to give the impression of a common buzzard. Identification of this skua is only complicated when it is necessary to distinguish it from the closely related large southern-hemisphere skuas. Despite its name, the great skua is marginally smaller on average than the other 3 large southern-hemisphere skuas, although not by enough to distinguish them by size in the field. Some authorities still regard the great skua as conspecific with some of these southern skuas, and as a group they have sometimes been separated in the genus Catharacta, although currently this taxonomy is not commonly followed.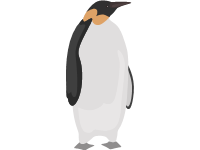 The king penguin (Aptenodytes patagonicus) is the second largest species of penguin, smaller, but somewhat similar in appearance to the emperor penguin. King penguins mainly eat lanternfish, squid and krill. On foraging trips king penguins repeatedly dive to over 100 metres (300 ft), and have been recorded at depths greater than 300 metres (1,000 ft). Predators of the king penguin include giant petrels, skuas, the snowy sheathbill, the leopard seal and the orca. King penguins breed on the subantarctic islands at the northern reaches of Antarctica, South Georgia, and other temperate islands of the region. The king penguin stands at 70 to 100 cm (28 to 39 in) tall and weighs from 9.3 to 18 kg (21 to 40 lb).Although female and male king penguins are monomorphic they can be separated by their calls.Males are also slightly larger than females. The mean body mass of adults from Marion Island was 12.4 kg (27 lb) for 70 males and 11.1 kg (24 lb) for 71 females. Another study from Marion Island found that the mean mass of 33 adults feeding chicks was 13.1 kg (29 lb). The king penguin is approximately 25% shorter and weighs around 1/3rd less than the emperor penguin. At first glance, the king penguin appears very similar to the larger, closely related emperor penguin, with a broad cheek patch contrasting with surrounding dark feathers and yellow-orange plumage at the top of the chest. However, the cheek patch of the adult king penguin is a solid bright orange whereas that of the emperor penguin is yellow and white, and the upper chest tends to be more orange and less yellowish in the king species. Both have colourful markings along the side of their lower mandible, but these tend towards pink in emperor penguin and orange in king penguin. Emperor and king penguins typically do not inhabit the same areas in the wild, with the possible exception of vagrants at sea, but the two can readily be distinguished from one another by the king's longer, straighter bill and noticeably sleeker body. The juvenile king penguin with its heavy brown down is completely different in appearance from the mostly grey emperor chick. Once molted of its juvenile plumage, the king chick resembles the adult, but is somewhat less colourful. Mounted skeleton of king penguin (Aptenodytes patagonicus) King penguins often breed on the same large, circumpolar islands as at least half of all living penguins, but it is easily distinguished from other species by its much larger size and taller frame, distinctive colorful markings and grizzled sooty-greyish rather than blackish back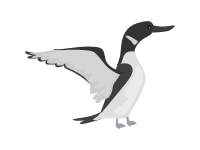 Loons (North America) or divers (United Kingdom / Ireland) are a group of aquatic birds found in many parts of North America and northern Eurasia. All living species of loons are members of the genus Gavia, family Gaviidae and order Gaviiformes. Loons, which are the size of a large duck or a small goose, resemble these birds in shape when swimming. Like ducks and geese, but unlike coots (which are Rallidae) and grebes (Podicipedidae), the loon's toes are connected by webbing. The loons may be confused with the cormorants (Phalacrocoracidae), but can be distinguished from them by their distinct call. Cormorants are not too distant relatives of loons, and like them are heavy-set birds whose bellies, unlike those of ducks and geese, are submerged when swimming. Loons in flight resemble plump geese with seagulls' wings that are relatively small in proportion to their bulky bodies. The bird points its head slightly upwards while swimming, but less so than cormorants. In flight, the head droops more than in similar aquatic birds. Male and female loons have identical plumage, which is largely patterned black-and-white in summer, with grey on the head and neck in some species. All have a white belly. This resembles many sea-ducks (Merginae) – notably the smaller goldeneyes (Bucephala) – but is distinct from most cormorants, which rarely have white feathers, and if so, usually as large rounded patches rather than delicate patterns. All species of loons have a spear-shaped bill. Males are larger on average, but relative size is only apparent when the male and female are together. In winter, plumage is dark grey above, with some indistinct lighter mottling on the wings, and a white chin, throat and underside. The specific species can then be distinguished by certain features, such as the size and colour of the head, neck, back and bill. But reliable identification of loons in winter is often difficult even for experts – particularly as the smaller immature birds look similar to winter-plumage adults, making size an unreliable means of identification.

The term maya refers to a folk taxon often used in the Philippines to refer to a variety of small, commonly observed passerine birds, including a number of sparrows, finches and munias.This group includes Lonchura atricapilla, specifically referred to by the common name 'mayang pula' ('red maya'), which was recognized as the national bird of the Philippines until 1995, when then-President Fidel V. Ramos formally transferred that honorific to the Philippine eagle.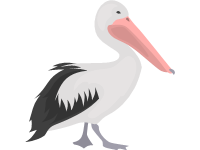 Pelicans are a genus of large water birds that make up the family Pelecanidae. They are characterised by a long beak and a large throat pouch used for catching prey and draining water from the scooped-up contents before swallowing. They have predominantly pale plumage, the exceptions being the brown and Peruvian pelicans. The bills, pouches, and bare facial skin of all species become brightly coloured before the breeding season. The eight living pelican species have a patchy global distribution, ranging latitudinally from the tropics to the temperate zone, though they are absent from interior South America and from polar regions and the open ocean.Long thought to be related to frigatebirds, cormorants, tropicbirds, and gannets and boobies, pelicans instead are now known to be most closely related to the shoebill and hamerkop, and are placed in the order Pelecaniformes. Ibises, spoonbills, herons, and bitterns have been classified in the same order. Fossil evidence of pelicans dates back at least 30 million years to the remains of a beak very similar to that of modern species recovered from Oligocene strata in France.They are thought to have evolved in the Old World and spread into the Americas; this is reflected in the relationships within the genus as the eight species divide into Old World and New World lineages. Pelicans frequent inland and coastal waters, where they feed principally on fish, catching them at or near the water surface. They are gregarious birds, travelling in flocks, hunting cooperatively, and breeding colonially. Four white-plumaged species tend to nest on the ground, and four brown or grey-plumaged species nest mainly in trees. The relationship between pelicans and people has often been contentious. The birds have been persecuted because of their perceived competition with commercial and recreational fishing. Their populations have fallen through habitat destruction, disturbance, and environmental pollution, and three species are of conservation concern. They also have a long history of cultural significance in mythology, and in Christian and heraldic iconography. Pelicans are very large birds with very long bills characterised by a downcurved hook at the end of the upper mandible, and the attachment of a huge gular pouch to the lower. The slender rami of the lower bill and the flexible tongue muscles form the pouch into a basket for catching fish, and sometimes rainwater, though not to hinder the swallowing of large fish, the tongue itself is tiny. They have a long neck and short stout legs with large, fully webbed feet. Although they are among the heaviest of flying birds, they are relatively light for their apparent bulk because of air pockets in the skeleton and beneath the skin, enabling them to float high in the water. The tail is short and square. The wings are long and broad, suitably shaped for soaring and gliding flight, and have the unusually large number of 30 to 35 secondary flight feathers. Males are generally larger than females and have longer bills. The smallest species is the brown pelican, small individuals of which can be no more than 2.75 kg (6.1 lb) and 1.06 m (3.5 ft) long, with a wingspan of as little as 1.83 m (6.0 ft). The largest is believed to be the Dalmatian, at up to 15 kg (33 lb) and 1.83 m (6.0 ft) in length, with a maximum wingspan of 3 m (9.8 ft). The Australian pelican's bill may grow up to 0.5 m (1.6 ft) long in large males, the longest of any bird. Pelicans have mainly light-coloured plumage, the exceptions being the brown and Peruvian pelicans. The bills, pouches, and bare facial skin of all species become brighter before breeding season commences. The throat pouch of the Californian subspecies of the brown pelican turns bright red, and fades to yellow after the eggs are laid, while the throat pouch of the Peruvian pelican turns blue. The American white pelican grows a prominent knob on its bill that is shed once females have laid eggs.The plumage of immature pelicans is darker than that of adults. Newly hatched chicks are naked and pink, darkening to grey or black after 4 to 14 days, then developing a covering of white or grey down.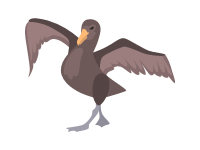 Petrels are tube-nosed seabirds in the bird order Procellariiformes. The common name does not indicate relationship beyond that point, as 'petrels' occur in three of the four families within that group (all except the albatross family, Diomedeidae). Having a fossil record that was assumed to extend back at least 60 million years, the Procellariiformes was long considered to be among the older bird groupings, other than the ratites, with presumably distant ties to penguins and loons. However, recent research and fossil finds such as Vegavis show that the Galliformes (pheasants, grouse and relatives), and Anseriformes (ducks, geese) are still not fully resolved.
---