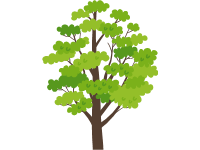 Acacia, commonly known as the wattles or acacias, is a large genus of shrubs and trees in the subfamily Mimosoideae of the pea family Fabaceae. It comprises a group of plant genera native to Africa and Australasia. The genus name is New Latin from the Greek word for 'thorn' from the habit of many species originally included in the genus. They are present in all terrestrial habitats, including alpine settings, rainforests, woodlands, grasslands, coastal dunes and deserts.In drier woodlands or forest they are an important component of the understory. Elsewhere they may be dominant, as in the Brigalow Belt, Myall woodlands and the eremaean Mulga woodlands. In Australia, Acacia forest is the second most common forest type after eucalypt forest, covering 980,000 square kilometres (378,380 sq mi) or 8% of total forest area. Acacia is also the nation's largest genus of flowering plants with almost 1,000 species found. Several of its species bear vertically oriented phyllodes, which are green, broadened leaf petioles that function like leaf blades, an adaptation to hot climates and droughts.Some phyllodinous species have a colourful aril on the seed. A few species have cladodes rather than leaves.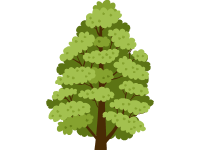 Alder is the common name of a genus of flowering plants, Alnus, belonging to the birch family Betulaceae. The genus comprises about 35 species of monoecious trees and shrubs, a few reaching a large size, distributed throughout the north temperate zone with a few species extending into Central America, as well as the northern and southern Andes. With a few exceptions, alders are deciduous, and the leaves are alternate, simple, and serrated. The flowers are catkins with elongate male catkins on the same plant as shorter female catkins, often before leaves appear; they are mainly wind-pollinated, but also visited by bees to a small extent. These trees differ from the birches (Betula, another genus in the family) in that the female catkins are woody and do not disintegrate at maturity, opening to release the seeds in a similar manner to many conifer cones. The largest species are red alder on the west coast of North America, and black alder (A. glutinosa), native to most of Europe and widely introduced elsewhere, both reaching over 30 m. By contrast, the widespread Alnus alnobetula (green alder) is rarely more than a 5-m-tall shrub.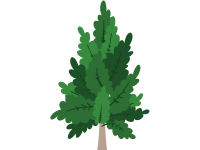 Ilex opaca, the American holly, is a species of holly, native to the eastern and south-central United States, from coastal Massachusetts south to central Florida, and west to southeastern Missouri and eastern Texas. lex opaca is a medium-sized broadleaved evergreen tree growing on average to 10–20 m (33–66 ft) tall, and up to 30 m (98 ft) tall. Typically, its trunk diameter reaches 50 cm (20 in), sometimes up to 120 cm (47 in). The bark is light gray, roughened by small warty lumps. The branchlets are stout, green at first and covered with rusty down, later smooth and brown. The winter buds are brown, short, obtuse or acute. The leaves are alternate, 5–7.5 cm (2.0–3.0 in) long and 2–4 cm (0.79–1.57 in) wide, stiff, yellow green and dull matte to sub-shiny above (distinctly less glossy than the otherwise fairly similar European holly Ilex aquifolium), often pale yellow beneath; the edges are curved into several sharp, spike-like points, and a wedge-shaped base and acute apex; the midrib is prominent and depressed, the primary veins conspicuous; the petiole is short, stout, grooved, thickened at base, with a pair of minute stipules. The leaves remain on the branches for two to three years, finally falling in the spring when pushed off by growing buds. The flowers are greenish white, small, borne in late spring in short pedunculate cymes from the axils of young leaves or scattered along the base of young branches. The calyx is small, four-lobed, imbricate in the bud, acute, margins ciliate, persistent. The corolla is white, with four petal-like lobes united at the base, obtuse, spreading, hypogynous, imbricate in bud. The flower stem is hairy with a minute bract at base. Like all hollies, it is dioecious, with separate male and female plants; only female plants produce the characteristic red berries. One male can pollenize several females. Male flowers have four stamens, inserted on the base of the corolla, alternate with its lobes; filaments awl-shaped, exserted in the sterile, much shorter in the sterile flower; anthers attached at the back, oblong, introrse, two-celled, cells opening longitudinally. The pistil on female flowers has a superior ovary, four-celled, rudimentary in staminate flowers; style wanting, stigma sessile, four-lobed; ovules one or two in each cell. The fruit is a small red drupe 6–12 mm diameter containing four seeds; it is often persistent into winter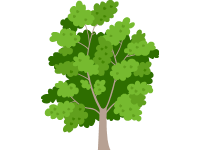 Aspen is a common name for certain tree species; some, but not all, are classified by botanists in the section Populus, of the Populus genus.Aspen trees are all native to cold regions with cool summers, in the north of the northern hemisphere, extending south at high-altitude areas such as mountains or high plains. They are all medium-sized deciduous trees reaching 15–30 m (49–98 ft) tall. In North America, the aspen is referred to as quaking aspen or trembling aspen because the leaves 'quake' or tremble in the wind. This is due to their flattened petioles which reduces aerodynamic drag on the trunk and branches.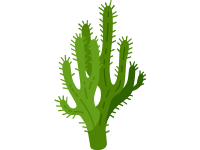 The saguaro is a tree-like cactus species in the monotypic genus Carnegiea, that can grow to be over 12 meters (40 feet) tall. It is native to the Sonoran Desert in Arizona, the Mexican state of Sonora, and the Whipple Mountains and Imperial County areas of California. The saguaro blossom is the state wildflower of Arizona. Its scientific name is given in honor of Andrew Carnegie. In 1994, Saguaro National Park, near Tucson, Arizona, was designated to help protect this species and its habitat.The saguaro is a columnar cactus that grows notable branches, usually referred to as arms. As many as 49 arms may grow on one plant. They grow from 3–16 m (10–52 ft) tall, and up to 75 cm (30 in) in diameter. They are slow growing, but routinely live 150 to 200 years. They are the largest cactus in the United States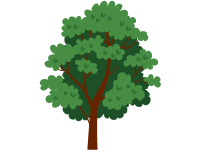 Cherry, any of various trees belonging to the genus Prunus and their edible fruits. Commercial production includes sour cherries (Prunus cerasus), which are frozen or canned and used in sauces and pastries, and sweet cherries (P. avium), which are usually consumed fresh and are the principal type preserved in true or imitation maraschino liqueur. A number of species are grown as ornamentals for their prolific spring flowers, and the dark red wood of some cherry species is especially esteemed for the manufacture of fine furniture. Most cherry species are native to the Northern Hemisphere, where they are widely grown. Some 10 to 12 species are recognized in North America and a similar number in Europe. The greatest concentration of species, however, appears to be in eastern Asia. The native habitat of the species from which the cultivated cherries came is believed to be western Asia and eastern Europe from the Caspian Sea to the Balkans.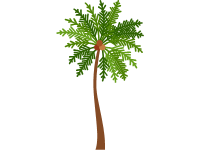 The coconut tree (Cocos nucifera) is a member of the palm tree family (Arecaceae) and the only living species of the genus Cocos. The term 'coconut' (or the archaic 'cocoanut') can refer to the whole coconut palm, the seed, or the fruit, which botanically is a drupe, not a nut. The name comes from the old Portuguese and Spanish word coco, meaning 'head' or 'skull' after the three indentations on the coconut shell that resemble facial features. They are ubiquitous in coastal tropical regions, and are a cultural icon of the tropics. Cocos nucifera is a large palm, growing up to 30 m (100 ft) tall, with pinnate leaves 4–6 m (13–20 ft) long, and pinnae 60–90 cm (2–3 ft) long; old leaves break away cleanly, leaving the trunk smooth. On fertile soil, a tall coconut palm tree can yield up to 75 fruits per year, but more often yields less than 30. Given proper care and growing conditions, coconut palms produce their first fruit in six to ten years, taking 15 to 20 years to reach peak production. Many different varieties are grown, including the Maypan coconut, King coconut, and Macapuno. These vary by the taste of the coconut water and color of the fruit, as well as other genetic factors. Dwarf varieties are also available

Cupressus is one of several genera of evergreen conifers within the family Cupressaceae that have the common name cypress; for the others, see cypress. It is considered a polyphyletic group. Based on genetic and morphological analysis, the genus Cupressus is found in the subfamily Cupressoideae.They are evergreen trees or large shrubs, growing to 5–40 m tall. The leaves are scale-like, 2–6 mm long, arranged in opposite decussate pairs, and persist for three to five years. On young plants up to two years old, the leaves are needle-like and 5–15 mm long. The cones are 8–40 mm long, globose or ovoid with four to 14 scales arranged in opposite decussate pairs; they are mature in 18–24 months from pollination. The seeds are small, 4–7 mm long, with two narrow wings, one along each side of the seed. Many of the species are adapted to forest fires, holding their seeds for many years in closed cones until the parent trees are killed by a fire; the seeds are then released to colonise the bare, burnt ground. In other species, the cones open at maturity to release the seeds.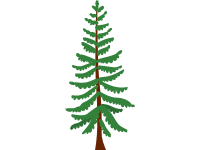 Pseudotsuga menziesii is an evergreen conifer species in the pine family, Pinaceae. It is native to western North America and is known as Douglas fir, Douglas-fir,Oregon pine, and Columbian pine. Douglas-firs are medium-size to extremely large evergreen trees, 20–100 metres (70–330 ft) tall (although only coast Douglas-firs reach such great heights) and up to 8 ft (2.4 m) in diameter. The leaves are flat, soft, linear, 2–4 centimetres (3⁄4–1 1⁄2 in) long, generally resembling those of the firs, occurring singly rather than in fascicles; they completely encircle the branches, which can be useful in recognizing the species. As the trees grow taller in denser forest, they lose their lower branches, such that the foliage may start as high as 110 ft (34 m) off the ground.Douglas-firs in environments with more light may have branches much closer to the ground. The female cones are pendulous, with persistent scales, unlike those of true firs. They are distinctive in having a long tridentine (three-pointed) bract that protrudes prominently above each scale (it resembles the back half of a mouse, with two feet and a tail).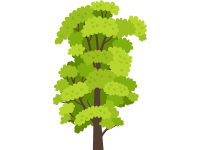 Elm, (genus Ulmus), genus of about 35 species of forest and ornamental shade trees of the family Ulmaceae, native primarily to north temperate areas. Many are cultivated for their height and attractive foliage. Elm wood is used in constructing boats and farm buildings because it is durable underwater; it is also used for furniture.Elm leaves are doubly toothed and often lopsided at the base. The petalless flowers appear before the leaves and are borne in clusters on jointed stems. The nutlike fruit, surrounded by a flat, sometimes hairy, winglike structure, is called a samara.

Fraxinus excelsior, known as the ash, or European ash or common ash to distinguish it from other types of ash, is a flowering plant species in the olive family Oleaceae. It is native throughout mainland Europe east to the Caucasus and Alborz mountains, and the British Isles which determine its western boundary. The northernmost location is in the Trondheimsfjord region of Norway.The species is widely cultivated and reportedly naturalised in New Zealand and in scattered locales in the United States and Canada. It is a large deciduous tree growing to 12–18 m (39–59 ft) (exceptionally to 43 m or 141 ft) tall with a trunk up to 2 m (6.6 ft) (exceptionally to 3.5 m or 11 ft) diameter, with a tall, narrow crown.The bark is smooth and pale grey on young trees, becoming thick and vertically fissured on old trees. The shoots are stout, greenish-grey, with jet-black buds (which distinguish it from most other ash species, which have grey or brown buds). The leaves are opposite, 20–35 cm (7.9–13.8 in) long, pinnately compound, with 7–13 leaflets with coarsely serrated margins, elliptic to narrowly elliptic, 3–12 cm (1.2–4.7 in) long and 0.8–3 cm (0.31–1.18 in) broad and sessile on the leaf rachis.There are no stipules. These features distinguish ash from mountain ash (Sorbus aucuparia) in which the leaves are alternate with paired stipules. The leaves are often among the last to open in spring, and the first to fall in autumn if an early frost strikes; they often fall dull green or develop a bright yellow autumn colour. The flowers are borne in short panicles, open before the leaves, and have no perianth. The female flowers are somewhat longer than the male flowers, dark purple, without petals, and are wind-pollinated. Both male and female flowers can occur on the same tree, but it is more common to find all male and all female trees. A tree that is all male one year can produce female flowers the next, and similarly a female tree can become male. The fruit is a samara 2.5–4.5 cm (0.98–1.77 in) long and 5–8 mm (0.20–0.31 in) broad, often hanging in bunches through the winter;[8] they are often called 'ash keys'. If the fruit is gathered and planted when it is still green and not fully ripe, it will germinate straight away, however once the fruit is brown and fully ripe, it will not germinate until 18 months after sowing (i.e. not until two winters have passed). European ash rarely exceeds 250 years of age. However, there are numerous specimens estimated between 200 and 250 years old and there are a few over 250. The largest is in Clapton Court, England and is 9 m (29.5 ft) in girth. There are several examples over 4.5 metres (14.8 ft) in Derbyshire alone.

Fagus sylvatica, the European beech or common beech, is a deciduous tree belonging to the beech family Fagaceae. Fagus sylvatica is a large tree, capable of reaching heights of up to 50 m (160 ft) tall and 3 m (9.8 ft) trunk diameter, though more typically 25–35 m (82–115 ft) tall and up to 1.5 m (4.9 ft) trunk diameter. A 10-year-old sapling will stand about 4 m (13 ft) tall. It has a typical lifespan of 150–200 years, though sometimes up to 300 years. In cultivated forest stands trees are normally harvested at 80–120 years of age. 30 years are needed to attain full maturity (as compared to 40 for American beech). Like most trees, its form depends on the location: in forest areas, F. sylvatica grows to over 30 m (100 ft), with branches being high up on the trunk. In open locations, it will become much shorter (typically 15–24 m (50–80 ft)) and more massive. The leaves are alternate, simple, and entire or with a slightly crenate margin, 5–10 cm long and 3–7 cm broad, with 6–7 veins on each side of the leaf (7–10 veins in Fagus orientalis). When crenate, there is one point at each vein tip, never any points between the veins. The buds are long and slender, 15–30 mm (0.59–1.18 in) long and 2–3 mm (0.079–0.118 in) thick, but thicker (to 4–5 mm (0.16–0.20 in)) where the buds include flower buds. The leaves of beech are often not abscissed (dropped) in the autumn and instead remain on the tree until the spring. This process is called marcescence. This particularly occurs when trees are saplings or when plants are clipped as a hedge (making beech hedges attractive screens, even in winter), but it also often continues to occur on the lower branches when the tree is mature. Small quantities of seeds may be produced around 10 years of age, but not a heavy crop until the tree is at least 30 years old. F. sylvatica male flowers are borne in the small catkins which are a hallmark of the Fagales order (beeches, chestnuts, oaks, walnuts, hickories, birches, and hornbeams). The female flowers produce beechnuts, small triangular nuts 15–20 millimetres (0.59–0.79 in) long and 7–10 mm (0.28–0.39 in) wide at the base; there are two nuts in each cupule, maturing in the autumn 5–6 months after pollination. Flower and seed production is particularly abundant in years following a hot, sunny and dry summer, though rarely for two years in a row.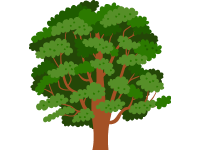 Quercus robur, commonly known as common oak, pedunculate oak, European oak or English oak, is a species of flowering plant in the beech and oak family, Fagaceae. It is native to most of Europe west of the Caucasus. The tree is widely cultivated in temperate regions and has escaped into the wild in scattered parts of China and North America. Quercus robur is a large deciduous tree, with circumference of grand oaks from 4 m (13 ft) to exceptional 12 m (39 ft).[citation needed] The Majesty Oak with a circumference of 12.2 m (40 ft 0 in) is the thickest tree in Great Britain, and the Kaive Oak in Latvia with a circumference of 10.2 m (33 ft) is the thickest tree in Northern Europe.[citation needed] Quercus robur has lobed and nearly sessile (very short-stalked) leaves 7–14 cm (3–5 1⁄2 in) long. Flowering takes place in mid spring, and the fruit, called acorns, ripen by mid autumn. The acorns are 2–2.5 cm (3⁄4–1 in) long, pedunculate (having a peduncle or acorn-stalk, 3–7 cm (1–3 in) long) with one to four acorns on each peduncle. Quercus robur is very tolerant to soil conditions and the continental climate but it prefers fertile and well-watered soils. Mature trees tolerate flooding.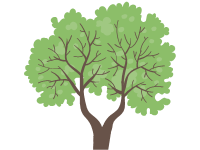 The olive, known by the botanical name Olea europaea, meaning 'European olive', is a species of small tree in the family Oleaceae, found traditionally in the Mediterranean Basin. The species is cultivated in all the countries of the Mediterranean, as well as South America, South Africa, India, China, Australia, New Zealand, Mexico, and the United States. Olea europaea is the type species for the genus Olea. The olive tree, Olea europaea, is an evergreen tree or shrub native to Mediterranean Europe, Asia, and Africa. It is short and squat, and rarely exceeds 8–15 m (26–49 ft) in height. 'Pisciottana', a unique variety comprising 40,000 trees found only in the area around Pisciotta in the Campania region of southern Italy often exceeds this, with correspondingly large trunk diameters. The silvery green leaves are oblong, measuring 4–10 cm (1.6–3.9 in) long and 1–3 cm (0.39–1.18 in) wide. The trunk is typically gnarled and twisted. The small, white, feathery flowers, with ten-cleft calyx and corolla, two stamens, and bifid stigma, are borne generally on the previous year's wood, in racemes springing from the axils of the leaves. The fruit is a small drupe 1–2.5 cm (0.39–0.98 in) long when ripe, thinner-fleshed and smaller in wild plants than in orchard cultivars. Olives are harvested in the green to purple stage. Canned black olives have often been artificially blackened (see below on processing) and may contain the chemical ferrous gluconate to improve the appearance. Olea europaea contains a seed commonly referred to in American English as a pit, and in British English as a stone.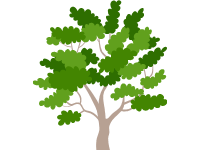 Fig, (Ficus carica), plant of the mulberry family (Moraceae) and its edible fruit. The common fig is indigenous to an area extending from Asiatic Turkey to northern India, but natural seedlings grow in most Mediterranean countries; it is cultivated in warm climates. In the Mediterranean region the fig is so widely used, both fresh and dried, that it is called "the poor man's food." The fruit contains significant amounts of calcium, potassium, phosphorus, and iron. The fig plant is a bush or small tree, from 1 metre (3 feet) to 10 to 12 metres (33 to 39 feet) high, with broad, rough, deciduous leaves that are deeply lobed or sometimes nearly entire. The leaves and stems exude a white latex when broken.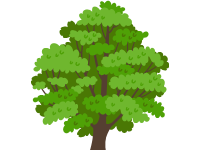 Hornbeams are hardwood trees in the flowering plant genus Carpinus in the birch family Betulaceae. The 30–40 species occur across much of the temperate regions of the Northern Hemisphere. Hornbeams are small to medium-sized trees, Carpinus betulus reaching a height of 32 m. The leaves are deciduous, alternate, and simple with a serrated margin, and typically vary from 3–10 cm in length. The flowers are wind-pollinated pendulous catkins, produced in spring. The male and female flowers are on separate catkins, but on the same tree (monoecious). The fruit is a small nut about 3–6 mm long, held in a leafy bract; the bract may be either trilobed or simple oval, and is slightly asymmetrical. The asymmetry of the seedwing makes it spin as it falls, improving wind dispersal. The shape of the wing is important in the identification of different hornbeam species. Typically, 10–30 seeds are on each seed catkin.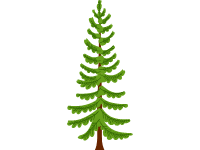 Larches are conifers in the genus Larix, of the family Pinaceae (subfamily Laricoideae). Growing from 20 to 45 metres (65 to 150 feet) tall, they are native to much of the cooler temperate northern hemisphere, on lowlands in the north and high on mountains further south. Larches are among the dominant plants in the boreal forests of Siberia and Canada. Although they are conifers, larches are deciduous trees that lose their needles in the autumn.The tallest species, Larix occidentalis, can reach 50 to 60 m (165 to 195 ft). The larch's tree crown is sparse and the branches are brought horizontal to the stem, even if some species have them characteristically pendulous. Larch shoots are dimorphic, with leaves borne singly on long shoots typically 10 to 50 cm (4 to 20 in) long and bearing several buds, and in dense clusters of 20–50 needles on short shoots[2] only 1–2 mm (1⁄32–3⁄32 in) long with only a single bud. The leaves (light green) are needle-like, 2 to 5 cm (3⁄4 to 2 in) long, slender (under 1 cm or 1⁄2 in wide). Larches are among the few deciduous conifers, which are usually evergreen. Other deciduous conifers include the golden larch Pseudolarix amabilis, the dawn redwood Metasequoia glyptostroboides, the Chinese swamp cypress Glyptostrobus pensilis and the bald cypresses in the genus Taxodium. The male flowers (small cones) are orange-yellowish and fall after pollination. The female flowers (or cones) of larches are erect, small, 1–9 cm (1⁄2–3 1⁄2 in) long, green or purple, brown in ripening and lignify (called now strobilus) 5–8 months after pollination; in about half the species the bract scales are long and visible, and in the others, short and hidden between the seed scales. Those native to northern regions have small cones (1–3 cm or 1⁄2–1 in) with short bracts, with more southerly species tending to have longer cones (3–9 cm or 1 1⁄4–3 1⁄2 in), often with exserted bracts, with the longest cones and bracts produced by the southernmost species, in the Himalayas. The seeds are winged. The larches are streamlined trees, the root system are broad and deep and the bark is finely cracked and wrinkled in irregular plaques. The wood is bicolor, with salmon pink heartwood and yellowish white sapwood.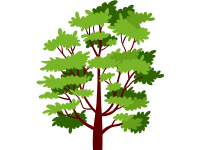 Cedrus libani, the cedar of Lebanon or Lebanon cedar, is a species of tree in the pine family Pinaceae, native to the mountains of the Eastern Mediterranean basin. It is a large evergreen conifer that has great religious and historical significance in the cultures of the Middle East, and is referenced many times in the literature of ancient civilisations. It is the national emblem of Lebanon and is widely used as an ornamental tree in parks and gardens. Cedrus libani can reach 40 m (130 ft) in height, with a massive monopodial columnar trunk up to 2.5 m (8 ft 2 in) in diameter. The trunks of old trees ordinarily fork into several large, erect branches. The rough and scaly bark is dark grey to blackish brown, and is run through by deep, horizontal fissures that peel in small chips. The first-order branches are ascending in young trees; they grow to a massive size and take on a horizontal, wide-spreading disposition. Second-order branches are dense and grow in a horizontal plane. The crown is conical when young, becoming broadly tabular with age with fairly level branches; trees growing in dense forests maintain more pyramidal shapes.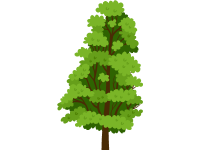 Linden is one of three English names for the tree genus Tilia (also known as lime and basswood). Several of the common names for species within the genus Tilia have 'linden' in their names. The American basswood is a medium-sized to large deciduous tree reaching a height of 18 to 37 m (60 to 120 ft) exceptionally 39 m (128 ft) with a trunk diameter of 1–1.5 m (3–5 ft) at maturity. It grows faster than many North American hardwoods, often twice the annual growth rate of American beech and many birch species. Life expectancy is around 200 years, with flowering and seeding generally occurring between 15 and 100 years, though occasionally seed production may start as early as 8 years. The crown is domed, the branches spreading, often pendulous. The bark is gray to light brown, with narrow, well defined fissures. The roots are large, deep, and spreading. The twigs are smooth, reddish-green, becoming light gray in their second year, finally dark brown or brownish gray, marked with dark wart-like excrescences. The winter buds are stout, ovate-acute, smooth, deep red, with two bud scales visible. The leaves are simple, alternately arranged, ovate to cordate, asymmetrical, unequal at the base (the side nearest the branch the largest), 10–15 cm (4–6 in) (can grow up to 25 cm or 10 in) long and broad, with a long, slender petiole, a coarsely serrated margin and an acuminate apex.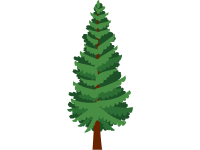 Picea abies, the Norway spruce or European spruce, is a species of spruce native to Northern, Central and Eastern Europe. It has branchlets that typically hang downwards, and the largest cones of any spruce, 9–17 cm (3 1⁄2–6 3⁄4 in) long. It is very closely related to the Siberian spruce (Picea obovata), which replaces it east of the Ural Mountains, and with which it hybridises freely. The Norway spruce is widely planted for its wood, and is the species used as the main Christmas tree in several cities around the world. Norway spruce is a large, fast-growing evergreen coniferous tree growing 35–55 m (115–180 ft) tall and with a trunk diameter of 1 to 1.5 m (39 to 59 in). It can grow fast when young, up to 1 m (3 ft) per year for the first 25 years under good conditions, but becomes slower once over 20 m (65 ft) tall. The shoots are orange-brown and glabrous (hairless). The leaves are needle-like with blunt tips, 12–24 mm (15⁄32–15⁄16 in) long, quadrangular in cross-section (not flattened), and dark green on all four sides with inconspicuous stomatal lines. The seed cones are 9–17 cm (3 1⁄2–6 3⁄4 in) long (the longest of any spruce), and have bluntly to sharply triangular-pointed scale tips. They are green or reddish, maturing brown 5–7 months after pollination. The seeds are black, 4–5 mm (5⁄32–3⁄16 in) long, with a pale brown 15-millimetre (5⁄8-inch) wing. The tallest measured Norway spruce is 62.26 m (204 ft) tall and grows near Ribnica na Pohorju, Slovenia.

The Pear tree is medium-sized and native to coastal and mildly temperate regions of Europe, North Africa, and Asia. Pear wood is one of the preferred materials in the manufacture of high-quality woodwind instruments and furniture. The pear is native to coastal and mildly temperate regions of the Old World, from Western Europe and North Africa east across Asia. It is a medium-sized tree, reaching 10–17 m (33–56 ft) tall, often with a tall, narrow crown; a few species are shrubby. The leaves are alternately arranged, simple, 2–12 cm (0.79–4.72 in) long, glossy green on some species, densely silvery-hairy in some others; leaf shape varies from broad oval to narrow lanceolate. Most pears are deciduous, but one or two species in Southeast Asia are evergreen. Most are cold-hardy, withstanding temperatures as low as −25 to −40 °C (−13 to −40 °F) in winter, except for the evergreen species, which only tolerate temperatures down to about −15 °C (5 °F). The flowers are white, rarely tinted yellow or pink, 2–4 centimetres (1–1 1⁄2 in) diameter, and have five petals. Like that of the related apple, the pear fruit is a pome, in most wild species 1–4 cm (0.4–1.6 in) diameter, but in some cultivated forms up to 18 cm (7.1 in) long and 8 cm (3.1 in) broad; the shape varies in most species from oblate or globose, to the classic pyriform 'pear shape' of the European pear with an elongated basal portion and a bulbous end.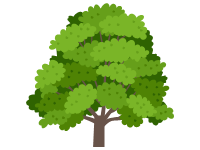 Platanus is a genus consisting of a small number of tree species native to the Northern Hemisphere. They are the sole living members of the family Platanaceae.They are often known in English as planes or plane trees. These large trees are native in North America, eastern Europe, and Asia and are characterized by scaling bark; large, deciduous, usually palmately lobed leaves; and globose heads of flower and seed. The plane trees bear flowers of both sexes on the same tree but in different clusters.

Poplar, (genus Populus), genus of some 35 species of trees in the willow family (Salicaceae), native to the Northern Hemisphere. The poplar species native to North America are divided into three loose groups: the cottonwoods, the aspens, and the balsam poplars. The name Populus refers to the fact that the trees were often planted around public meeting places in Roman times. The wood of poplars is relatively soft and hence is mostly used to make cardboard boxes, crates, paper, and veneer. Poplars are rapid-growing but relatively short-lived trees. They are widely distributed throughout the northern temperate regions, ranging from North America through Eurasia and northern Africa. The leaves are alternate and oval or heart-shaped in outline, with finely to coarsely toothed margins (leaf edges). The leaves characteristically tremble in the breeze, because of their flat petioles (leaf stalks). In North America, aspens usually have nonsticky buds and smooth gray-to-green bark, whereas cottonwoods and balsam poplars have sticky buds and bark that is darker and deeply furrowed. Poplars are dioecious plants, meaning the male and female flowers grow on separate trees. The flowers bloom in drooping catkins (pendulous unisexual flower clusters) before the leaves emerge, to facilitate wind pollination. The fruits are small thick-walled capsules that contain many minute seeds clothed in cottony tufts of silky hairs. The seeds are often released in great quantities, and the fluffy seed hairs assist in wind dispersal.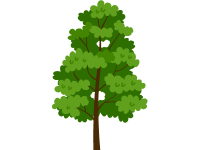 The rowans or mountain-ashes are shrubs or trees in the genus Sorbus of the rose family, Rosaceae. They are native throughout the cool temperate regions of the Northern Hemisphere, with the highest species diversity in the Himalaya, southern Tibet and parts of western China, where numerous apomictic microspecies occur. Rowans are mostly small deciduous trees 10–20 m tall, though a few are shrubs.Rowan leaves are arranged alternately, and are pinnate, with (7–)11–35 leaflets. A terminal leaflet is always present. The flowers are borne in dense corymbs; each flower is creamy white, and 5–10 mm across with five petals. The fruit is a small pome 4–8 mm diameter, bright orange or red in most species, but pink, yellow or white in some Asian species. The fruit are soft and juicy, which makes them a very good food for birds, particularly waxwings and thrushes, which then distribute the rowan seeds in their droppings. Due to their small size the fruits are often referred to as berries, but a true berry is a simple fruit produced from a single ovary, whereas a pome is an accessory fruit.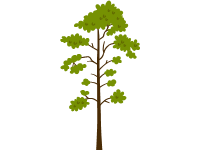 Scots pine, Pinus sylvestris, is a species of tree in the pine family Pinaceae that is native to Eurasia, ranging from Western Europe to Eastern Siberia, south to the Caucasus Mountains and Anatolia, and north to well inside the Arctic Circle in Fennoscandia. In the north of its range, it occurs from sea level to 1,000 m (3,300 ft), while in the south of its range it is a mountain tree, growing at 1,200–2,600 m (3,900–8,500 ft) altitude. It is readily identified by its combination of fairly short, blue-green leaves and orange-red bark. Pinus sylvestris is an evergreen coniferous tree growing up to 35 m in height and 1 m trunk diameter when mature, exceptionally over 45 metres (148 ft) tall and 1.7 metres (5 ft 7 in) trunk diameter on very productive sites, the tallest on record being a more than 210-year-old tree growing in Estonia which stands at 46.6 m (152 ft 11 in). The bark is thick, scaly dark grey-brown on the lower trunk, and thin, flaky and orange on the upper trunk and branches. The habit of the mature tree is distinctive due to its long, bare and straight trunk topped by a rounded or flat-topped mass of foliage.The shoots are light brown, with a spirally arranged scale-like pattern. On mature trees the leaves ('needles') are a glaucous blue-green, often darker green to dark yellow-green in winter, 2.5–5 cm (1–2 in) long and 1–2 mm (1⁄32–3⁄32 in) broad, produced in fascicles of two with a persistent grey 5–10 mm (1⁄4–3⁄8 in) basal sheath.

Betula pendula, commonly known as silver birch, warty birch, European white birch,or East Asian white birch, is a species of tree in the family Betulaceae, native to Europe and parts of Asia, though in southern Europe, it is only found at higher altitudes. Its range extends into Siberia, China, and southwest Asia in the mountains of northern Turkey, the Caucasus, and northern Iran. It has been introduced into North America, where it is known as the European white birch, and is considered invasive in some states in the United States and parts of Canada. The tree can also be found in more temperate regions of Australia.The silver birch typically reaches 15 to 25 m (49 to 82 ft) tall (exceptionally up to 31 m (102 ft)), with a slender trunk usually under 40 cm (16 in) diameter. The bark on the trunk and branches is golden-brown at first, but later this turns to white as a result of papery tissue developing on the surface and peeling off in flakes, in a similar manner to the closely related paper birch (B. papyrifera). The bark remains smooth until the tree gets quite large, but in older trees, the bark thickens, becoming irregular, dark, and rugged. Young branches have whitish resin warts and the twigs are slender, hairless, and often pendulous. The buds are small and sticky, and development is sympodial - the terminal bud dies away and growth continues from a lateral bud. The species is monoecious with male and female catkins found on the same tree.Some shoots are long and bear the male catkins at the tip, while others are short and bear female catkins. The immature male catkins are present during the winter, but the female catkins develop in the spring, soon after the leaves unfurl. The leaves have short, slender stalks and are 3 to 7 cm (1.2 to 2.8 in) long, triangular with broad, untoothed, wedge-shaped bases, slender pointed tips, and coarsely double-toothed, serrated margins. They are sticky with resin at first, but this dries as they age, leaving small, white scales. The foliage is a pale to medium green and turns yellow early in the autumn before the leaves fall. In midsummer, the female catkins mature and the male catkins expand and release pollen, and wind pollination takes place. The small, 1- to 2-mm winged seeds ripen in late summer on pendulous, cylindrical catkins 2 to 4 cm (0.8 to 1.6 in) long and 7 mm (0.3 in) broad. The seeds are very numerous and are separated by scales, and when ripe, the whole catkin disintegrates and the seeds are spread widely by the wind.

Castanea sativa, the sweet chestnut, Spanish chestnut or just chestnut, is a species of tree in the family Fagaceae, native to Southern Europe and Asia Minor, and widely cultivated throughout the temperate world. A substantial, long-lived deciduous tree, it produces an edible seed, the chestnut, which has been used in cooking since ancient times.Sweet Chestnut attains a height of 20–35 m (66–115 ft) with a trunk often 2 m (7 ft) in diameter. The bark often has a net-shaped (retiform) pattern with deep furrows or fissures running spirally in both directions up the trunk. The trunk is mostly straight with branching starting at low heights. Sweet chestnut trees live to an age of 500 to 600 years. In cultivation they may even grow as old as 1000 years or more. Their large genetic diversity and different cultivars are exploited for uses such as flour, boiling, roasting, drying, sweets or wood.The oblong-lanceolate, boldly toothed leaves are 16–28 cm (6–11 in) long and 5–9 cm (2–4 in) broad.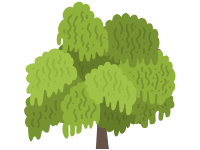 Willows, also called sallows and osiers, form the genus Salix, around 400 species of deciduous trees and shrubs, found primarily on moist soils in cold and temperate regions of the Northern Hemisphere. Most species are known as willow, but some narrow-leaved shrub species are called osier, and some broader-leaved species are referred to as sallow (from Old English sealh, related to the Latin word salix, willow). Willows all have abundant watery bark sap, which is heavily charged with salicylic acid, soft, usually pliant, tough wood, slender branches, and large, fibrous, often stoloniferous roots. The roots are remarkable for their toughness, size, and tenacity to live, and roots readily sprout from aerial parts of the plant. The leaves are typically elongated, but may also be round to oval, frequently with serrated edges. Most species are deciduous; semievergreen willows with coriaceous leaves are rare, e.g. Salix micans and S. australior in the eastern Mediterranean. All the buds are lateral; no absolutely terminal bud is ever formed. The buds are covered by a single scale. Usually, the bud scale is fused into a cap-like shape, but in some species it wraps around and the edges overlap. The leaves are simple, feather-veined, and typically linear-lanceolate. Usually they are serrate, rounded at base, acute or acuminate. The leaf petioles are short, the stipules often very conspicuous, resembling tiny, round leaves, and sometimes remaining for half the summer. On some species, however, they are small, inconspicuous, and caducous (soon falling). In color, the leaves show a great variety of greens, ranging from yellowish to bluish color. Willows are among the earliest woody plants to leaf out in spring and the last to drop their leaves in autumn. Leafout may occur as early as February depending on the climate and is stimulated by air temperature. If daytime highs reach 55 °F (10 °C) for a few consecutive days, a willow will attempt to put out leaves and flowers.

Taxus baccata is a species of evergreen tree in the conifer family, native to western, central and southern Europe, northwest Africa, northern Iran and southwest Asia. It is the tree originally known as yew, though with other related trees becoming known, it may now be known as common yew, English yew, or European yew. It is primarily grown as an ornamental. Most parts of the plant are poisonous, and consumption of the foliage can result in death. t is a small to medium-sized evergreen tree, growing 10–20 metres (33–66 ft) (exceptionally up to 28 metres (92 ft)) tall, with a trunk up to 2 metres (6 ft 7 in) (exceptionally 4 metres (13 ft)) in diameter. The bark is thin, scaly brown, coming off in small flakes aligned with the stem. The leaves are flat, dark green, 1–4 centimetres (0.39–1.57 in) long and 2–3 millimetres (0.079–0.118 in) broad, arranged spirally on the stem, but with the leaf bases twisted to align the leaves in two flat rows either side of the stem, except on erect leading shoots where the spiral arrangement is more obvious. The leaves are poisonous. The seed cones are modified, each cone containing a single seed, which is 4–7 millimetres (0.16–0.28 in) long, and partly surrounded by a fleshy scale which develops into a soft, bright red berry-like structure called an aril. The aril is 8–15 millimetres (0.31–0.59 in) long and wide and open at the end. The arils mature 6 to 9 months after pollination, and with the seed contained, are eaten by thrushes, waxwings and other birds, which disperse the hard seeds undamaged in their droppings. Maturation of the arils is spread over 2 to 3 months, increasing the chances of successful seed dispersal. The seeds themselves are poisonous and bitter, but are opened and eaten by some bird species including hawfinches,greenfinches and great tits.The aril is not poisonous, it is gelatinous and very sweet tasting. The male cones are globose, 3–6 millimetres (0.12–0.24 in) in diameter, and shed their pollen in early spring. The yew is mostly dioecious, but occasional individuals can be variably monoecious, or change sex with time.
---