The artichoke grows to 1.4–2 m (4 ft 7 in–6 ft 7 in) tall, with arching, deeply lobed, silvery, glaucous-green leaves 50–83 cm (19 1⁄2–32 1⁄2 in) long. The flowers develop in a large head from an edible bud about 8–15 cm (3–6 in) diameter with numerous triangular scales; the individual florets are purple. The edible portions of the buds consist primarily of the fleshy lower portions of the involucral bracts and the base, known as the 'heart'; the mass of immature florets in the center of the bud is called the 'choke' or beard. These are inedible in older, larger flowers. Artichokes are full of inulin, according to Sollid, which is a 'unique form of fiber known to help prevent gastrointestinal issues like constipation, enhance the absorption of minerals like calcium, and bolster your immune system.' A diet rich in vegetables, like artichokes, has the potential to suppress inflammation.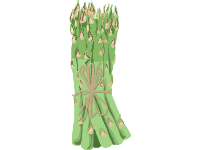 Asparagus is a perennial flowering plant species in the genus Asparagus. Its young shoots are used as a spring vegetable. Asparagus is a herbaceous, perennial plant growing to 100–150 cm (40–60 in) tall, with stout stems with much-branched, feathery foliage. The 'leaves' are in fact needle-like cladodes (modified stems) in the axils of scale leaves; they are 6–32 mm (1⁄4–1 1⁄4 in) long and 1 mm (1⁄32 in) broad, and clustered four to 15 together, in a rose-like shape. The root system, often referred to as a 'crown,' is adventitious and the root type is fasciculated. The flowers are bell-shaped, greenish-white to yellowish, 4.5–6.5 mm (3⁄16–1⁄4 in) long, with six tepals partially fused together at the base; they are produced singly or in clusters of two or three in the junctions of the branchlets. It is usually dioecious, with male and female flowers on separate plants, but sometimes hermaphrodite flowers are found. The fruit is a small red berry 6–10 mm (1⁄4–13⁄32 in) in diameter, which is toxic to humans. Only young asparagus shoots are commonly eaten: once the buds start to open ('ferning out'), the shoots quickly turn woody. Water makes up 93% of asparagus's composition. Asparagus is low in food energy and very low in sodium. It is a good source of vitamin B6, calcium, magnesium, and zinc, and a very good source of dietary fibre, protein, beta-carotene, vitamin C, vitamin E, vitamin K, thiamin, riboflavin, rutin, niacin, folic acid, iron, phosphorus, potassium, copper, manganese, and selenium, as well as chromium, a trace mineral that regulates the ability of insulin to transport glucose from the bloodstream into cells. The amino acid asparagine gets its name from asparagus, as the asparagus plant is relatively rich in this compound.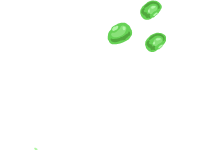 A bean is the seed of one of several genera of the flowering plant family Fabaceae, which are used as vegetables for human or animal food. They can be cooked in many different ways, including boiling, frying, and baking, and are used in many traditional dishes throughout the world. Unlike the closely related pea, beans are a summer crop that needs warm temperatures to grow. Legumes are capable of nitrogen fixation and hence need less fertiliser than most plants. Maturity is typically 55–60 days from planting to harvest.Beans are high in protein, complex carbohydrates, folate, and iron. Beans also have significant amounts of fiber and soluble fiber, with one cup of cooked beans providing between nine and 13 grams of fiber.Soluble fiber can help lower blood cholesterol. Adults are recommended to have up to two (female), and three (male) servings. 3/4 cup of cooked beans provide one serving.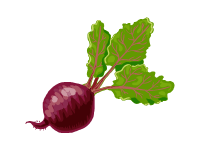 The beetroot is the taproot portion of a beet plant, usually known in Canada and the USA as beets while the vegetable is referred to as beetroot in British English, and also known as the table beet, garden beet, red beet, dinner beet or golden beet. It is one of several cultivated varieties of Beta vulgaris grown for their edible taproots and leaves (called beet greens). Besides being used as a food, beets have uses as a food colouring and as a medicinal plant. Many beet products are made from other Beta vulgaris varieties, particularly sugar beet. Usually the deep purple roots of beets are eaten boiled, roasted, or raw, and either alone or combined with any salad vegetable. A large proportion of the commercial production is processed into boiled and sterilized beets or into pickles. In Eastern Europe, beet soup, such as borscht, is common. In Indian cuisine, chopped, cooked, spiced beet is a common side dish. Yellow-coloured beetroots are grown on a very small scale for home consumption. The green, leafy portion of the beet is also edible. The young leaves can be added raw to salads, whilst the mature leaves are most commonly served boiled or steamed, in which case they have a taste and texture similar to spinach. Raw beetroot is 88% water, 10% carbohydrates, 2% protein, and less than 1% fat (see table). In a 100-gram (3 1⁄2-ounce) amount providing 180 kilojoules (43 kilocalories) of food energy, raw beetroot is a rich source (27% of the Daily Value - DV) of folate and a moderate source (16% DV) of manganese, with other nutrients having insignificant content .

Bok choy (American English), pak choi (British English), or pok choi is a type of Chinese cabbage. Chinensis varieties do not form heads and have green leaf blades with lighter bulbous bottoms instead, forming a cluster reminiscent of mustard greens.Raw bok choy is 95% water, 2% carbohydrates, 1% protein and less than 1% fat (table). In a 100-gram (3 1⁄2-ounce) reference serving, raw bok choy provides 54 kilojoules (13 kilocalories) of food energy and is a rich source (20% or more of the Daily Value, DV) of vitamin A (30% DV), vitamin C (54% DV) and vitamin K (44% DV), while providing folate, vitamin B6 and calcium in moderate amounts (10–17% DV) .

Broccoli is an edible green plant in the cabbage family whose large flowering head, stalk and small associated leaves are eaten as a vegetable. The word broccoli comes from the Italian plural of broccolo, which means 'the flowering crest of a cabbage', and is the diminutive form of brocco, meaning 'small nail' or 'sprout'. The majority of broccoli cultivars are cool-weather crops that do poorly in hot summer weather. Broccoli grows best when exposed to an average daily temperature between 18 and 23 °C (64 and 73 °F). When the cluster of flowers, also referred to as a 'head' of broccoli, appear in the center of the plant, the cluster is generally green. Garden pruners or shears are used to cut the head about an inch from the tip. Broccoli should be harvested before the flowers on the head bloom bright yellow. s. A 100 gram reference serving of raw broccoli provides 34 calories and is a rich source (20% or higher of the Daily Value, DV) of vitamin C (107% DV) and vitamin K (97% DV) (table). Raw broccoli also contains moderate amounts (10–19% DV) of several B vitamins and the dietary mineral manganese, whereas other micronutrients are low in content (less than 10% DV). Raw broccoli is 89% water, 7% carbohydrates, 3% protein, and contains negligible fat.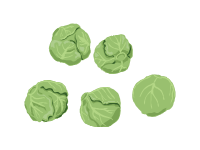 The Brussels sprout is a member of the Gemmifera Group of cabbages (Brassica oleracea), grown for its edible buds. The leaf vegetables are typically 1.5–4.0 cm (0.6–1.6 in) in diameter and look like miniature cabbages. The Brussels sprout has long been popular in Brussels, Belgium, and may have gained its name there. Brussels sprouts grow in temperature ranges of 7–24 °C (45–75 °F), with highest yields at 15–18 °C (59–64 °F). Fields are ready for harvest 90 to 180 days after planting. The edible sprouts grow like buds in helical patterns along the side of long, thick stalks of about 60 to 120 cm (24 to 47 in) in height, maturing over several weeks from the lower to the upper part of the stalk. Sprouts may be picked by hand into baskets, in which case several harvests are made of five to 15 sprouts at a time, or by cutting the entire stalk at once for processing, or by mechanical harvester, depending on variety. Each stalk can produce 1.1 to 1.4 kg (2.4 to 3.1 lb), although the commercial yield is about 900 g (2 lb) per stalk. Harvest season in temperate zones of the northern latitudes is September to March, making Brussels sprouts a traditional winter-stock vegetable. In the home garden, harvest can be delayed as quality does not suffer from freezing. Sprouts are considered to be sweetest after a frost. Raw Brussels sprouts are 86% water, 9% carbohydrates, 3% protein, and contain negligible fat. In a 100 gram reference amount, they supply high levels (20% or more of the Daily Value, DV) of vitamin C (102% DV) and vitamin K (169% DV), with more moderate amounts of B vitamins, such as folate and vitamin B6 (USDA nutrient table, right); essential minerals and dietary fiber exist in moderate to low amounts. Brussels sprouts, as with broccoli and other brassicas, contain sulforaphane, a phytochemical under basic research for its potential biological properties. Although boiling reduces the level of sulforaphane, steaming, microwave cooking, and stir frying do not cause a significant loss.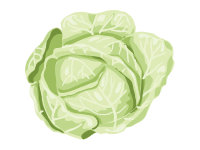 Cabbage is a leafy green, red (purple), or white (pale green) biennial plant grown as an annual vegetable crop for its dense-leaved heads. It is descended from the wild cabbage, and belongs to the 'cole crops' or brassicas, meaning it is closely related to broccoli and cauliflower. Cabbage weights generally range from 500 to 1,000 grams (1 to 2 lb). Smooth-leafed, firm-headed green cabbages are the most common, with smooth-leafed purple cabbages and crinkle-leafed savoy cabbages of both colours being rarer. Under conditions of long sunny days, such as those found at high northern latitudes in summer, cabbages can grow quite large. Raw cabbage is 92% water, 6% carbohydrates, 1% protein, and contains negligible fat (table). In a 100 gram reference amount, raw cabbage is a rich source of vitamin C and vitamin K, containing 44% and 72%, respectively, of the Daily Value (DV). Cabbage is also a moderate source (10–19% DV) of vitamin B6 and folate, with no other nutrients having significant content per 100-gram serving. Basic research on cabbage phytochemicals is ongoing to discern if certain cabbage compounds may affect health or have potential for anti-disease effects, such as sulforaphane and other glucosinolates. Studies on cruciferous vegetables, including cabbage, include whether they may lower the risk against colon cancer. Cabbage is a source of indole-3-carbinol, a chemical under basic research for its possible properties.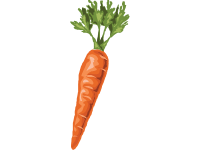 The carrot is a root vegetable, usually orange in color, though purple, black, red, white, and yellow cultivars exist. They are a domesticated form of the wild carrot, Daucus carota, native to Europe and Southwestern Asia. The plant probably originated in Persia and was originally cultivated for its leaves and seeds. The most commonly eaten part of the plant is the taproot, although the stems and leaves are also eaten. The domestic carrot has been selectively bred for its greatly enlarged, more palatable, less woody-textured taproot. Carrots are grown from seed and can take up to four months (120 days) to mature, but most cultivars mature within 70 to 80 days under the right conditions. Raw carrots are 88% water, 9% carbohydrates, 0.9% protein, 2.8% dietary fiber, 1% ash and 0.2% fat. Carrot dietary fiber comprises mostly cellulose, with smaller proportions of hemicellulose, lignin and starch. Free sugars in carrot include sucrose, glucose, and fructose. The carrot gets its characteristic, bright orange colour from β-carotene, and lesser amounts of α-carotene, γ-carotene, lutein, and zeaxanthin. α- and β-carotenes are partly metabolized into vitamin A, providing more than 100% of the Daily Value (DV) per 100 g serving of carrots . Carrots are also a good source of vitamin K (13% DV) and vitamin B6 (11% DV).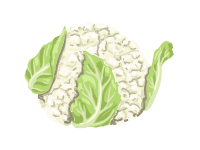 Cauliflower is an annual plant that reproduces by seed. Typically, only the head is eaten – the edible white flesh sometimes called 'curd' (with a similar appearance to cheese curd). Because weather is a limiting factor for producing cauliflower, the plant grows best in moderate daytime temperatures 21–29 °C (70–85 °F), with plentiful sun, and moist soil conditions high in organic matter and sandy soils.The earliest maturity possible for cauliflower is 7 to 12 weeks from transplanting. In the northern hemisphere, fall season plantings in July may enable harvesting before autumn frost. Long periods of sun exposure in hot summer weather may cause cauliflower heads to discolor with a red-purple hue. Raw cauliflower is 92% water, 5% carbohydrates, 2% protein, and contains negligible fat (table). A 100 gram reference amount of raw cauliflower provides 25 calories, and has a high content (20% or more of the Daily Value, DV) of vitamin C (58% DV) and moderate levels of several B vitamins and vitamin K (13–15% DV; table). Contents of dietary minerals are low (7% DV or less).

The cherry tomato is a type of small round tomato believed to be an intermediate genetic admixture between wild currant-type tomatoes and domesticated garden tomatoes. Cherry tomatoes range in size from a thumbtip up to the size of a golf ball, and can range from spherical to slightly oblong in shape. Although usually red, other colours such as yellow, green, and black also exist. Those shaped like an oblong share characteristics with plum tomatoes and are known as grape tomatoes.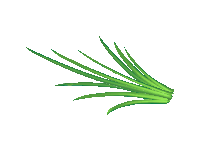 Chives is a species of flowering plant in the family Amaryllidaceae that produces edible leaves and flowers. Their close relatives include the common onions, garlic, shallot, leek, scallion, and Chinese onion. Chives are a commonly used herb and can be found in grocery stores or grown in home gardens. In culinary use, the green stalks (scapes) and the unopened, immature flower buds are diced and used as an ingredient for omelettes, fish, potatoes, soups, and many other dishes. The edible flowers can be used in salads. Chives have insect-repelling properties that can be used in gardens to control pests. Chives are a bulb-forming herbaceous perennial plant, growing to 30–50 cm (12–20 in) tall. The bulbs are slender, conical, 2–3 cm (3⁄4–1 1⁄4 in) long and 1 cm (1⁄2 in) broad, and grow in dense clusters from the roots. The scapes (or stems) are hollow and tubular, up to 50 cm (20 in) long and 2–3 mm (1⁄16–1⁄8 in) across, with a soft texture, although, prior to the emergence of a flower, they may appear stiffer than usual. The grass-like leaves, which are shorter than the scapes, are also hollow and tubular, or terete, (round in cross-section) which distinguishes it at a glance from garlic chives (Allium tuberosum). The flowers are pale purple, and star-shaped with six petals, 1–2 cm (1⁄2–3⁄4 in) wide, and produced in a dense inflorescence of 10-30 together; before opening, the inflorescence is surrounded by a papery bract. The seeds are produced in a small, three-valved capsule, maturing in summer. The herb flowers from April to May in the southern parts of its habitat zones and in June in the northern parts. Chives have a wide variety of culinary uses, such as in traditional dishes in France, Sweden, and elsewhere.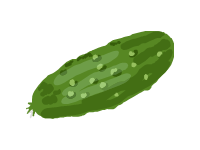 Cucumber is a widely-cultivated creeping vine plant in the Cucurbitaceae gourd family that bears cucumiform fruits, which are used as vegetables. There are three main varieties of cucumber—slicing, pickling, and burpless/seedless—within which several cultivars have been created. The cucumber originates from South Asia, but now grows on most continents, as many different types of cucumber are traded on the global market. In North America, the term wild cucumber refers to plants in the genera Echinocystis and Marah, though the two are not closely related. In a 100-gram (3 1⁄2-ounce) serving, raw cucumber (with peel) is 95% water, provides 67 kilojoules (16 kilocalories) of food energy, and supplies low content of essential nutrients, as it is notable only for vitamin K at 16% of the Daily Value. Depending on variety, cucumbers may have a mild melon aroma and flavor, in part resulting from unsaturated aldehydes, such as (E,Z)-nona-2,6-dienal, and the cis- and trans- isomers of 2-nonenal. The slightly bitter taste of cucumber rind results from cucurbitacins.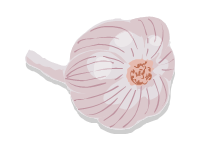 Garlic is a species in the onion genus, Allium. Its close relatives include the onion, shallot, leek, chive, and Chinese onion. It is native to Central Asia and northeastern Iran and has long been a common seasoning worldwide, with a history of several thousand years of human consumption and use. n the typical serving size of 1–3 cloves (3–9 grams), garlic provides no significant nutritional value, with the content of all essential nutrients below 10% of the Daily Value (DV) (table). When expressed per 100 grams, garlic contains several nutrients in rich amounts (20% or more of the DV), including vitamins B6 and C, and the dietary minerals manganese and phosphorus. Per 100 gram serving, garlic is also a moderate source (10–19% DV) of certain B vitamins, including thiamin and pantothenic acid, as well as the dietary minerals calcium, iron, and zinc (table). The composition of raw garlic is 59% water, 33% carbohydrates, 6% protein, 2% dietary fiber, and less than 1% fat.

Kohlrabi (from the German for cabbage turnip; Brassica oleracea Gongylodes Group), also called German turnip, is a biennial vegetable, a low, stout cultivar of wild cabbage. It is another cultivar of the same species as cabbage, broccoli, cauliflower, kale, Brussels sprouts, collard greens, Savoy cabbage, and gai lan. Kohlrabi has been created by artificial selection for lateral meristem growth (a swollen, nearly spherical shape); its origin in nature is the same as that of cabbage, broccoli, cauliflower, kale, collard greens, and Brussels sprouts: they are all bred from, and are the same species as, the wild cabbage plant. The taste and texture of kohlrabi are similar to those of a broccoli stem or cabbage heart, but milder and sweeter, with a higher ratio of flesh to skin. The young stem in particular can be as crisp and juicy as an apple, although much less sweet.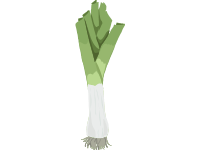 The leek is a vegetable, a cultivar of Allium ampeloprasum, the broadleaf wild leek. The edible part of the plant is a bundle of leaf sheaths that is sometimes erroneously called a stem or stalk. The genus Allium also contains the onion, garlic, shallot, scallion, chive, and Chinese onion. Three closely related vegetables, elephant garlic, kurrat and Persian leek or tareh, are also cultivars of A. ampeloprasum, although different in their uses as food.Leeks are easy to grow from seed and tolerate standing in the field for an extended harvest, which takes place up to 6 months from planting. The soil in which it is grown has to be loose and drained well; leek can be grown in the same regions where onions can be grown. Leeks usually reach maturity in the autumn months. Leeks can be bunched and harvested early when they are about the size of a finger or pencil, or they can be thinned and allowed to grow to a much larger mature size. Hilling leeks can produce better specimens.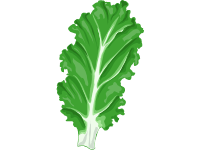 Lettuce is an annual plant of the daisy family, Asteraceae. It is most often grown as a leaf vegetable, but sometimes for its stem and seeds. Lettuce is most often used for salads, although it is also seen in other kinds of food, such as soups, sandwiches and wraps; it can also be grilled. One variety, the celtuce (asparagus lettuce), is grown for its stems, which are eaten either raw or cooked. In addition to its main use as a leafy green, it has also gathered religious and medicinal significance over centuries of human consumption. Europe and North America originally dominated the market for lettuce, but by the late 20th century the consumption of lettuce had spread throughout the world. World production of lettuce and chicory for 2017 was 27 million tonnes, 56% of which came from China. Depending on the variety, lettuce is an excellent source (20% of the Daily Value, DV, or higher) of vitamin K (97% DV) and vitamin A (21% DV) (table), with higher concentrations of the provitamin A compound, beta-carotene, found in darker green lettuces, such as romaine. With the exception of the iceberg variety, lettuce is also a good source (10–19% DV) of folate and iron.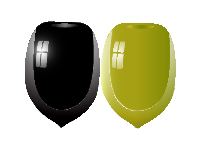 The olive's fruit, also called the olive, is of major agricultural importance in the Mediterranean region as the source of olive oil; it is one of the core ingredients in Mediterranean cuisine. The tree and its fruit give their name to the plant family, which also includes species such as lilacs, jasmine, Forsythia, and the true ash trees. One hundred grams of cured green olives provide 146 calories, are a rich source of vitamin E (25% of the Daily Value, DV), and contain a large amount of sodium (104% DV); other nutrients are insignificant. Green olives are 75% water, 15% fat, 4% carbohydrates and 1% protein . The polyphenol composition of olive fruits varies during fruit ripening and during processing by fermentation when olives are immersed whole in brine or crushed to produce oil. In raw fruit, total polyphenol contents, as measured by the Folin method, are 117 mg/100 g in black olives and 161 mg/100 g in green olives, compared to 55 and 21 mg/100 g for extra virgin and virgin olive oil, respectively.Olive fruit contains several types of polyphenols, mainly tyrosols, phenolic acids, flavonols and flavones, and for black olives, anthocyanins. The main bitter flavor of olives before curing results from oleuropein and its aglycone which total in content, respectively, 72 and 82 mg/100 g in black olives, and 56 and 59 mg/100 g in green olives.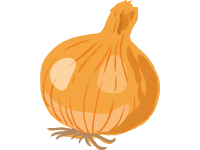 The onion , also known as the bulb onion or common onion, is a vegetable that is the most widely cultivated species of the genus Allium. Its close relatives include the garlic, scallion, shallot, leek, chive, and Chinese onion. The onion plant has been grown and selectively bred in cultivation for at least 7,000 years. It is a biennial plant, but is usually grown as an annual. Modern varieties typically grow to a height of 15 to 45 cm (6 to 18 in). The leaves are yellowish- to bluish green and grow alternately in a flattened, fan-shaped swathe. They are fleshy, hollow, and cylindrical, with one flattened side. They are at their broadest about a quarter of the way up, beyond which they taper towards a blunt tip. The base of each leaf is a flattened, usually white sheath that grows out of the basal plate of a bulb. From the underside of the plate, a bundle of fibrous roots extends for a short way into the soil. As the onion matures, food reserves begin to accumulate in the leaf bases and the bulb of the onion swells. In the autumn, the leaves die back and the outer scales of the bulb become dry and brittle, so the crop is then normally harvested. If left in the soil over winter, the growing point in the middle of the bulb begins to develop in the spring. New leaves appear and a long, stout, hollow stem expands, topped by a bract protecting a developing inflorescence. The inflorescence takes the form of a globular umbel of white flowers with parts in sixes. The seeds are glossy black and triangular in cross section. The average pH of an onion is around 5.5. Most onion cultivars are about 89% water, 9% carbohydrates (including 4% sugar and 2% dietary fibre), 1% protein, and negligible fat. Onions contain low amounts of essential nutrients and have an energy value of 166 kJ (40 kilocalories) in a 100 g (3.5 oz) amount. Onions contribute savoury flavour to dishes without contributing significant caloric content.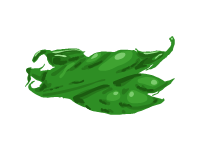 The pea is most commonly the small spherical seed or the seed-pod of the pod fruit Pisum sativum. Each pod contains several peas, which can be green or yellow. Botanically, pea pods are fruit, since they contain seeds and develop from the ovary of a (pea) flower. The name is also used to describe other edible seeds from the Fabaceae such as the pigeon pea, the cowpea (Vigna unguiculata), and the seeds from several species of Lathyrus. A pea is a most commonly green, occasionally golden yellow, or infrequently purple pod-shaped vegetable, widely grown as a cool-season vegetable crop. The seeds may be planted as soon as the soil temperature reaches 10 °C (50 °F), with the plants growing best at temperatures of 13 to 18 °C (55 to 64 °F). They do not thrive in the summer heat of warmer temperate and lowland tropical climates, but do grow well in cooler, high-altitude, tropical areas. Many cultivars reach maturity about 60 days after planting.Peas are starchy, but high in fiber, protein, vitamin A, vitamin B6, vitamin C, vitamin K, phosphorus, magnesium, copper, iron, zinc and lutein. Dry weight is about one-quarter protein and one-quarter sugar. Pea seed peptide fractions have less ability to scavenge free radicals than glutathione, but greater ability to chelate metals and inhibit linoleic acid oxidation.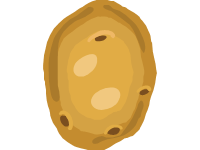 The potato is a root vegetable native to the Americas, a starchy tuber of the plant Solanum tuberosum, and the plant itself is a perennial in the nightshade family, Solanaceae. Wild potato species, originating in modern-day Peru, can be found throughout the Americas, from the United States to southern Chile. The potato was originally believed to have been domesticated by indigenous peoples of the Americas independently in multiple locations, but later genetic testing of the wide variety of cultivars and wild species traced a single origin for potatoes. In the area of present-day southern Peru and extreme northwestern Bolivia, from a species in the Solanum brevicaule complex, potatoes were domesticated approximately 7,000–10,000 years ago.In the Andes region of South America, where the species is indigenous, some close relatives of the potato are cultivated. Potatoes were introduced to Europe from the Americas in the second half of the 16th century by the Spanish. Today they are a staple food in many parts of the world and an integral part of much of the world's food supply. As of 2014, potatoes were the world's fourth-largest food crop after maize (corn), wheat, and rice. Potato plants are herbaceous perennials that grow about 60 cm (24 in) high, depending on variety, with the leaves dying back after flowering, fruiting and tuber formation. They bear white, pink, red, blue, or purple flowers with yellow stamens. In general, the tubers of varieties with white flowers have white skins, while those of varieties with colored flowers tend to have pinkish skins.Potatoes are mostly cross-pollinated by insects such as bumblebees, which carry pollen from other potato plants, though a substantial amount of self-fertilizing occurs as well. Tubers form in response to decreasing day length, although this tendency has been minimized in commercial varieties. A raw potato is 79% water, 17% carbohydrates (88% is starch), 2% protein, and contains negligible fat (see table). In a 100-gram (3 1⁄2-ounce) portion, raw potato provides 322 kilojoules (77 kilocalories) of food energy and is a rich source of vitamin B6 and vitamin C (23% and 24% of the Daily Value, respectively), with no other vitamins or minerals in significant amount (see table). The potato is rarely eaten raw because raw potato starch is poorly digested by humans. When a potato is baked, its contents of vitamin B6 and vitamin C decline notably, while there is little significant change in the amount of other nutrients.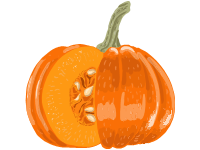 Cucurbita (Latin for gourd) is a genus of herbaceous vines in the gourd family, Cucurbitaceae (also known as cucurbits or cucurbi) native to the Andes and Mesoamerica. Five species are grown worldwide for their edible fruit, variously known as squash, pumpkin, or gourd, depending on species, variety, and local parlance, and for their seeds. Raw summer squash is 94% water, 3% carbohydrates, and 1% protein, with negligible fat content. In 100 grams, raw squash supplies 16 calories and is rich in vitamin C (20% of the Daily Value, DV), moderate in vitamin B6 and riboflavin (12–17% DV), but otherwise devoid of appreciable nutrient content (table), although the nutrient content of different Curcubita species may vary somewhat. Long before European contact, Pumpkin had been a major food source for the native peoples of the Americas, and the species became an important food for European settlers, including the Pilgrims, even featuring at the first Thanksgiving. Commercially produced pumpkin is commonly used in pumpkin pie.Other foods that can be made using members of this genus include biscuits, bread, cheesecake, desserts, donuts, granola, ice cream, lasagna dishes, pancakes, pudding, pumpkin butter, salads, soups, and stuffing.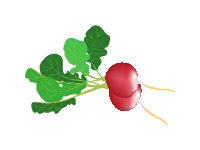 The radish is an edible root vegetable of the family Brassicaceae that was domesticated in Asia prior to Roman times. Radishes are grown and consumed throughout the world, being mostly eaten raw as a crunchy salad vegetable with a pungent flavor. There are numerous varieties, varying in size, flavor, color, and length of time they take to mature. Radishes owe their sharp flavor to the various chemical compounds produced by the plants, including glucosinolate, myrosinase, and isothiocyanate. They are sometimes grown as companion plants and suffer from few pests and diseases. They germinate quickly and grow rapidly, common smaller varieties being ready for consumption within a month, while larger daikon varieties take several months.In a 100-gram (3 1⁄2-ounce) reference serving, raw radishes provide 66 kilojoules (16 kilocalories) of food energy and have a moderate amount of vitamin C (18% of Daily Value), with other essential nutrients in low content (table). A raw radish is 95% water, 3% carbohydrates, 1% protein, and has negligible fat.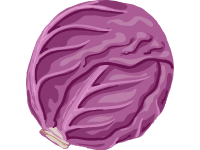 The red cabbage is a kind of cabbage, also known as Blaukraut after preparation. Its leaves are colored dark red/purple. However, the plant changes its color according to the pH value of the soil, due to a pigment belonging to anthocyanins. In acidic soils, the leaves grow more reddish, in neutral soils they will grow more purple, while an alkaline soil will produce rather greenish-yellow coloured cabbages. This explains the fact that the same plant is known by different colours in various regions. Furthermore, the juice of red cabbage can be used as a home-made pH indicator, turning red in acid and green/yellow in basic solutions. It can be found in all Europe, throughout the Americas, in China and especially in Africa. On cooking, red cabbage will normally turn blue. To retain the red color it is necessary to add vinegar or acidic fruit to the pot. Red cabbage is often used raw for salads and coleslaw. This vegetable can be eaten cooked. It is the traditional accompanying side dish paired with many German meals, notably meat dishes like Sauerbraten or Döner. At Christmas it can be spiced and served as an accompaniment to seasonal roast goose or turkey. Often apples are added to give it sweet-sour taste. Red cabbage has a high content of vitamin C and vitamin K, containing 44% and 72%, respectively, of the Daily Value (DV) per 100-gram amount. Basic research on cabbage phytochemicals is ongoing to discern if certain cabbage compounds may affect health or have anti-disease effects. Such compounds include sulforaphane and other glucosinolates which may stimulate the production of detoxifying enzymes during metabolism. Studies suggest that cruciferous vegetables, including cabbage, may have protective effects against colon cancer.Cabbage is a source of indole-3-carbinol, a chemical under basic research for its possible properties.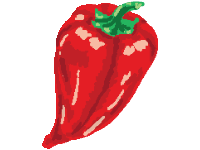 The chili pepper (also chile, chile pepper, chilli pepper, or chilli), is the fruit of plants from the genus Capsicum which are members of the nightshade family, Solanaceae. Chili peppers are widely used in many cuisines as a spice to add heat to dishes. The substances giving chili peppers their intensity when ingested or applied topically are capsaicin and related compounds known as capsaicinoids. Chili peppers originated in Mexico. After the Columbian Exchange, many cultivars of chili pepper spread across the world, used for both food and traditional medicine. China was the world's largest producer of green chilis, providing half of the global total. Global production of dried chili peppers was about one ninth of fresh production, led by India with 36% of the world total. Chili pepper pods are, technically, berries. When used fresh, they are most often prepared and eaten like a vegetable. Whole pods can be dried and then crushed or ground into chili powder that is used as a spice or seasoning. Chilies can be dried to prolong their shelf life. Chile peppers can also be preserved by brining, immersing the pods in oil, or by pickling. While red chilies contain large amounts of vitamin C (table), other species contain significant amounts of provitamin A beta-carotene.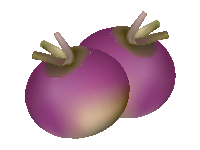 Rutabaga (North American English) or Swede (English and some Commonwealth English) is a root vegetable. Other names are Swedish turnip, neep(Scottish) and turnip (some Canadian English, Northern English, Irish English, and Cornish English) – however, elsewhere the name 'turnip' usually refers to the related white turnip. The species originated as a hybrid between the cabbage and the turnip. Rutabaga roots are eaten as human food in a variety of ways, and the leaves can be eaten as a leaf vegetable. The roots and tops are also used for livestock, either fed directly in the winter or foraged in the field during the other seasons. Scotland, Northern England, West England and Ireland had a tradition of carving the roots into lanterns at Halloween. Finns eat and cook rutabaga in a variety of ways. Rutabaga is the major ingredient in the popular Christmas dish lanttulaatikko (rutabaga casserole), one of the three main casseroles served during the Finnish Christmas, along side with the potato, and the carrot casseroles. Finns eat and cook rutabaga in a variety of ways. Rutabaga is the major ingredient in the popular Christmas dish lanttulaatikko (rutabaga casserole), one of the three main casseroles served during the Finnish Christmas, along side with the potato, and the carrot casseroles. In Canada they are considered winter vegetables, as along with similar vegetables they are able to be kept in a cold area or cellar for several months. They are primarily used as a side dish. They are also used as filler in foods such as mincemeat and Christmas cake.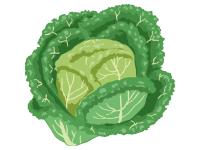 Savoy cabbage is a variety of the plant species Brassica oleracea. Savoy cabbage is a winter vegetable and one of several cabbage varieties. It is thought to originate from England and the Netherlands. In the 18th century, it was introduced into Germany as 'Savoyer Kohl'. It is named after the Savoy Region in France. It has crinkled, emerald green leaves. The leaves are crunchy and tender. Known cultivars include 'Savoy King' (in the US), 'Tundra' (green with a firm, round heart) and 'Winter King' (with dark crumpled leaves). Savoy cabbage does not turn into mush when cooked. It has the same flavor and appearance as regular cabbage when cooked but retains a firm texture which is desired in some recipes. Savoy cabbage can be used in a variety of recipes. It pairs well with red wine, apples, spices, horseradish and meat. It can be used for roulades, in stews and soups, such as borscht, as well as roasted plain and drizzled with olive oil. It can be used in preserved recipes such as kimchi or sauerkraut, and with strong and unusual seasonings such as juniper.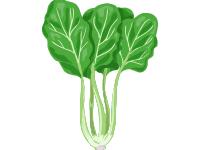 Spinach is a leafy green flowering plant native to central and western Asia. Its leaves are a common edible vegetable consumed either fresh, or after storage using preservation techniques by canning, freezing, or dehydration. It may be eaten cooked or raw, and the taste differs considerably; the high oxalate content may be reduced by steaming. It is an annual plant (rarely biennial), growing as tall as 30 cm (1 ft). Spinach may overwinter in temperate regions. The leaves are alternate, simple, ovate to triangular, and very variable in size: 2–30 cm (1–12 in) long and 1–15 cm (0.4–5.9 in) broad, with larger leaves at the base of the plant and small leaves higher on the flowering stem. The flowers are inconspicuous, yellow-green, 3–4 mm (0.1–0.2 in) in diameter, and mature into a small, hard, dry, lumpy fruit cluster 5–10 mm (0.2–0.4 in) across containing several seeds. Raw spinach is 91% water, 4% carbohydrates, 3% protein, and contains negligible fat. In a 100 g (3.5 oz) serving providing only 23 calories, spinach has a high nutritional value, especially when fresh, frozen, steamed, or quickly boiled. It is a rich source (20% or more of the Daily Value, DV) of vitamin A, vitamin C, vitamin K, magnesium, manganese, iron and folate. Spinach is a good source (10-19% of DV) of the B vitamins riboflavin and vitamin B6, vitamin E, calcium, potassium, and dietary fiber. Although spinach is touted as being high in iron and calcium content, and is often served and consumed in its raw form, raw spinach contains high levels of oxalates, which block absorption of calcium and iron in the stomach and small intestine. Spinach cooked in several changes of water has much lower levels of oxalates and is better digested and its nutrients absorbed more completely.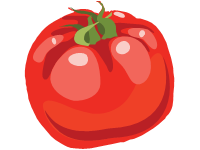 The tomato is the edible berry of the plant Solanum lycopersicum, commonly known as a tomato plant. The species originated in western South America and Central America. The Nahuatl (the language used by the Aztecs) word tomatl gave rise to the Spanish word tomate, from which the English word tomato derived. Its domestication and use as a cultivated food may have originated with the indigenous peoples of Mexico. The Aztecs used tomatoes in their cooking at the time of the Spanish conquest of the Aztec Empire, and after the Spanish encountered the tomato for the first time after their contact with the Aztecs, they brought the plant to Europe. From there, the tomato was introduced to other parts of the European-colonized world during the 16th century. Tomatoes are a significant source of umami flavor. The tomato is consumed in diverse ways, raw or cooked, in many dishes, sauces, salads, and drinks. While tomatoes are fruits—botanically classified as berries—they are commonly used as a vegetable ingredient or side dish. A tomato is 95% water, contains 4% carbohydrates and less than 1% each of fat and protein (table). In a 100 gram amount, raw tomatoes supply 18 calories and are a moderate source of vitamin C (17% of the Daily Value), but otherwise are absent of significant nutrient content.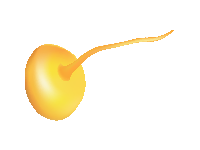 The turnip or white turnip is a root vegetable commonly grown in temperate climates worldwide for its white, fleshy taproot. The word turnip is a compound of turn as in turned/rounded on a lathe and neep, derived from Latin napus, the word for the plant. Small, tender varieties are grown for human consumption, while larger varieties are grown as feed for livestock. In the north of England, Scotland, Ireland, Cornwall and eastern Canada (Quebec, Newfoundland and the Maritimes), turnip (or neep) often refers to rutabaga, a larger, yellow root vegetable in the same genus (Brassica) also known as swede (from 'Swedish turnip'). The most common type of turnip is mostly white-skinned apart from the upper 1 to 6 centimetres (1⁄2 to 2 1⁄2 inches), which protrude above the ground and are purple or red or greenish where the sun has hit. This above-ground part develops from stem tissue, but is fused with the root. The interior flesh is entirely white. The root is roughly globular, from 5–20 cm (2–8 in) in diameter, and lacks side roots. Underneath, the taproot (the normal root below the swollen storage root) is thin and 10 cm (4 in) or more in length; it is often trimmed off before the vegetable is sold. The leaves grow directly from the above-ground shoulder of the root, with little or no visible crown or neck (as found in rutabagas). Boiled green leaves of the turnip top ('turnip greens') provide 84 kilojoules (20 kilocalories) of food energy in a reference serving of 100 grams (3 1⁄2 oz), and are 93% water, 4% carbohydrates, and 1% protein, with negligible fat (table). The boiled greens are a rich source (more than 20% of the Daily Value, DV) particularly of vitamin K (350% DV), with vitamin A, vitamin C, and folate also in significant content (30% DV or greater, table). Boiled turnip greens also contain substantial lutein (8440 micrograms per 100 g). In a 100-gram reference amount, boiled turnip root supplies 92 kJ (22 kcal), with only vitamin C in a moderate amount (14% DV). Other micronutrients in boiled turnip are in low or negligible content. Boiled turnip is 94% water, 5% carbohydrates, and 1% protein, with negligible fat.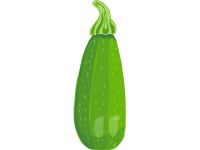 The zucchini or courgette is a summer squash, of Mesoamerican origin, which can reach nearly 1 metre (40 inches) in length, but is usually harvested when still immature at about 15 to 25 cm (6 to 10 in). A zucchini is a thin-skinned cultivar of what in Britain and Ireland is referred to as a marrow. In South Africa, zucchini is known as baby marrow. Along with certain other squashes and pumpkins, the zucchini belongs to the species Cucurbita pepo.It can be dark or light green. A related hybrid, the golden zucchini, is a deep yellow or orange color. In a culinary context, the zucchini is treated as a vegetable; it is usually cooked and presented as a savory dish or accompaniment. Botanically, zucchinis are fruits, a type of botanical berry called a 'pepo', being the swollen ovary of the zucchini flower. When used for food, zucchini are usually picked when under 20 cm (8 in) in length, when the seeds are still soft and immature. Mature zucchini can be 1 m (40 in) long or more. The larger ones are often fibrous. A zucchini with the flowers attached is a sign of a truly fresh and immature fruit, and it is especially sought after for its sweeter flavor Zucchini has a delicate flavor and requires little more than quick cooking with butter or olive oil, with or without fresh herbs. The skin is left in place. Quick cooking of barely wet zucchini in oil or butter allows the fruit to partially boil and steam, with the juices concentrated in the final moments of frying when the water has gone, prior to serving. Zucchini can also be eaten raw, sliced or shredded, in a cold salad, as well as lightly cooked in hot salads, as in Thai or Vietnamese recipes. Mature (larger sized) zucchini are well suited for cooking in breads. Zucchinis can be cut with a spiralizer to make zucchini noodles that act as a spaghetti substitute for low-carbohydrate recipes. Zucchini are low in food energy (approximately 71 kilojoules or 17 kilocalories per 100 grams or 3 1⁄2 ounces fresh zucchini) and contain useful amounts of folate (24 μg/100 g), potassium (261 mg/100 g), and provitamin A (200 IU [10 RAE]/100 g). Zucchini can be shaped into noodle-like spirals and used as a low-carbohydrate substitute for pasta or noodles.
---