This is a free Cinema Evacuation Plan template that is designed to show the exit routes so that the attendants can evacuate the center immediately with minimal assistance. The template is a 100% customizable and you can edit every aspect of it with a few simple clicks in MyDraw.
| | | |
| --- | --- | --- |
| Download Template: | | |

| | |
| --- | --- |
| Download Template: | |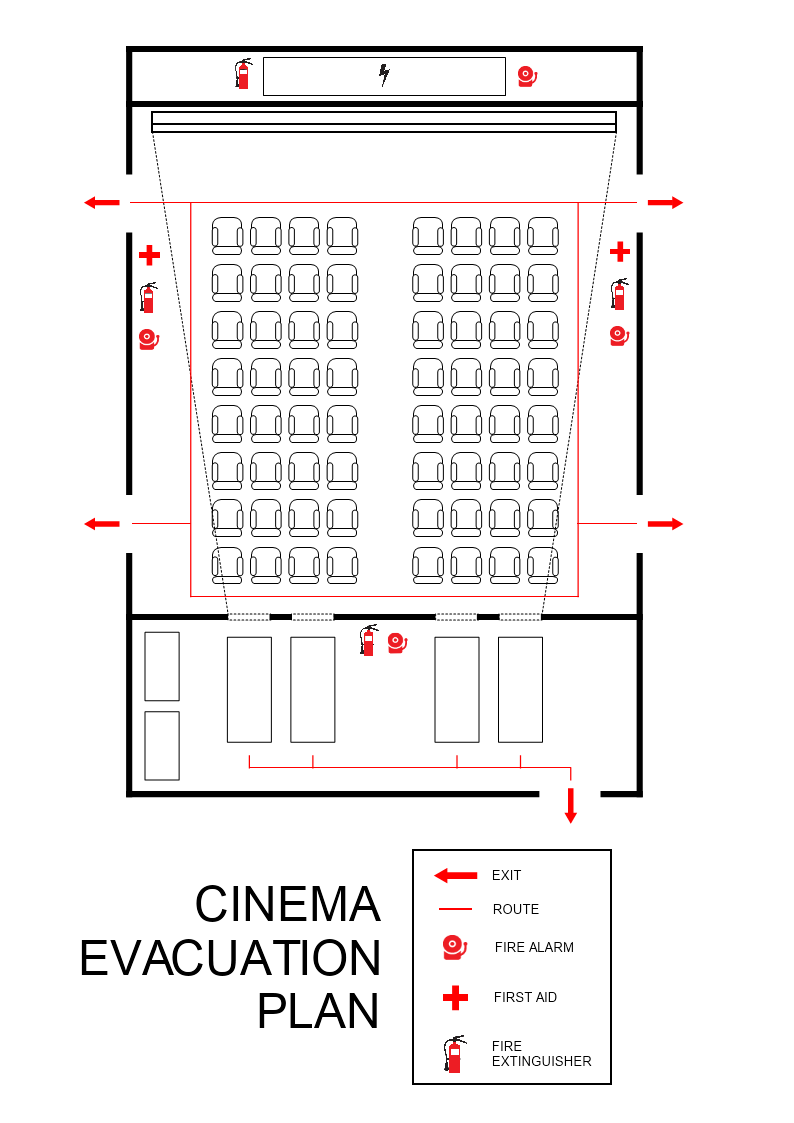 Cinemas are one of the places where a large number of people can be packed tightly in a large room. To make an audience evacuate from such space in a short time, it is important to know the characteristics of evacuees' behavior and to plan the auditorium considering the needs of an evacuation.
Cinema Evacuation Guidelines
A Head Usher informs the House Manager of the situation.
Go to emergency exit doors or assigned emergency position and wait for further instructions.
If an evacuation cue occurs, it will be checked out. Once it is checked out, the House Manager either:

Instructs ushers to return to their seats or to open the doors and proceed with the evacuation.
The Stage Manager or House Manager makes an announcement.
Emergency Evacuation Procedure
The purpose of an emergency plan is to ensure that people know what to do if there is a fire or need for an evacuation of the building so that the premises can be evacuated safely. An evacuation drill should be carried out regularly to ensure your emergency plan works.
Look for signs, such as:
House lights (if electrical power is available).
If an announcement is made to evacuate, remain calm, and maintain a steady flow of people out of the auditorium.
If there is a potential danger in using a particular exit, use the next nearest exit. The House Manager or a staff member will attempt to notify the audience.
Once the cinema has been evacuated, wait with guests for further directions.
"All Clear" - lead/direct guests to the cinema entrance and tell them to return to their seats.
If guests are not permitted to re-enter the cinema, follow the instructions from the House Manager or staff member for directing guests.
Cinemas are equipped with early detection sensors, leaving enough time for an orderly evacuation.