This is a free Emergency Evacuation Plan template that can be used in the event of an emergency to safely evacuate people from the building. The template should be positioned on every floor in buildings to educate the visitors on the action plan. The template is a 100% customizable and you can edit every aspect of it with a few simple clicks in MyDraw.
| | | |
| --- | --- | --- |
| Download Template: | | |

| | |
| --- | --- |
| Download Template: | |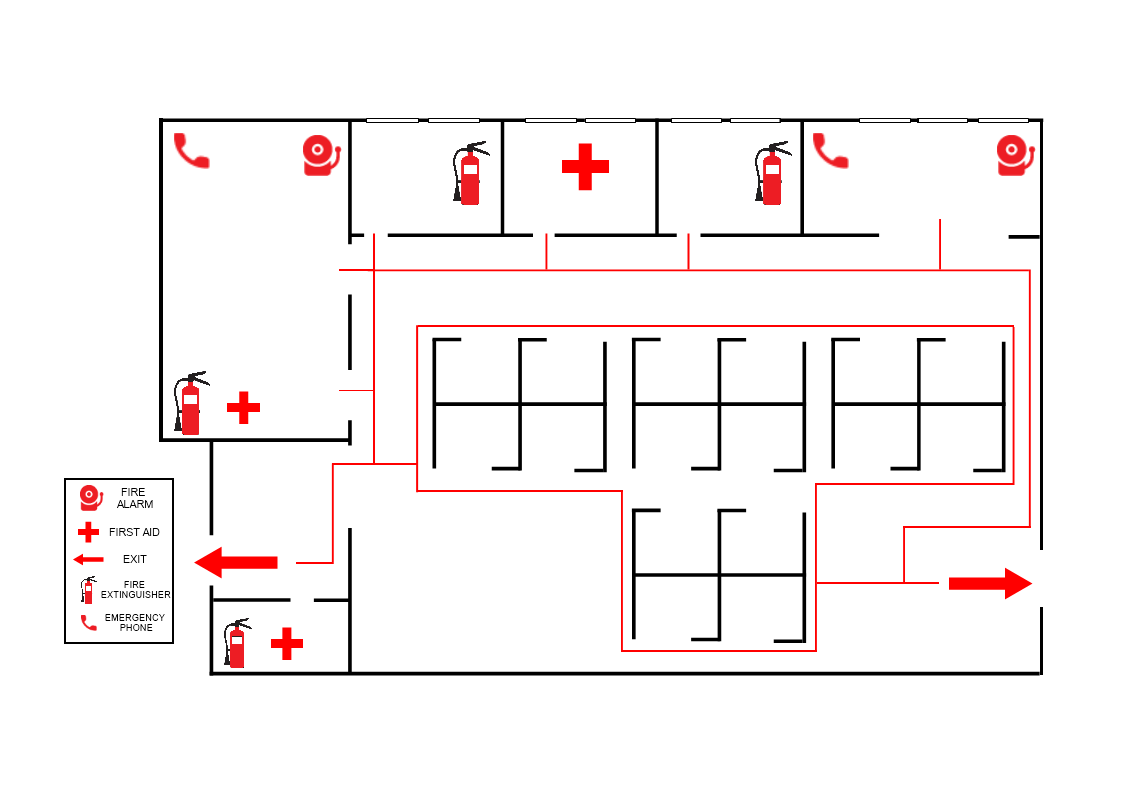 There are some situations where immediate evacuation is a must. Planning is vital to making sure that you can evacuate quickly and safely no matter what the circumstances.
Elements of an Emergency Plan
The Emergency Plan includes:
All possible emergencies, consequences, required actions, written procedures, and the resources available.
Detailed lists of emergency response personnel including their cell phone numbers, alternative contact details, and their duties and responsibilities.
Floor plans.
Large scale maps showing evacuation routes and service conduits (such as gas and water lines).
Location of fire alarm, fire extinguisher, first aid, and emergency phones.
How to handle sudden and unexpected situations?
Learn the types of disasters that are likely in your community and the local emergency, evacuation, and shelter plans for each specific disaster.
Plan how you will leave and where you will go if you are advised to evacuate.
Assemble supplies that are ready for evacuation. Prepare a "go-bag".
Responsibilities of an organization
Reporting the emergency and activating the emergency plan.
Assuming overall command and establishing communication.
Alerting staff.
Ordering response, including evacuation.
Alerting external agencies, as necessary.
Confirming evacuation is complete.
Alerting outside the population of possible risk.
Requesting external aid and providing medical aid.
Coordinating activities of various groups.
Ensuring emergency shut-offs are closed.
Sounding the all-clear and advising the media.
Assistance from external organizations
The following organizations should be contacted in the planning stages to discuss each of their roles during an emergency:
Fire departments.
Mobile rescue squads.
Ambulance services.
Police departments.
Telephone companies.
Hospitals.
Utility companies.
Industrial neighbors.
Government agencies.
Resources and Location
Medical supplies.
Auxiliary communication equipment.
Power generators.
Respirators.
Chemical and radiation detection equipment.
Mobile equipment.
Emergency protective clothing.
Fire fighting equipment.
Ambulance.
Rescue equipment.
Trained personnel.