This is a free House Evacuation plan template that each building must have as it lays out how to exit a building safely during an emergency. In case of a fire, carbon monoxide leak, earthquake, or other emergencies, everyone in the family should be familiar with your home evacuation plan. The template is a 100% customizable and you can edit every aspect of it with a few simple clicks in MyDraw.
| | | |
| --- | --- | --- |
| Download Template: | | |

| | |
| --- | --- |
| Download Template: | |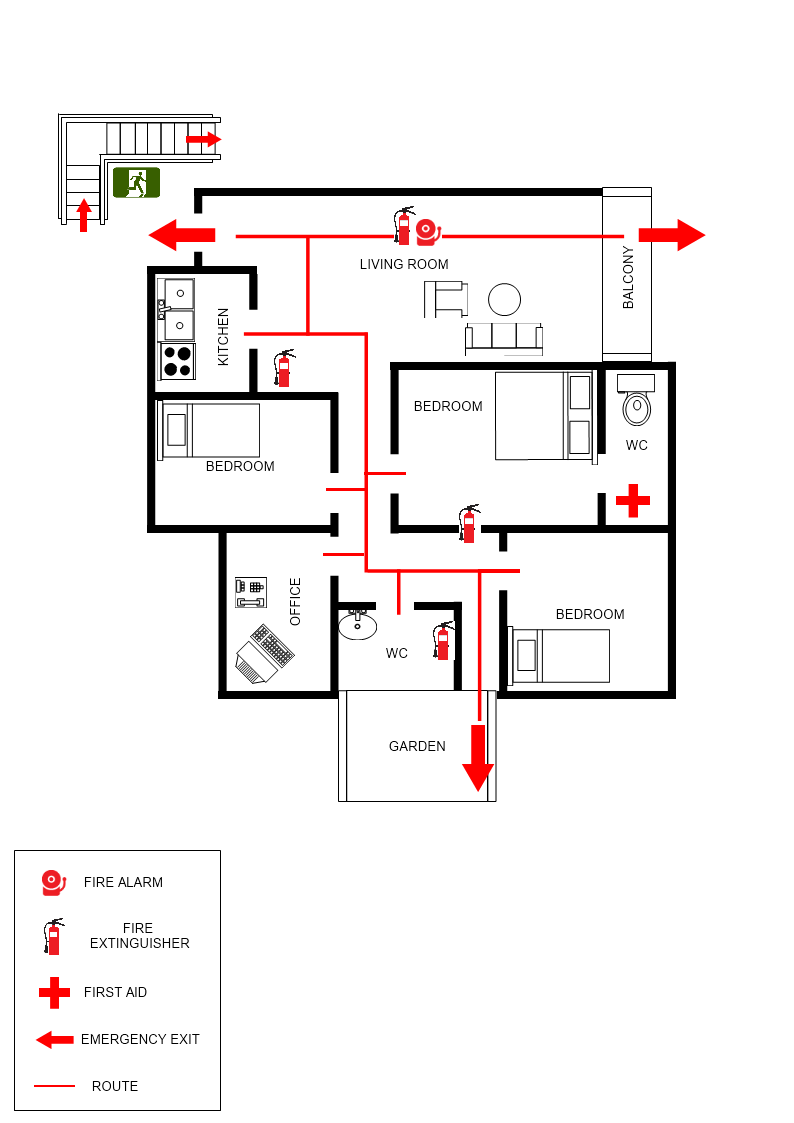 Make sure that you're familiar with your building's evacuation plan, which should illustrate what residents are supposed to do in the event of an emergency. The house/ building evacuation plan should be posted in places where all residents can see and review it.
Pre-planning stage
When drawing the evacuation plan, label all the rooms, and identify the doors and windows.
Install smoke alarms in every sleeping room and outside each separate sleeping area.
Install alarms on every level of the home.
Gather your family and discuss the plan. Involve the children and make sure they are aware of the danger.
Walkthrough your home and inspect all possible exits and escape routes. Make sure the escape routes are clear and doors and windows can be opened easily.
Choose an outside meeting place and mark the location of the meeting place on your escape plan.
If there are infants, older adults, or family members with mobility limitations, make sure that someone is assigned to assist them in the fire drill and the event of an emergency.
Clear your escape routes.
Memorize emergency phones.
Practice the escape plan twice a year.
Tips for a Fire Emergency
Use windows as an alternative means of escape.
Stay out at a safe, designated meeting place outside your home.
Crawl low if caught in the smoke.
If any clothes catch fire stop, put your hands over your face, gently drop to the ground, and rock and roll on the ground until your clothes stop burning.