This is a free Customer Journey Template to help you identify areas of improvement and show you how to make every customer experience a positive one. The template is a 100% customizable and you can edit every aspect of it with a few simple clicks in MyDraw.
| | | |
| --- | --- | --- |
| Download Template: | | |

| | |
| --- | --- |
| Download Template: | |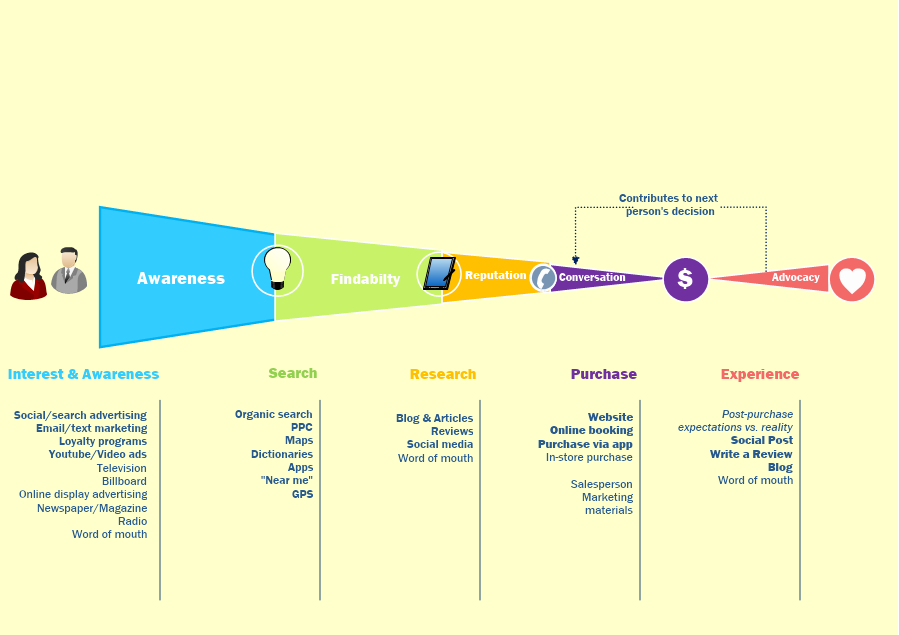 Think of the customer journey as a roadmap detailing how a customer becomes aware of the brand, their interactions with the brand–and beyond.
What is the customer journey?
The customer journey is the complete sum of experiences that customers go through when interacting with the company and brand. Instead of looking at just a part of a transaction or experience, the customer journey documents the full experience of being a customer.
How to create a customer journey map in MyDraw?
Open MyDraw and create a "Blank Drawing".
Right click on the page and select "Page Properties" to choose the page size, background, theme, etc.
Use the Predefined Library to "drag and drop" your shapes.
Layout your text, Navigate to the Home tab of the ribbon and use the Text section to change- size, font, fill, stroke.
Go to the "Paragraph section" to align and position your text on the page.
From the "Design tab" you can choose a theme, shape style, orientation of the page, size and many more.
Tips and Questions
What the customer is doing at each one of the stages?
What will encourage your customers (or discourage them) from moving to the next stage? What kinds of emotions do they feel in each one of the stages?
Where do customers get hung up? Do they have questions and have a hard time finding answers? Could their uncertainties cause them to give up and find a different company?
What kinds of obstacles do customers confront in each of the stages? Is cost a factor? The return policy? Think about anything that might cause the customer to give up and not complete the sales cycle while moving through the customer journey.