This is a free Product Roadmap template to help company's in their planning stage for delivering a product to the market. The template is a 100% customizable and you can edit every aspect of it with a few simple clicks in MyDraw.
| | | |
| --- | --- | --- |
| Download Template: | | |

| | |
| --- | --- |
| Download Template: | |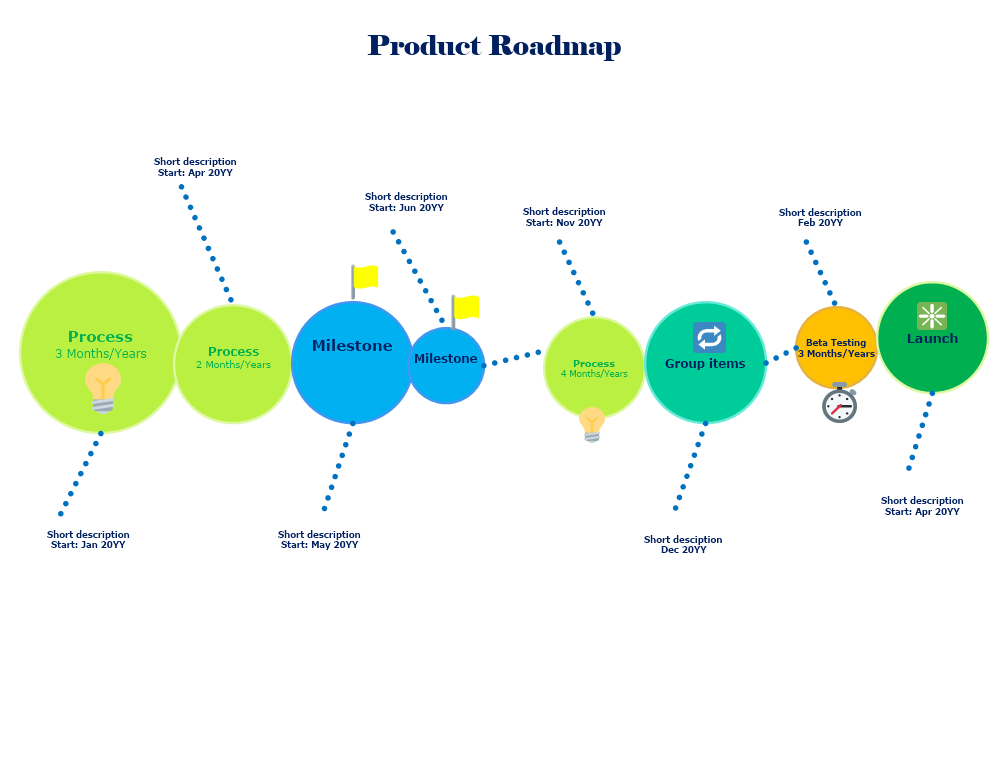 A roadmap is a strategic plan that defines a goal or desired outcome and includes the major steps or milestones needed to reach it.
It also serves as a communication tool, a high-level document that helps articulate strategic thinking—the why—behind both the goal and the plan for getting there.
How to create a roadmap in MyDraw?
Open MyDraw and select the "Blank Drawing" template.
To choose a background, change page size, or select a theme, right click on the page and select" Page Properties".
From the ribbon, select the "Design tab", if you wish to choose a theme for your palette.
From the "Predefined library" use the "Basic shapes" to drag and drop your circle shapes. You can resize them and arrange them in a line order.
Double click on each shape to type your text.
Navigate to the Home tab of the ribbon and use the "Shape style" to adjust the stroke and fill of your geometry. In the text section you choose the font, size, alignment of your typography.