This is a free Event Schedule template to help you manage and plan the duration, activities of a certain event program. The template is a 100% customizable and you can edit every aspect of it with a few simple clicks in MyDraw.
| | | |
| --- | --- | --- |
| Download Template: | | |

| | |
| --- | --- |
| Download Template: | |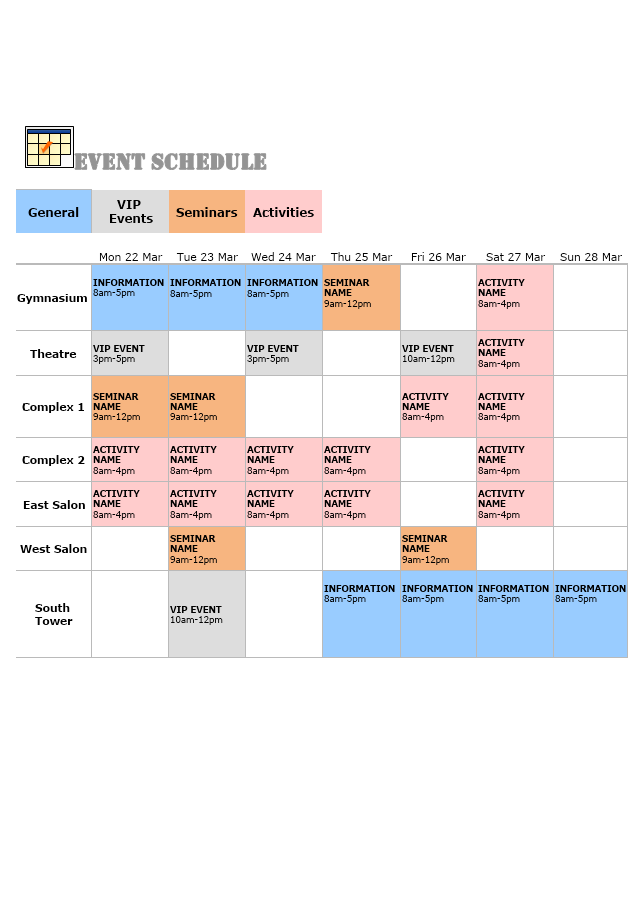 The timetable is a basic time-management tool, which consists of tasks, events, or actions that are intended to take place at a certain time period.
How to create a timetable in MyDraw?
Open MyDraw and choose the " Blank Drawing" template.
Right click on the page and select "Page Properties" to choose the page size, background, theme, etc.
Navigate from the ribbon to the "Table tab".
Select "Insert table" and enter the number of columns and rows in the "Insert Table" dialogue to create your table.
In the "Table tab" you can choose the Table style, Alignment of the text, Merge cells or edit Rows and Columns as you prefer.
To Edit the fill and stroke of your cell, right click on the cell and select the changes you would like to apply.
Advantages of a Timetable for your business, event or educational system:
Saves time and effort;
Reduces error;
Secure and user-friendly;
Instant notification;
Substitute management;
Easy customization;
Smooth integration;
Easy calculation;
Paperless environment.