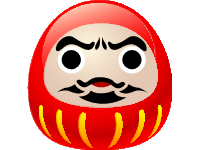 A Daruma doll is a hollow, round, Japanese traditional doll modeled after Bodhidharma, the founder of the Zen tradition of Buddhism. These dolls, though typically red and depicting a bearded man (Bodhidharma), vary greatly in color and design depending on region and artist. Though considered a toy by some, Daruma has a design that is rich in symbolism and is regarded more as a talisman of good luck to the Japanese. Daruma dolls are seen as a symbol of perseverance and good luck, making them a popular gift of encouragement. The doll has also been commercialized by many Buddhist temples to use alongside the setting of goals. When purchased, the figure's eyes are both blank white. A user will then select a goal or wish and paint in the left eye of the figure's two eyes. Once the desired goal is achieved, the right eye is filled in.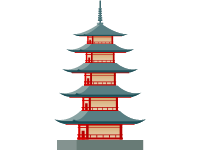 Sumiyoshi Taisha is Osaka's most famous shrine and is located on pleasant grounds in the south of Osaka. The shrine has a long and respected history and is featured in the world's first novel, the Tale of Genji, and also in the works of Nobel Prize winning 20th century novelist Yasunari Kawabata. During the three day New Year holiday period this shrine is incredibly popular and receives over 2 million visitors. Sumiyoshi Taisha is an ancient Shinto shrine in Osaka which is believed to have been founded in the year 211. The semi-mythical story of its origins is recorded in Japan's two oldest books: the Kojiki and the Nihon Shoki. According to this story it was founded by the Empress Jingu and dedicated to the Sumiyoshi Sanjin – the three gods of the sea.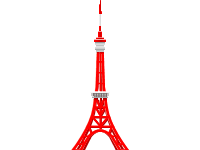 Tokyo Tower is a communications and observation tower in the Shiba-koen district of Minato, Tokyo, Japan. At 332.9 meters (1,092 ft), it is the second-tallest structure in Japan. The structure is an Eiffel Tower-inspired lattice tower that is painted white and international orange to comply with air safety regulations. Built in 1958, the tower's main sources of income are tourism and antenna leasing. Over 150 million people have visited the tower. FootTown, a four-story building directly under the tower, houses museums, restaurants, and shops. Departing from there, guests can visit two observation decks. The two-story Main Deck (formerly known as the Main Observatory) is at 150 meters (490 ft), while the smaller Top Deck (formerly known as the 'Special Observatory') reaches a height of 249.6 meters (819 ft). The names were changed following renovation of the top deck in 2018. The tower acts as a support structure for an antenna. Intended for television broadcasting, radio antennas were installed in 1961, but the tower now broadcasts signals for Japanese media outlets such as NHK, TBS, and Fuji TV. Japan's planned digital television transition by July 2011 was problematic, however; Tokyo Tower's height, 332.9 m (1,092 ft) was not high enough to support complete terrestrial digital broadcasting to the area. A taller digital broadcasting tower, known as Tokyo Skytree, was completed on 29 February 2012. Every five years Tokyo Tower is repainted. It takes one year to repaint it. Since its completion in 1958, Tokyo Tower has become a prominent landmark in the city, and frequently appears in media set in Tokyo.
---