This is a free Product Marketing Launch template that marketing professional and media planners can use to structure an effective plan for a campaign launch. The template is a 100% customizable and you can edit every aspect of it with a few simple clicks in MyDraw.
| | | |
| --- | --- | --- |
| Download Template: | | |

| | |
| --- | --- |
| Download Template: | |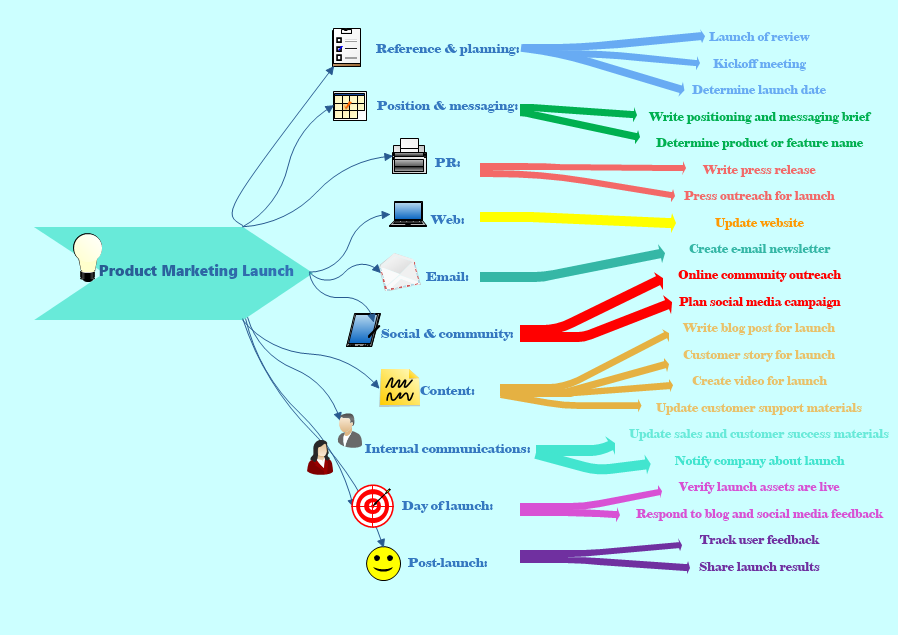 Mind Mapping is a great way to generate creative and innovative campaigns you may have never otherwise considered. By using keywords, color coding, and imagery to trigger associations in your brain, the unrestricted canvas of a Mind Map will ensure you arrive at some of your best ideas yet.
If you are launching your new product or service to the market, it's important to have a solid marketing plan. Before you can create your product launch marketing plan, you need to define your goals.
This Mind map template can help you bring your ideas to life and release your creative block. By using a Mind Map, you can use branches to represent the different themes of your subject, allowing you to split your project into distinct and manageable segments.
How to execute your campaign:
Identify Target Audience.
Create Messaging and Document Unique Differentiators.
Build Media and Influencer Databases.
Train Your Media Spokespeople.
Plan Your Content Marketing Activities.