This is an Information Service Support Desk Diagram that describes how to handle a support ticket. The different stages of the request and transfer between departments are presented with a customizable swimlane diagram. The template is 100% customizable and you can edit every aspect of it with a few simple clicks in MyDraw.
| | | |
| --- | --- | --- |
| Download Template: | | |

| | |
| --- | --- |
| Download Template: | |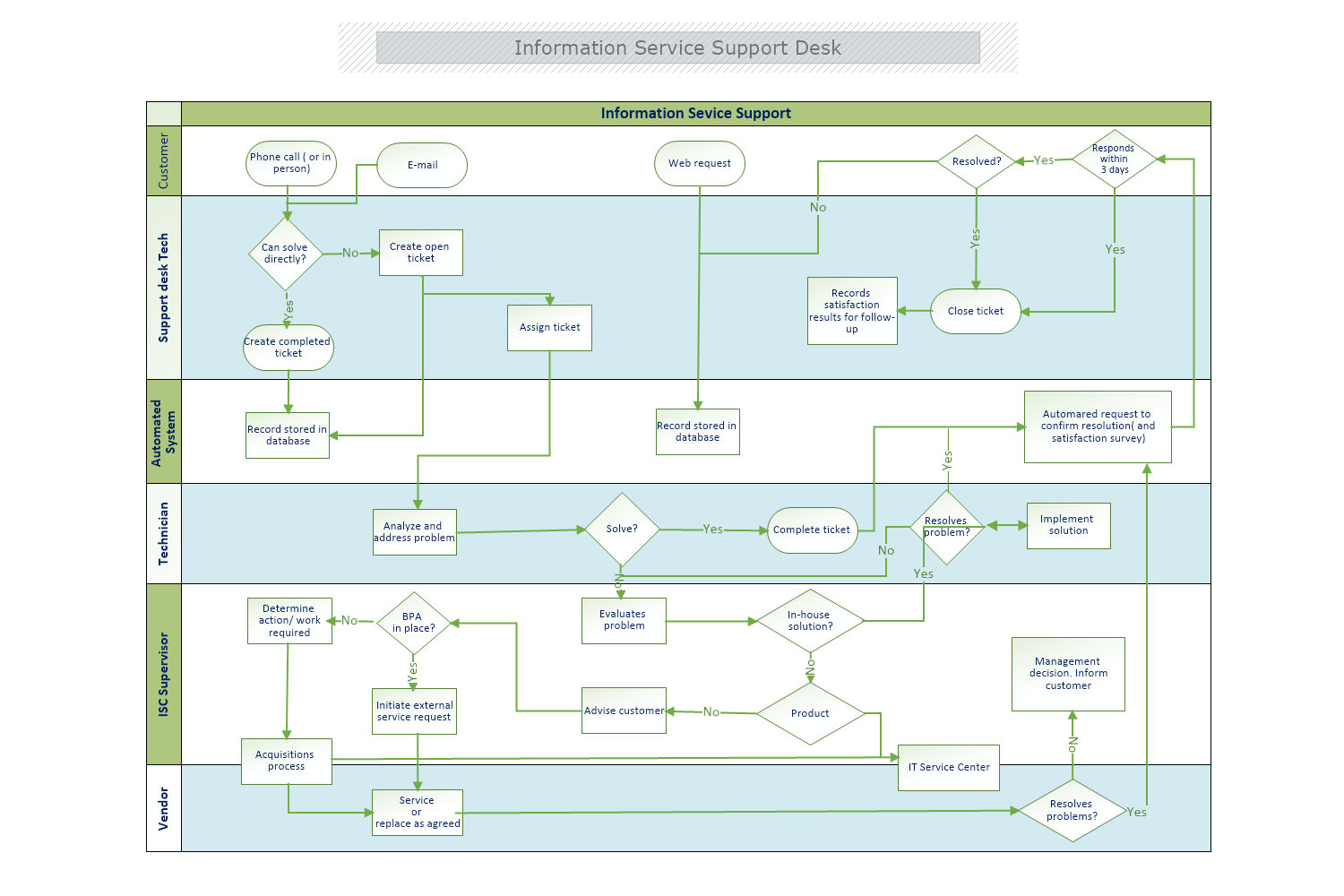 In this era the most valuable source we have is time. When you are facing difficulty it is best to save it and let an expert advise you or handle your support ticket. The inquiry can be from a lick in the kitchen to a down server, system failure, or data breach. In any case scenario, it is advisable to let the support guide you and quickly resolve the issue at hand.
Case scenario of a technical inquiry
Before you call the service desk it is best to briefly describe the situation. To identify the source of the problem first you might try a few troubleshooting methods( mostly identical for any event). At the point of contact with the support service desk, prepare a useful and detailed description for a quick resolution. It is advisable, to give time, to the action that led to the issue, and performed troubleshooting.
Stages of handling a support ticket
Call/ email or go in person to the information service desk.
Some issues might be resolved at first contact with basic tech support.
Depending on the inquiry it might need to be escalated to another department.
The ticket is monitored by the agent and analyzed by the expert.
Once there is a resolution the ticket is transferred back to the information service desk.
The first point of contact, let's say Agent 1 has to email/ call or visit the client, providing the resolution, or if needed asking for additional information.
External handling of a support ticket
Taking the task.
Raising a support ticket.
Escalating to the responsible department.
Assigning a supervisor to monitor the task.
Determine actions to be taken.
Recording the ticket in the database, so all departments can overwatch.
Returning the ticket to the information service desk to assist the client.
Closing the ticket if no further actions are needed.
Customer experience
To ensure good service and customer satisfaction every service needs to monitor, request feedback, and politely ask the client to give suggestions for future recommendations. Typically there is a standard form to fill in after receiving support. This way the business will know how to better the customer experience and ensure good service and process handling.