This is a Product Purchasing Swimlane diagram template that presents the process flow of making an online purchase. The template is 100% customizable and you can edit every aspect of it with a few simple clicks in MyDraw.
| | | |
| --- | --- | --- |
| Download Template: | | |

| | |
| --- | --- |
| Download Template: | |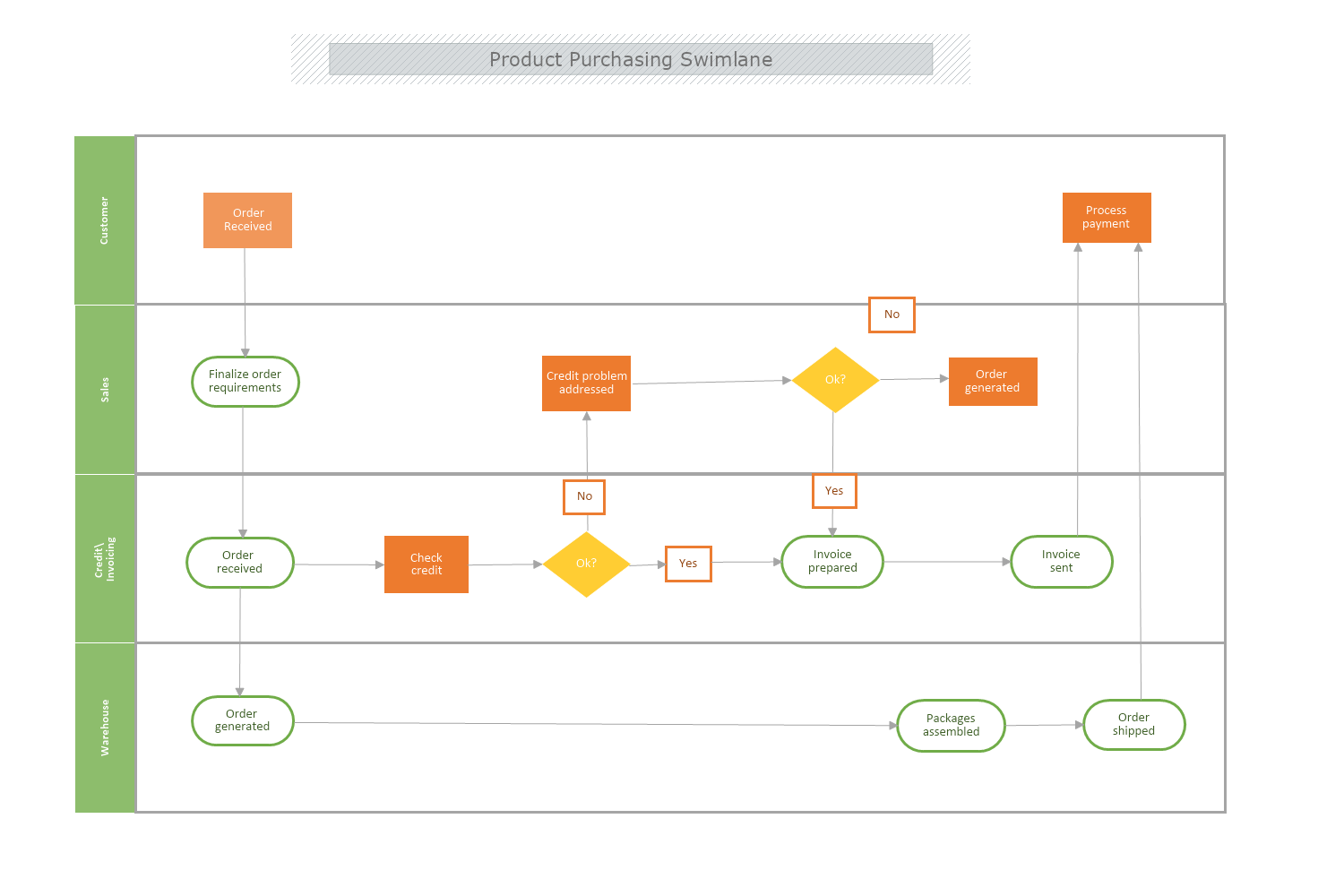 Daily all of us make purchases for various types of items, such as groceries, service goods, or might be a bag or new shoes from an online store. For all of the products the supplier gives a payment slip or has to generate a PO. The receipt and payment slip are proof of the order and also that it has been delivered to the recipient.
Purchase order and Invoice
At the start of a business transaction, a purchase order is issued, that states the buyers' demand in regards to products - quantities and price. The document becomes legally binding when it is approved by the seller.
The seller sends an invoice once the order is approved. An invoice contains the terms agreed upon in the purchase order, such as price, reference number, terms of payment, shipment address, date, etc.
In a scenario in which the employer controls when, where, and how the work is completed and gives financial assets and reimbursement, then the worker is an employee.
Purchase Order Number
The purchase order number is unique and generated only once the order is placed and then assigned to the form. In general, once an invoice is made, the software will automatically generate the referenced number. It later helps the seller when sending the invoice. Also, if there is an issue with the transaction the buyer can benefit from this unique number to quickly find the placed order.
The following information should be on a purchase order:
Today's Date
Purchase Order Number
Contact Information (including email address) of the vendor
Description and quantity of goods or services
Quantity of Goods or Services
Additional Information/ Notes
Price
Tax Information
Importance of a PO
It is a legally binding document.
Acts as an official agreement between the buyer and the seller. The document is approved by the management and there is no need for an additional contract.
For the fast track of goods and services.
Simplifies the invoice process for the seller.