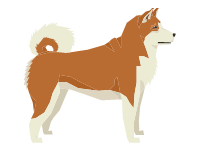 The Akita is a large and powerful dog breed with a noble and intimidating presence. They were originally used for guarding royalty and nobility in feudal Japan. These dogs also tracked and hunted wild boar, black bear, and sometimes deer. The Akita does not back down from challenges and does not frighten easily. Consequently, they are fearless and loyal guardians of their families. Yet they are also affectionate, respectful, and amusing dogs when properly trained and socialized. The Akita is a big, bold dog with a distinctly powerful appearance: a large head in contrast to small, triangular eyes; and a confident, rugged stance. The mere presence of a powerful Akita serves as a deterrent to most who would cause trouble.

The Alaskan Malamute stands 23 to 25 inches at the shoulder and weighs 75 to 85 pounds. Everything about Mals suggests their origin as an arctic sled dog: The heavy bone, deep chest, powerful shoulders, and dense, weatherproof coat all scream, "I work hard for a living!" But their almond-shaped brown eyes have an affectionate sparkle, suggesting Mals enjoy snuggling with their humans when the workday is done. Mals are pack animals. And in your family "pack," the leader must be you. If a Mal doesn't respect you, he will wind up owning you instead of the other way around. Firm but loving training should begin in early puppyhood. That said, a well-behaved Mal is a joy to be with—playful, gentle, friendly, and great with kids.

The American Hairless Terrier stands between 12 to 16 inches at the shoulder, and comes in both coated and hairless varieties. The hairless variety might have eyebrows and whiskers, while the coated has a short, shiny coat. The skin of the hairless is smooth and warm to the touch. The broad, wedge-shaped head is a hallmark of both varieties. Erect, V-shaped ears frame the round, expressive eyes that gleam with curiosity.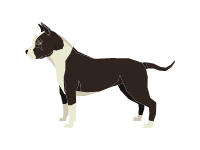 The American Staffordshire Terrier is a muscular breed known for being strong for its size; however, they're also loving and affectionate with human family members. American Staffordshire Terriers enjoy nothing more than being with the humans they care about, whether they're out for a jog, playing in the yard, or cuddling up on the couch. They are intelligent and eager to please, which makes them highly trainable; although, that intelligence means they need mental stimulation. If they don't get it, they'll put those strong jaws to use and chew anything out of boredom. American Staffordshire Terriers can also use their strength to pull dog walkers along with ease wherever they want to go if they aren't trained properly. This means they need a strong, confident trainer who will set boundaries without being overly harsh.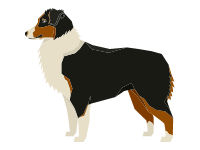 The Australian Shepherd, the cowboy's herding dog of choice, is a medium-sized worker with a keen, penetrating gaze in the eye. Aussie coats offer different looks, including merle (a mottled pattern with contrasting shades of blue or red). In all ways, they're the picture of rugged and agile movers of stock. Aussies exhibit an irresistible impulse to herd, anything: birds, dogs, kids. This strong work drive can make Aussies too much dog for a sedentary pet owner. Aussies are remarkably intelligent, quite capable of hoodwinking an unsuspecting novice owner.

This small to medium-sized dog has a distinctive tightly curled tail and wrinkled forehead. The smooth, short, glossy coat of the Basenji comes in red and white; black and white; black tan and white; brindle; brindle and white; and tricolour. For full details, see the breed standard. The ideal height for adult dogs is 43cm at the withers (from the foot to the highest point of the shoulder) and 40cm for females. When fully grown, the ideal weight for dogs is 11kg, and for females 9.5kg.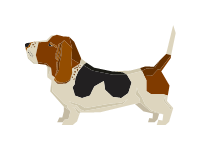 Bassets are very heavy-boned dogs with a large body on fairly short legs. Because they are bulky, bassets are slow maturing dogs, often not reaching full size until two years old. Bassets are immediately recognizable by their short, crooked legs, their long hanging ears and their large heads with hanging lips, sad expressive eyes, and wrinkled foreheads. The tail curves up and is carried somewhat gaily. The body is long and with the short legs gives bassets a rectangular appearance. The basset has a nice short, tight coat, with no long hair on legs or tail. Colors most commonly seen are tricolor or red and white but any hound color is acceptable.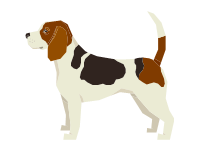 Beagles come in two basic sizes. Some are about 13 inches tall or under and weigh about 18 pounds (eight kilograms); the second size group is from 13 to 15 inches in height and weighs about 20 pounds (nine kilograms). Beagles are muscular, solid dogs with a slightly domed skull. Their muzzle is squarish and the nose broad. Ears are long and droopy. Their chest is deep, back is straight and they have a moderately long tail that is carried high. The breed's smooth, dense coat is usually black, tan, and white.Beagles are widely considered to be good with other pets and children. They are cheerful dogs that like affection. They prefer company, however, and if left alone, may howl and be destructive. According to one consumer's guide on dogs, beagles also top the list for excessive barking and can be difficult to housebreak and obedience train.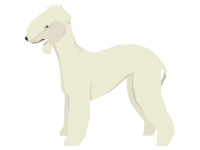 The Bedlington terrier is unmistakable for its striking resemblance to a lamb. Its most distinguishing features are its pear-shaped, tufted head, curly coat, arched back, lithe stature, and graceful, springy gait. The head is narrow, deep and rounded, the jaw longer than the skull. The slender muzzle has a distinctive Roman arch. The triangular ears, which hang flat against the cheeks, have whimsical, 'cotton-puff' tips. The long, tapering neck stands high atop a muscular and flexible body. The chest is deep, the tail set low and tapering, and the front legs straight with hare-like feet. Females measure 15 1/2 inches at the withers, and males measure 16 1/2 (males) inches at the withers, and the dog weighs 17 to 23 pounds (eight to 10 kilograms). The pliant, curly coat is a unique mixture of hard and soft hair that conceals the bone structure on the muzzle and front legs, where it thickens. The coat colors are blue, sandy, liver, tan, blue and tan, and sandy and tan. Today, the blue color is fashionable and more prevalent than the others.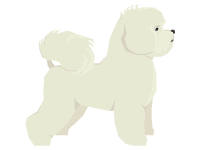 The Bichon is a happy, curious dog with a cheerful attitude toward life. His gentle manner and playfulness endear him to everyone he meets, and few people fail to be amused by his clownish antics. With people and other pets, the Bichon is affectionate and lively. He loves attention and will take all you have to give. Males and females have the same sweet temperament.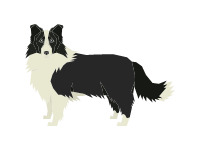 Border collies are medium-sized dogs.Males stand as tall as 22 inches and weigh up to about 45 pounds (20 kilograms). Females stand as tall as 21 inches and weigh up to about 42 pounds (19 kilograms). They look like a lighter-weight Australian shepherd, but instead of the bobtail characteristic of the Aussie, border collies have a feathered tail that reaches to the hocks. The head is like that of a collie, and the body is slightly longer than the dog is tall. The ears stand but the tips drop over, giving them a jaunty appearance. Some border collies have a coarse coat about three inches long, while others have a sleek coat about one inch long. A variety of colors are seen including black and white, red and white, black and gray, all black and tri-color. The longer-haired border collie usually has a lush mane and tail.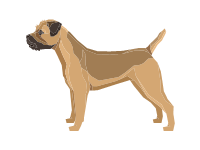 His body is covered in a close-fitting, wiry and weatherproof coat. He is characterized by an otter head, and his skull is moderately broad and flat with plenty of width between the eyes and ears. His cheeks are slightly full. His expression and body posture give an alert, fearless and determined look that typifies the breed. Males are 13 to 15 1/2 pounds (six to seven kilograms), and females are 11 1/2 to 14 pounds (five to six kilograms). Border terriers are strongly put together, suggesting endurance and agility. Colors include red, grizzle and tan, blue and tan, or wheaten. A small amount of white may be allowed on the chest. A dark muzzle is characteristic and desirable.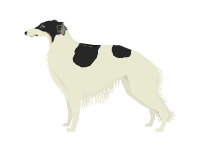 The borzoi is best described as a large greyhound robed in a long, silky coat. Like a typical greyhound, it has family traits of long, slender legs, relatively narrow body, deep chest, tucked abdomen, arched loin and long tail. His head is extraordinarily long and narrow. The borzoi's grace is evident in his every move. Although smaller than an Irish wolfhound, borzoi are still very large, and especially tall, dogs. The males are at least 28 inches tall, and females at least 26 inches. Realistically, these would be considered very small borzoi. Today most males are probably 32 to 34 inches tall, with the females somewhat smaller. They are narrow, though, so that they weigh less than other dogs of comparable height. Males average 75 to 105 pounds (34 to 47 kilograms), and females 60 to 85 pounds (27 to 38 kilograms). The coat is rather long and somewhat silky, either curly, wavy or straight. Although all colors are acceptable, white with patches is most often seen.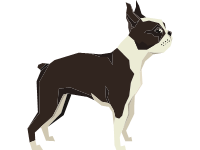 Boston terriers have three weight categories: under 15 pounds (7 kilograms), 15 to under 20 pounds (seven to nine kilograms) and 20 to 25 pounds (nine to 11 kilograms). Males are usually about 17 inches tall and females, about 16 inches tall. Bostons are compact, well-proportioned, handsome little dogs. They have broad chests. Their heads are square and rather flat on top; the muzzle is short, square and broad. The Boston's appealing eyes are round, large and dark. The ears generally stand small and erect, like 'bat' ears, although some Bostons are born with floppy ears that are cropped to stand. The tail is short and straight or a 'corkscrew.' Bostons have a short, smooth coat. They are either brindle with white markings, black with white markings, or 'seal' (black with a red cast) and white markings.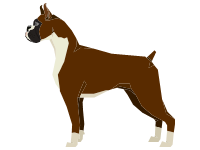 Boxers are stocky, muscular and powerful. Males grow to about 25 inches and weigh from about 65 to 80 pounds (30 to 36 kilograms); females grow from about 21 to 25 inches and weigh from about 50 to 65 pounds (22 to 30 kilograms). Boxers have regal, distinctly shaped square heads. Their jaw is undershot and the muzzle blunt. They have a broad, deep chest and a relatively short, strong back. Boxer's ears fold over naturally, but traditionally, their ears have been cropped to stand erect. Their tails generally are docked and carried high. Their feet are compact and the toes are arched. The boxer's coat is short and sheds moderately. Some boxers are a rich, fawn color and others are brindle. Their face or mask is usually black, but many have white face markings and white on the chest and paws.

The overall appearance of the Cavalier King Charles spaniel is regal and sophisticated, yet charmingly cute. Its diminutive figure is 12 to 13 inches high at the withers and 13 to 18 pounds (6 to 8 kilograms). It is among the largest toy breeds. The face of the Cavalier is distinctive for its sweet, gentle expression that owes much to its large, round, dark brown eyes, set well apart. The skull is slightly rounded, and the muzzle full, but mildly tapered. The long, feathered ears, which are set high and wide on the crown, fan forward slightly to frame the face when the dog is alert. The neck is fairly long and set atop sloping shoulders. The chest is moderately deep and the body is compact. The tail is carried gaily when in motion. The coat is long, silky and soft and comes in four color combinations: red and white with a partial red mask and ears and red patches on a white body; tricolor (black and white with tan points); ruby (solid red); and black and tan.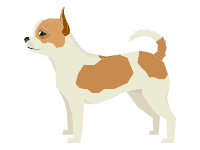 Chihuahuas are the smallest dogs in the world. They weigh as little as two pounds and seldom are more than six pounds (1 to 3 kilograms). They stand only about five inches high. Chihuahuas have a domed skull. In some, there is a soft spot on the top of the head where the bones have not joined. This is called molera. They have large prick ears and short and pointed muzzles. Their eyes are round and large. The dogs are slightly longer than they are tall and have a longish tail that is carried up or over the back. There are two coat varieties. One is smooth and short. The other is long and soft with fringed ear and legs. The Chihuahua coat comes in almost any color and pattern. Chihuahuas are considered long-lived, with a typical life expectancy of up to about 14 years.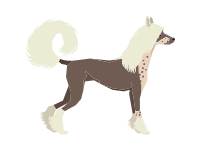 A toy dog, the Chinese crested is fine-boned, elegant and graceful. Happy and alert, these dogs make loving companions. They range in weight from five to 12 pounds (two to five kilograms) and stand from nine to 13 inches at the shoulder. Two distinct varieties can be born in the same litter: hairless — hair on the head, tail and feet only and powder puff — completely covered with hair. A single dominant gene causes the hairless feature; dogs with two copies of the hairless gene do not survive the embryonic stage. This is why both varieties are needed for the breed to survive. The hairless variety has hair on certain portions of the body: the head (called a crest), the tail (called a plume), and the feet from the toes to the front pasterns and rear hock joints (called socks). The texture of all the hair is soft and silky, flowing to any length. Placement of hair is not as important as overall type. Areas that have hair usually taper off slightly. Wherever the body is hairless, the skin is soft and smooth. The head crest begins at the stop (forehead in people) and tapers off between the base of the skull and the back of the neck. Hair on the ears and face is permitted on the hairless and may be trimmed for neatness in both varieties. As in most hairless breeds, hairless individuals tend to have crooked or missing teeth. The powder puff variety is completely covered with a double soft and silky coat. Close examination reveals long thin guard hairs over the short silky undercoat. The coat is straight and of moderate density and length. Any color or combination of colors is acceptable. Grooming is minimal.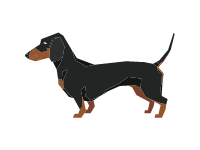 All three varieties of dachshunds — the smooth-, wire- and long-coated — are found in two sizes called standard and miniature. Miniatures are not a separate AKC classification but compete in a class division for '11 pounds and under at 12 months of age and older.' Weight of the standard size is usually between 16 and 32 pounds. There is no height standard for the dachshund but they are usually under nine inches in height. All three types are known for their long backs and short muscular legs, which explains the unflattering nicknames 'sausage hound' or 'hot dog.' They also have a long muzzle, long and droopy ears, and a tail carried in line with the back. The dachshund's coat may be shades of red, black, chocolate, white or gray. Some have tan markings or are spotted or dappled. Dachshunds live about 12 to 15 years.

When Dalmatians are born, they are completely white. The spots develop about two weeks later. Males are about 23 inches tall, and females are about 22 inches tall. Both weigh about 45 to 60 pounds (20 to 27 kilograms). The Dalmatian is a graceful, medium-sized dog with a sleek, muscular body. The tail is fairly long and has a slight, upward curve. The coat is short and dense, with brown or black spots on white. The Dalmatian sheds heavily, even though the coat is short. Frequent brushing is required to control shedding. Dalmatians live about 10 to 12 years.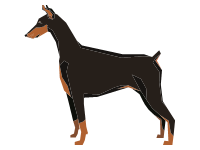 Males are about 27 or 28 inches tall and weigh about 70 pounds (32 kilograms), while females are an inch or two shorter and weigh about 60 to 65 pounds (27 to 29 kilograms). The Doberman pinscher has a long head and a sleek, muscular body. The ears are often cropped to stand erect, and the tail is usually docked short. The Doberman pinscher has a short, sleek and shiny coat that is black, dark red, blue or fawn with rust-colored markings on the face, body and tail. This dog is an average shedder and requires minimal grooming. Dobermans live about 10 to 12 years.

The English bulldog is a brawny little powerhouse whose characteristic crablike waddle exudes great strength, stability and vigor. The dog's head is large and spherical, and the muzzle is extremely short, giving the face a flattened appearance. The English bulldog's eyes are dark and set low and wide on the forehead in the frontal plane. The nose is black and slightly upturned. The jaws (or 'chops') are massive, broad and undershot. The lower jaw juts out in front of the upper jaw to scarcely expose the lower incisors, producing a comical grin. The lips are fleshy and pendulous. The cheeks are well rounded and protrude sideways. The ears are thin, small and angle forward like flaps that frame the forehead. The English bulldog's neck is short and thick; the shoulders are massive, muscular and broad. The chest is deep and full, and the back is barreled and slightly arched. His rounded hips protrude slightly above the level of the back. The stubby tail is thick and either straight or screwed. His short, stocky legs have great muscle definition. They are splayed out and slightly bowed at the elbows and hocks to form a sturdy, base-wide stance. The English bulldog stands about 16 inches tall. The female weighs about 50 pounds (23 kilograms), and the male weighs about 54 pounds (24 kilograms). The English bulldog's skin is loose and pendant with heavy wrinkles and thick folds on the face and a dewlap hanging from the throat. The coat is short and fine textured. The various color patterns are brindle, piebald, and solid white, red, fawn or fallow.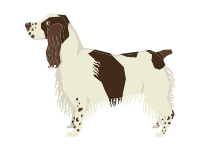 The English springer spaniel is a medium-sized dog, ranging in height from 19 to 20 inches and in weight from 40 to 50 pounds (18 to 23 kilograms). This dog is a sturdy one for his size with quite a bit of bone and large paws. The English springer spaniel has the classic 'spaniel' look to him: large and expressive eyes, a moderate muzzle with a definite stop to the forehead, long-hanging ears with some feathering, and a docked tail. The lips can be long and may lead to drooling in some dogs. The dog is the tallest of the spaniel breeds, with a fair amount of leg for covering rough ground quickly. The English springer spaniel has a medium-length coat, which can be flat or wavy. Extra hair is on the ear fringes, feathering on the rear of all four legs, and on the chest. The colors most commonly seen are liver and white or black and white, but tricolored and ticking are variations.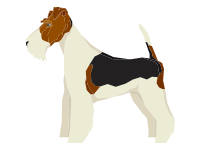 The Smooth Fox Terrier always portrays a lively and active appearance. The body of this breed is compact and muscular, built for speed and agility. The dog has a short body but a long sleek face with ears that fold forward toward the cheeks. These dogs are from 13 to 15 inches tall and weigh 16 to18 pounds (seven to eight kilograms). The coat of a Smooth Fox Terrier is short, flat against the body, and dense. Usually, the hair covers the belly and inner thighs as well. The color of the coat is predominately white with markings of black and tan.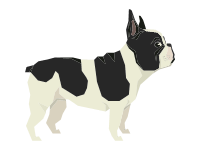 Built like a small tank, the French bulldog is a mid-sized member of the non-sporting group. The dog shares the non-sporting group with the Boston terrier and the bulldog, two breeds for which the French bulldog is most often mistaken. The French bulldog is not simply a miniature bulldog. The most notable characteristic is the 'bat' ear, which occurs naturally and is never cropped or altered. Also unique to the breed is the skull, which is flat between the ears. The French bulldog is a compact, muscular dog with a flat, short coat. Colors common to the breed include fawn, white and varieties of brindle. The male and female dog weight is 25-27 lbs.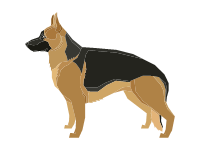 To prevent over-guarding and aggressive behavior, German shepherd dogs should have socialization and obedience training at a young age. German shepherd dogs reach a maximum of about 25 inches in height, and they weigh up to about 95 pounds (41 kilograms). He is a well-proportioned dog. The head is broad and tapers handsomely to a sharp muzzle. The ears are rather large and stand erect. The back is level and muscular, and the tail is bushy and curves downward. The coat is thick and rough and may be black, tan, black and tan or gray. The coat should be harsh and of medium length; however, long-coated individuals occur often. The breed lives about 10-12 years.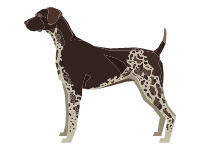 The German shorthaired pointer is a clean-cut dog with a striking outline, every bit the toned athlete. The medium-build body is square or a little longer than tall and well muscled throughout. The muzzle is somewhat squared, but the stop is not as defined as the pointer's, and, as a whole, the German short haired pointer's head is more moderate than the pointer's. The velvety ears are set high, the eyes are almond shaped and the tail is docked to about 40 percent of the dog's length. This is a fairly good-sized dog, standing from 22 to 24 inches tall and weighing 45 to 70 pounds (20 to 32 kilograms). The German shorthaired pointer is the ideal size for a good running companion, but still compact enough to fit well into most households. A hallmark of the breed is the sleek coat that comes in either liver or in liver and white, the latter often profusely ticked.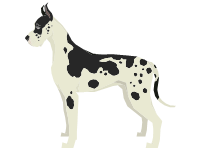 Great Danes are huge, powerful and elegant dogs. Males can reach 32 inches tall and weigh anywhere from about 100 to 120 pounds, while females may be 30 inches tall and weigh about 100 to 120 pounds (45 to 59 kilograms). The Great Dane's massive head is narrow and flat on top. The eyebrows are prominent. The ears drop forward or are cropped to stand erect. The neck is long and strong. The Great Dane's body is long, muscular and the front legs are straight. The tail is medium in length; it is thick at the base and tapers down to below the hocks. Great Danes are light to average shedders. The coat is short and sleek and comes in a variety of colors including brindle or fawn, blue, black or harlequin, which has black patches over a white background. The breed has poor longevity; Great Danes live only 6-8 years or less.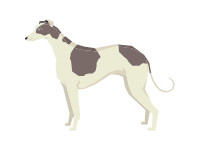 The Italian greyhound is truly a greyhound in miniature, with supreme elegance and grace. The height at the withers is 13 to 15 inches, and the weight is 7-14 pounds. The slender, muscular body, accentuated by the curved back, deep chest, and lean, well-muscled legs, produces a sinewy outline. The slender tail tapers to a curved end that is carried low. The head is long and narrow, the muzzle fine, and the ears pliant and delicate. The Italian greyhound has supple skin, and the short coat is glossy to the eye and velvety to the touch. Various coat colors and marking patterns are seen in the breed, although blues and grays are prevalent.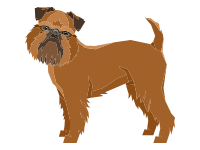 Brussels griffons are small-sized dogs weighing eight to 12 pounds (four to six kilograms). A Brussels griffon's height is about 10 inches at the shoulder. Their body is square and their head is large and round with a very short nose. The dogs generally mature at one year, although they reach their full size around six to eight months. The Brussels griffon has two types of coats: the rough and smooth. The rough coat is harsh and wiry, while the smooth coat is straight, short, tight and glossy. The rough coat requires clipping and stripping. They require brushing and combing twice a week. The smooth coat needs only a quick brushing weekly. They can be red, black and reddish brown with a black mask and whiskers, black and tan, and solid black.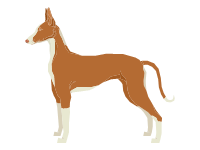 The Ibizan (pronounced ee-BEE-than) hound bears an uncanny resemblance to the Egyptian god Anubis. One of the sight hound family, the breed is built on general greyhound lines, with long slender legs, a relatively narrow body, a slightly arched loin, narrow waist and long tail. With the exception of its large ears, the Ibizan hound is a somewhat understated version of the greyhound. Besides its trademark ears, the Ibizan has several somewhat unusual traits for a sight hound: the chest is not extremely deep, and the angles of the shoulder assembly are not particularly acute. The gait is rather high stepping, and the tail is often carried fairly high when the dog is trotting. Although fast, the Ibizan's true strength is its agility and jumping ability. These dogs possess a deer-like elegance that is most evident when they are running and jumping over rough terrain. The Ibizan is a medium to tall dog, ranging from 22 1/2 to 27 1/2 inches in height, and weighing from 45 to 55 pounds. The coat is usually short and close; the breed also comes in a wire variety, in which the coat is harsh and about one to three inches long. The colors are variations of red or fawn with our without white. In fact, some dogs are almost entirely white with a few red spots.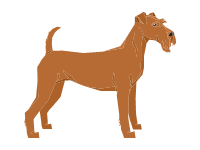 Soft-coated wheaten terriers are medium-sized dogs weighing 35 to 40 pounds (16 to 18 kilograms) for males and 30 to 35 pounds (13 to 16 kilograms) for females. A male wheaten terrier is 18 to 19 inches at the shoulder; females are slightly smaller at 17 to 18 inches tall. The body is square and the head is a triangular. Wheaten generally mature at 30 months, although they reach their full size around 6 to 8 months. The wheaten terrier's coat is described as 'open,' meaning that it lacks an undercoat and is off-standing. The two types of coats are the American and the Irish coat. The American coat is more stylized and requires more care, whereas the Irish coat looks like shiny waves. Regardless of type, both coats require constant maintenance. Unlike double-coated dogs, they do not shed, but they require constant clipping and grooming. Wheaten terriers require brushing and combing nearly every day and sometimes as often as three times or more a day to prevent mats. These are high maintenance dogs.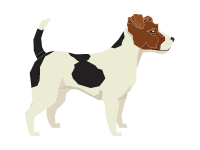 The Jack Russell terrier is a happy, energetic dog with a strong desire to work. This breed is most happy when given companionship and a job to do. Digging is normal for a Jack Russell, especially if he decides it is his job to free your yard from rodents! Hunting ability is bred into them; it is their nature. The desire to hunt combined with a high energy level makes training a must for the Jack Russell. You will never win a battle of wills with a Jack Russell. Because he is a baying terrier, the Jack Russell can be vocal. However, these dogs are alert and make good watchdogs. The breed is naturally assertive and may not tolerate young children or other animals in the home. They especially can be aggressive toward other dogs.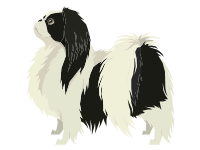 The Japanese chin has a bright and intelligent look and a distinct Oriental expression. These dogs have a large broad head, large wide-set eyes, short broad muzzle, ear feathering and the evenly patterned facial markings. This toy breed ranges in weight from four to 11 pounds and in height from nine to 10 inches. The color of the chin is either black and white, red and white, or black and white with tan points. The term tan points includes tan or red spots over each eye, inside the ears, on both cheeks and at the anal vent area if any black is displayed. The term red includes all shades of red, orange, lemon and sable, which includes any aforementioned shade intermingled or overlaid with black. It is suspected that British breeders probably crossbred the chin with the King Charles spaniel, and that accounts for the similarity in their appearance.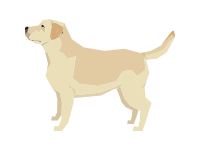 Labrador retrievers are sturdy, solid dogs. They are almost square in appearance, with a strong body and sturdy legs. The maximum height for a male is 24 inches, which puts them in the medium-size dog category, but their sturdy build can make them seem much larger. Weights range from 85 pounds for a large male to 55 pounds for a smaller female. Field line bred dogs are often taller and somewhat thinner in build. Labrador retrievers are easily recognized by their broad head, drop ears and large, expressive eyes. Two trademarks of the Lab are the thick but fairly short double coat, which is very water repellent, and the well known 'otter tail.' The tail is thick and sturdy and comes off the topline almost straight. The feet are described as 'webbed,' with longer skin between the toes to aid in swimming. Color can range from black through chocolate to a red/yellow or even almost white. The Labrador retriever is a moderately fast maturing breed, reaching adult height from six to 12 months, but possibly still filling out up to 2 years of age. Many Labs reach 12 to 14 years of age.

The Lancashire Heeler is a small breed of dog developed for use as a drover and herder of cattle. The coat is harsh and smooth with an undercoat that keeps the dog dry in all weather. It may have a slight mane around the neck in winter. They are slightly longer than height at withers, usually measuring between 10–12 inches (25–30 cm) at the shoulder and weighing 13–18 pounds (5.9–8.2 kg). Ears can be tipped or erect. It is alert, friendly, energetic, intelligent, playful, and a pleasant companion. Personality can range from lazy and active to energetic and talkative. It is generally a powerful dog that likes to participate in various activities and can carry a ball or object the size of itself. The Lancashire Heeler is friendly towards its owners and passers-by on the street but may be aggressive towards an unknown character on their territory.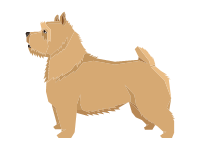 The Norwich terrier is one of the smallest of the working terriers, weighing 11 to 12 pounds. The height is ideally 10 inches at the shoulder. The body is long and the head is fox-like. A Norwich generally matures at one year, with full size attained between 6 and 8 months. The Norwich coat is short, harsh, wiry and straight. The breed has a definite undercoat. This dog sheds twice a year and requires brushing and combing twice a week. The color can be red, wheaten, black and tan, black and gray, or red and white mixed in a grizzled pattern.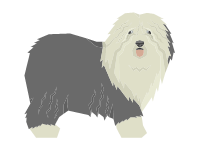 The Old English sheepdog may appear as a large ball of fluff, but a solid dog lurks beneath that fluff ball. The height starts at 22 inches and goes up, and the weight is up to 90 pounds. These dogs are fairly square, and a shaved Old English sheepdog shows nice proportions. The topline does tend to slope down from the loin to the withers. The ears hang down and the tail is docked as close to the body as possible. The eyes are dark and mischievous when seen under the heavy bangs. The coat is thick, dense and profuse. Dogs in 'show coat' keep the long, fluffy coat, but many pets are shaved down for ease of care. Colors are limited to shades of blue or gray with white. These are fairly slow maturing dogs, reaching adult height by about one year of age but not filling out totally until two or three years. Many Old English sheepdogs live to 12 or 14 years of age.

The papillon is a small, dainty-looking dog with ears that flare from its head like the wings of a butterfly. The coat is long and silky, and the tail is a waving plume. Unlike other longhaired breeds, the 'pap' has no undercoat or bi-annual shed, and its long tresses do not mat easily. The coat is generally white with patches of black, red, orange tan, or sable. The average shoulder height of both male and female papillons ranges from eight to 12 inches. Weight ranges from three to 10 pounds (1 to 5 kilograms).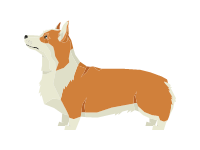 Pembroke Welsh corgis are immediately identifiable by their short stature, prick ears and foxy face. The tail is usually closely docked, but some puppies are born natural bobtails. Besides the obvious tail difference, the Pembroke is not as long or heavy-boned as the Cardigan Welsh corgi. Pembroke Welsh corgis are considered chondrodysplastic dogs, that is, having the characteristic of slightly bowed limbs and the tendency for back problems. Slightly longer than tall, they have a straight back and are not extreme in any area. Adult Pembroke Welsh corgis are about 10 to 12 inches tall and weigh from 23 to 28 pounds (10 to 13 kilograms). They are full size at about a year of age, but some keep filling out until age two or even three. Corgis have weatherproof coats — double but short. The color ranges from a rich red or fawn to black or sable with white markings. The blacks usually have white and tan to make them tri-colored with heads varying from red to black. Occasionally a fluffy corgi will appear in a litter. These puppies have a longer, softer, fluffier coat than is typical. While these puppies make wonderful pets, that coat is undesirable for the show ring.

The Pomeranian is a true 'toy' dog, with an ideal height of eight to 11 inches and weight of only three to seven pounds (one to three kilograms). They are often at mature size by seven to 10 months of age. Pomeranians are easily recognized by their luxuriant fluffy double coat and foxy face with alert, prick ears. The body shape is fairly square, and the fluffy tail curls up and over the back. A thick ruff around the neck completes the picture of a dog that could handle the snows of northern Germany. The head is somewhat rounded with a distinct muzzle. Pomeranians come in a wonderful array of colors. A rich red is most commonly associated with the breed, but everything from black to white to sable and shades in between are acceptable, even chocolate.

Poodles come in three sizes or varieties: the standard (over 15 inches and 45 to 70 pounds [20 to 32 kilograms]), the miniature (10 or 11 inches to 15 inches and 12 to 20 pounds [5 to 9 kilograms]) and the toy (less than 10 inches and about five to seven pounds [2 to 3 kilograms]). All the Poodles share a square outline, with a long, elegant neck and a straight back. The tail is docked, but not short, so it can wave gaily. Poodles tend to have a leggy appearance and a long muzzle combined with dropped ears. They move with a springy, lively gait. The coat of the poodle is its crowning glory. Dogs competing in the breed ring must have a specific clip, with areas of extravagant hair coupled with skin tight clipping. These clips actually developed for a reason: they provided thick coat over the joints and chest to keep the dog warm while working in cold water. Many guardians elect to keep their dogs in a kennel or working clip, with the coat clipped fairly short and pompoms left on the head and tail. A few poodles are seen with a corded coat, in which the tight curls form long bands like dreadlocks. The poodle coat should be tight and curly unless brushed out vigorously. Poodles are known as good dogs for people with allergies because the hair does not routinely shed out; instead, it mat to itself. This is why poodles need clipping or frequent grooming because the mats can be painful. The commonly seen colors of poodles are silver, black, white, apricot and chocolate. Reds do appear as well as creams and blues. Parti-colors such black and white are not considered acceptable in the show ring.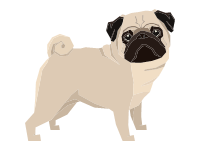 Pugs are members of the toy group despite their solid appearance. They range in height from 10 to 11 inches and in weight from 14 to 18 pounds (six to eight kilograms). They are square dogs with substantial limbs. Pugs are the sturdiest dogs of the toy group, befitting their mastiff heritage. Pugs are known for their large, round heads, with the shortened muzzles and extensive forehead wrinkles. The vertical wrinkle on the forehead is said to resemble the Chinese character for 'prince' and thus known as the 'prince mark.' The eyes protrude somewhat, making them prone to trauma. The tail curls tightly over the hip. They have a short, but very dense double coat. Colors can range from apricot to fawn, silver and black. All but the black dogs have a dark mask and ears with a trace of darkening down the back. The ears feel like black velvet.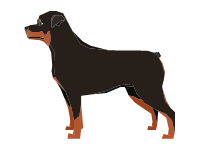 The first impression of a rottweiler is of solid strength, and that is quite accurate. Rottweilers are slightly longer than tall, large dogs, ranging in height from 22 inches for a small female to 27 inches for a large male. Weights go from 80 to 120+ pounds (36 to 54+ kilograms). Rottweilers are blocky dogs with massive heads. Ears lie fairly tight to the head, hanging down somewhat. Muzzles are square and strong, but rottweilers can be a bit drooly because of loose flews (lips). Rottweilers should always be black with tan points, and the ideal coat is quite short, dense, and a bit harsh. Occasionally a 'fluffy' puppy will turn up in a litter, but that coat is disqualified in the breed ring. Tails are docked very short, ideally one to two vertebrae long. As is common with the larger breeds, rottweilers can be slow maturing. Many do not reach full adult size until 2 or 3 years of age, although adult height is often set by one year of age. These dogs will fill out, broadening their chests and becoming the massive dogs we expect with age.

A dog breed that's well-known for herding and protecting abilities, rough collie dogs are described as strong, loyal, affectionate, responsive, and fast. The rough-coated collie has a beautiful long coat that flows as he runs, and his head is a smooth and elegant wedge shape. Rough collies can do well in the country or the city, but they need companionship and daily runs or long walks. Although they are a little less active than border collies, rough collies do need at least forty-five to sixty minutes of outdoor activity every day. Surprisingly, once he is back inside, he is very calm and happy to sit and lounge with his owner. The rough collie breed includes two variations: the long-hair, true rough collie, and the shorter-haired, sometimes called smooth collie. Additionally, Shetland sheepdogs and border collies are completely different breeds and are not part of the rough collie breed, despite their similar coat markings and facial features.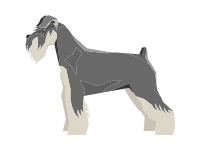 The general impression of the standard schnauzer is a compact, sinewy, square-built dog, sturdy and alert, with a stiff wiry coat and bristling eyebrows and beard. Standing between 17 1/2 to 18 1/2 inches (females) or 18 1/2 to 19 1/2 inches (males), they fall into the medium category of size for dogs. All schnauzers in Germany have their ears cropped; however, the American Schnauzer Club allows dogs to be shown with both cropped and natural ears. A docked tail is also typical. The colors for a standard schnauzer can be pepper and salt or pure black. The typical pepper and salt color of the topcoat results from the combination of black and white hairs and white hairs banded with black. Acceptable are all shades of pepper and salt and dark iron gray to silver gray. Ideally, pepper and salt standard schnauzers have a gray undercoat, but a tan or fawn undercoat is not to be penalized. It is desirable for the dog to have a darker facial mask that harmonizes with the particular shade of coat color. Also, in pepper and salt dogs, the pepper and salt mixture may fade out to light gray or silver white in the eyebrows, whiskers, cheeks, and leg furnishings, across the chest, inside the legs, and under the tail, throat, and body. Ideally, the black standard schnauzer should be a true rich color, free from any fading or discoloration or any admixture of gray or tan hairs. The undercoat should also be solid black. However, increased age or continued exposure to the sun may cause a certain amount of fading and burning. A small white smudge on the chest is not a fault. Loss of color as a result of scars from cuts and bites is not a fault.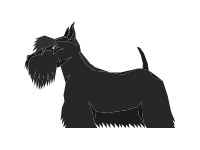 Scottish terriers are only about 10 inches tall and weigh about 18 to 22 pounds (eight to 10 kilograms). They have a distinctive beard that accentuates the muzzle, long eyebrows and a wiry outer coat that brushes the ground like a long skirt if untrimmed. The coat, which sheds little, also provides excellent protection in bad weather. The color is brindle, black, gray or wheaten. The Scottie's ears are thin and stand straight up. The back is short, level and muscular, and the tail is set high. Scotties have a good life expectancy of about 12 to 15 years.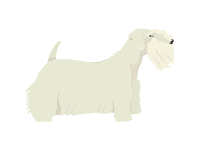 The Sealyham Terrier is a rare Welsh breed of small to medium-sized terrier that originated in Wales as a working dog. It is principally a white-bodied, rough-coated breed, developed in the mid-to-late-19th century by Captain John Edwardes at Sealyham House, Pembrokeshire. Following the First World War, it surged in popularity and was associated with Hollywood stars and members of the British Royal Family. Sealyhams measurements vary by breed standard according to particular countries. The Kennel Club breed standard states that the height of a Sealyham Terrier should not exceed 12 inches (30 cm), measured at the withers or the top of the shoulder blade. The ideal weight for a Sealyham is 8 kilograms (18 lb) for females or 9 kilograms (20 lb) for males.

Although loving, shar-peis have a dominant streak and need a confident, assertive pet parent to be their teacher. Medium and compact, shar-peis are distinctive-looking members of the non-sporting group. Identifiable primarily by the loose, wrinkled skin covering their head, neck and shoulders, shar-peis are also recognizable by their broad muzzle and small triangular ears. They tend to have a scowling expression due to the loose folds of skin that hang over their brow. The shar-pei is also unique for its blue-black tongue, a trait shared with only one other breed — the chow chow. Standing about a foot and a half from the neck and shoulders down, shar-peis grow into the heavy folds of skin that cover them as puppies. Their thick neck and broad chest give them a sturdy look without making them overly stout. Their long, thick and tapered tail is set high and tends to curve over one side of the back haunch. Shar-peis are also distinguished by their rough, sandpaper-like coats that can be any solid color or sable mix. Shar-pei literally means 'sand skin' in Mandarin. The American Kennel Club (AKC) identifies two acceptable coat lengths: the extremely short 'horse coat' and the slightly longer 'brush coat,' which is no longer than an inch at the withers. The shar-pei's hair tends to stand up straight along the main trunk but lies flatter along the limbs and tail. Shar-peis are also distinguished by their rough, sandpaper-like coats that can be any solid color or sable mix. Shar-pei literally means 'sand skin' in Mandarin. The American Kennel Club (AKC) identifies two acceptable coat lengths: the extremely short 'horse coat' and the slightly longer 'brush coat,' which is no longer than an inch at the withers. The shar-pei's hair tends to stand up straight along the main trunk but lies flatter along the limbs and tail.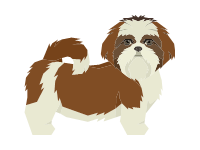 Shih Tzu are classified in the toy group in most countries, with a height of eight to 11 inches and weight of nine to 16 pounds (four to seven kilograms). As with most toy breeds, shih tzu are quick to mature, reaching adult size by about 10 months. The shih tzu is often slightly longer than tall, with a sturdy body and a good-sized head. The muzzle is quite short, with an undershot bite. The head is rounded and the eyes are quite prominent. The tail is carried gaily curled up over the back. The gait is long and swift for such a small dog. The shih tzu is covered with luxuriant, long, straight hair. This double coat does require a fair amount of upkeep, especially if left long on these short dogs so that it sweeps the ground. Any color is acceptable for the coat, but dark pigment is preferred around the eyes and on the nose. Shih tzu tend to be fairly hardy little dogs and often live to 14 or 15 years of age.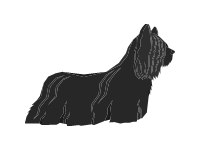 Skye Terriers are sometimes described as 'big small dogs.' One look reveals why. These elegant dogs have a large body and head atop relatively short legs. When standing on his hind limbs, an adult Skye terrier reaches up to a person's thigh or even higher, depending on the individual's height. The breed comes in two varieties: the prick ear and the drop ear. The prick ear Skye's ears are set high on the skull and point upward. The drop ear Skye's ears are somewhat larger, set lower, and point downward. Either way, the ears are well covered with hair, and hair also flops over the eyes. The Skye terrier has a soft undercoat and a long, hard, straight outer coat. Coat colors range from black to platinum, with all shades of gray in between. In addition, some Skye coats are fawn or cream-colored. The ears, muzzle and tail are darker than the rest of the coat, unless the coat is black. The Skye terrier is about 10 inches tall and weighs from 25 to 40 pounds.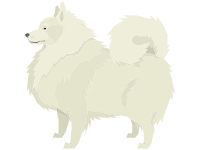 The Finnish spitz is a medium-sized dog with a pointed muzzle; short, erect ears; and a lush, golden-red or honey-colored coat that makes the dog look much like a fox. Like other dogs of the spitz breeds, the Finnish spitz has an erect tail that curls over on the back, thick fur around the neck, and a sturdy, square stance. The Finnish spitz is about 15 to 20 inches tall and weighs 30 to 35 pounds (14 to 16 kilograms). The breed's life span is an estimated 12 to 15 years.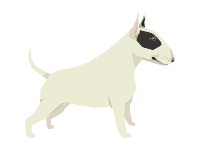 The Staffordshire Bull Terrier is a tough-looking character. The dog is relatively wide and slightly longer than tall, giving it a low center of gravity. Most striking of all, however, are the huge muscles and wide jaws. This dog is the picture of power, yet it is surprisingly agile and quick on its feet. These dogs pack a lot of weight on a fairly short body. They range in weight from 30 to 40 pounds (13 to 18 kilograms) and in height from 17 to 19 inches. They give the impression of being much larger than they really are. The tail is of medium length and carried low. The ears are never cropped; they are small and wither rose-shaped or half prick. The short, sleek coat comes in a wide variety of colors.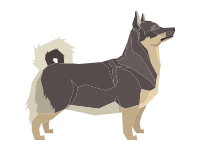 The Finnish spitz is a medium-sized dog with a pointed muzzle; short, erect ears; and a lush, golden-red or honey-colored coat that makes the dog look much like a fox. Like other dogs of the spitz breeds, the Finnish spitz has an erect tail that curls over on the back, thick fur around the neck, and a sturdy, square stance. The Finnish spitz is about 15 to 20 inches tall and weighs 30 to 35 pounds (14 to 16 kilograms). The breed's life span is an estimated 12 to 15 years.

The Finnish spitz is a medium-sized dog with a pointed muzzle; short, erect ears; and a lush, golden-red or honey-colored coat that makes the dog look much like a fox. Like other dogs of the spitz breeds, the Finnish spitz has an erect tail that curls over on the back, thick fur around the neck, and a sturdy, square stance. The Finnish spitz is about 15 to 20 inches tall and weighs 30 to 35 pounds (14 to 16 kilograms). The breed's life span is an estimated 12 to 15 years.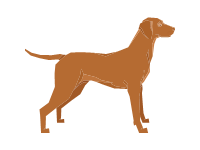 Vizslas are medium-sized dogs weighing 45-65 lbs. A male vizsla is 22 to 24 inches at the shoulder; females are smaller at 21 to 23 inches tall. Their bodies are muscular and well proportioned. Vizslas generally mature at 1 or 2 years, although they reach their full size around 6 to 8 months. The vizsla coat is short, smooth and dense with no undercoat. Considered 'wash and wear,' vizslas require little more than a quick rubdown with a rubber curry brush. The color is a solid golden rust (also called russet).

The 'Westie' is one of the short-legged terriers, running 10 or 11 inches tall and 14 to 20 pounds in weight. They are stocky little dogs but quite fast and agile. West Highland white terriers are immediately identifiable by their dense, harsh white coats. These are fairly short coats but tough enough to push through brambles and harsh enough to shed dirt easily. The coat needs to be clipped or hand stripped to work out the dead undercoat. The white color helped their guardians to see them in the fields and distinguish them from the prey they were hunting. Despite the white coat color, these dogs are not albinos. They should have dark pigment around the eyes, mouth and nose. The ears are prick and the tail moderate in length and sturdy. The sturdy tail is used to haul the dogs back out of underground burrows when they pursue their prey.

The Xolo comes in three sizes: Toy, Miniature, Standard, and two varieties: coated and the hairless, with the hairless being the more sought after and popular variety. It is very hairless with or without a short tuft of hair on the head and tail. The hairless Xolo should never be hairy, or possess long hair, wire hair or wavy hair. Its skin should be soft and smooth, yet hardy to the elements. The Xolo comes in a variety of colors, from black to slate, gray, bronze, brindle, red, fawn, solid or spotted. The coated variety should have a full coat of hair that is short, sleek and clean, like that of a Doberman; with regular brushing it sheds very little. The coated Xolo should also not possess long hair, wire or wavy hair. It has a loyal following to those who love the breed but prefer a coat of hair on their dog. In an average litter of five, four will be hairless and one will be coated. This is a very robust and hardy breed, with a broad skull and a black or skin-colored nose. Almond-shaped eyes are dark or in keeping with the color of the dog. Its most noticeable characteristic is its large, upright bat-like ears; it is very keen and can hear and alert you to danger or stranger. Xolos do change colors as they mature.
---