Fastest mammal on land, the cheetah can reach speeds of 60 or perhaps even 70 miles (97 or 113 kilometers) an hour over short distances. It usually chases its prey at only about half that speed, however. After a chase, a cheetah needs half an hour to catch its breath before it can eat. The cheetah's excellent eyesight helps it find prey during the day. The cheetah is hard to see because its spotted coat blends with the tall, dry grass of the plains. Suddenly, the cheetah makes a lightning dash. It knocks its prey to the ground and then bites its throat. Once found throughout Asia and Africa, cheetahs today are racing toward extinction. Loss of habitat and declining numbers of their prey combine to threaten the future of these cats. Cheetahs live and hunt mainly in open grasslands and bushy areas in parts of Africa and the Middle East.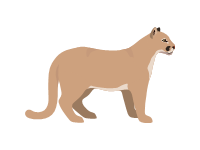 The cougar s a large cat native to the Americas. Its range spans from the Canadian Yukon to the southern Andes in South America and is the most widespread of any large wild terrestrial mammal in the Western Hemisphere. It is an adaptable, generalist species occurring in most American habitat types. Due to its wide range has many names, including puma, mountain lion, catamount, and panther. Cougars prefer large mammals such as mule deer, white-tailed deer, elk, moose, mountain goats, and bighorn sheep. They will opportunistically take smaller prey such as rodents, lagomorphs, smaller carnivores, birds, and even domestic animals, including pets. The mean weight of cougar vertebrate prey increases with its body weight and is lower in areas closer to the equator. A survey of North America research found that 68% of prey items were ungulates, especially deer. Only the Florida panther showed variation, often preferring feral hogs and armadillos.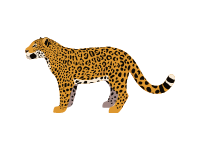 Jaguars are the only big cat in the Americas and the third biggest in the world after tigers and lions. They look a lot like leopards, which live in Africa and Asia, but jaguars' spots are more complex and often have a dot in the center.

Leopards are graceful and powerful big cats closely related to lions, tigers, and jaguars. They live in sub-Saharan Africa, northeast Africa, Central Asia, India, and China. However, many of their populations are endangered, especially outside of Africa. Most leopards are light colored with distinctive dark spots that are called rosettes, because they resemble the shape of a rose. Black leopards, which appear to be almost solid in color because their spots are hard to distinguish, are commonly called black panthers.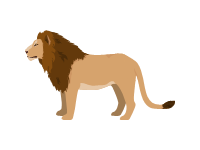 Lion, large, powerfully built cat (family Felidae) that is second in size only to the tiger. The proverbial "king of beasts," the lion has been one of the best-known wild animals since earliest times. Lions are most active at night and live in a variety of habitats but prefer grassland, savanna, dense scrub, and open woodland. Historically, they ranged across much of Europe, Asia, and Africa, but now they are found mainly in parts of Africa south of the Sahara. An isolated population of about 650 Asiatic lions constitute a slightly smaller race that lives under strict protection in India's Gir National Park and Wildlife Sanctuary. The lion is a well-muscled cat with a long body, large head, and short legs. Size and appearance vary considerably between the sexes. The male's outstanding characteristic is his mane, which varies between different individuals and populations. It may be entirely lacking; it may fringe the face; or it may be full and shaggy, covering the back of the head, neck, and shoulders and continuing onto the throat and chest to join a fringe along the belly. In some lions the mane and fringe are very dark, almost black, giving the cat a majestic appearance. Manes make males look larger and may serve to intimidate rivals or impress prospective mates. A full-grown male is about 1.8–2.1 metres (6–7 feet) long, excluding the 1-metre tail; he stands about 1.2 metres high at the shoulder and weighs 170–230 kg (370–500 pounds). The female, or lioness, is smaller, with a body length of 1.5 metres, a shoulder height of 0.9–1.1 metres, and a weight of 120–180 kg. The lion's coat is short and varies in colour from buff yellow, orange-brown, or silvery gray to dark brown, with a tuft on the tail tip that is usually darker than the rest of the coat.

Pumas are large, secretive cats. They are also commonly known as cougars and mountain lions, and are able to reach larger sizes than some other 'big' cat individuals. Despite their large size, they are thought to be more closely related to smaller feline species. The seven subspecies of pumas all have similar characteristics, but tend to vary in color and size. Pumas are thought to be one of the most adaptable of felines on the American continents, because they are found in a variety of different habitats, unlike other various cat species. Members of the genus Puma are primarily found in the mountains of North and South America, where a majority of individuals can be found in rocky crags and pastures lower than the slopes grazing herbivores inhabit. Though they choose to inhabit those areas, they are highly adaptive and can be found in a large variety of habitats, including forests, tropical jungle, grasslands, and even arid desert regions. Unfortunately, with the expansion of human settlements and land clearance, the cats are being pushed into smaller, more hostile areas. However, their high adaptability will likely allow them to avoid disappearing from the wild forever.

The snow leopard's powerful build allows it to scale great steep slopes with ease. Its hind legs give the snow leopard the ability to leap six times the length of its body. A long tail provides balance and agility and also wraps around the resting snow leopard as protection from the cold. For millennia, this magnificent cat was the king of the mountains. The mountains were rich with their prey such as blue sheep, Argali wild sheep, ibex, marmots, pikas and hares. Snow leopards are found in 12 countries—including China, Bhutan, Nepal, India, Pakistan, Afghanistan, Russia, and Mongolia—but their population is dropping.

Tiger, (Panthera tigris), largest member of the cat family (Felidae), rivaled only by the lion (Panthera leo) in strength and ferocity. The tiger is endangered throughout its range, which stretches from the Russian Far East through parts of North Korea, China, India, and Southeast Asia to the Indonesian island of Sumatra. The Siberian, or Amur, tiger (P. tigris altaica) is the largest, measuring up to 4 metres (13 feet) in total length and weighing up to 300 kg (660 pounds). The Indian, or Bengal, tiger (P. tigris tigris) is the most numerous and accounts for about half of the total tiger population. Males are larger than females and may attain a shoulder height of about 1 metre and a length of about 2.2 metres, excluding a tail of about 1 metre; weight is 160–230 kg (350–500 pounds), and tigers from the south are smaller than those of the north. The tiger has adapted to a great variety of environments, from the Siberian taiga, where nights can be as cold as −40 °C (−40 °F), to the mangrove swamps of the Sundarbans, where the temperatures reach more than 40 °C (104 °F). Tigers haunt the ruins of buildings such as courts and temples and are at home in habitats ranging from dry grassland to rainforest. Grasslands, mixed grassland-forests, and deciduous rather than densely canopied forests support maximum population densities, as these habitats maintain the highest number of prey species. Having evolved in the temperate and subtropical forests of eastern Asia, the tiger is less tolerant of heat than other large cats, which may explain why it is an adept swimmer that appears to enjoy bathing. Under stress it may climb trees.
---