Draft horses are recognizable by their tall stature and extremely muscular build. In general, they tend to have a more upright shoulder, producing more upright movement and conformation that is well suited for pulling. They tend to have broad, short backs with powerful hindquarters, again best suited for the purpose of pulling. Additionally, the draft breeds usually have heavy bone, and a good deal of feathering on their lower legs. Many have a straight profile or 'Roman nose' (a convex profile). Draft breeds range from approximately 16 to 19 hands (64 to 76 inches; 163 to 193 cm) high and from 1,400 to 2,000 lb (640 to 910 kg). Draft horses crossbred on light riding horses adds height and weight to the ensuing offspring, and may increase the power and 'scope' of the animal's movement.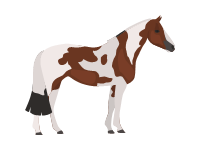 The Paint Horse has specific characteristics beyond coat color, of course. The breed has been crossbred frequently with American Quarter Horses, so many are heavily muscled horse types. They're typically very muscular, with broad chests, strong hindquarters, and low centers of gravity that give them great balance. They are usually between 14.2 and 15.2 HH, but those with Thoroughbred heritage can be taller. The average weight ranges from 950 to 1,200 pounds, a bit heavier than most breeds. Paint Horses are known to be strong, fast, and agile. Because of this, they are ridden and driven in almost every English and Western discipline. You'll find Paint Horses barrel racing, jumping in the stadium and in cross-country events, working cattle, trail riding, combined driving, and much more. This is a very versatile breed, with representatives in almost every sport involving horses. Many individual horses excel at a variety of sports as well; for example, you might find Paint Horses who are successful in both English and Western show rings, or some who excel both on the trail and on the ranch.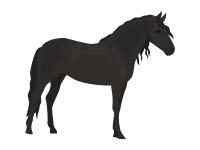 The Andalusian horse originates from the rugged, hilly areas of the Iberian Peninsula and is one of the most ancient horse breeds. The Andalusian horse was developed in Southern Spain and although Andalusian horses were originally highly regarded as a cavalry horse due to their agility and courage they became less favoured as a war horse when knights were heavily armoured and required heavier horses to carry them. However, Andalusian horses gained popularity again amongst cavalries with the introduction of firearms when a fast, agile horse was needed. The Andalusian horse stands 15.2 to 16.2 hh. Andalusian horses are most often grey but other colours such as bay, chestnut, black, palomino, dun also exist. The Andalusian horse has a long head with broad forehead and convex profile, long arched neck, abundant mane, short body with powerful hindquarters and strong fine legs. They have a high knee action and are short striding with great presence.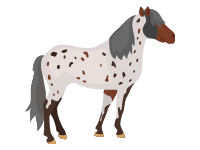 The Appaloosa horse breed is famous for the distinctive patterned coat, even though not all registered Appaloosas look like this. Examples of other core characteristics are striped hooves, mottled skin, and eyes where you can see white sclera even when the eye is held in its normal position. The coat color of an Appaloosa is a combination of a base color and an overlaid spotting pattern. he spots overlay darker skin and are sometimes surrounded by a "halo". A halo is seen when the skin next to the spot is dark like the spot, but the overlying hair coat is white.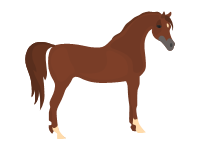 Arabian horse, earliest improved breed of horse, valued for its speed, stamina, beauty, intelligence, and gentleness. The breed's long history has been obscured by legend, but it had been developed in Arabia by the 7th century ce. The Arabian horse has contributed its qualities to most of the modern breeds of light horses. The Arabian breed is a compact, relatively small horse with a small head, protruding eyes, wide nostrils, marked withers, and a short back. It usually has only 23 vertebrae, while 24 is the usual number for other breeds. The horse's average height is about 15 hands (60 inches, or 152 cm), and its average weight ranges from 800 to 1,000 pounds (360 to 450 kg). It has strong legs and fine hooves. The coat, tail, and mane are of fine, silky hair. Although many colours are possible in the breed, gray prevails. The most famous stud farm is in the region of Najd, Saudi Arabia, but many fine Arabian horses are now bred elsewhere.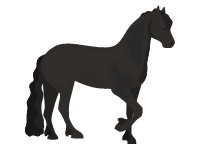 The Friesian horses are a tall, big-boned equine breed that typically has a black coat with thick manes and tails. These animals have the desired temperament and athletic ability to perform well in dressage. They are also suitable horses for beginners or advanced riders.Friesian Horses are one of the oldest horse breeds in Europe, dating back to Roman times. They were originally bred in Friesland, in the Netherlands. Friesians have been influential in the development of a variety of breeds. Knights during the medieval era chose Friesians to ride because of their beauty, commanding presence, and elegance.

The Andalusian is one of the great, ancient breeds of horse. It originated in the Iberian Peninsula and is named for the region of Spain called Andalucia though the breed actually was more widespread. It is a known fact by many who ride and love these horses that they are very smart. Much of that comes from their history, as a horse would survive and fight much better when they are intelligent enough to understand their training and use it to keep themselves and their riders alive even in the perils of battle. It was their intellect as well as their courage that made them so beloved of noble riders throughout history, and caused Napoleon to attempt to take them all during his conquests of Europe. No ruler could resist a horse with brains as well as bravery. Today, that intelligence makes them darlings of many show rings and dressage competitions, as the horses seem to love learning new things as much as their owners love to teach them.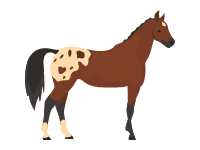 The Knabstrupper is a horse breed of old, believed to have established on the Knabstrupgaard estate in Denmark in 1812, although spotted horses have been present in Denmark as far back as the 16th century. The breed stems back to one founding mare (named 'Flaeb's Mare') that was purchased by a Danish butcher and later sold on to Major Villars Lunn who owned Knabstrupgaard. Typical, a healthy Knabstrupper will measure between 15-16 hands although smaller horses are occasionally seen and coat patterns range from solid through to leopard spotting, the most desired appearance. In light of its coat, the Knabstrupper is often confused with the Appaloosa.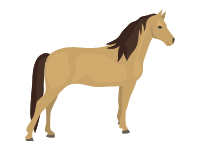 The Morgan horse was one of the first horse breeds to be developed in the United States. The founding stallion of the breed was a horse named Figure, owned by Vermont schoolteacher Justin Morgan in the late 1700s. Smaller than many other full-size horse breeds, Morgan horses average from 14 hands (56 inches) to 15 hands (60 inches) tall. There is no strict standard regarding size, so horses may be shorter or taller. Morgans tend to weigh between 900 and 1,000 pounds.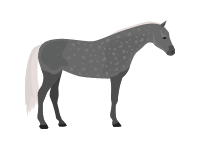 The Orlov trotters are in general taller and more robust than Standardbreds. The average current measurements for Orlov breeding stallions are 161.4 cm (height at withers), 164 cm (body length/barrel), 186 cm (chest circumference), 20.4 cm (cannon bone circumference) and for breeding mares are 160.3 cm, 163.6 cm, 186.2 cm and 20.1 cm respectively. In appearance, the Orlovs are characterized by a big head, large expressive eyes, a long and naturally arched neck set high, prominent withers and broad croup. The body is muscular. The legs are strongly built, with prominent joints and clearly defined tendons. Due to its Arabian origins, many Orlovs are grey, at maturity, though all are born a darker colour at birth. (Grey horses are born dark and slowly lighten as they age until their hair coat is completely white.) At maturity, the colors of Orlovs are: grey (46%), black (28%), bay (20%) or chestnut (5%).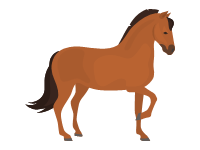 The Paso Fino horse ranges from about 13 to 15.2 hands in height and typically weighs between 700 to 1000 pounds. This breed can be found in any color, with or without white markings on the head and legs. The Paso Fino is a gaited horse breed. It is widely thought of as a Spanish horse, but it is popular in many other countries, including Colombia, the United States, and Puerto Rico. The Paso Fino horse was bred from two types of Spanish horses – Andalusians and Spanish Jennets – and the North African Barb, or Berber horse. The Spanish Jennet, known for their smooth riding gaits, were crossed with Andalusians to form the Paso Fino breed.

Pinto, (Spanish: "Painted"), a spotted horse; the Pinto has also been called paint, particoloured, pied, piebald, calico, and skewbald, terms sometimes used to describe variations in colour and markings. The Indian ponies of the western United States were often Pintos, and the type was often considered of poor quality. The pure-breed associations usually refuse to register horses with pinto colouring. The colour does not determine the type of horse, however, and many fine Pintos have been developed. The Pinto Horse Association of America, organized in 1956, registers all breeds and types of horse on the basis of colour. The American Paint Horse Association, formed in 1965 by merger of the American Paint Quarter Horse Association and the American Paint Stock Horse Association, also considers breeding for registration and is concerned only with stock- and quarter-type horses. Pintos have colour patterns called overo (white spreading irregularly up from the belly, mixed with a darker colour) and tobiano (white spreading down from the back in smooth, clean-cut patterns).

The Russian Don is a breed of horse developed in and named after the steppes region of Russia where the Don River flows. Utilized initially as cavalry horses for the Cossacks, they are currently used for under-saddle work and driving. The Don usually stands 15.1 to 15.3 hands (61 to 63 inches, 155 to 160 cm) and may be bay, black, gray, or chestnut. They have a clean head with a straight or dished profile, well set onto a well-formed neck, high withers, and a broad, deep chest. Their shoulders can be straight, limiting their stride length, but they are often well-formed. The back is long and straight, flowing into a long and sloping croup. The legs are long, well-muscled, and clean, with broad joints, strong tendons, and tough hooves.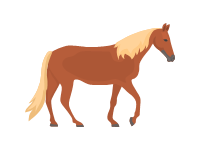 The Tennessee Walking Horse or Tennessee Walker is a breed of gaited horse known for its unique four-beat running-walk and flashy movement. It was originally developed in the southern United States for use on farms and plantations. It is a popular riding horse due to its calm disposition, smooth gaits and sure-footedness.The modern Tennessee Walking Horse is described as 'refined and elegant, yet solidly built'. It is a tall horse with a long neck. The head is well-defined, with small, well-placed ears. The breed averages 14.3 to 17 hands (59 to 68 inches, 150 to 173 cm) high and 900 to 1,200 pounds (410 to 540 kg). The shoulders and hip are long and sloping, with a short back and strong coupling.The hindquarters are of 'moderate thickness and depth', well-muscled, and it is acceptable for the hind legs to be slightly over-angulated, cow-hocked or sickle-hocked. They are found in all solid colors, and several pinto patterns. Common colors such as bay, black and chestnut are found, as are colors caused by dilution genes such as the dun, champagne, cream and silver dapple genes. Pinto patterns include overo, sabino and tobiano

Most people are familiar with the thoroughbred horse due to horse racing. But thoroughbreds are multipurpose horses, and many former racehorses find second careers as riding or driving horses. Thoroughbreds are classified as "hot-blooded" horses, or horses that tend to be spirited, bold, intelligent, and athletic. It's a demeanor not every equestrian can handle, but it does make for a magnificent horse. Thoroughbreds range in height from around 15 hands (60 inches) to 17 hands (68 inches). Most stand at roughly 16 hands (64 inches) tall. They typically weigh between 1,000 and 1,200 pounds. Thoroughbreds come in every solid equine coat color. Most often they are bay, brown, chestnut, black, or gray. Many breed registries don't recognize coat patterns that include more than one color. But white facial and leg markings, such as blazes or stockings, are allowed, though many thoroughbreds are plain with minor to no markings.

The Welsh Pony and Cob is a group of four closely-related horse breeds including both pony and cob types, which originated in Wales in the United Kingdom. All sections of Welsh ponies and Cobs have small heads with large eyes, sloped shoulders, short backs and strong hindquarters. The forelegs are straight and the cannon bone short. The tail is high-set. The breed ranges from 11 hands (44 inches, 112 cm) for the smallest ponies to over 16 hands (64 inches, 163 cm) for the tallest Cobs. They may be any solid colour, but not piebald, skewbald, (US: pinto) or leopard-spotted. Black, grey, chestnut and bay are the most common, but there are also duns and palominos. However, British equine colour terminology commonly refers to the buckskin colour, which is caused by the same dilution gene that produces palomino, as 'dun', but the true dun gene is extremely rare in the Welsh breed.
---