Alpine goats are a medium to large sized breed. Males are over 81 cm (32 in) tall at the withers and females are over 76 cm (30 in) tall at the withers. Their hair is short to medium in length, and they come in all colours and combinations of colours. They have erect ears and a straight profile, and are described as being 'alertly graceful' with the ability to adapt to any climate thanks to their hardy nature. They are the only breed with erect ears that comes in all colours and combinations of colours. The sexual maturation rate among Alpine goats is at four to five months after birth for buck kids, and five to six months after birth for doe kids. However, doe kids should not be bred until they are at least 75-80 lbs. A doe's gestation lasts for 145 – 155 days, with 150 being the average. Twins are the most common, but they can have singles, all the way up to quintuplets. Alpine goats are friendly and highly curious, however they can be independent and strong-willed. The American Dairy Goat Association faults all-white and Toggenburg patterned individuals.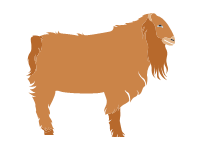 LaMancha, American breed of dairy goat known for its much-reduced external ears. The lineage of LaManchas is uncertain; their relation to goats of the La Mancha region of Spain is not proven. The breed was developed in the early 20th century on the West Coast of the United States from unusually short-eared goats believed to be descended from goats brought to California by Spanish missionaries. Those goats were bred to several other breeds, including Nubians and Alpines, until a distinctive American LaMancha breed was developed. Official recognition by the American Dairy Goat Association came in 1958. True-bred LaManchas must have one of only two distinct ear types: "gopher ears," which may be up to 1 inch (2.5 cm) in length but preferably are nonexistent; or "elf ears," which have a maximum length of 2 inches (5 cm). Only bucks with gopher ears are accepted for breeding, as bucks with elf ears may sire "throwback" kids with standard longer ears. The face must be long and straight; a curved nose of the Nubian type disqualifies a specimen from the show ring. LaManchas have a short and glossy coat with numerous colour variations and patterns. They are considered a docile breed and are excellent producers of a milk that is high in fat and protein.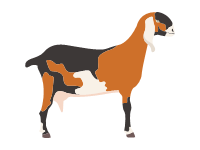 The Anglo Nubian is an all-purpose goat, useful for meat, milk and hide production. It is not a heavy milk producer but has a high average butter fat content (between four and five percent). The Anglo Nubian breeding season is much longer than that of the Swiss breeds so it is possible to produce milk year round.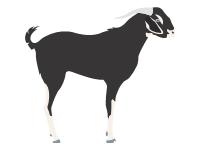 The Black Bengal goat is a breed of goat found throughout Bangladesh, West Bengal, Bihar, Assam, and Odisha. This breed is usually colored black but it is also found in brown, white or gray. The Black Bengal goat is small in size but its body structure is tight. Its horns are small and legs are short. An adult male goat weights about 25 to 30 kg and female 20 to 25 kg. It is poor in milk production. It is very popular in Bangladesh because of its low demand for feed and high kid production rate.[citation needed] The Black Bengal goats gain sexual maturity at earlier age than most other breeds. The female goat becomes pregnant twice a year and gives birth to one to three kids. This breed can adapt to any environment easily and its disease resistance is very high. It produces high-quality meat and skin, and is preferred for the skin and high prolificacy rate. This breed plays a very important role in reducing unemployment and poverty from Bangladesh. They can eat most vegetables, grasses and leaves, but a high amount of carrots is fatal to them.

The Boer goat is primarily a meat goat with several adaptations to the region in which it was developed. It is a horned breed with lop ears and showing a variety of color patterns. The Boer goat is being used very effectively in South Africa in combination with cattle due to its browsing ability and limited impact on the grass cover. Producing weaning rates in excess of 160% the Boer goat doe is a low maintenance animal that has sufficient milk to rear a kid that is early maturing. The mature Boer Goat ram weighs between 110-135 kg (~240-300 lbs) and ewes between 90 and 100 kg (~200-225 lbs).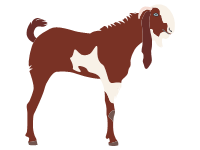 There is a large variation in color but the typical Jamnapari is white with patches of tan on the neck and head. Their heads tend to have a highly convex nose, which gives them a parrot-like appearance. They have long flat drooping ears which are around 25 cm long. Both sexes have horns. The udder has round, conical teats and is well developed. They also have unusually long legs. The Jamnapari male can weigh up to 120 kg, while females can reach around 90 kg. The average lactation yield per day has been found to be slightly less than two kilograms. Jamnapari meat is said to be low in cholesterol.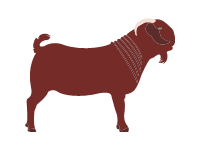 The Kalahari Red is a meat-type goat breed that originated in South Africa. The namesake comes from the Kalahari desert, which spans the borders of Botswana, South Africa, and Namibia. This semi-arid climate has contributed to Kalahari's overall hardiness. Although guided by selective breeding, natural selection played a major role in the development of this breed. These are particularly sun, parasite, and disease resistant livestock. The most distinct visual characteristic of Kalahari Red goats is their red coat color. White or light shades of red are not desirable, as they do not provide as much camouflage from predators in their native pastures. They also have strong herding instincts for protection as well. Kalahari Reds have long, floppy ears. Above their ears are moderately-sized, sloping horns. Their frame is similar to that of the popular South African Boer goat. Kalahari Red goats can be used as a good crossbreed to increase hardiness and carcass size. Rams should larger than does, with loose skin in neck region. Although commonly believed, Red Kalahari Goats are not related to or are a derivative of Boer goats. Genetic and blood testing from the Agricultural Research Council of South Africa has not shown evidence of being developed from a particular breed.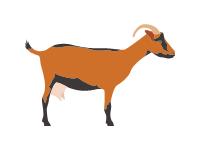 The Oberhasli is a breed of dairy goat from the district of the Canton of Berne in Switzerland. The name loosely translates as "highlander." This breed is of medium size, vigorous and alert in appearance. Its color is chamois. Does may be black but chamois is preferred. Chamois is considered being bay, ranging from light to a deep red bay, with the latter the most desirable. A few white hairs in the coat and about the ears are permitted.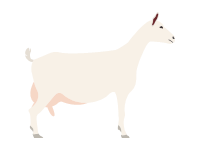 The Saanen is a Swiss breed of domestic goat. It is a highly productive dairy goat distributed in over eighty countries worldwide. The Saanen is the giant breed of Swiss goat. It has white skin and a short white coat. It may be horned or hornless, and tassels may be present. The profile may be straight or somewhat concave; the ears are erect and point upwards and forwards.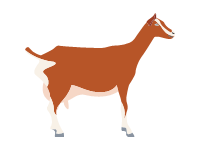 The Toggenburg is a breed of goat named after the region in Switzerland where the breed originated, the Toggenburg Valley. Toggenburgs are medium in size, moderate in production and have relatively low butterfat content — 2 percent to 3 percent — in their milk. They are also known as being the oldest dairy goat breed. This breed is sturdy, vigorous and alert in appearance and does weight at least 120 pounds, or 55 kilograms. The hair is short or medium in length, soft, fine and lays flat. Its color is solid, varying from light fawn to dark chocolate. They have distinct white markings of the following: white ears with dark spot in middle, two white stripes down the face from above each eye to the muzzle, hind legs white from hocks to hooves, forelegs white from knees downward with a dark band below the knee, a white triangle on either side of the tail, a white spot at the root of wattles or in that area if no wattles are present. Varying degrees of cream markings instead of pure white are acceptable but not desirable. The ears are erect and carried forward. Facial lines may be dished or straight, never roman.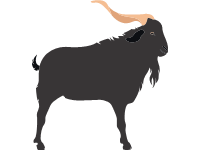 The Verata is a traditional Spanish breed of domestic goat. It is a dual-purpose breed, reared both for its meat and milk. The Verata has been known to be pretty easy to handle; they are popular in the dairy and meat industries and can adapt well to the different management systems. They have been known to be very hardy and can survive in many climates. They are adapted to the mountain pastures because they have strong, long legs and can survive on poor and scarce feed.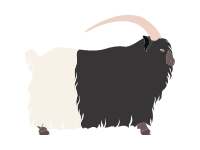 Swiss goat breed Welsh Chernosheeya, which is considered one of the oldest in Europe. In fact, the ancestral home is Africa, where animals were brought in 930 year. The first European place where settled Welsh goats, was the Swiss Valais town, located in a mountainous area. To our days the breed is very thinned out, there are very small numbers of animals of this breed. Mainly they can be seen in Zermatt, Saas-Fee, and all the same Vale, but only in small quantities and in most cases in zoos as an exotic. A small population of black-necked goats Welsh preserved in Germany. Breed relate to meat and dairy. The main feature of the Welsh goat's horns are. They are almost the same huge, as in the no less famous rock goats Girgentana. The average size of the horn in males up to 80 cm, and goats – 40-50 cm, hornless thoroughbred animals do not exist. The names of the breed set a world record for the longest horns in goats, which was the length – 1.24 m!
---