Aberdeen Angus cattle are naturally polled and can be black or red in colour although black is the dominant colour, white may occasionally appear on the udder. They are resistant to harsh weather, undemanding, adaptable, good natured, mature extremely early and have a high carcass yield with nicely marbled meat. Angus are renowned as a carcass breed. They are used widely in crossbreeding to improve carcass quality and milking ability. Angus females calve easily and have good calf rearing ability. They are also used as a genetic dehorner as the polled gene is passed on as a dominant characteristic.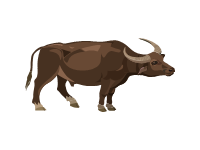 The Milking Devon is red in colour, varying in shade from deep rich red to light red or chestnut colour. They may show white on the tail switch, udder or scrotum. They are of a medium size, mature cows will weigh about 1,000 – 1,200 pounds at maturity and bulls may weigh 1,400 – 1,700 pounds at maturity. They have medium sized curving horns that are light coloured with dark tips. The Devon cow is especially elegant with her compact rounded form, and when treated with kindness, possesses a docile temperament. They have very few calving difficulties and adequate milk production to raise a calf and for use on the small farm. The Devon bull is noted for his ease of handling and even temperament. The Milking Devon is a triple-purpose breed adapted to survive on a low-quality, high forage diet under severe climatic conditions. They are healthy, long lived, and thrive on good care and management. Today, Devons are still sought out for use as oxen. Those qualities so highly prised by the colonists can still be found in today's Devons.

The Carabao buffalo is a swamp-type breed of domestic water buffalo which is native to the Philippines. It is considered the national animal of the Philippines. It is also the official animal of the state of Negeri Sembilan, Malaysia. During 300 to 200 BCE, water buffaloes were probably introduced to the Philippines by Malay immigrants.The Carabao buffalo has a low, wide and heavy build body. Their body coloration vary from light grey to slate grey. They have common chevrons, and their horns are sickle-shaped or curve backward toward the neck.Average body height of the mature Carabao buffalo is between 127 and 137 cm for bulls, and between 124 and 129 cm for cows. Average live body weight of the mature bulls is between 420 and 500 kg. And average live body weight of the mature cows is between 400 and 425 kg.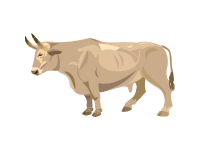 The typical Charolais is white in colour with a pink muzzle and pale hooves, horned, long bodied, and good milkers with a general coarseness to the animal not being uncommon. There are now Charolais cattle being bred black and red in colour. Charolais are medium to large framed beef cattle with a very deep and broad body. They have a short, broad head and heavily muscled loins and haunches. Charolais have demonstrated growth ability, efficient feedlot gains and in carcass cut-out values. With excellent meat conformation, especially of the valuable parts and relative late maturity they are well suited to fattening for high finished weight. They are well suited to all purpose cross breeding.

The colour of the Guernsey varies from yellow to reddish-brown with white patches. They have a finely tuned temperament, not nervous or irritable. Physically the breed has good dairy conformation and presents the visual impression of a plain animal bred for utility rather than good looks. The cow weighs 450 to 500 kg slightly more than the average weight of the Jersey cow which is around 450 kg (1000 pounds). The bull weighs 600 to 700 kg. They have an attractive carriage with a graceful walk, a strong back, broad loin, wide rump and deep barrel, strong, attached udder extending well forward, with the quarters evenly balanced and symmetrical. Heifers generally come into milk at about two years of age. The average weaning weight of heifers and bull calves is 75 kg. The Guernsey bull has an attractive individuality, revealing ample vigour and masculinity. It has smooth-blending shoulders showing good refinement, strength and even contour.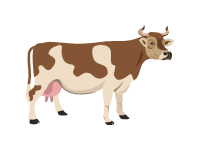 The modern Hereford is coloured dark red to red-yellow, with a white face, crest, dewlap, and underline. Herefords with white flanks and white markings below the knees and hocks are also common. Most animals have short thick horns that typically curve down at the sides of the head, but there is a polled strain in North America and UK (Polled Hereford). Mature males may weigh up to 1,800 pounds, while mature females may weigh around 1,200. They are muscular, moderate to long in length of side, adequate in length of leg, large in size, trim, and smooth. They are also well developed in the regions of valuable cuts - the back, loin, and hind quarters or round. These cattle are known for their vigor and foraging ability and for their longevity, many females live and produce calves beyond the age of 15 years. Bulls are capable of remaining profitable at stud to the age of 12 or more. Many breeders keep their elderly cattle until they die of natural causes. Herefords will stand out in the arctic snows of Finland, endure the heat of Northern Transvaal, withstand the tough climate and rough grazing of northern Uruguay or the sub-tropical zones of Brazil and continue to thrive. Herefords are generally docile and fast growing cattle with good beef quality.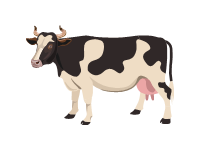 Holsteins are most quickly recognized by their distinctive colour markings and outstanding milk production. Holsteins are large cattle with colour patterns of black and white or red and white. A healthy Holstein calf weighs 90 pounds or more at birth. A mature Holstein cow weighs about 1500 pounds and stand 58 inches tall at the shoulder. Holstein heifers can be bred at 15 months of age, when they weigh about 800 pounds. It is desirable to have Holstein females calve for the first time between 24 and 27 months of age. Holstein gestation is approximately nine months. While some cows may live considerably longer, the normal productive life of a Holstein is six years. Average production for all Holsteins enrolled in official U.S. production-testing programs in 1987 was 17,408 pounds of milk, 632 pounds of butterfat and 550 pounds of protein per year. There is growing interest in the polled factor in dairy cattle. All breeds have some polled (naturally hornless) cattle. A number of Red & White breeders have shown a special interest in developing polled cattle. A large number of polled young sires, both red and red factor are currently in sampling.

The Hungarian grey cattle is a real national symbol of Hungary, an animal that is indigenous to the country and is protected by law. Its vehemence, beauty, and an appearance hinting primordial force have made it known all over the world as one of the main characteristics of the Great Hungarian Plain. Cows weigh 550 to 600 kg, bulls 700 to 900 kg, with strong and tough muscles. Their colour varies with age. Calves are born with reddish-yellow hair, and by the age of 6-8 months they turn completely grey. Adult animals' colour may vary from silver to cinereous. By the age of 3-4 years, the final, sooty colour of bulls develops: the neck, the front part of the forelegs, a part of the shoulders, the withers, chest and belly are coloured black, with dark circles around the eyes.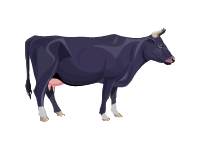 Wagyu is any of the four Japanese breeds of beef cattle. In several areas of Japan, Wagyu beef is shipped carrying area names. Some examples are Matsusaka beef, Kobe beef, Yonezawa beef. In recent years, Wagyu beef has increased in fat percentage due to decrease in grazing and an increase in using feed, resulting in larger, fattier cattle. The Japanese Black breed is genetically predisposed to producing carcass lipids containing higher concentrations of monounsaturated fatty acids than other breeds. However, there are numerous problems with the management of this breed including high production costs, disposal of untreated excrement, the requirement for imported feed, and food security risks resulting from various viral diseases introduced by imported feed. The feeding system needs to shift to one that is more efficient, and improves management for farmers, food security for consumers, and the health environment for residents of Japan.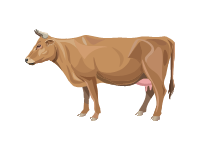 Jersey, breed of small short-horned dairy cattle originating on Jersey, one of the Channel Islands; it is believed to have descended from French cattle. The colour of the Jersey is usually a shade of fawn or cream, but darker shades are common. In the late 18th century measures were passed prohibiting the importation of cattle into Jersey except for immediate slaughter, and by the early 19th century the indigenous breed came to be recognized as pure. Jersey cattle have been introduced in large numbers into England, one of the earliest herds being formed in 1811. The first exportation of registered Jerseys to the United States was in 1850. The Jersey is adaptable to a wide range of conditions, and its distribution is worldwide. Jersey milk is remarkably rich in butterfat, and for that reason animals of this breed are in demand for crossing with native stock to improve the butterfat percentage in milk. Jerseys are of great importance where butter is a major product, as in New Zealand and Denmark. Because of their small size and lack of muscular development as well as the yellow colour of body fat, Jerseys have lower beef value than the other major breeds. Their principal capacity lies in their efficient production of milk high in butterfat and milk solids.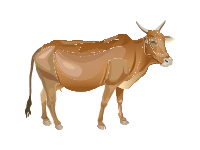 Murrah Buffalo is a most productive water buffalo breed. Murrah buffaloes are resistent to diseases and easily adapts to south indian climatic conditions. All these factors make Murrah Buffaloes highly suitable for professional and orgainzed dairy farming. We are specialists in supplying high yielding Murrah Buffaloes at nominal costs. The body of murrah buffalo is well built, heavy and wedge shaped. The head is comparatively small and face is comparatively long. Murrah buffaloes are jet black in colour. The eyes are not walled(the eye cornea should not have whiteness). The horns of a Murrah Buffalo are different from other breeds of buffaloes - they are short, tight, turning backward and upward and finally spirally curving inward. The tail is long reaching upto fetlock joint with length upto 8 inches. The legs are comparatively short but are strong built. Skin of murrah buffalo is smooth and soft with scanty hair. The udder is fully developed and drooping. The teats are equally spread over the udder and usually the hinds teats are longer than front teats. The average body of a male Murrah Buffalo is around 550 kgs and female is around 450 kgs. The average height of a male is around 1.42 meters and female is 1.32 meters.

Ongole cattle are known for their toughness, rapid growth rate, and natural tolerance to tropical heat and disease resistance. It was the first Indian breed of cattle to gain worldwide recognition.The weight of an Ongole female is 432 to 455 kg. Milk yield is 600 kg to 2518 kg. The lactation period is 279 days. Ongole milk has a butterfat content of over five percent. This results in large, well-nourished calves with considerable growth by the time of weaning. Ongole cows stay close to their calves to protect them from predatory animals.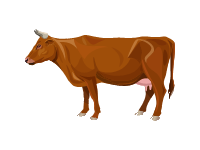 Red Poll cattle are a deep red colour with good eye and udder pigmentation (avoids sunburn)and naturally polled. They are medium size (similar to all British breeds) with strong legs and good walking ability. Both cows and bulls are very docile and so are easy to handle, they are easy calving and because of their milking ability they produce a low weight, fast growing calf. For these reasons the bulls are used as dairy beef sires plus the cows frequently produce calves at the age of 15 or more. The beef is fine grained and has won the competitions in Australia for the most tasty and tender beef as judged by a consumer panel. Red Polls are still milked in England - the milk has a small fat globule so is the next best to goat's milk if people are allergic to cow's milk.

The fighting bulls are usually medium sized animals with normal coloration, but many are also colored black or dark brown. They are easily characterized by their aggressive behavior, especially when solitary or unable to escape. These animals usually reach maturity slower than other meat cattle breeds. Because they were not selected for being heavy (instead having a well-muscled look). The fighting bulls have a distinctive profile for a complex of muscles over the shoulder and neck and the strength with their horns. Their horns are usually longer than most other cattle breeds. And the horns are also present in both males and females.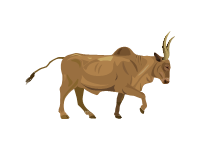 The most spectacularly coloured of all cattle, with shadings and combinations so varied that no two are alike, they reach maximum weight in eight or ten years and range from 800 to 1500 pounds. Although slow to mature, their reproductive period is twice as long as that of other breeds. Most longhorn cows and bulls have horns of four feet or less. However, mature steers have an average span of six feet or more and a 15-year-old's horn span reach up to nine feet. It does not take eight to ten years for Texas Longhorns to reach their maximum weight and they are by no means slow to mature. Texas Longhorn heifers have been known to conceive while still nursing their mother and produce a living calf without assistance before they are even 16 months old. This is not slow maturity. Longhorns have a natural resistance to the most common cattle diseases and parasites, including the worst enemy of range cattle, the screw worm. Soon after a calf is born, blow flies deposit eggs in its navel, and under the cow's tail. The cows instantly lick the worms off the calf and themselves. If the worms infest some part of a longhorn's body that it can't reach, it will stand for hours in deep water, drowning them. Texas Longhorn cattle eat a wider range of grasses, plants, and weeds than do most other cattle. Texas Longhorn owners are able to use pastures that require less fertilizer and weed killers than owners of other breeds of cattle. The Texas Longhorn produces a very lean beef (more meat less fat per ounce). Studies at major universities have shown that Texas Longhorn beef is significantly lower in cholesterol than other breeds of beef cattle. A Texas Longhorn's, who was raised on grass without chemicals or supplements, meat is lower in cholesterol than a skinless chicken breast. The Texas Longhorn owner can feel good knowing he is producing a heart healthy product for consumption. Their Meat is very tasty and a pretty bright red colour. The Texas Longhorn is the living symbol of the Old West.
---