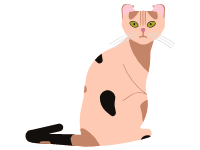 The American Curl is one of the youngest cat breeds. It was born of a natural genetic mutation that first appeared in Shulamith, a stray black kitten with long, silky hair and, strangely, ears that curled backward. She found her way to the welcoming door of Joe and Grace Ruga in Lakewood, California. The Rugas named her Shulamith after the "black and comely" princess in the Old Testament book the Song of Solomon.This well-muscled cat, while not large, has a long body compared to the overall size. The American Curl has medium-sized bones so she is not a delicate cat despite the length of the body.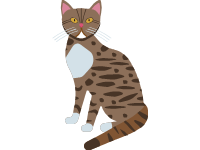 The American Wirehair is a medium-sized cat, but she is a very powerful one. She is heavily muscled and has heavy boning. Her rounded, thick appearance makes you realize that she will be heavy when you pick her up. The Wirehair is a powerful cat. She has a broad chest, a muscular neck, strong jaws and a well-developed muzzle. Her legs are thick and strong. All components of this cat should be well developed. She looks like her ancestors, which were cats meant to keep rodents out of the barn and the house.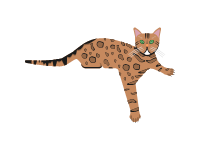 The Bengal could never be called delicate. They're athletes: agile and graceful with a strong, muscular body, as befits a cat who looks as if they belong in the jungle. Despite their wild appearance, Bengal cats are actually quite affectionate with their human families. That said, they also have high energy and a fun-loving, playful side. They want to stay active and need a home that can match their energy. If you can fulfill the Bengal's need for exercise, you'll have a smart, loving cat who can keep you on your toes. This is a medium-to-large cat. Bengals weigh eight to 15 pounds or more.

British Shorthairs come in many different colours, including a silver tabby. The common choice is a handsome grey-blue, but the British Shorthair is bred in more than 100 colour and coat pattern combinations. The coat is short and dense, requiring little or no grooming. Life span is around 15 years, but British Shorthairs can live well into their late teens.

The main feature of a Sphynx cat is its lack of a fur coat! The cats are not, however, entirely hairless but covered with fine, downy hair that is said to be like a peach skin. This cat has no whiskers or eyelashes. The head resembles that of a Devon Rex. The eyes are deep set and the shape of a lemon. The body is fined boned but muscular and has a barrel chest. The legs are long and slender and have a bow legged appearance caused by the barrel chest. The tail is long and tapering and hard to the touch. They are warm and soft to touch and have earned the name 'suede hot water bottle'. The skin is wrinkled on parts of the head, body and legs but should be taut everywhere else. Pigmentation is clearly visible on the skin of the Sphynx cat. All skin patterns and colours are acceptable.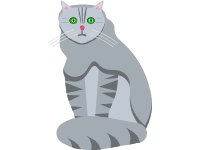 The Chinchilla cat comes in one colour - white with green eyes. It has a broad head with small wide-set ears and a short open face. The eyes are large and round with brilliant colour. Although the Chinchilla cat tends to be more finely boned than most Persian cats, its legs are still fairly short, thick and strong. The tail is short and bushy. The coat is long, thick and luxuriant with a dense, soft undercoat.

Egyptian Maus also love playing with water and are smart enough to learn how to turn on the faucet. Despite her high energy levels, she adores curling up in your lap for a snuggle session. She's great with playful children and other cat-friendly pets who can keep up with her active and energetic lifestyle, though reserved and wary around unfamiliar guests.The Egyptian Mau is a wedge-shaped, but soft head sits atop her muscular body. The forehead features an "M" shape, and her cheeks have "mascara" lines, all of which create a slightly "worried" look. Medium-to-large ears top the wedge-shaped head. Her spots range from small to large and vary in shape. The hind legs are longer than the front and she has small, delicate feet. Her tail is long and banded with a dark tip.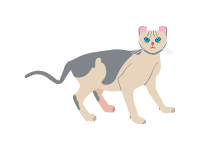 Elf cats are medium to large in size. the can weigh from 3.6 kg. to 6.8 kg. or 10-15 lbs. Their ears are large and should be curled between 90-180 degrees. They have prominent cheekbones and whisker pads. Skin is wrinkled. They have long tapering tails. Some Elf Cats may have a thin layer of soft fur on their bodies. They should be kept out of direct sunlight and protected from cold. To prevent skin infections, bathe regularly. Groom twice weekly at least with sponge baths.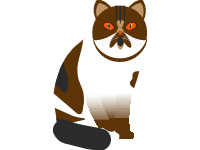 The Exotic is nicknamed "the lazy man's Persian" because he shares the Persian's sweet face, but his short, plush coat is easier to care for. Exotics are more lively than the laidback Persian, but they also love to sit in a lap. They can live to be 15 years or more.The endearing Exotic is a peaceful, easygoing companion who will be content to quietly follow you around and then sit in your lap for petting whenever you give him the chance. Males have a reputation for being especially sweet and loving. Females can be a bit more independent, but they are just as devoted and loyal as males.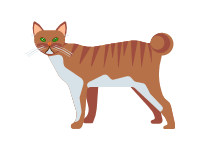 The Kurilian Bobtail's looks are deceiving. At first glance, he may look compact, but when you pick him up, you discover that he's a solid bundle of muscle. The cats may not reach their full size until they are 5 years old. The Kurilian is sometimes said to resemble a lynx, with his bobtail and long hind legs. Those long hind legs make this cat a superb jumper, and he's renowned for his hunting skills. If you live with a Kurilian, any rodents (or possibly small pets) in the area are at risk. They are also known for enjoying playing in water, not surprising given their island heritage and water-resistant coat. The Kurilian can snag a salmon in his homeland, so guard your koi or other fish carefully from him. Not surprisingly, he can adapt to many different climates and environments, from country to city. This is a highly active cat, but that doesn't mean he won't sit still for a little petting. He's usually trusting and friendly, traits that may make him a good companion. He may, however, choose a single person to be his favorite, leaving other family members out in the cold.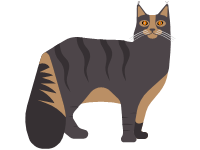 The Maine Coon is medium to large, and males are larger than females. The body is long and rectangular and the tail is also long. For these reasons, she may look much larger than she is. The Maine Coon is a heavily boned, muscular cat. Originally she was an outdoor cat, and later became a working breed who kept barns and homes clear of rodents. The head is large with tall ears. The profile shows a slight dip under the large eyes. The chest is broad, and the legs are thick. The coat of the Maine Coon is heavy but silky. An interesting characteristic is that the coat is shaggy and drapes longer on the stomach and behind the legs (britches) but is shorter over the shoulders. Despite her size and history, the Maine Coon cat is sweet tempered and gentle. She loves her parents and adapts to any environment as long as she has some exercise room. When she runs, she can be quite loud but her soft, quiet voice reassures you that this lion is truly a lamb.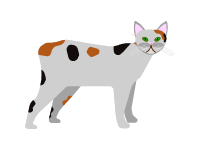 The Manx is a medium-sized cat but she is stocky and heavily boned. The Manx can appear larger than she is and fanciers may not realize how heavy she can actually be at maturity. The Manx is a rounded cat with a round head, round eyes, a roundness at the whisker pads, and a round rump. The ears form a rocker shape when viewed from behind. The hind end of the Manx is higher than the front, which is apparent when she is standing. In the completely tailless Manx, your hand will slide right down the rump with no stopping and not feeling any protuberance. These cats are called Rumpies. Not every Manx is completely tailless. Some Manx are called Stumpies as these cats have a small stump of a tail. Others are called Rumpy Risers because when your hand goes down around the rump, it causes the small tail to rise. As a Rumpy Riser ages, this little tail may be covered by a fat pad and will no longer rise when you pet it. Some Manx kittens are born with full tails and some are born with half tails. The Manx has short hair, but the hair is a double coat. This makes it thick and dense. Some cat registries also recognize a longhaired Manx. Some give the longhaired the separate breed name of Cymric; others merely call her a longhaired Manx.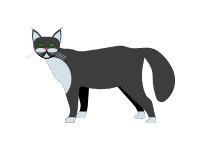 The Norwegian Forest cat is larger than the average cat. It is an elegant breed with a semi-longhair coat (it is a little shorter in the summer). The body is long, muscular and strongly built with solid bone structure. It has long legs and a bushy tail. The head is long and triangular with a straight profile and high set ears with a tufted tip. A smooth glossy coat covers the woolly undercoat, which is water-repellent. A cat in full coat has a ruff, shirtfront and knickerbockers and even tufts of hair between the toes. The Norwegian Forest cat may be any colour except chocolate, lilac or Siamese cat pattern and may have any amount of white markings on the paws, chest, belly or face. The eyes may be any colour.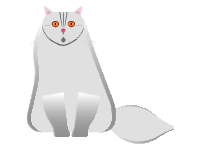 The Persian kitty has some distinct features, including a round head with a short face and snub nose. She also has chubby cheeks, big, round eyes and small, rounded ears. Persians have short, strong legs to support their sturdy bodies. They enjoy playful activities but are also content to drape themselves over an armchair rather than attempting to climb atop a bookcase. Persian kitties do well with mild-mannered children and laid-back dogs.The original Persian Cat had shiny, gray fur. Due to selective breeding, however, they now boast an array of different colors. In fact, there are 7 different coat color divisions total for competition purposes. These range from silver and gold to white, smoky and solid-colored. Their eye color corresponds to their coat color. For example, white Persians tend to have deep blue or copper eyes, whereas silver or golden Persians have green eyes and solid-colored cats have copper eyes.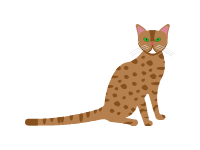 Savannah Cats have strong hunting instincts, so they aren't always suitable for households with pets like fish, hamsters, and birds. Her temperament is mild, though, so she's a great companion to other cats and dogs, children and other humans in her home with proper socialization as a kitten. Although later generations of the breed are similar in weight to other breeds, they appear larger due to their height. Savannah Cats are characterized by their long, slender necks, triangular heads and large, wide ears that sit on top of their heads. They also have longer-than-average legs. If you want an exotic-looking cat, the Savannah is a beautiful choice. Resembling their African Serval ancestors, Savannahs are typically black, brown or silver tabbies with black or dark brown spots. Some may have lighter colors or a smoked pattern, however.

The most noticeable feature of a Scottish Fold cat is its ears, which are small and tightly folded forward to cover the ear opening. The tips of the ears are rounded. The Scottish Fold is of medium size with a solid compact body. The head is rounded, with well-defined whisker pads, and is set on a short neck. The eyes are large and wide open with a sweet expression. The coat of the Scottish Fold is short and dense. It comes in a variety of colours and patterns.

The Siamese is a long, elegant cat. The body is long, the neck is long, the legs and tail are long. The breed is medium sized but nicely muscled. The Siamese is a cat of extremes. The head is a long triangle. The tall ears are set on the head to be a continuation of this triangle. The nose is long and straight. The legs are long and slender. The tail is long and tapers to a point. The eyes are almond shape and bright blue. The Siamese coat is short, glossy and lies close to the body. The beauty of the Siamese cat is the look of the slender body, the blue eyes and the contrast between the color on the body and the darker color of the extremities. This contrast is called color restriction, or, more commonly, pointing. The color of the fur on the ears, tail and feet are a different color than that of the body, and this darker color gradually blends into the lighter color of the body. The face also shows a mask of the same deeper point color. The mask covers the face, surrounds the eyes and covers the whisker pads. The mask is smaller in a kitten and gradually increases as she grows.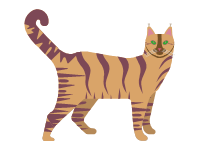 The Siberian's head is wedge-shaped with soft contours, topped by medium to large tufted ears. Their nearly round eyes range from shades of green to gold to copper, though white Siberians or those with white markings or patches may have blue eyes or eyes of different colors. Strong-boned legs and round, tufted paws support their muscular body and long, thick tail. They're an active and playful breed, enjoying games like fetch and learning tricks that stimulate them mentally. Their athleticism allows them to climb and perch themselves from the highest heights. This bold cat loves to play with water and gets along well with other pets and children. Siberians shed seasonally in the spring and fall. To keep their coat tangle- and mat-free, brush them a few times per week. Baths are rarely needed, thanks to their water-resistant triple coat.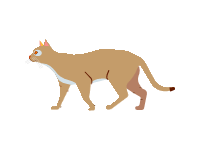 The Singapura cat is a small breed with a big personality. This micro-sized kitty—the smallest breed of domestic cats—is known for its love of being in the middle of the action and thriving on attention. Read on for more Singapura cat information if you're considering adopting one of these playful pets.The Singapura cat might be little, but the breed is certainly not delicate! This cat has a high-energy personality that shines. She is a curious, highly intelligent, and frisky breed that thrives on the attention of her family. Singapura cats are muscular and love to climb and explore. They want to be in the middle of the action and will be right by your side, for instance, while you do chores—ready to play if you thrust a duster in their direction.

The snowshoe cat is a very kind and intelligent creature with a playful personality. She'll do what she can to get your attention, including jumping on your lap when you're trying to work or observing your every move from a high perch. If you have a snowshoe, you should consider purchasing a cat condo for your furry friend because she loves to be up high. Her personality definitely is not that of the loner cat, as she requires companionship and isn't happy when left alone for long periods of time. Cats of this breed will attach themselves to one pet parent, and if you're the lucky chosen one, you'll soon discover that you have a constant companion — much like a dog. 'They like to be near you, but unlike a dog, they prefer to lead you than to follow you,' explains TICA. 'Once 'owned,' you will probably never want to be without one.' The snowshoe is most content when everyone is at home, and because she is so good-natured, she's a great choice for families with young children or other cats.
---