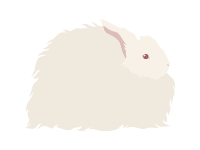 The Angora rabbit (Turkish: Ankara tavşanı), which is one of the oldest types of domestic rabbit, is bred for the long fibers of its coat, known as Angora wool, which are gathered by shearing, combing or plucking. Because rabbits do not possess the same allergy-causing qualities as many other animals, their wool is an important alternative. There are at least 11 distinct breeds of Angora rabbit, four of which are currently recognized by the American Rabbit Breeders Association (ARBA).English Angora, French Angora, Giant Angora and Satin Angora. Others include German Angora, Chinese Angora, Finnish Angora, Japanese Angora, Korean Angora, Russian Angora, St Lucian Angora and Swiss Angora. Angoras are bred mainly for their wool, which is silky and soft. At only 14–16 microns in diameter, it is similar to cashmere in fineness and softness to the touch. A healthy adult Angora's wool will grow approximately 3 centimetres (1.2 in) per month. Regular grooming is necessary to prevent the fiber from matting and felting on the rabbit, which causes discomfort and can lead to pain and even infection. Angora wool is harvested (plucked or shorn) every three to four months throughout the yearThe coat needs to be monitored after 6 months of regrowth since it may tend to 'die' and easily mat.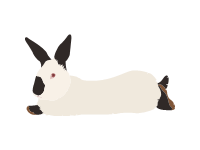 The Californian, also known as the California White, is a breed of domestic rabbit originally developed for the fur and meat industries by George S. West of Lynwood, California, starting in 1923. Mr. West maintained a herd of 300 genetically pure New Zealand Whites (with no Angora genes), which he began crossing with Standard Chinchilla rabbits (for their dense coat) and Himalayan rabbits (from which the Californian's markings come). His new breed, named for the state of its origin, was first shown in 1928 and a standard was accepted by the American Rabbit Breeders Association (ARBA) in 1939. ARBA recognizes only the original 'Standard' color variety of white with dark points, while the British Rabbit Council (BRC) recognizes four color varieties: 'Normal', plus Chocolate, Blue, or Lilac points. The BRC standard calls for a desired weight of 9.5 pounds (4.3 kg) with a minimum 7.5 pounds (3.4 kg), while ARBA accepts a maximum weight of 10.5 pounds (4.8 kg).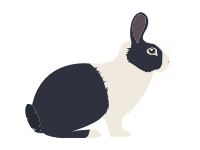 Rounded and balanced — that's the body shape of an ideal Dutch rabbit. These small rabbits, typically 3.5 to 5.5 pounds, sport distinctive markings that make them unforgettable. Dutch is the only breed to guess when you see the white blaze on the nose, white collar around the neck, and white saddle on the back. Despite the name, this popular breed was actually first developed in England. Dutch rabbits are recognized in seven color varieties and were one of the first breeds recognized by the precursor to ARBA.

The English Lop is a fancy breed of domestic rabbit that was developed in England in the 19th century through selective breeding. It is believed to be the first breed of lop rabbit developed by humans, and it may be one of the oldest breeds of domestic rabbit. Averaging 11 pounds (5.5 kg), the English Lop is characterized by its distinctively long lop ears, bold head, and large body size. Adult English Lops are often referred to as the 'dogs of the rabbit world'. They are generally known to be quite placid (even lazy), outgoing, curious and friendly. They can make wonderful pets for children, although as a large breed rabbit any interaction between child and rabbit should be supervised.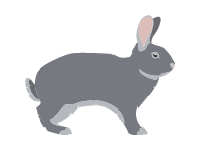 Chinchilla rabbits are a group of three rabbit breeds that have been bred for a coat resembling chinchillas. Despite their name, they are not related to and cannot interbreed with chinchillas, a rodent species. Rabbits are lagomorphs. A mutation diluted the yellow pigment in the hairs to almost white, changing the color of the fur of the wild rabbit (agouti) into chinchilla.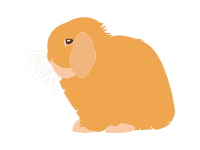 Holland Lop is a breed of rabbit. The Holland Lop, with a maximum weight of of4 lb (1.8 kg) (as stipulated by ARBA), is one of the most miniature lop-eared breeds that only weigh about 2 to 4 pounds. They are muscular, relative to their compact stature, and have a wide variety of coat colors. Their lopped ears are one of their most distinctive features. Holland Lops are among the most popular rabbit breeds in the United States and the United Kingdom.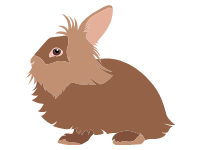 Lionhead is a breed of domestic rabbit. The Lionhead rabbit has a wool mane encircling the head, reminiscent of a male lion as its name implies. Other Lionhead characteristics include a high head mount, compact upright body type, short well-furred 2- to 3 1/2-inch ears, and a weight of 2.5 to 3.75 pounds. In most cases, the Lionhead is a friendly and well-mannered pet, although they can be pretty skittish if they don't feel safe. It is possible to train a Lionhead as they are intelligent creatures. They can comprehend specific orders such as come, play, and eat.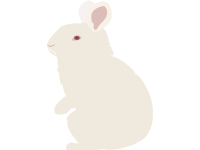 The New Zealand is a breed of rabbit, which despite the name, is American in origin. The breed originated in California, possibly from rabbits imported from New Zealand. New Zealand rabbits are available in five colors recognized by the American Rabbit Breeders' Association (ARBA): white, red, black, blue, and broken. Crossbreeding can result in many other variations, such as gold tipped steel and chestnut agouti. They average 10–12 lb (4.5–5.4 kg) with the does being slightly larger than the bucks. New Zealands are bred for meat, pelts, show, and laboratory uses, being the most commonly used breed of rabbit both for testing and meat production. They are also bred as pet rabbits but mostly breed for meat. New Zealand rabbits were not originally bred to be a domestic pet; they were bred for their fur and meat. Fryers are slaughtered at 8-12 weeks, and older rabbits are sold as roasters. White rabbits are preferred for fur, because it's easier to dye. The rabbits with high grades of fur are used to make fur coats and fur trimmings. The lower grades are used to make felt hats and glove linings ('Commercial Rabbit Raising'). The New Zealand is commonly used as a meat rabbit with a high feed to meat ratio with fine bones, and are considered one of the best breeds for meat production. Production rabbits are fed more protein (18-20% rather than the typical 16-18% for non-production rabbits), and sometimes alfalfa hay.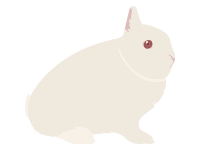 The Polish rabbit is compact breed of domestic rabbit, most often bred by fanciers (as opposed to hobbyists) and commonly exhibited in rabbit shows. Despite its name, the Polish rabbit likely originated in England, not Poland. The breed known in the UK as Polish is the breed known in the US as Britannia Petite. The breed known in the US as Polish is unknown in the UK. Today, the Polish rabbit in the US is used as a fancy exhibition breed and as a pet. Polish rabbits are small, with short ears that touch each other all the way from the base to the tip. This breed has a short head with full cheeks and bold eyes. Due to its small size, the Polish rabbit is often confused with the Netherland Dwarf, although the Polish is a little larger and its head is not rounded. There are many other differences between the two breeds, such as coat structure, body type and colors. The accepted weight a 6-months-or-older Polish rabbit in the US is 2½ to 3½ pounds, with the ideal weight being 2½ pounds. Until the 1950s, most Polish rabbits in the US were white with either red eyes or blue eyes. The ruby-eyed white is a true albino. The blue-eyed white has the Vienna breed's white gene and is not a true albino. Since the 1950s, colored Polish varieties have been recognized by rabbit clubs. In 1957, the American Rabbit Breeders' Association recognized a black as well as a chocolate color in Polish rabbits. In 1982, the blue variety was recognized, and in 1998 the broken variety was approved.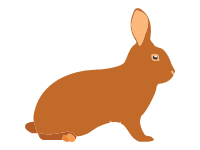 The term rex rabbit (without capitalization) refers informally to one of at least nine breeds of domestic rabbit (or a specimen thereof or similar thereto). One such breed is the Rex, which is recognized by the American Rabbit Breeders Association (ARBA) and by the British Rabbit Council (BRC). Other modern-day rex rabbit breeds are listed below. Care must be taken to distinguish the rex rabbit breeds from the three types of rex rabbit fur for which they are known. Many genes contribute to the Standard Rex breed. The definition of the breed is maintained by ARBA and the British Rabbit Council (BRC). The definition is based strictly on phenotype. The gross external features used to identify the rabbit include weight, coloration, coat texture and length. Of these features, amongst fanciers and the fur industry, the coat properties are of chief concern. This breed has a low to moderate activity level and can jump as high as three feet.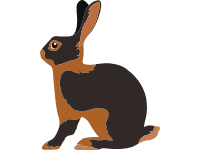 The Tan rabbit is a small fancy breed of rabbit shown throughout the world. While originally from England, in recent years it has gained popularity in the United States. Tans come in four varieties: black, blue, chocolate and lilac. Full grown Tans weigh 4-6 pounds. There are four varieties (colors) in the Tan breed: black, chocolate, blue and lilac. While Tans are shown by variety, not group, in terms of color genetics there are two basic informal color groups: black/blue and chocolate/lilac. Blue is the recessive of black and lilac is the recessive of chocolate. Many recommend breeders who are just starting out to stay within one color group until you become more familiar with color genetics. This means breeding black to black or black to blue or chocolate to chocolate or chocolate to lilac. It is traditionally not recommended to breed a recessive color to another recessive color (i.e. blue to blue), but such crosses can occasionally be successful for the advanced breeder.
---