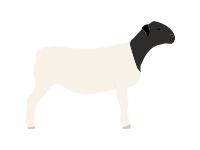 The Dorper is a South African mutton breed developed in the 1930's from the Dorset Horn and Blackheaded Persian. The breed was developed for the arid extensive regions of South Africa. One of the most fertile of sheep breeds that is hornless with good body length and a short light covering of hair and wool. The breed has the characteristic black head (Dorper) as well as white heads (White Dorper). Furthermore the breed shows exceptional adaptability, hardiness, reproduction rates and growth (reaching 36 kg [~80 lbs] at three and a half to four months) as well as good mothering abilities.he Dorper breed was developed through the crossing of the Blackhead Persian ewe with the Dorset Horn and this resulted in the birth of some white Dorper lambs. The difference in color is therefor merely a matter of preference for each breeder. Black-headed breeders constitute about 85% of the members of the Dorper Sheep Breeders' Society of South Africa.The Dorper breed is now numerically the second largest breed in South Africa and has spread to many countries throughout the world.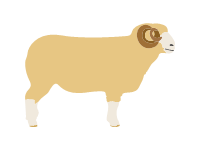 The Dorset Horn, which was developed to its present form in the mid 1800s, and is known for its all round qualities as a meat and wool producer. Its chief distinction is its horns – large and curled – in both rams and ewes. Ewes with horns of this size and type are unique to the Dorset breed among modern domestic sheep, while the rams' horns are even larger and tightly curled in "regimental mascot" style. The Dorset Horn is a big sheep, hardy and very active. It boasts capacious stomach and is an excellent "doer"; a ewe in good condition tends always to look as though she is in lamb and even the rams often look a little "preggie". The fleece is of medium length, fine and very white, and the face and legs, clear of wool, are also noticeably white and show another of the Dorset Horn's distinguishing features – a pink nose and light coloured hooves. This pink and white look is particularly marked in lambs where it appears to be intensified; a young Dorset has hoofs of mother-of-pearl and a nose like a fresh raspberry.

The Friesian sheep breeds are a heathland type sheep, the land environment in much of Frisia. The group includes related dairy breeds taking their names from, and probably largely originating in, West Friesland and Zeeland. Historically, the sheep were kept in small numbers by households for household milk. Today, reportedly these sheep do poorly when in large, dense flocks. In physical appearance, East Friesians have pink noses and their heads and legs are clear of wool. Their heads are naturally polled. They generally have pale hooves. The most distinctive feature of an East Friesian is its tail, which is described as a 'rat-tail' because it is thin and free of wool. Elsewhere on their bodies they have white wool which is about 35-37 microns, with a staple length of 120–160 mm and their fleece ranges from 4–5 kg (8.8–11.0 lb). There also exists a dark brown variation of East Frisians.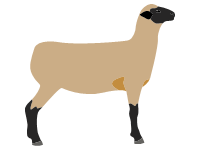 The Hampshire or Hampshire Down is a breed of sheep which originated around 1829 from a cross of Southdowns with the Old Hampshire breed, the Wiltshire Horn, and the Berkshire Nott, all horned, white-faced sheep — these were native to the open, untilled, hilly stretch of land known as the Hampshire Downs. Mature rams should weigh 300 pounds or more and mature ewes should weigh 200 pounds or more in breeding condition. Mature ewes yield on average 6 lbs(2.7 kg) to 10 lbs (4.5 kg) fleece that is 25.0 to 33.0 microns and a spinning count of 46 to 58. The fleece staple length is 2.0 to 3.5 in (5-9 cm) with a yield of 50% to 62%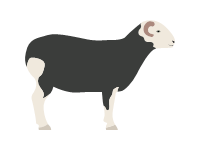 Herdwicks are a dual-purpose breed, producing strongly flavoured lamb and mutton and a coarse, grey wool. The slowly maturing breed is one of the most hardy of all the British hill sheep breeds, withstanding the cold and relentless rain of the Lake District at heights upwards of 3,000 feet (about 1,000 metres). Most Herdwicks spend winter on the fells, from approximately December to April. They are normally left to graze freely on the hillsides (without any additional feed), but each ewe tends to stay in her heaf (the local term for heft), the same small area of fell. Due to the rough conditions on fells, lambing losses can be as high as 25%.This ability to thrive unassisted is part of the reason fell farmers so highly value Herdwicks over much higher-producing lowland breeds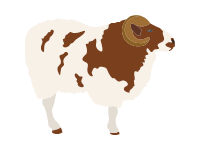 The Jacob is a small, multi-horned, piebald sheep that resembles a goat in its conformation. However, it is not the only breed that can produce polycerate or piebald offspring. Other polycerate breeds include the Hebridean, Icelandic, Manx Loaghtan, and the Navajo-Churro, and other piebald breeds include the Finnsheep, Shetland Sheep and the West African Dwarf. Mature rams (males) weigh about 54 to 82 kg (120 to 180 lb), while ewes (females) weigh about 36 to 54 kg (80 to 120 lb). The body frame is long, with a straight back and a rump that slopes toward the base of the tail. The rams have short scrotums free of wool which hold the testicles closer to the body than those of modern breeds, while the ewes have small udders free of wool that are also held closer to the body than those of modern breeds. The head is slender and triangular, and clear of wool forward of the horns and on the cheeks. The tail is long and woolly, extending almost to the hock if it has not been docked. Jacob owners do not usually dock the tail completely, even for market sheep, but instead leave several inches (several centimetres) to cover the anus and vulva. The legs are medium-length, slender, free of wool below the knees, and preferably white with or without coloured patches. The hooves are black or striped. It is not unusual for Jacobs to be cow-hocked. They provide a lean carcass with little external fat, with a high yield of meat compared to more improved breeds.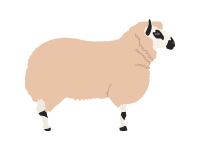 The Kerry Hill is a medium-sized breed of sturdy build, an average ewe weighing about 55 to 65 kg (121 to 143 lb) and a ram a little more.. The face is white with black markings on the nose and around the eyes, with black, wool-less ears set high on the head. The legs are white with black markings. The fleece is fine and white, with a Bradford count of 54 to 56 and a staple length of 10 cm (4 in). An average fleece weighs about 2.75 kg (6.1 lb). The lambing percentage is often 175% and a terminal sire can be used for a larger carcase. The ewes milk well and the lambs grow fast. They can produce a 16 kg (35 lb) carcase at twelve to fourteen weeks, or if overwintered, a 20 to 25 kg (44 to 55 lb) carcase the following spring.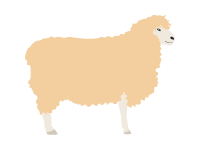 The head of an Leicester Longwool should be carried well, not too high and should have no signs of horns on the poll (forehead). The face is generally in a wedge shape, covered in white hairs and can appear to have a blue tinge. The lips and nostrils should be black. Having black specks on the face and ears is not objectionable. The neck should be of medium length. The shoulders should be strong and level with the back, which should be flat. The legs should be straight and wide apart and the hooves should be black. The fleece should be dense (having thick and blocky clumps of wool also known as the staple). It should be lustrous, indicating the shine on the wool, and should have a well-defined crimp or wave from skin to tip. The common fibre diameter for an Leicester Longwool is 32 to 38 micrometres (microns). The Leicester Longwool should be free, active and well balanced while in movement. It should appear to be alert and robust, showing style and character.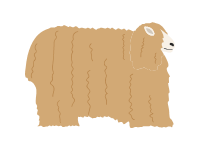 The Lincoln is usually referred to as the world's largest breed of sheep. There is little question that the breed is entitled to this distinction because the average weights of the breed are in excess of those of other breeds, although a few individuals of other breeds may sometimes equal their weights. Mature Lincoln rams should weigh from 250 to 350 pounds (113-160 kg), and mature ewes will range in weight from 200 to 250 pounds (90-113 kg). Lincolns are rather rectangular in form, are deep bodied, and show great width. They are straight and strong in the back and cover thickly as mature sheep. They sometimes lack fullness through the leg and appear somewhat upstanding when in short fleece. The fleece of the Lincoln is carried in heavy locks that are often twisted into a spiral near the end. Lincolns should be very well wooled to the knees and hocks, and occasionally some individuals carry wool below these points. The staple length in Lincolns is among the longest of all the breeds, ranging from eight to fifteen inches (20-38 cm) with a yield of 65 to 80 percent. The fleece usually parts over the back on lambs and sometimes on older sheep. Lincolns produce the heaviest and coarsest fleeces of the long-wooled sheep with ewe fleeces weighing from 12 to 20 pounds (5.4-9kg). The fleece has a numeric count of 36's - 46's and ranges from 41.0 to 33.5 microns in fiber diameter. Although coarse and somewhat hair-like, the fleece does have considerable luster.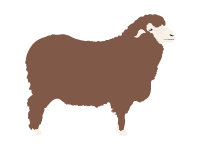 Merino, breed of fine-wool sheep originating in Spain; it was known as early as the 12th century and may have been a Moorish importation. It was particularly well adapted to semiarid climates and to nomadic pasturing. The breed has become prominent in many countries worldwide. Merinos vary considerably in size, conformation, and extent of skin folds, but the prevailing trend in breeding is to develop sheep of medium size, with fair mutton conformation and a minimum of skin folds. The colour of their faces and legs is white. Although they have a considerable growth of wool on their faces, it is seldom extensive enough to cause wool blindness. The fine wool fibres of Merino fleeces are beautifully crimped. Through selective mating and crossing with other breeds, the Merino has served extensively as foundation stock in the creation of many useful breeds and strains of sheep.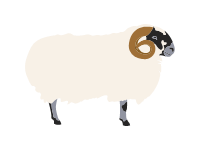 The Scottish Blackface is an attractive, hardy, old breed whose origins are lost to us. It is likely that the breed developed in the border area of Scotland and England.Blackface ewes are excellent mothers and will defend their offspring against any perceived threat. They are good milkers and are able to yield a lamb crop and a wool clip even when on marginal pastures. The breed spread from the border areas during the 19th Century to the highlands and the islands and also to Northern Ireland and the US. There are small flocks scattered across the USA but this robust little breed has remained a minor breed.
---