This is a free Genius Foods for Brain Health infographic template to show the importance of maintaining a healthy lifestyle and making good choices for your body. The template can be used by fitness instructors, for flyers to promote a seminar on the topic or medical centers. The template is a 100% customizable and you can edit every aspect of it with a few simple clicks in MyDraw.
| | | |
| --- | --- | --- |
| Download Template: | | |

| | |
| --- | --- |
| Download Template: | |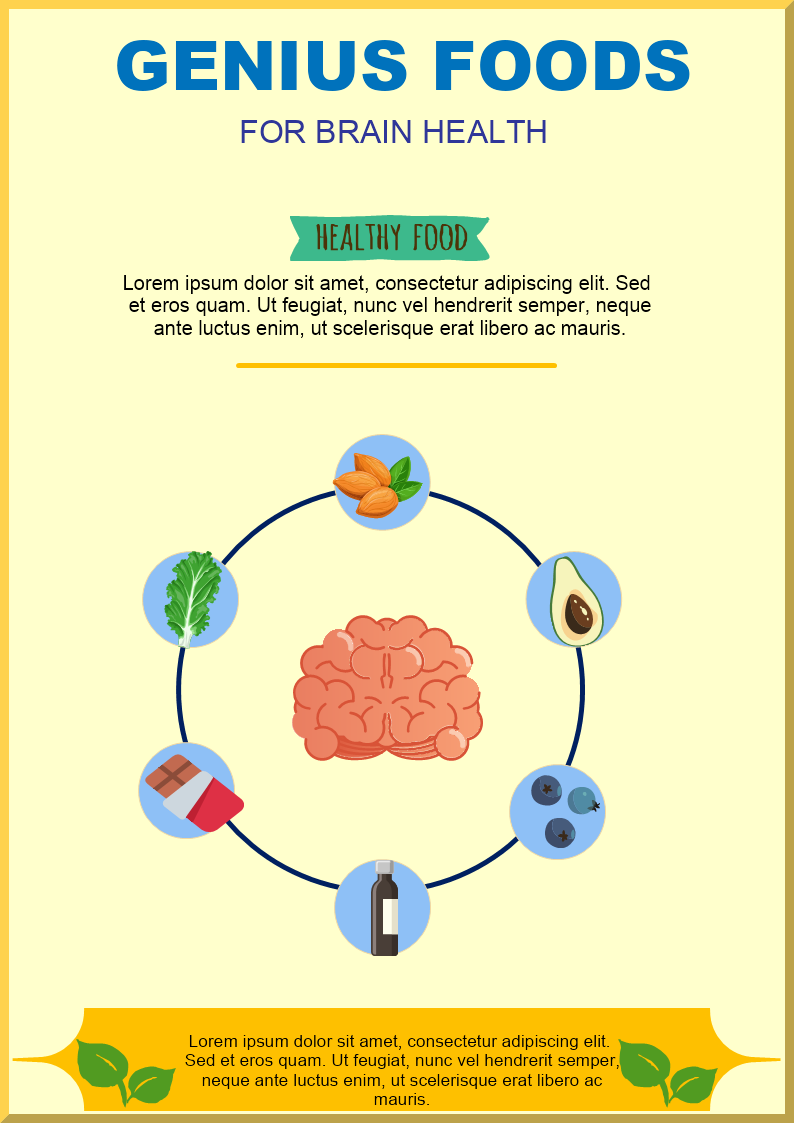 Do you want to become happier, feel healthier, and nurture your body with the needed vitamins and minerals? If the answer is yes, then you need to add good foods for your brain health to your meals.
How to optimize your diet plan?
Rid your kitchen of highly-processed grain and seed oils like corn, soybean, and canola.
Eat a large salad of dark, leafy greens every single day. Brain-boosting favorites: kale, spinach, and arugula.
Use extra-virgin olive oil for salad dressing.
Avoid added sugar and eat a low-grain diet, as grains are energy-dense yet nutrient-poor.
High-intensity physical exercise. Breaking a sweat sends a message to your cells to keep up.
Best foods for your brain health and memory
Fatty Fish;
Coffee;
Blueberries;
Turmeric;
Broccoli;
Pumpkin Seeds;
Dark Chocolate;
Nuts;
Oranges;
Eggs;
Green Tea.
Genius foods recipes
Salmon with roast asparagus-400g potato, halved if large,2 tbsp olive oil, 8 asparagus, spears, trimmed and halved, 2 handfuls cherry tomatoes,1 tbsp balsamic vinegar, 2 salmon fillets, about 140g/5oz each handful basil leaves.
Pear and blueberry breakfast bowl- 1 firm but ripe red-skinned pear(unpeeled), 2 tbsp oats, 150g pot 0% fat bio-yogurt, 3 tbsp skimmed milk, plus a bit extra, 1 tbsp pumpkin seeds, 2 handfuls blueberries.
Turmeric smoothie bowl-10cm/4in fresh turmeric, or 2 tsp ground turmeric, 3 tbsp coconut milk yogurt, or the cream skimmed from the top of canned coconut milk, 50g gluten-free oats, 1 tbsp cashew, butter (or a handful of cashews), 2 bananas, peeled and roughly chopped, ½ tsp ground cinnamon, 1 tbsp chia seeds or chopped nuts, to serve.
Benefits of eating genius foods for your brain health
Reset our mental agility;
Battle brain fog;
Cope with stress;
Stay energized;
Sleep better;
Feel happier;
Improve memory;
Help prevent dementia and Alzheimer's.
This is only a basic template that can be customized from the Food shapes library.