This is a free Email Marketing infographic template that marketers can use to develop a new strategy, start a viral campaign, send as a newsletter, or increase brand awareness through social channels. The template is a 100% customizable and you can edit every aspect of it with a few simple clicks in MyDraw.
| | | |
| --- | --- | --- |
| Download Template: | | |

| | |
| --- | --- |
| Download Template: | |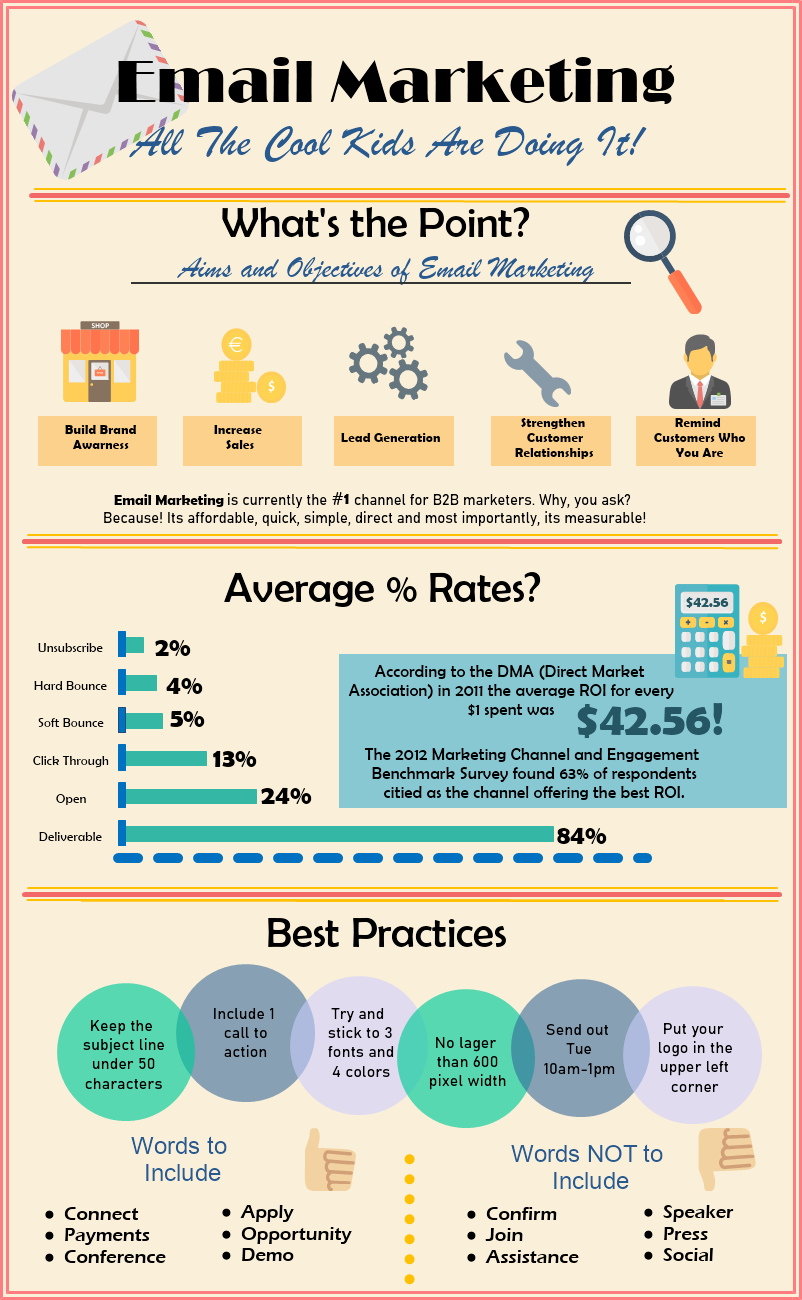 Email marketing is the most direct and effective way of connecting with your leads, nurturing them, and turning them into loyal customers, consistently winning out over all other marketing channels. Email marketing is an effective digital marketing strategy, as it helps the business learn more about the target audience and it offers the highest return rate. Through email marketing a company can reach the goal of driving sales, increasing customer loyalty, or communicating important information.
Types of Email Marketing
Email Newsletters- The newsletter is generally used for product updates, to provide account information or promotional message.
Transactional Emails- Email receipts, invoices, billing statements, order confirmations.
Behavioral Emails- They are automated emails triggered by a customer's interaction with the website, product, or application.
Importance of Email Marketing
Email is the first communication channel;
The list consists of your user base;
The email has the highest conversion rate.
Creating an Email Marketing Strategy
Define your audience;
Set your goals;
Create a way for customers to sign up;
Choose an email campaign;
Create a schedule;
Measure your results.
Best practices
Make your offer solution-oriented and actionable;
Ensure that the asset is easy to consume;
Create your offer with future content in mind;
Make offers that are relevant to each stage of the buyer's journey.
Tips for your infographics design
Choose a compelling header;
Use short text descriptions;
Highlight the important outcomes;
Use visual elements to catch the attention of the target audience.