This is a free Lemon Grow Guide template that can be used as flyers for a farmers market, flyers for seminars/ presentation templates, posters in supermarket shops, or serve as simple guidelines for new gardeners. The template is a 100% customizable and you can edit every aspect of it with a few simple clicks in MyDraw.
| | | |
| --- | --- | --- |
| Download Template: | | |

| | |
| --- | --- |
| Download Template: | |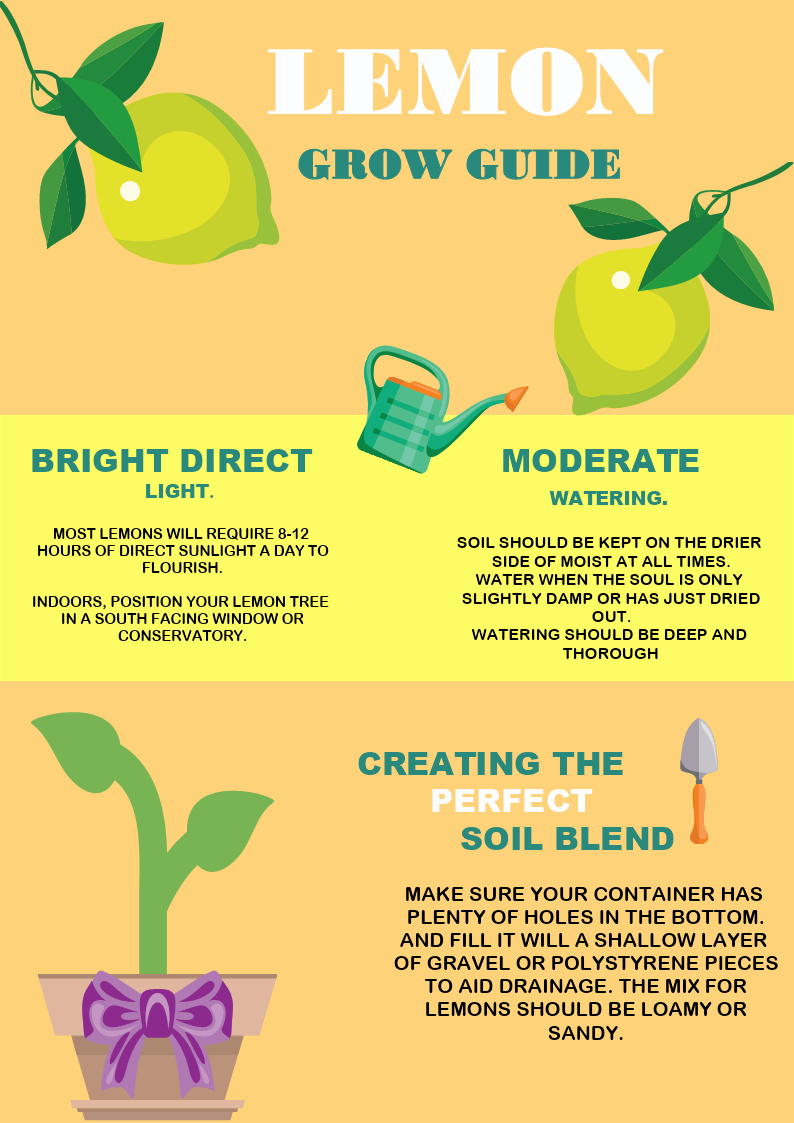 Lemon trees are very prolific, contain vitamin C, and are very high in potassium. The season of lemon trees is in winter through spring. The variety should be chosen based on taste buds and cooking preferences. The most popular ones include Eureka, Meyer, and Lemonade. The spot has to be with a sunny environment and adequate rainfall, in an area sheltered from cold winds.
Basic steps to Lemon Grow Guide
Soil- warm, moist soil, well-enriched with organic matter.
Position- a sheltered spot in full sun spring to fall. In winter, plants may be moved into a greenhouse or sunroom.
Frost tolerant- grow at temperatures above 7°C (45°F).
Feeding- in spring and summer, feed with a high nitrogen organic fertilizer. Fertilize more if you see yellowing leaves.
Lemon Grow Guide success
Pick a lemon variety based on your garden and cooking needs. Then choose a consistently sunny spot sheltered from cold winds.
Prepare the soil with organic matter, such as compost and sheep pellets.
Add a layer of citrus and fruit mix to plant into.
Lemons are to be feed in spring and summer to encourage maximum flowering and fruiting.
These three need to be well watered, particularly over the warmer months.
This is a basic Lemon Grow Guide infographic, which can be customized from the Gardening shapes library.