Some studies have proven that communicating visually is the best way to pass a message to potential customers. Nonetheless, creating visuals hasn't always been the easiest task in the world. Many companies hire an in-house designer or work with advertising agencies, but what if none of those options is suitable for you? Although there's a great variety of drawing software out there, most of it has a long learning curve or requires artistic abilities.
How can MyDraw help you design brochures?
MyDraw is easy to use the software, allowing you to create visually compelling images without any extensive design training. The easy drag-and-drop arrangement style and a rich functionality will help you craft well-arranged brochures in no time.
Functionality perfect for designing brochures
MyDraw comes with a set of features, which can cover anything you need to make the perfect brochure. Here's only a small list of all features that can turn you into a professional designer in no time:
A large set of predefined shapes: MyDraw comes with a huge set of shapes to add effects to your brochures;
Transparency on every level: add different transparency level to shape and the shape's line (a functionality not present even in advanced graphic design software);
Advanced fill & stroke effects: hatch, colors, several types of gradients - there's nothing you can't achieve with these styles;
Image grad and drop: just drag the pictures from your folder directly in MyDraw - it's as simple as that.
A set of advanced, stylish templates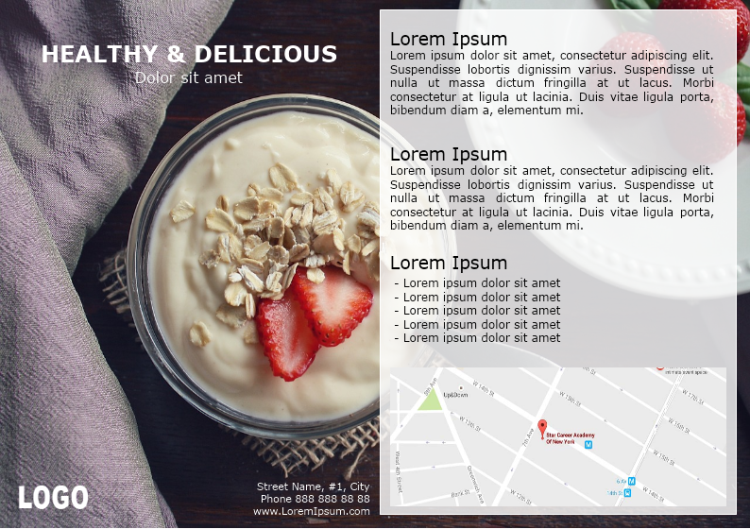 MyDraw comes with a set of stylish templates which you can easily modify to match your preferences. Whether you have a mattress company, a travel one, or you want to promote a cooking class or dog training services, just check out the templates and find the one that's right for you. All templates have a title area, text boxes where you can add additional information, an image (either in the background or somewhere within the brochure template, and additional details fields.